What makes for a great employer at a global design firm isn't exactly what makes for a great employer at a small marketing firm. But at each end of the spectrum—and every point in between—there is a common thread: A high value placed on human capital.
When Ingram's launched the "Best Companies to Work For" competition in 2008, we weren't exactly sure just what kinds of submissions we'd see. But after 16 years of handing out this prestigious recognition, we now are exactly sure of this: Kansas City has no shortage of terrific workplaces. 
Once again, we're pleased to bring you a roster of the finest workplace settings that this region has to offer, based not just on compensation, not just on benefits, not just on culture. For most of these winners, there's a little something extra involved, something that makes their employees roll out of the sack in the morning and head to work with eager anticipation of the day to come.
In a word, it comes down to this: satisfaction. Are employees satisfied with their lot in corporate life? Are they finding fulfillment, are they given the tools and the responsibility for wielding them to achieve greater goals? Where employees would offer a resounding "yes" to those questions, you find the strongest candidates for these honors.
Congratulations, then, to our 2023 honorees, who have earned the title of Best Company to Work For. You have shown by virtue of corporate leadership what it means to construct a great company. We salute this year's winners and all who have worn these badges of honor before them.
LARGE COMPANIES
Black & Veatch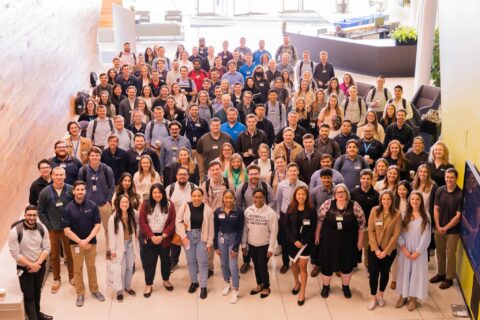 With offices strewn over every populated continent, engineering giant Black & Veatch brings focus to 10,400 employees by aligning mission, vision, and values. Those pillars drive innovation in the sustainable design of projects that can solve some of humanity's most critical infrastructure challenges through a blend of entrepreneurship, collaboration, accountability, safety, integrity, respect, and ownership. That last one is a key piece for the eighth-largest employee-owned firm in the U.S., with more than 7,000 employees in ownership ranks. From the corporate learning laboratory, where knowledge is shared and professionals are developed, to formal programs ranging from early to late career development, employee-owners find their fit in the company and explore new options through leadership training. Training is crucial for an organization that hired more than 1,400 professionals in 2022 and is expected to top that number this year. Large ESOP companies, by virtue of scale, help establish best practices for industry markers such as base compensation and benefits, and B&V is no exception. In addition, employee-owners share in the financial rewards of their success. Annual ESOP contributions are influenced by performance, balance sheet strength, cash demands, investments required for growth, and other factors, yielding an annual contribution that allows participants to build long-term wealth. Physical, mental, and social health are supported in various ways. A well-being digital platform provides professionals and their loved ones with personalized resources, support, and education. There are concierge advocacy services providing benefits support in over 200 languages to professionals, their dependents, parents, and parents-in-law. Maternity/parental/adoption paid leaves support growing families, as do fertility benefits, lactation support, caregiving telehealth services, and a legal plan that covers parents. And an employee assistance program offers free counseling services and online resources. The workplace setting, like many companies post-pandemic, is a hybrid environment allowing professionals to work in ways that let them balance personal well-being and professional success. Stainability-driven global megatrends such as electrification, decarbonization, digitization, and resilience are reshaping the critical infrastructure markets, generating impressive growth for a firm more than a century old. Operating units focused on energy, water, and communications infrastructure led to record revenue of $4.3 billion last year. On the community service front, local and national organizations benefit from B&V philanthropy, including the United Way, Operation Breakthrough, STEM Education organizations, Water for People, Engineers without Borders, and the fight against human trafficking. In 2022, the firm provided 181 grants and topped $27 million in total giving to United Way—with two-thirds of those grant recipients in Kansas City.
Henderson Engineers

The benefits of employee ownership are on full display at Henderson Engineers in Lenexa. The firm, with a staff of 926, is 100 percent employee-owned, so its profitability and growth impact the personal bottom line of its employee-owners, regardless of title or rank. In addition to a wage structure benchmarked against industry standards, Henderson employees enjoy a 401(k) retirement plan with a match of up to 5.25 percent of each employee's annual contributions. They also have access to health savings and flexible spending accounts that are part of the firm's robust health benefits. Henderson also supports wellness activities through monthly challenges and complimentary access to an onsite gym at its headquarters. In addition to paid holidays, vacation, and sick leave, employees enjoy the security of health, dental, vision, and disability insurance. The firm just switched over to the ESOP structure in 2021, but clearly, leadership had done its homework on workplace design. Integral to that is frequent, transparent employee communications. One tool for those is a weekly companywide email from CEO Kevin Lewis. Complementing that are daily intranet announcements, quarterly all-company meetings, and ongoing Company Conversations (bite-size video/audio updates). Each employee has direct access to executives, and questions are always welcome. "The goal," Lewis says, "is to ensure employees feel invested in the success of the firm." Maximizing that investment requires a comprehensive training program, and the firm provides ongoing training for seven distinct engineering disciplines to keep employees sharp and share best practices. Inclusivity is a core value supported by three people-resource groups tasked with fostering inclusion at every level. The groups, with more than 100 members each, have an ongoing open chat, host events to cultivate inclusivity and partner together to share information firmwide. The company offers "flex hours" so employees can manage work and personal commitments. Full-time employees must work 80 hours every two weeks, but they can "flex" their time across that period. Henderson moved to fully remote during the pandemic and has since introduced hybrid schedules and remote working arrangements. The ESOP structure carries forward organizational success that has seen a doubling in revenue and employment levels over the past decade, resulting from keen strategic planning and placing innovation and client experience at the center of business operations. Completing the cultural mosaic is community service; giving back has been part of Henderson's culture since its founding in 1970. Employee receives 16 hours of paid community service every year to volunteer as they wish. This is in addition to a foundation that fulfills grant requests nationwide across four philanthropic pillars: education, arts and culture, environment and sustainability, health and human services.
MMC Corp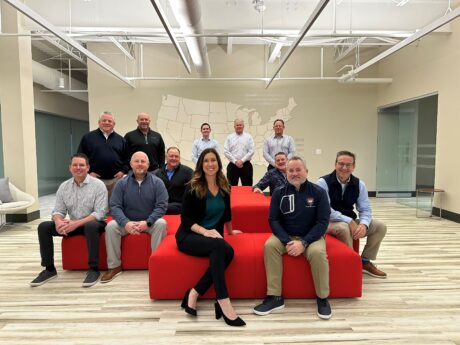 Among the many benefits of working for a finely tuned, employee-owned company like MMC Corp, pull just two out of the hat, then stand back in awe: Paid time off, based on tenure, starts—starts, mind you—at 17 days a year. That's before you factor in seven paid holidays. How about this one: a targeted company contribution to the stock-ownership plan in the range of 8 to 12 percent every year. And that's in addition to a competitive wage structure and company match equivalent to 5 percent of each employee's annual contribution to the 401(k) program. Clearly, this a company where the financial well-being of its nearly 1,700 employees is top of mind. But there's so much more that makes MMC an attractive option for the construction minded. First, there's some var-iety, as the parent oversees separate operating brands in general contracting, mechanical contracting, and specialty contracting with building-control services. The sprinkles on top of that compensation sundae include three health-care plan options, flexible-spending and health-savings accounts, dental and vision insurance, and disability coverage. A monthly town hall meeting hosted by the leadership keeps employees informed about the latest news and developments and gives employees a chance to address those leaders directly. CEO Tim Chadwick distributes a regular CEO's Forum to further the goal of keeping employees in the loop on successes, goals, and other important updates. Training and development are organized around the goals of identifying emerging leaders and retaining talent in a hyper-competitive sector. In addition, the education assistance program financially supports employee continuing-education efforts with reimbursement of 100 percent of approved courses per calendar year, up to $5,250, so long as the employee receives a C grade or better in the course. "Our values are not just words on a conference room wall," says spokeswoman Sydney Wycliffe. "MMC Corp has a Living the Values Award program in which we nominate one another for exemplifying our core values throughout the year. A winner is selected for each of the values: Integrity, Teamwork, Entrepreneurial Spirit, Quality Craftsmanship, and Caring Heart." Perhaps the most notable achievement over the past year has been MMC's surge past the $1 billion revenue threshold, providing assurance of organizational stability. "This major milestone is attributable to our intentional diversification both across geographies and market verticals, including mission-critical, light industrial, and health-care," Wycliffe says.
North Kansas City Hospital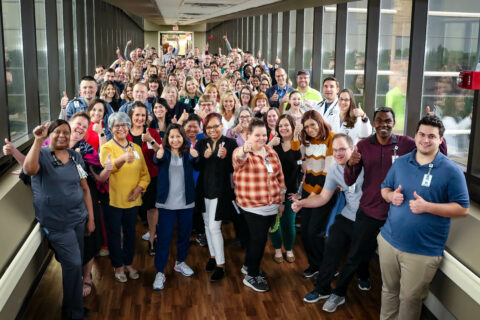 North Kansas City Hospital and Meritas Health have been the Northland's preferred health-care provider for 65 years, but as an institution, it represents a lot more than that to its service area: With a combined staff of more than 4,000 people in clinical care and support roles, it's also one of that region's biggest employers. An acute-care facility with 451 licensed beds, it boasts a staff of 550 physicians representing 49 medical specialties. "Our culture, long-held reputation, and commitment to the community make us an employer of choice," said Dawn Bryant, vice president of human resources. The past three years of the pandemic have demonstrated that compensation alone isn't the primary concern for health-care workers, making comprehensive workplace design an imperative. For NKCH, that means continuous investment in the workforce, and to that end, it recently initiated a Total Rewards review that resulted in more competitive compensation and benefits. Salaries are determined by the results of regular market analyses, with a base rate, a midpoint, and a maximum rate for each approved position. In addition, consideration of a merit increase is made once a year by the employee's supervisor and/or practice manager based on the performance review. Continuous improvement also focuses on communications efforts, including quarterly Town Halls, monthly "CEO Chat" sessions with chief executive Steve Reintjes, and an annual employee opinion survey. Mid-level leaders undergo diverse training programs in fatigue management (especially during the pandemic), Diversity, Equity & Inclusion, customer service, and a new onboarding curriculum. Orientation for new employees spans three days, focusing on customer service, quality, and safety. And to encourage future leaders, new advancement opportunities are created through career ladders, onsite training, and partnerships with area schools to help lower-level employees acquire new skills and assume higher and better-paid roles. Bolstering morale at various employee events, including an annual barbecue, annual service awards banquet, employee holiday meals, and monthly appreciation activities through the Culture of Fun and Connection Committee. Like every other American hospital, NKCH bore the fiscal burden of reduced operations in the first year of the pandemic, but it has come back strong. It managed through the pandemic by maintaining workforce numbers and laying plans to grow strategically and remain financially viable in the future. Since 2020, NKCH and Meritas have seen top-line revenue growth of more than 21 percent—well above the national average of 9 percent for a hospital of its size, according to a national survey by Kaufman Hall.
University Health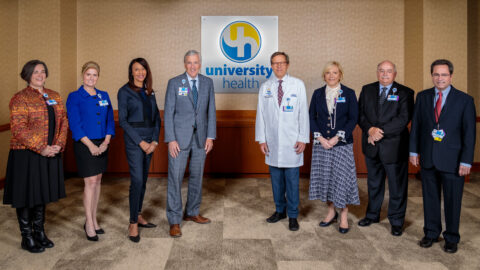 You'll have to look long and hard to find a chief executive who doesn't believe he or she is at the helm of a great place to work. Want a different perspective? Ask the rank and file. There, you'll see what happens when a mission-driven organization—in this case, Univer-sity Health—encourages employees to grow and establish a career. "You don't have to stay where you started," says Cassidy Nunnelly, a medical assistant who is one of more than 3,200 employees for the health system. "You can grow." She was one of the employees who recently partnered with the system's human resources office as part of a campaign to encourage others to apply at the two-hospital system. The global COVID-19 pandemic exacerbated an ongoing national need for health-care workers that was trending before the virus reached America. But it also strengthened the resolve and pride of those who continue to work at UH, says spokesman Keith King. "The people who chose to work at UH are dedicated to caring for the underserved," he says. "The work they do, treating each patient/client with respect, starts with leadership." One key to employee engagement is having systems in place to ensure that team members are given an equitable opportunity for training and advancement. The diversity and inclusion program at UH does that and ensures cultural competency-based training development for both clinical and non-clinical staff. Such efforts have produced national and industry recognition. As one might expect from a health-care provider, UH offers its staff one of the region's most comprehensive and generous health insurance plans, one where affordability for employees is a core value. Employees also have two options for dental insurance and a comprehensive vision insurance plan to help cover the cost of exams, eyeglass frames, and contact lenses. Disability insurance—both long-term and short-term—is part of the benefit suite, as are coverage plans for group, dependent and universal life. There are even coverage plans for cancer and other critical illnesses or intensive-care stays, and flexible spending plans are available. Each employee can accumulate and schedule time off according to individual needs, and here's a benefit you rarely see anywhere: Up to 80 hours of PTO—per year—as a blood donor. To help address financial health, the system offers a 457(b) and 403(b) Deferred Compensation Program. Employees can save on a pre-tax basis, lowering their payroll taxes and maximizing the value of their retirement nest egg. From the first day of employment, staff members choose from more than 37 investment account options offered through Voya. Each employee has the flexibility to determine risk tolerance on investing, and for individual portfolios, the tools include fixed savings accounts, money markets, income funds, and worldwide aggressive growth funds.
Wellsky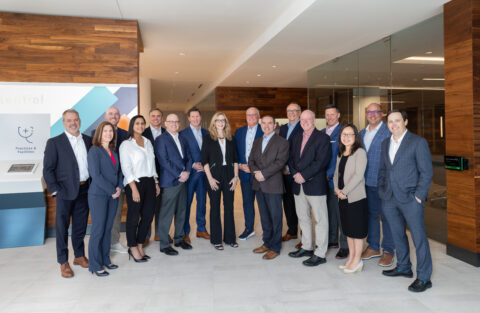 In 2018, as the former Mediware Information Systems was re-branding in the med-tech space as WellSky, the employee headcount was 1,100. Five years later? It stands at 2,500. CEO Bill Miller and his team have indeed been busy, not just managing 127 percent growth in the ranks but fine-tuning the workplace design to bring them on board and retain them. The company produces software, analytics, and services that help health-care providers improve outcomes and reduce costs. It now serves more than a third of the nation's home- and community-based providers, connecting 130,000 providers, 20,000 social services providers, and 5 million caregivers. "Our teammates make all this possible," says Dana Streck, chief people officer. "They know their work directly impacts vital care for the people who need it most." Providing that service has assumed a new appeal with the company's move to a new, state-of-the-art world headquarters in Overland Park. The physical space provides collaborative meeting spots, individual quiet spaces, an onsite gym, and a variety of social areas, including an outdoor entertaining space. To accommodate our rapid and continued growth in the Kansas City area, WellSky is opening a second building on that site this fall. Beyond the brick, mortar, glass, and stainless steel, WellSky is an environment where learning is highly valued. "We offer teammates up to $2,500 to improve job-related skills with formal education or conferences," Streck says, and the firm also offers professional development through the Aspire Leadership program and the ongoing Manager Training Series. In addition to the highly competitive wages typical of leading health-care IT firms, WellSky offers a comprehensive benefits program. It has customizable plans for medical insurance (three options to choose from, with reduced rates for non-smokers), prescription drug coverage, flexible spending and health savings accounts, and dental and vision benefits. Basic life insurance plans, as well as accidental death/dismemberment, critical illness, and disability coverage, are part of the menu. Unlimited vacation, once a trendy benefit among smaller firms, is going mainstream with larger entities, and WellSky has recently embraced that concept for all employees. A philanthropic culture flows from the WellSky Foundation, founded in 2019, to improve the quality of life for vulnerable populations by removing socioeconomic barriers to health and wellness. Employees have given more than $1 million to nearly 30 organizations across the U.S., providing educational resources, food, economic opportunities, comprehensive medical care, grief and mental health assistance, resources, and training to help recipients achieve self-sufficiency. 
MID-SIZE COMPANIES
Arvest Bank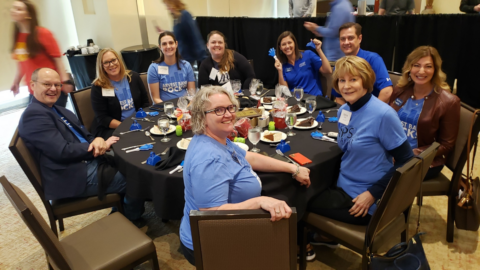 Banking—effective banking, anyway—is a relationship business. That's the customer-facing dictum. As a workplace, though, a bank thrives by paying just as much attention to the quality of its relationships with members of the team. And so it is with Arvest Bank. "Associate input is an element of our culture that sets us apart," says Tiffany Javillonar of the human resources office for the bank's Kansas City market operations, which have 375 full-time employees on staff. "Associates are empowered to share diverse ideas, voices, and authentic processes and behaviors. We encourage associates to continue to openly communicate about ways Arvest can best serve both associates and customers, and we will keep striving to make this a great place to work." Doing so requires multiple delivery channels available for the staff to ask questions, make suggestions, submit ideas, and share concerns. "Whether you are a new associate or have been here for some time, Arvest offers ongoing avenues to share your voice," Javillonar says. "These channels are intended to foster an environment of collaboration, high performance, and mutual respect between leadership and associates." A mission statement that begins with "People Helping People" and ends with "for life" entails career development programs that help identify employee interests, improve performance, boost skillsets, and help advance their careers. At Arvest, that starts at even the intern level. Layered over the development dynamic is a comprehensive total rewards package one might expect with the backing of a regional banking giant that has more than $23.5 billion in deposits. That package starts with competitive pay and benefits, including three levels of compensation add-ons: annual profit-sharing bonuses, a retirement-plan contribution, and a company match of associate 401(k) contributions. Paid time off can build to a maximum of four weeks a year, and earlier this year, Arvest announced a new, 12-week paid parental leave policy designed to provide additional support to associates with newborn or newly adopted children, promote excellent work-life balance, and reinforce a commitment to diversity, equity, and inclusion. The insurance suite covers medical, dental and vision plans, as well as company-paid life and AD&D coverage. Employees enjoy nine paid holidays and discounts on various financial services. Carrying the relationship theme outside the enterprise, associates are encouraged to volunteer in the communities the bank serves, and the Kansas City division supports numerous charitable agencies. The bank has created the "Arvest Opportunity Fund" to expand financial products and ser-vices available to underbanked individuals, families, and small businesses currently unable to access traditional banking services.
Bartlett & West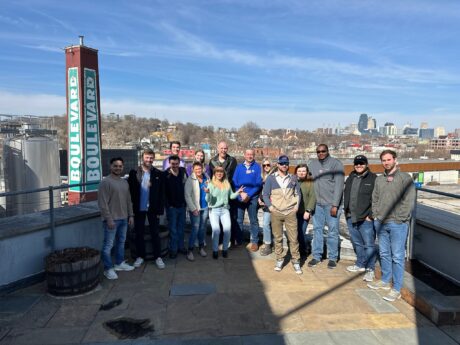 For more than 350 employees at Topeka-based Bartlett & West, an environmental engineering firm, success starts with a cultural imperative: A "we before me" attitude. The leadership's commitment to transparency and a flat organizational structure also create a thriving workplace at this 100 percent employee-owned company. Says spokeswoman Alli Downey: "While we prefer to focus less on titles and more on the contributions each employee-owner can make … Bartlett & West's 14-person leadership team includes three individuals under 45 years old and two women." That dynamic has helped hold the firm's voluntary turnover rate below the industry average, despite the inordinately competitive nature of recruitment and retention within the engineering sector in this market. "In 2022, we also increased the percentage of women and people of color in our firm, which is particularly hard in the engineering industry and being located in the Great Plains," Downey notes. Employee development initiatives include tuition reimbursement, support toward professional licensure, and a variety of in-house and external training opportunities, Downey says, while the compensation package is built around best-practices standards for pay and benefits. On top of that are a 401k match, a completely company-funded employee stock-ownership program, and annual bonuses for all employees based on company performance. Last year, Bartlett & West implemented extra "thank you" bonuses in the first quarter, moving merit increases from year-end to October to reward employee owners and offset inflation impacts. With physical and mental health as much a concern as financial well-being, the firm offers various wellness programs, an employee assistance program, paid maternity/paternity leave, paid childbirth recovery leave, and both mental health and sick leave. The two largest offices have on-site workout rooms and company-subsidized food vending. Employee-owners are empowered to work where they need to, in the fashion they need to, while collaboration and connection are encouraged through social, charitable, and company update activities. Driving consistent growth in recent years has been a solid backlog of work, which currently stands at a record level, creating the need for 40 new positions to fill. Bartlett & West is also actively involved in expanding its workforce, services, and markets through the acquisition of like-minded firms. What's that all add up to? How about an employee net promoter score that averages around +60 and even ranks in the low +70s at the end of 2022 and into 2023? The eNPS asks, "On a scale of 0 to 10, how likely are you to recommend Bartlett & West as a potential workplace to a friend or colleague?" eNPS scores from -10 to +20 are normal, while above +40 is considered excellent. 
BRR Architecture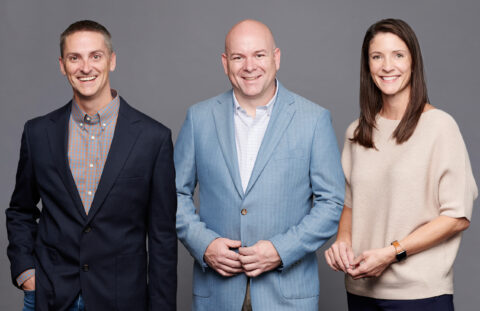 For the 288 employees at Overland Park's BRR Architecture, "work" might not be the right term to describe their jobs. It's part design-sector excellence, of course—you don't reach 60 years in business without that—but it's also part fun, part service, and part professional development. For starters. The package for employees includes a compensation plan that's competitive within the local industry standards for both professional and non-professional staff, adding in paid time off and flexible work schedules, a 401(k)/profit sharing plan with a company match, and access to financial/budgeting education and quarterly updates from financial advisers. Medical, dental, and vision insurance options allow employees to select coverage tailored to their specific needs, and there's no cost to employees for life and disability insurance coverage. An employee assistance program connects staff members to various additional services, and there are nice perks like fitness club reimbursement, warehouse-club memberships, and paid time for community service. That last part reflects a core value at BRR. To celebrate that 60-year milestone, the firm intends to positively impact 60 agencies across the country with service hours and donation drives. "We donated more than 1,000 hours of community service firmwide in 2022," says the firm's CEO, Mariah Meyer. "To actively support our employees giving back to their communities, all team members are given eight hours of PTO annually to use for these initiatives; it's an important part of our culture." The firm will extend that with a National Day of Service later this fall and is also rolling out several scholarship programs for students studying architecture. Career development is a key plank in the goal of making team members feel valued and respected. That has prompted efforts like the firm's Bridge Mentorship Program, classes called "Strategies for Professional Development," and encouragement for employees to become members of various industry organizations, including NOMA, AIA Women-in-Design, CREW, and others. In terms of organizational stability, "our history in the city and our size has allowed us to make a deep impact across the Kansas City metro and across both Kansas and Missouri," Meyer says. "We have 50+ projects currently underway across the state of Kansas." By standing strong as an organization, BRR helps strengthen the architectural industry overall. "Our firm is committed to maintaining standards of care in architecture and emphasizing the importance of ARE testing and licensure," Meyer says. "We maintain an active study group for those completing their ARE testing and offer mentors to help them navigate their way through the process." Upon completion of the ARE and after becoming a licensed architect, employees will be in line for an automatic salary increase. That kind of leadership helped make BRR the American Institute of Architects' 2022 Kansas Firm of the Year.
Delta Dental of Kansas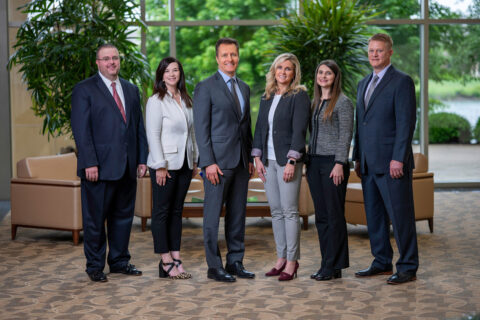 Many a company will tell you that its employees are the foundation of organizational success. But any contractor worth his cement can tell you: The foundation is only as strong as its binding agent, and for Delta Dental of Kansas, that's a 10-point culture engagement plan. The result, says marketing director Molli LaFrenier, is a culture of "employee empowerment, transparent communication, encouraged collaboration and connection opportunities." It's supported by a weekly survey for continuous and timely feedback, allowing employees to contribute directly to improving their work environment and the company's success. Pay and benefits are based on competitive wages regularly benchmarked against industry standards, and a company match to 401(k) accounts for 3 percent of eligible compensation, along with a discretionary contribution for each employee for more than five years now. On the insurance menu are medical, life and long-term disability plans, fully paid dental coverage—no shock there, for a company living in that space—as well as vision coverage. In addition to the accrual of paid vacation days, holidays and employee birthdays are paid days off, with additional PTO for sick days, appointments, volunteer work, and funerals. Employees have access to flexible savings, dependent-care saving, and health savings accounts and, to promote personal well-being, reimbursement of gym membership fees. Career development includes a tuition reimbursement program. A robust wellness program that includes on-site vaccinations, incentives for achieving positive health outcomes, on-site health risk assessments, biometric screenings, and wellness fairs, plus an employee assistance program. In the training and development realm, the company has a mentoring community, tuition reimbursement, and annual stipends to attend courses or professional group meetings. Career development and training opportunities, both internally and through partnerships with local and/or regional educational programs, are available, as are career planning and cross-training opportunities. The workspace itself is a stress-buster, with an on-site fitness center and game room, wellness/lactation room, on-site market with healthy snack options, collaborative workspaces, casual dress code, hybrid work schedule, flexible work options, and ergonomic workstations with standing desks. A dedicated Culture Committee is allotted resources, educational workshops, and activities around diversity, equity and inclusion, team building, and wellness. "A workforce that feels connected," says LaFrenier, "is overall happier, less stressed, and more engaged." The company's strong financial position has produced record growth and profitable expansion into 33 states and fueled the largest sales growth in 14 years as Delta Dental's provider network is now the largest in a 50-year company history.
Propio Language Services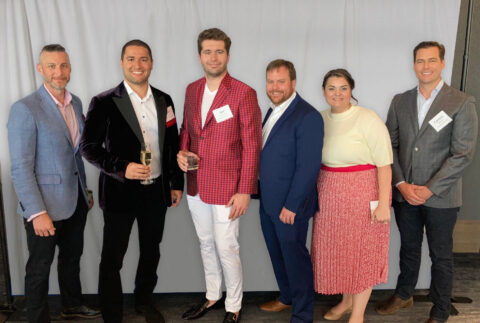 The crucible in which the flexibility—and durability—of workplace design is tested is a rapid-growth environment, where new talent must be onboarded while balancing the needs of an increasingly large and demanding client base. For Propio Language Services, where revenues more than doubled in 2021 and nearly tripled again in 2022,  that means an intense focus on career development. "We pride ourselves on promoting from within, and last year, over 15 percent of our employees were promoted to new positions as a result of our rapid growth and a deliberate effort by the executive leadership to support employees' growth," says Tara Hill, human resources director. In addition, she notes, "Propio believes in the importance of ongoing education and professional development, providing all employees the opportunity to receive tuition reimbursement, as well as attend company-sponsored training classes." That helps keep people on the team; getting them on the roster in the first place is achieved with what Hill calls the "best pay, benefits and perks in our industry." Propio conducts pay reviews twice yearly to ensure employees are compensated fairly without disparities and is competitive in the market. Additionally, the pay-for-performance structure ensures that top performers are rewarded for their efforts. On the benefits side, all full-time employees are eligible to choose from an assortment of affordable health insurance plans for themselves and their families (including same-sex partners), with a no out-of-pocket option and health savings or spending accounts, as permitted by policy selection. Addressing the staff's financial well-being, the company offers both traditional and Roth IRA options, a 401(k) plan with a 100% match on the first 3 percent of employee contributions and 50 percent on the next 2 percent of pay contributed. Paid time off is based on seniority but starts—starts, mind you—with a very generous 20 days a year. On top of that is a flexible sick-bank policy, so employees don't have to sacrifice time away from the office to care for themselves or a loved one. Flexible work arrangements allow employees to work where they feel most comfortable and productive. Furthering its goal of creating an engaging and inclusive work environment, the company hires outside consulting for its annual employee-engagement survey. "We're incredibly proud our overall engagement score was 13 percentage points higher than the industry average," Hill says, pointing to high marks for job satisfaction, experiences with managers, and organizational outlook. Weekly company-wide events (breakfast, lunch, or happy hour) help keep the communication lines open, as do quarterly teambuilding events for all employees. Another social goal is to promote local minority and women-owned businesses as part of its community support. Last year, it directed more than $600,000 in work to local minority- and women-owned vendors. 
Veracity Consulting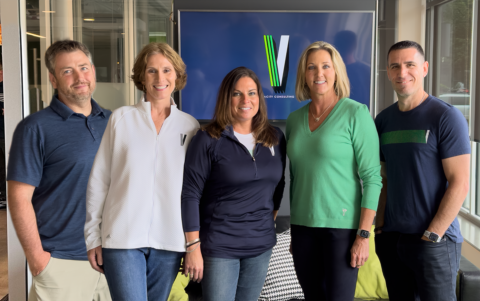 Since its founding as a tech consulting firm in 2006, Veracity has done some impressive growing up. That's not measured in employee counts—though it has moved out of small-company territory—and it's not done by revenue alone. "Generally, a company's bottom line may only refer to their finances, but for us, there's more than revenue and profits to what we do," says founder Angela Hurt. "We are driven to not only do right by our clients but also do right by our employees and community." That beyond-the-bottom-line mindset, embraced by so many companies over the past generation, doesn't mean that growth takes a back seat. Veracity, says Hurt, has begun employing an Entrepreneurial Operations Systems model to help drive the direction of the business, and it has reshaped the executive leadership team with a few key hires. "Now," she says, "we have set a three-year goal of increasing revenue by 100 percent and our headcount from 150 to 230." The tools to get there include core values of flexibility, curiosity, transparency, compassion, and humility. Those help formulate the competitive salary and benefits structure, which include a 401(k) retirement plan, multiple performance bonus programs, and referral bonuses for both employees and new clients—those are open to anyone at the company. From a culture standpoint, Hurt says, "We have regular internal communications and quarterly meetings to keep everyone in the loop, and for those that wish to come into the office, we have a number of events, from a holiday party to fantasy football leagues and March Madness pools." For those that wish to come into the office. Ponder that line for a second. "Since the pandemic, we have witnessed and embraced the change in how people work," Hurt says. "That's why we developed a hybrid workplace with work-from-home days on Mondays and Fridays and the ability for our employees to come into the office or stay fully remote." Team members are also given the flexibility to pick their kids up from school or go to an appointment without having to take PTO, with the trust that they will get their work done and keep clients happy. Doing right by others doesn't end with processing the most recent payroll. "Why we do what we do also encompasses our communities," Hurt says. "We believe in using our successes to give back to the communities in which we work and live—Kansas City first and foremost—and to the causes closest to our employees' hearts." That begins with her own work as an active fundraiser and advocate for women and Kansas City organizations, including WIN for KC, Children's Mercy, Women's Employment Network, and KC Chamber's Executive Women's Leadership Council, among others. The firm also provides employees with a community-service day where they can give back without using valuable time off.
SMALL COMPANIES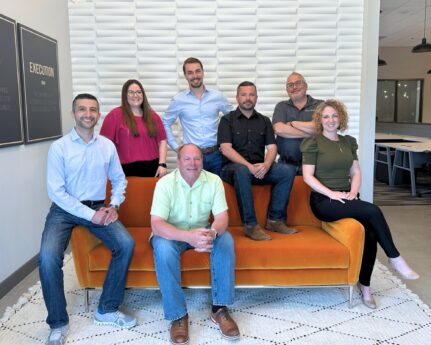 Clover & Hive
Here's an employee benefit you don't just find anywhere: While its mission is to help prospective buyers get into a new home, Lee's Summit-based Clover & Hive has a program to help employees purchase new homes of their own. That's merely one example of how this subsidiary of Summit Homes, the region's biggest home-builder, is consistently thinking of innovative ways to improve not only business, but the team member experience. And it seems to be working: In each of the past two years' annual engagement surveys, the custom builder has had 100 percent participation from the firm's 30 employees. "We put a heavy focus on management practices, which our team finds is one of our best practices," says Kyle King, division manager. "As leaders, we focus on the team member as a person and what they can bring to the team on an individual basis. That's done by having weekly or bi-weekly touch-base gatherings and quarterly connection meetings that focus on goals and personal development by having a casual, off-site meeting with their leader. "In this, we are keeping a pulse on individual development and continued growth to ensure that we are enhancing the ability to be ready when advancement opportunities arise," King says. "We feel this helps with communication by building trust and knowing their leader has their best interests in mind." Clover & Hive also has monthly town hall and quarterly planning meetings that bring the entire team together to offer up-to-date communication and help plan the quarterly goals for their department and the entire organization. With training and development, team members train as a group monthly as well as training on an individual and department basis. The company also provides two leadership training courses, one for those who are in higher-level leadership and one that is for future leaders of the organization that are recognized by their leaders. Pay and benefits flow from  market research done each  year to ensure that salaries remain competitive, a process that includes salary and bonus structures. Bonus structures for individual position groups and a profit-sharing bonus are available to the entire team, while benefit programs, both medical and non-medical, are constantly evolving. They include medical/vision/dental, TD/LTD/life insurance that is company provided, along with a 401(k) retirement plan match. The firm also offers $1,000 charitable-giving match, that new-home purchase program, work from home, wellness initiatives, VTO, self-managed PTO, and fully paid 10-week maternity and 4-week paternity leave. In its last two engagement surveys, Clover & Hive team members have described the company with one word: Family. "Our culture," King says, "is always at the forefront of our mindsets."
Erise IP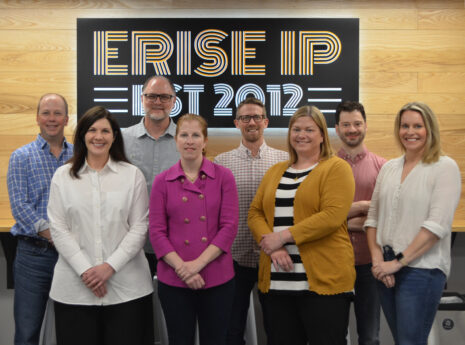 If the leadership at Erise IP keeps this up, we'll have to redefine "workplace"—the traditional understanding of what constitutes "work" isn't entirely holding up there. For starters, this intellectual property-rights law firm allows employees to choose when and where they will work to accomplish client goals. Employees receive fully paid health insurance and up to 12 weeks of paid maternity and paternity leave. Erise also closes its office between Christmas and New Year's Day, a separate time-off benefit from standard vacation days provided to employees. In addition, Erise has no specific sick-time allotment. If an employee is sick or needs to care for a sick family member, they can either work from home or take time off. Those are pretty attractive features one might expect at a resource-rich megacorporation; this Overland Park firm is doing it with a staff of 46. Taking an enterprise from a startup to a best-in-the-nation powerhouse in its silo, and doing it in just 11 years, meant redefining the status quo in the legal profession. Erise's track record of success for a client base that includes Garmin, Sony, and many other internationally known brands is made possible by the work environment the firm's founders intentionally created. So it prides itself on industry-leading benefits, prioritizes work-life balance, and backs up its team-first approach to serving its clients with merit-based rewards for all employees, from support staff to the shareholders. In addition to the significant autonomy employees have over their work hours and working location, there's a huge trust factor: They will find the best way to exceed client expectations without compromising family and other personal obligations. "As a boutique law firm, Erise has less overhead and fewer management channels than traditional firms," says co-founder Adam Seitz. "Every person playing a role in a client matter is valued." So shareholders and other senior attorneys are not walled off from associates and support staff; contributions and knowledge from all levels of the team are encouraged. In a sector where bonus money is traditionally the province of attorneys, all employees are eligible for merit-based bonuses. Worth noting: Erise's equity shareholder ranks, and executive committee are 50/50 gender diverse, which places Erise among the top firms across the country: Nationwide, less than a quarter of equity partners are women. For those working from the mother ship, the office space is more in line with the technology clients it serves than traditional law firms, where senior attorneys are secluded in their own spaces. Bright, open space fosters collaboration from all team levels; there's a casual dress code, and in-office perks such as snacks, a game room, and local beer and cold brew coffee are on tap. 
Interest Media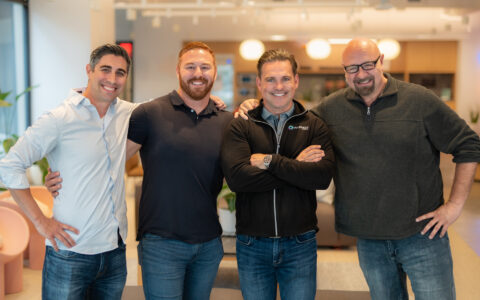 Imagine a company with sufficient resources to pay for 100 percent of the cost of employee health insurance—including coverage for vision, dental, and maternity leave. And the strength to offer unlimited paid time off and the flexibility to allow employees to work from home every day of their work week. And the budget to pay for staff UberEats each month. Must be a huge corporation to place that bounty in front of employees, right? Well … not exactly. Interest Media is just 26 employees, but it packs a punch well above its weight class with its workplace design. "A company is only as strong as its employees, and we want to have the very best people working for Interest Media," says CEO Matt Hoggatt. "In order to do this, we strive to create a work environment that is both challenging and enjoyable." Along with parties, happy hours, support for local sports teams, and other initiatives, such benefits make a difference. "It's important to us that all of our employees are not only happy at work but also maintain a healthy work-life balance," Hoggatt says. Operating at that scale requires a team that maximizes productivity and embraces collaboration. "It's the responsibility of every employee to contribute ideas and make a meaningful impact each and every day," Hoggatt says. "It is very important each employee's entrepreneurial spirit is celebrated—without it, new ideas may never come to fruition." So employees are encouraged to come up with their own ideas, test them by launching a simple proof of concept test around these initiatives and then ultimately own and manage them going forward. The result? A culture built on innovation and employee empowerment. Dig deeper, and you can see how that culture allows for unlimited vacation, a concept that would send shudders up the spine of many a CEO or business owner. "This is a benefit a number of companies are offering; however, it is something that can be misunderstood," Hoggatt says. "The unlimited vacation perk is part of a bigger concept, one where we want employees to view themselves as co-owners. In this way, employees focus on project goals and the endgame rather than just making sure they've ticked off the requisite number of hours on their timecard. We know life happens, and people need some flexibility. We have each other's backs." He pointed to the results of a recent independent survey of Interest Media staffers, in which every single respondent said they were "made to feel welcome when they joined the team" and that "they felt like they made a difference here." They work hard in a fast-paced environment, Hoggatt said, "but we also decompress and play equally hard together. Interest Media plans many activities outside of work, whether at local establishments or at sporting events like Royals and Chiefs games. Our success is proof that this approach towards our employees works."
KCBR Design | Remodel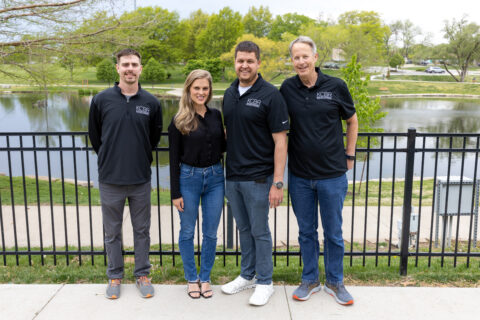 Sure, we could ask owners Anthony and Abby Myers what makes their construction and remodeling firm a great place to work. But at the smallest of this year's Best Companies to Work For honorees—just less than two dozen employees in all—you get a real-world response from the folks in the trenches. Just ask them. What you'll hear across the board are words like "fair," "friendly," and "fantastic" to describe the workplace—and that's just the "F" adjectives. With a staff compact enough to accommodate leadership meetings face-to-face throughout the week, the company focuses on continuous improvement and prioritizing culture. Even at that scale, training opportunities are in place for employees interested in pursuing management paths. Performance reviews multiple times a year provide opportunities for recognition and create new opportunities to develop. Size is no constraint with payroll, as wages and benefits are pegged to industry standards, and pay can increase throughout the year based on performance. Rare is the small company offering 15 paid days off per year to start, but KCBR is among them, with paid holidays in addition to that. KCBR covers half the cost of individual employee health insurance and 30 percent toward that of dependent plans, plus it offers dental/vision insurance, a 401(k) program with company match, and a paid Costco membership. Cases of The Mondays? Forget them: Weeks get off to a sunny start with breakfast for the team every Monday morning. The company will pop for occasional lunches and organize team events throughout the year to keep the fun going. "KCBR is all about the team, and it is a very strong culture where people truly love to work here," Abby Myers says. "Everyone really gets to know one another … it makes such a difference. We have a professional, motivated, family feel environment, and it reflects on our outstanding projects." As revenues have increased year over year, resources are poured back in to sustain growth, including office relocations to accommodate the bigger staff. Showing that philanthropy is not solely the province of the corporate giant, KCBR adopts a family each year and donates to families. A Harvesters barrel at the office serves to gather food donations, and the staff as a team is getting behind an event at the food network's offices this year. The company is also participating in the KC Symphony Showhouse, a tradition that benefits the symphony. To borrow from one of nearly a dozen staff testimonials: "Anthony and Abby know that respect begins at the top, and they truly embrace that philosophy. They care about the personal well-being of their team and understand that their team members are their most valuable asset. They walk the talk and are not above jumping in to help complete a task. There is nothing that they consider beneath them."
RPS Financial Services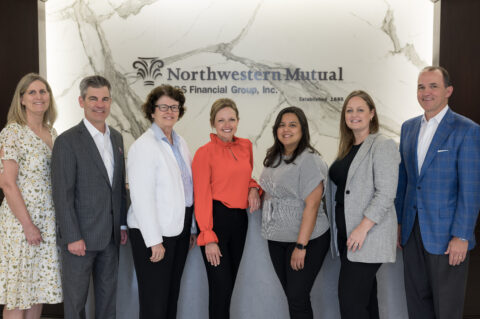 The CorporateSpeak gobbledy-gook quotient in this mission statement for RPS Financial Group is precisely zero: "To help our clients, financial representatives, and employees create successful, well-balanced, and intentional lifestyles." That's one way CEO R. Philip Sarnecki aligns a compact staff of 40 with achieving strong organizational growth. Competing for talent in the financial services industry, in particular, requires competitive salaries and solid benefits design. At Leawood-based RPS, that means a health-care insurance plan with 80 percent of the premium paid by the company, along with a robust suite of other risk-management tools covering emloyees' dental, vision, critical illness, short-term and long-term disability needs, plus life and accident insurance, flexible-spending and health savings accounts. Addressing financial needs, RPS offers a 401(k) retirement savings plan that matches up to 3 percent of an employee's annual compensation. In addition, all full-time employees are eligible for a highly competitive three weeks of paid time off every full calendar year and are eligible for more time off as their tenure with the company increases. "We also have a great work environment," says HR executive Rebecca Gonzalez, and that extends beyond the office staff to more than 500 independent financial services contractors. "Our office was recently remodeled, and we can all work in a beautiful space every day. We host a variety of events throughout the year to keep a high level of employee engagement." Among those are the firm's Southern Summer Contest, annual recognition dinner, Office Pumpkin Patch, and both a Christmas luncheon and Christmas party each year.  "We also host a couple of team-building events throughout the year that allow us to spend time with the team outside of working hours," Gonzalez says. Every quarter, RPS recognizes one employee with its "Commitment to Excellence" award, and every employee has the opportunity to nominate someone they believe should receive this award. That prized recognition helps reward high-level excellence in the workplace, she says. Philanthropic efforts connect RPS with various charities and non-profits in the Kansas City area, including Alex's Lemonade Stand Foundation, a foundation dedicated to fighting childhood cancer. Every quarter, RPS spotlights and donates to a different organization, and supports others with volunteer work. Most recently, that included the Rose Brooks Center, a domestic violence shelter that offers safety and support to adults, children, and pets experiencing domestic violence. All of it is part and parcel to Sarnecki's view of organizational leadership—he takes it personally. "People matter," he once told an interviewer. "How you treat anyone in an organization reveals everything about you."
The Robert E. Miller Group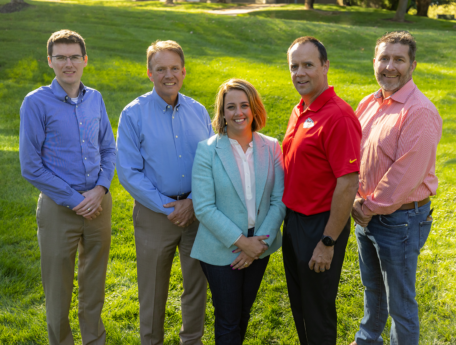 Executive leaders come and go. Times change. But values transcend generations. You can see that playing out in real-time at The Robert E. Miller Group, the insurance and benefits specialists are now in their third generation of family leadership. That transition came earlier this year when Amber Manning, whose grandfather founded the Kansas City firm, took the reins as chief executive. "Over the past 61 years, The Miller Group has built a company and culture where employees feel valued, supported, and stable," says HR director Laura Forbes. "Our decisions are guided by our core values of God, family, and community which helps us provide a supportive, family-friendly culture." For a firm that lives in the insurance space, one would expect that the Miller Group's benefits and wellness programming would reflect best practices. One would be right: The company takes a holistic approach and continually enhances initiatives to meet employees' needs. Employees find health-saving plan options within that benefits package, a 401(k) retirement savings plan, fitness-tracker reimbursements, reduced medical premiums through the wellness program, a new pay-advance program, and more. It has also added a third medical plan to meet associates' needs and chose to lower employee premiums. And honestly: How many companies with a total staff of 61 have an employee assistance program? Miller does. Because the leadership sees a strong work/life balance as essential, it has implemented unlimited PTO. Financial stability is always a key piece of the staff retention puzzle. The Miller Group solved that once again in 2022 by breaking several business records and recording its best revenue year while maintaining a 91 percent client retention rate. Training and development are key factors in staff retention, as well—associate turnover was only about 5 percent last year. Several associates have participated in emerging-leader programs. The firm invests in developing younger workers who are ready to move into leadership positions and front-line managers who may be candidates for higher positions. Reflecting the Jesuit education in leadership history, community is a core value for the firm, which believes that a sense of purpose comes through supporting one's community and can also build mental well-being. Associates are given a paid volunteer day, they can donate to local non-profits and the firm will match it through its Miller Way initiative. Last year, that program alone donated more than $120,000 to local non-profits. On top of that, it presented employees with a unique challenge last summer: Each associate was given two $50 bills to distribute to someone in need. They then shared stories during all-associate meetings about how those efforts affected random people in the community.