Since launching Best Companies to Work For in 2008, Ingram's has labored to create a level playing field for any company wishing to be considered: Do your best as an employer, tell us about what sees you apart, and make your best argument. We'd be the judge.
Well, the playing field tilted in 2020, and not just in one direction. It was more like the sweep of a windmill, tilting in a new direction from one moment to the next. Some companies were already out of the running before the word "coronavirus" became a daily news fixture. That's the market at work. Some were quickly dragged down by the impact of that global pandemic, making cutbacks that don't bolster the case for being a best-practices employer. To a degree, that was the market at work, too. Then the big hammer fell in April, after the entry deadline had passed for this year's competition. Federal, state and local jurisdictions made unprecedented—and constitutionally questionable—moves to "order" certain companies to cease operations. That was most assuredly not the market at work.
The declaration by fiat that some companies would remain "essential" and others would have to lock their doors will have far-reaching implications for the U.S. economy; that exercise of raw power, in reality, chose winners and losers even before the economic cycle could regain its balance. With so many businesses affected, and compelled to bid farewell to trusted, loyal employees through no fault of the owner's own, the playing field for this year's Best Companies to Work For was adjusted accordingly.
This year, Ingram's is pleased to recognize 14 companies—large, small and in-between—that have pivoted to operate in this new pandemic paradigm while supporting employees and keeping all or most of them productive and engaged, whether in the office, the sales floor, the production line or at home, working remotely.
Their stories should prove inspirational to all who seek to attain recognition as a Best Company to Work For as we rebuild this shattered economy.
A final thought about setting the winning field for this: From the start, Ingram's Best Companies to Work For program was designed to avoid the trap of returning annually to a handful of companies that, frankly, are uniquely positioned to set themselves apart as employers. heir financial muscle could allow them to dominate the list every year.
Even with our three-year hiatus imposed on winners, we have now seen after more than a decade that the cream will rise to the crop with renewed eligibility every few years. But commanding space on this list every few years raises the same issues, no matter how strong their claims to that status. This year, in our efforts to produce a field of deserving winners that is both broad and deep, some very forward-thinking winners of the past aren't automatically included. They nonetheless deserve special mention. We recognize that companies like J.E. Dunn Construction, Midway Ford Truck Center, McCownGordon Construction, Burns & McDonnell, Blue Cross and Blue Shield of Kansas City, Creative Planning, Mariner Wealth Advisors and perhaps two or three dozen others will, in all likelihood, always be the cream of the employer crop in this market. Year after year, they have demonstrated a command of best-employer practices that set standards for nearly every other company in this region.
Since its inception, Best Companies to Work For has recognized nearly 200 organizations for excellence in employment, covering compensation and benefits, training, management practices, workplace environment, fiscal strength and civic engagement. That may seem like a lot, but it's a tiny slice of the 75,000 companies licensed to do business in this market.
An extremely small percentage will ever make the ranks of top employers. But those who have, and who carry current or past designation as one of Ingram's Best Companies to Work For, have our respect, and our thanks for their participation over the years. Their stories live on and are still accessible to one and all at Ingrams.com.
May all who read about how this year's winners, and those who came before them, embrace the practices that earned them that status.
LARGE COMPANIES
Compass Minerals

It sounds more like a job description for one of those Avengers super-heroes, but at Compass Minerals, they really do take pride in helping keep people safe, feeding the world and enriching lives, every day. It means, says CEO Kevin Crutchfield, creating a workplace that is dedicated to meaningful, challenging and exciting work. Compass Minerals, a public company with 3,200 employees overall and 200 at its Overland Park headquarters, is a national leader in production of salt and plant nutrition products. We take pride in helping keep people safe, feeding the world and enriching lives, every day. Success there, the company says, stems from a "culture of performance that empowers employees and enables every person to work proactively," drawing on core values of Integrity, Respect, Collaboration, Value Creation and High Performance. You can't knock the long-term results of that approach; the company's roots go back almost 200 years. "Bottom-up problem solving," the company says, "means employees are involved in addressing issues that impact them," leading to increased knowledge-sharing, role clarity and a higher collective energy level. The company gets there through communications tolls that include town halls, an employee magazine, active internal communications and open-door leadership. That culture is reinforced through what it calls LINK employee resource groups, for Learning, Inspiring, Networking and Knowing. All of that is framed by what the company calls "a duty to care for our employees, our communities and the world around us." For employees, that starts with a comprehensive benefits package including subsidized health insurance, flexible spending accounts, dental and vision insurance. On top of that is educational assistance, a 401(k) retirement plan with company match and the opportunity to purchase the company's stock. Compass also offers a sophisticated Employee Assistance Program with counseling, legal and financial consultations, crisis support and more for employees and their families. Training is bolstered through the in-house Compass Minerals Academy, a one-stop online site that helps promote development opportunities in the industry and community. Supplementing that are educational conferences; a typical example is the Central Exchange Emerging Leaders program, which had five women from the ranks at Compass enrolled last year. The company is an active player philanthropically through it's alignment with the United Way, and offers its own opportunities for individual giving and sponsorships with its Loads of Love and Day of Caring initiatives, as well as Red Cross blood drives on site each year and participating in the Inaugural Big 12 Basketball Food Drive, a benefit for Harvesters—The Community Food Network.
---
MMC Corp.
With nearly $800 million in annual revenue muscle behind it, and the commitment to work force the construction sector has come to expect from employee-owned firms, MMC Corp. The company boasts nearly 1,850 full-time employees, plus several hundred part-timers, at 15 locations around the nation, and counts 367 of those at its Overland Park headquarters. MMC Corp. is the flagship for a family of brands including mechanical contractors MMC Contractors and Countywide Mechanical Systems, general contractor MW Builders, and one Building Control Services, an operating unit specializing in just that—control systems. Employee-ownership, says benefits manager Joanna Wright, means that "our people have a stake in the game and a vested interest in the success of our clients." Within that framework, the company places a premium on entrepreneurial spirit, quality craftsmanship, teamwork, and integrity. All of it, the company says, with a goal of treating clients as clients for life. MMC, which started during the Great Depression as a family-owned plumbing company, supports a work-hard-have-fun culture with an ESOP that has rewarded participants with robust growth since the 100 percent ownership structure was adopted in 2002. The  10-year growth in share price: A whopping 349.7 percent. Though the current pandemic is likely to put some projects on hold, the company roared into 2020 with a backlock of $1.1 billion, a 10 percent year-over-year increase. That's the icing on a compensation cake leavened by competitive market salaries, three health plan options, flexible spending and HSA accounts, disability and life insurance, a bonus incentive program, a 4 percent company match 401(k) contributions, an Employee Assistance Program, seven paid holidays a year, eight hours of paid volunteering time each year, and a matching program for charitable giving. To arm the company for future growth, MMC offers programs to promote knowledge-sharing and career advancement. It  gets there by training future leaders with annual conferences, industry events/connections, service summits, Best Practice Groups, an intern program, and both in-person and digital training regimens. "Our training programs are designed to promote the growth of our management staff and future leaders, as well as the development of our field operations staff," Wright says. "This not only provides our people with an opportunity for professional development, but it also provides a chance to build a better bond between offices. A 'train your replacement' mindset is also encouraged, and many top leaders came up through our ranks." The company's president and CEO is Tim Chadwick.
---
Olathe Health
The health crisis sweeping this planet has placed into sharp relief the absolute need for health-care providers to do far more than take care of patients: Taking care of the employees who deliver that critical care is a must, as well. The 2,600 employees of Olathe Health have enjoyed an organizational commitment to their welfare that far outdates the entry of  "coronavirus" into the daily lexicon. Far from the small community hospital that took its first steps in 1953, Olathe Health is a full-service, comprehensive health provider anchored by Olathe Medical Center, but also providing care at more than three dozen locations, including a smaller community hospital, clinics, specialty and physician practices primarily serving five counties with a roster of nearly 350 physicians. The prime directive entails a balancing act: providing quality, compassionate patient care with the financial stability to invest in the best technology and people, officials say. In the face of the COVID-19 pandemic, the balancing act now comes in three parts—patient care, staff security, and financial dexterity as hospitals nationwide incur tens of billions in collective losses during the crisis. To support the efforts of its staff and safeguard their health, the system crafted a strategy that addressed both the professional and personal in their lives. Things like offering child care at the Olathe YMCA, adding new pay practice policy enhancements around PTO and sick-time usage, allowing work schedule flexibility with remote working capabilities—even helping them acquire essential household needs and groceries. Those are reflections, officials say, of the values the health system prizes; teamwork, mutual respect and community pride. They also mirror a compensation strategy that starts with competitive pay and comprehensive benefits that support eligible associates and their dependents. Among them, a robust 403(b) retirement savings program with company match, an annual discretionary incentive program at all levels, factoring in individual as well as organizational achievements, and a choice of health-plan options. On top of that is paid time off that was recently sweetened, tuition reimbursement program and, adding to a suite of core benefits for medical, dental, vision and life insurance, voluntary add-on benefits for legal services and pet insurance. Partnerships with national firms yield employee discounts on a wide range of products and services. And as a health-care provider, there's a premium placed on wellness, evidenced by fitness-program discounts of up to $600 a year per employee and covered spouse, along with on-site and online programs to assist with stress management, healthy eating, weight loss and management, and tobacco cessation.
---
Sun Life
A long life is a good thing in its own right, but helping people attain a longer, high-quality life with financial security? That's a mission. For the 5,500 employees of Sun Life Financial about 10 percent of whom staff Downtown offices in KC, the mission takes place in a flexible, inclusive and supportive culture. Those are the key factors, officials say, that promote employee engagement and productivity. But financial security isn't just a concern for clients; in addition to its competitive pay, the company offers a healthy 401(k) plan structured to yield a 4 percent company match on the first 5 percent of an employee's contributions. Add to that flexible spending accounts, health savings accounts and flexible-spending accounts and you have a recipe for long-term personal success for employees. Best practices also show up with time-off incentives. This year, Sun Life upgraded its paid family and medical leave program, offering fully paid leave for 24 weeks for birth parents, 16 weeks for new child bonding/paternity leave, 16 weeks for caregiver leave, and 16 weeks for medical leave. That came shortly after the launch of a sabbatical program for employees to connect with family, volunteer, pursue professional development or simply recharge. Employees are also treated to incentives and reimbursements for fitness memberships, wellness programming and mental-health support. Despite geographic dispersal of its work force, Sun Life embraces collaboration and teamwork, taking those concepts to the max with its recent move to an agile work environment—everyone has the freedom and flexibility to work the office desk of their choice, or from home. A healthy application of Zoom meetings connects Kansas City employees to colleagues in Maine, Connecticut and the mother ship in Massachusetts. When the COVID-19 pandemic struck in late winter, Sun Life pivoted to a full work-from-home dynamic, recognizing the need for extensive support and information to help employees remain productive. As part of that, the company's leadership recently issued a "Flexibility Pledge" asking everyone, including managers, to schedule fewer, shorter meetings, and to give employees more flexibility to balance work and home-life issues.
---
MID-SIZE COMPANIES
Baker Sterchi Cowden & Rice
As the COVID-19 crisis began to reveal its true job-destroying potential, the partners at Baker Sterchi Cowden & Rice did what a lot of American companies did—they cut salaries. Unlike most of those other companies, though, the salaries they cut were their own. That, officials say, was just one part of an overall strategy designed to keep employees safe, well-informed and most of all, employed until the crisis has passed. The Downtown law firm, nearly 40 years old, specializes in civil defense litigation in cases ranging from product liability to commercial law, employment and labor matters, financial services, environmental, insurance, and personal injury. Litigation isn't for everyone; most lawyers,  in fact, never work inside a courtroom. It can be incredibly intense with crushing deadlines and the very fates of corporate clients hanging in the balance. Within that work-hard culture, though, the firm's leadership encourages a congenial workplace where there's enough room in the day to discuss the Chiefs and Royals, and to speculate on which we'll see back in action first. As for the workload, the firm distinguishes itself with a billable-hour requirement lower than you'd find at most firms. Because success looks different to different people, the leadership says, the firm offers alternative career paths that allow its attorneys to pursue their own goals, not always including equity membership. Best Companies staples include competitive salaries and varied insurance products covering health, dental, life and disability risks, plus a child-care tax savings plan, employee assistance program and retirement assistance, including a matching 401(k) savings plan and discretionary profit-sharing plan. There are also paid vacation and sick time allotments, flexible work schedules, and wellness initiatives that include annual basic health screenings. Adding some legal-sector flair to the package, the firm arms employees with the latest in legal technology and pays for bar exam prep courses and fees, attorney and paralegal continuing education, in-house continuing legal education, and bar association and other membership dues. The focus on leadership development extends beyond the firm's front door; it provides support to attorneys and staff for outside leadership positions, which have led to roles with national, regional, and local legal-defense organizations and bar associations, as well as legal administrator, legal administrative assistant, paralegal, and legal marketing associations.   Diversity and inclusion initiatives and activities are an organizational imperative, including participation in legal job fairs for minority candidates, diversity-driven law student placement programs, and  networking with and offering mentorship to area law school students.
---

KCAS Bioanalytical
and Biomarker Services
When we last looked in on KCAS Bioanalytical and Biomarker Services, it was earning Best Companies to Work For recognition in the small-enterprise classification. While the payroll has definitely increased, rising to cover 139 employees as a mid-size firm, the commitment to taking care of them still shines through. That all starts with leadership and management practices under CEO John Bucksath, whose team has placed a high value on transparency and communication with the staff. How transparent? Each quarter, the company provides lunch for Business Review meetings, where the staff receives updates on financials, business development, operational and quality-assurance initiatives. A third-party company completes a yearly employee survey to gauge areas of improvement and areas of satisfaction, and those findings inform efforts to improve employee performance reviews. In the biosciences realm, you bet your future on training, and at KCAS, staff development efforts include educational seminars and conferences, while cross-training between departments helps ensure that employees have job stability if one department experiences a lull in projects. The Wolf Prairie Leadership program is available to select managers, and all in oversight roles are enrolled in an internal HR Manager training. Through the company's Technical Development Program, employees can see what is expected of them regarding specific experience, expertise, and education if they aspire to higher-level roles. The pay and benefits structure includes an annual bonus based on the company's EBITDA and the employee's achievement of professional goals. The 401(k) plan provides a company match of up to 4 percent of the employee's salary, and the employee-referral program can merit between  $500 and $2,500, based on the position being filled. What more? Well, in addition to paid sick leave and vacation days, each employees gets a pair of personal days. There's a tuition-reimbursement program that tops out at $2,500 per semester and $5,000 per year. Despite those goodies, the company prides itself on work environment. It sponsors a Wellness Committee that drives engagement  with a 5K sponsorship, at-work flu shots and stress-busting puppy snuggles. The Festivities Committee organizes a family fun day, holiday party and events like Food Truck Day and Pi Day Competition. Under the Employee of the Month program, honorees earn a front-row parking spot and $200. The employee collaborations continued with the onset of the COVID-19 pandemic, with an ad hoc group addressing changing policies and guidelines, setting up non-essential personnel to work from home, planning shift work to allow for social distancing in the lab, providing a one-time cell phone stipend for employees and bringing in lunches and take-home meals for employees that had to work.
---
Kansas City University
Some employers attract talent by virtue of the mission. Some by the strength of the leadership, and the opportunity to become part of it. And some on the appeal of a compensation and benefits package that makes, in the parlance of "The Godfather," an offer you can't refuse. Combining all three is Kansas City University, which more than a century ago become one of the nation's first colleges of osteopathic medicine. The mission speaks for itself: training future cohorts of America's physicians and pursing innovation in the health sciences. And the leadership under president and CEO Marc Hahn is grounded in open, honest, timely and transparent communications, and committed to training as many of its future leaders in-house as it can. But, oh, the benefits for more than 500 people who make that mission their livelihood. Consider, if you will, an employer that offers more than five weeks of paid time off, plus paid extended winter break. Or an eye-popping 10 percent company match on employees' eligible 403(b) contributions. Then there are baubles like flexible-spending accounts, pre-seeded health-savings account, merit raises and a $5,000 yearly tuition-assistance benefit.   At a time of increased focus on the cost of health insurance, KCU offers a choice of subsidized plans that, combined with employee commitment to wellness options and a tobacco-free lifestyle, can drive the monthly premium to as low as $173. The wellness commitment includes on-site fitness classes and fitness center, free flu shots and biometric screening clinics, financial planning workshops and an incentive for a $40 monthly health insurance premium differential. KCU's financial strength has underpinned growth in programs and reach; in 2017, it opened a second campus location in Joplin, where its new College of Dental Medicine will open in 2022. On the main campus Downtown, it will unveil its new Center for Medical Education Innovation in 2020.
---
Wellsky
You can call it The Wellsky Covenant: "We make a promise to our teammates," the health-care IT company declares, "that we will be communicative, collaborative, accountable, curious, inclusive, and courageous." For the 1,600 employees at its Overland Park headquarters (and their colleagues at a dozen other locations in the U.S., plus the United Kingdom and the Netherlands), that promise presents itself in their mission to serve more than 14,000 clients around the world. Most visibly, that's with a physical presence. Last year, the company took the wraps off its new state-of-the-art world headquarters in the CityPlace Corporate Center. Collaborative meeting spots, individual quiet spaces, an onsite gym, varied social areas including an outdoor entertaining space, all come together to deliver a work environment designed to inspire and engage. On a more personal level, employees are rewarded with a 401(k)-retirement plan that includes a total company match of 4 percent of an employee's annual compensation. A healthy paid-holiday schedule covers 11 days a year, four  of which are float holidays of each employee's choosing. They also earn five paid sick days, two paid volunteer days and paid parental leave. On the insurance side, the staff can choose from a customizable benefits menu that includes medical, prescription, dental, and vision insurance. They enjoy free access to a personal health advocate, telehealth services, and a tobacco-cessation program. To foster workplace camaraderie, the company sponsors monthly celebrations and family-centric events, including movie and game nights and picnics. And it hosts a pair of annual events to celebrate individual achievement. On Appreciation Day, members of CEO Bill Miller's leadership team pitch in for treats, happy hours, and swag items. During Spirit Week, employees get to know each other better though volunteer opportunities and fundraising events—including a chance to pie managers in the face for charity. Through quarterly town hall meetings, employees are infor-med about company updates, client successes, teammate recognition, and solution innovations. And on the training side, educational assistance is available for career development. Employees can  access more than 400 free training courses, and there is professional development through the Aspire Leadership program and the ongoing Manager Training Series.
---
SMALL COMPANIES
Block Real Estate Services
When you think about the impact that Block Real Estate Services has on the Kansas City realty and development scene, it's hard to imagine how all of it gets done with just 99 employees. Think for a moment about the company's reach:
It's No. 1 in the commercial realty market for sales brokerage, at $450 million a year.
It's No. 1 in combined gross volume for sales, leasing and property management, at more than $1 billion annually in recent years.
And it's No. 1 in commercial space managed—more than 42 million square feet of it. That's more than twice it's closest competitor, a field that includes national and global realty enterprises.
That's an impressive set of metrics from a company that took on its present structure slightly more than a decade ago. But its real-estate roots run far deeper, going back nearly 75 years since Allen Block, father of current principals Ken, Stephen and Michael, laid the groundwork for a commercial realty dynasty. The pace of that growth can be intense, especially when you add in investment and construction operations to the traditional brokerage duties. But the rewards for excellence, the company says, are shared by the broader community. "BRES has long felt it is an honor and a privilege to do business in Kansas City," says communications director Chris Meier. "The quality of life, the level of health care, the spirit of the community and its philanthropy—we don't take any of it for granted. We are grateful, and with that gratitude comes a responsibility to ensure our community continues to thrive and takes care of its own. We lead by example and hope to spur the involvement of others to make our community better." Employees are encouraged to give back through donation of their time and money, and the company encourages participation with board service or volunteer roles with  organizations that focus on education, health, and human services. Some of the most visible examples of how the firm looks after its employees reveal themselves in stories of personal challenges, especially when someone's health is at risk.  The Block family has a personal passion to support patients battling advanced cancer, and does that through the Allen J. Block Outpatient Palliative Care Program at the University of Kansas Cancer Center. The goal is to reduce the burden of the diagnosis and the treatment of cancer and to improve the quality of life for patients and their families, giving them time—when time matters most.  More recently, the firm partnered with the ReNew KC Foundation, led by members of managing principal Ken Block's family, to renovate, restore, and renew blighted Kansas City metro neighborhoods.
---
Davidson Architecture + Engineering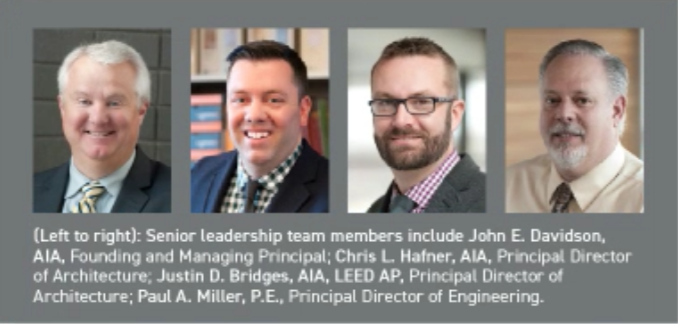 When he opened the doors of his architectural services firm in 1995, John Davidson saw an opportunity to build a different kind of enterprise, one grounded in relationships honed through communication, commitment, creativity, and innovation. Today, 25 years and two dozen employees later, those values are paying off for the Overland Park firm, where he's still the managing principal, and where he has built a firm with two dozen employees. Specializing in architecture, civil engineering, interior design, and master planning, the advanced design firm says success is grounded in training and guidance, and by allowing employees to grow into their professional roles based on shared values of integrity, respect, and mutual trust. An often underrated piece of the employee engagement puzzle is the physical space where they work. It's not an afterthought at DA+E, where employees enjoy a modern, open office with natural lighting and a full view of the adjacent Indian Creek Park and walking trail. That setting, say officials at the firm, is highly conducive to team collaboration, productivity, and everyone's physical and mental well-being. But team spirit is also built with events that bring employees together outside traditional work spaces. Among those are monthly lunch outings in small, random groups of three or four, occasional happy hours and wine tastings at day's end, lunchtime barbecues and potlucks, outings to Top Golf, and group volunteer outings that support non-profits like Habitat for Humanity's Build Day, CANstruction through Harvesters, and fund-raising for March of Dimes or Children's Mercy Hospital. Though just two dozen strong, the firm offers a 401(k) plan with a 3 percent match on employee contributions, a financial treat sweetened by annual employee bonuses based on company profits. Individual health insurance comes with paid premiums, and employees have up to five days paid sick leave and 10 days of other paid time off. There's also an option for flexible work hours (the 9-9 plan that yields an extra day off every two weeks as employees work slightly longer shifts for nine of the 10 workdays). To address training needs, the firm provides ample continuing education, and staff members are encouraged to seek out opportunities for professional growth that eventually can lead to a partnership role with the firm.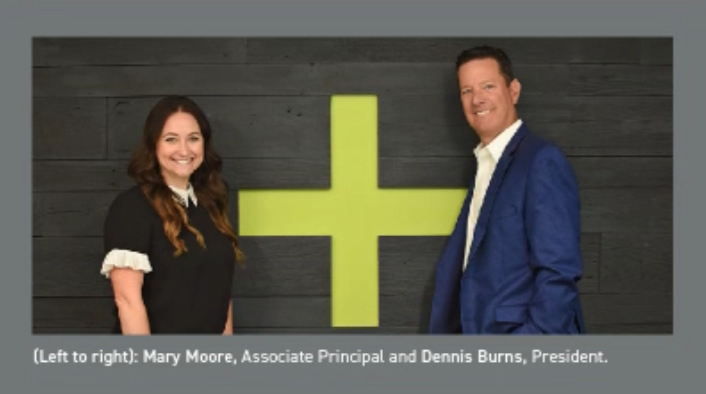 ---
Pulse Design Group
For the 35 employees under managing partner Rick Embers at Pulse Design Group, architectural design for the health-care world isn't just a paycheck, it's a passion. The Lenexa-based firm has more than four decades of experience in that design niche, with a client roster that includes more than 50 health-care systems across the nation and more than 3,000 projects, from facility rehab to construction from the ground up. That book of business covers master planning, architecture and interior design, medical equipment planning and most recently, virtual reality. Because health care is the sole focus, the firm can tackle challenging and complex projects that might be outside the scope of a competitor's comfort zone. That shows up in the firm's logbook of finished projects for clients like The University of Kansas Health System's cancer center down to smaller medical practice settings. Getting to that place, though, requires keen attention to employee needs, including professional  development. It also means building a team that understands the value of relationships with clients, industry professionals and throughout the community. That framework has created the kind of financial heft that produced recent enhancements to the 401(k) matching program, as well as the employee emergency fund, a monetary safety net for employees who run into hardships when life gets in the way of their finances. Training and career development is an all-hands-on-deck exercise, engaging all staff members on everything from advising intern architects on licensure, to helping colleagues achieve accreditations, suggesting outlets to obtain continuing education credits or mentoring a summer intern. The workplace culture has been shaped by development of internal committees to streamline efficiencies and encourage camaraderie. Examples of that: integrating flexible work hours to aid in employee satisfaction, crafting a detailed onboarding program for new recruits, revamping the employee-review process, and starting weekly group workout classes. Result: Many of the firm's employees have been on board for more than 10 years. And the outlook is rosy, as well. This fall, Pulse Design Group will relocate to the Country Club Plaza, a move designed to increase strategic positioning, bolster recruitment and retention, and create room for future growth.
---
Greater KC Community Foundation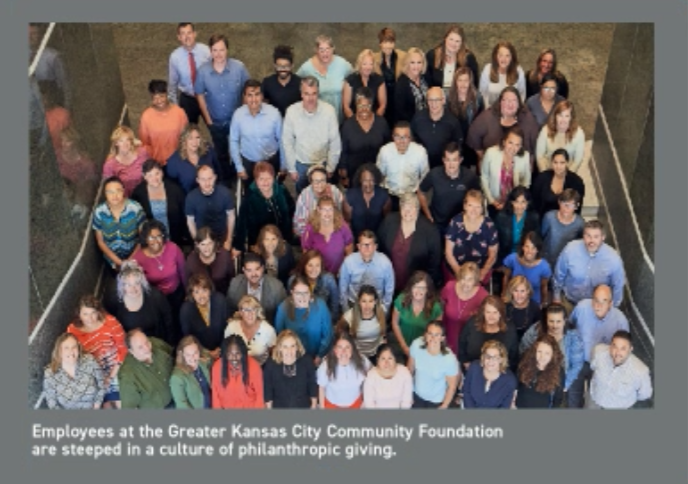 As a business enterprise, the Greater Kansas City Community Foundation presents an interesting dynamic at the intersection of mission, manpower and money. A comparatively small work force of just 69 full-time employees, supplemented by eight part-time workers, oversees funds whose philanthropic assets exceed $3 billion, and all of it aimed at making the world a better place. Donors, ranging from the retire couple next door to some of Kansas City's titans of commerce, expect and deserve world-class service and expertise, the foundation says, "and the only way to provide that service is through happy and healthy employees." So how to get there? It starts with a positive, accepting environment, bolstered by lunch and learn session for the staff, company-wide and one-on-one training opportunities, monthly birthday celebrations, anniversary celebrations and an annual staff celebration.Collaboration and communication are prized values, as are an open-door management culture under president/CEO Debbie Wilkerson, two employee performance reviews per year, feedback sessions, and introductory meetings for new hires with management and executives. Two unique employee benefits address the financial side of working at the foundation. One lives up to the organization's own ideals, allowing employees to open their own personal charitable giving accounts without paying our standard administrative fees. By doing so, they can experience exactly what other donors experience through their giving. As a bonus the foundation adds $1,000 to each employee's account every year, allowing them to support their favorite charities.   Just as impressive is the 401(k) program, where each employee receives a contribution equal to 10 percent of their salary—but that's not technically a match, because the employees are not required to pay into the program, where they are fully vested after three years. On the physical side, employees can participate in twice-weekly on-site fitness classes, enjoy fresh fruit in the breakrooms, opt for fruit-infused water and enjoy discounted membership to the YMCA. Training includes hands-on sessions and a mentoring program for new employees during onboarding. Mentors take new employees to lunch (paid by the foundation), and new hires are teamed with mentors from outside of their department, so they can build an understanding of different facets of the foundation's work. That also provides, the foundation says, a safe space to ask questions and voice concerns. To help employees balance their careers and personal lives, the foundation offers eight half-days off in the summer, on top of the regular paid-time off structure. And employees get eight hours of paid leave to volunteer for a non-profit cause each year.
---
Parris Communications
We don't usually designate a secondary award for Smallest Winner among our Best Companies to Work For, but this year's would hands-down be Parris Communications. The strategic communications firm, with just 14 full-time employees and a handful of part-timers, casts a giant shadow in that space with client connections on the national political scene. Roshann Parris founded the firm in 1988 and still sits at the helm, having created what President Laurie Roberts calls an organization that is "flexible, passionate and fun," and one dedicated to the career and personal fulfillment of its employees. "We provide a multi-generation workplace with a clear roadmap for career advancement and development opportunities," Roberts says. "We have flexible work schedules, a pet-friendly workplace, the ability to work remotely, and amazing family outings that include stadium and arena concerts, music theatre, sporting events and pool parties. Our crisis Zoom meetings still bear that same family-friendly energy; dogs and kids join our video calls." The low turnover rate is, in part testament to an effective strategy for salary, benefits and bonuses, all of which consistently exceed industry averages. At the five-year mark, employees earn unlimited vacation time, a concept that never really gets tested at a crisis communications business that can often mean working 24/7. Financial strength has long been a hallmark of Parris Com-munications, creating opportunities for the firm to make an inordinately large philanthropic impact. Over the years, hundreds of non-profits have enjoyed benevolence that tops $10 million in gifts and pro bono services in Kansas City and beyond. It's a philosophy grounded in Winston Churchill's guidance that "We make a living by what we get, but we make a life by what we give." As one might expect in a high-energy office with creative minds, training at Parris Communications takes place in almost every conversation. "When we put our heads together, brainstorm, get strategic, good stuff happens," Roberts  says. "While we have all attended some great external programs, we have also learned that our professional growth happens most powerfully by harvesting energy from our group of high-performing Parrisians." Within that setting, employees see themselves not as communications pros, but as family. "We take care of our own Parrisian family," Roberts says. "We are family. We are there for each other. The result seems to speak for itself: unparalleled, thoughtful, creative strategic results, while hitting that elusive work-life balance that so many employees seek. Our motto that "You'll Always Have Parris" is real.
---
Durvet, Inc.
If you're old enough to recall the Mighty Mouse cartoon character and television series, you'll appreciate the ability of Durvet, Inc. to punch above its weight. Barely more than 50 employees strong, the animal-health products distributor nonetheless yielded an impressive $215 million in revenue in 2019—better than $4.3 million each, on average. The Blue Springs company, a cooperative owned by 21 member-distributors throughout the United States, is under the direction of Todd Muenstermann as president. On his watch, says marketing director Mark Niblo, "our management practices are built on good ol' country core values. We hire based on culture, fit, and work ethic." In Durvet's case, that means a work force predisposed to agricultural interests—in not a few cases, people who grew up on a farm or have the farm-life values of early to bed, early to rise, an oversized sense of humility and an innate desire to demonstrate integrity in all things. Even with the expansion of staff, adding nine bodies in the past two years, the average tenure of employees is nearly eight years. One of the best ways to safeguard the interests of your employees is to pursue new opportunities at a time when others are pulling back, and that's been the model for Durvet during the current COVID-19 pandemic. Even as layoffs come in waves and companies are closing their doors around the globe, Muenstermann has the team focusing on expansion. That has required a fine juggling act, reducing the presence of staff on-site to essential personnel only, but still adding new products, maintaining profitability and generating sales that are ahead of budget. Oh: and completing a 54,000-square-foot expansion in the middle of worldwide mayhem. The company culture is grounded in innovation, and has been since 1970, when the first doors that it opened were on a van loaded with animal-health care products; the headquarters was a rented space covering all of 500 square feet. But Durvet pioneered the over-the-counter health market with both manufacturing and distribution. It has evolved through an expanded inventory of products for livestock, horse and pet owners.