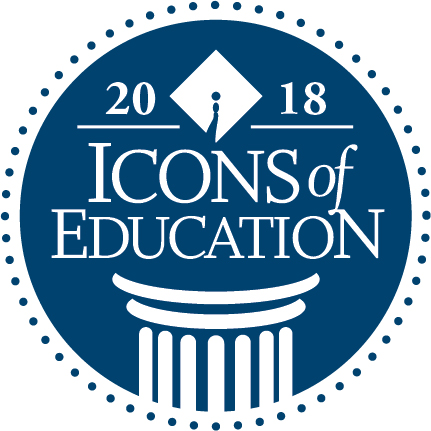 The 19th-century French economist Frederic Bastiat is perhaps best-known for his treatise encouraging policy makers to understand the differences between "that which is seen, and that which is not seen."
Two centuries later, his is guidance that proves quite useful in assessing what makes one an Icon of Education. This year, for example, we see in these 10 individuals decades of experience shaping young minds and young lives in K-12 public and private schools, in private colleges and at public research universities. We see the honors they have attained, the recognition bestowed by peers, employers and national organizations.
What we don't see is how the lives they've touched have, in turn, shaped the lives of generations behind them. The group effort to pull a homeless woman through school at Crowder College—an account you'll read about in the pages that follow—in turn led to a graduate degree and a teaching career that would influence future generations of students, and produced a mother whose children will know a lifestyle far different than did that young woman who once lived in her car.
Now, for this year's honorees, consider that type of influence across four, even five decades of teaching and administration, across thousands of students in cohorts marching through 13 years of primary and secondary school, and thousands more through college classrooms as they secured bachelor's, master's and doctoral degrees.
Through the lens of time, it is hard to see that impact on a broad scale. With individual students, that which is seen is powerful, and profound. And it's been at the center of the careers of each of this year's honorees. We invite you to join us in recognizing them for their truly iconic achievements.
---
Roger Goldman, St. Louis University
Roger Goldman has always tended to go against the grain. "My grandfather, father and older brother were all physicians, so I'm sure one reason I went to law school was to branch out into a new direction.," he says. Goldman did more than branch out; his work started a ripple effect in the world of anti-discrimination law and eventually got laws passed nationwide to address police misconduct. "I really had no idea what law school was all about but it was the '60s, and my favorite courses involved socially relevant topics like constitutional law and criminal procedure, and those were the courses I taught at SLU Law." After receiving his bachelor's degree from Harvard in '63, Goldman went on to Penn for his law degree. His law career started in the '70s with the Legal Aid Society of St. Louis, where he worked with law students.When his two-year, federally funded grant ended, a law professor encouraged him to go across the street to SLU Law School.  "It was the university's social justice mission, exemplified by then-Dean Richard Childress, who marched with Dr. King in Selma, that drew me to SLU and has informed my work since," said Goldman. One of Goldman's first efforts was to push for a grant from the U.S. Equal Opportunity Commission to open a clinic at the law school, where he encouraged women and minorities to pursue law careers. "Today, 38 years later, most of the lawyers in St. Louis who represent clients with employment discrimination claims were enrolled in that clinic," said Goldman. One of the women who went through the clinic is now a state appeals-court judge. Though retired from full-time teaching, he's still fighting for what he believes is right. "Teaching, scholarship and service are inextricably intertwined for law professors," he says. "For most of my career, I have written about and advocated for a new approach to dealing with serious police misconduct, culminating in getting a law enacted in Missouri that provides for license-revocation for that misconduct. Even after my retirement, as an emeritus professor I have continued that work around the country and have no intention of stopping now." Goldman is considered the nation's foremost expert on police licensing and license-revocation laws and recently wrote an op-ed in Newsweek outlining his concerns for police misconduct related to sexual abuse. He has also authored three books on the U.S. Supreme Court and his opinions are routinely sought from national and local news outlets. When he's not trying to change the world, Goldman takes care of his two grandchildren, Lily and Jake. He also writes poems, songs and titles for non-profits and stays in shape with weekly Pilates classes.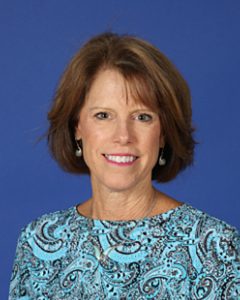 Linda Harrelson, Summit Christian Academy
"I was a business owner," says Linda Harrelson, "not a teacher." But in 1999, there was no way Harrelson could shake the calling she felt to apply as the head of school at Summit Christian Academy. She had served on the board since 1992 and had two kids enrolled at the school, there was just one nagging problem: She had never been a teacher. Harrelson had undergrad degrees in business and psychology and turned those into owning a few Baskin Robbins ice cream stores around the Kansas City area. But she had helped draw the founding documents for Summit Christian and helped develop the first business plan, so the calling wasn't a flash in the pan. She sold her ice cream stores and went back to school to get her master's in educational administration. "I realize this is an unusual path as I had never been a teacher," says Harrelson, "but what I learned running a business has been invaluable in growing, overseeing, and developing our school. However, it made it even more important to build a team that included qualified, strong educators. I am thankful for the team around me. Without them, and what they do in the classroom with our students, SCA would not be what it is today." What Summit Christian is today, just a year removed from the school's 25th anniversary, is nothing short of remarkable. It started with just 32 students in the early '90s and now boasts more than 800 on the rolls. At the start, they had no land, just a few modular units and borrowed space at a local church. Now? They sit on a 36-acre campus with two buildings, have top accreditation honors and have also been recognized as one of the top 100 large Christian schools in the country. In her time at the helm, Harrelson also helped add a high-school program and established relationships with two universities to offer students 55 dual-credit hours. Harrelson is also extremely active outside of just running her own school. She serves in many capacities for the Association of Christian Schools International such as the President's Advisory Council, the Kansas/Missouri District Representative, Leadership U Mentor, National Legal/Legislative Conference Member and an Accreditation Team Member/Chair. She also served as the Great Plains Alliance of Christian Schools Executive Board president from 2010-2015 and was involved in the Lee's Summit Chamber of Commerce education committee from 2009-2017. "I want to make an impact, a difference. And I believe that an excellent Christian education will make the biggest impact in our world, one student at a time. This is why I come back. I know that we are making a difference in the lives of students, and they will go on to make a difference in whatever they do. The ripple effect is large and effective."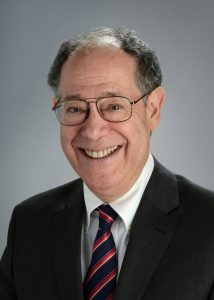 Robert Klein, University of Kansas Medical Center
What Robert Klein is doing at the University of Kansas Medical Center has its roots in a love story—and a teeth-cleaning. Seriously. Klein met his wife when he was completing a post-doctoral fellowship at Marquette and she was in dental hygiene school. Their first date was a teeth-cleaning—so were the second, third and fourth dates. Students could only clean one quadrant at a time, and that took one hour with all the approvals from the supervising staff. The two eventually married and moved to Kansas City. But what Klein's wife soon realized was that in the real world, she had just 20 minutes, not 60, to clean a whole mouth and get X-rays and bite wings, etc. That is part of what inspired Klein in his writing of the new curriculum at KUMC. So why education and not medical practice? "I had no real passion for med school, I never even applied," said Klein. Inspired by his parents—his mother taught grade school for 40 years and his dad taught adult education classes—Klein knew his passion was in teaching. His father once quoted William Butler Yeats when young Klein complained about a tough mid-term, saying "Education is not the filling of a pail, but the lighting of a fire." Klein's fire has burned for more than 40 years at the med center and he's seeing it happen more with practicing physicians. "More physicians are getting involved in education, they've come back to their med school or gone to another med school to practice because they want to see learners, medical students, residents, fellows, they want to be involved in training the next generation," he says. His curriculum change hearkens to his wife's days in hygiene school. "We needed to move what people are doing in the classroom closer to what they're doing in the workplace," said Klein. "When I was in school, it was a lot of passive learning. Labs were hands-on and skills were hands-on but a lot of the education was sitting in class, lecture after lecture, very passive." Recently, Klein has helped write a new curriculum and has 'flipped the classroom.' Instead of having students sit and listen, he gets them to engage via PowerPoints, videos with voiceovers, passing a microphone around the room and encouraging collaboration to promote team building. He's also seeing more future doctors get master's in business administration as well as their Ph.D's because that's become an essential part of running a medical practice. Of course, after four decades in the classroom, Klein has already seen two generations of future educators and doctors. "I joke that I'm going to have grand-learners in the class!" laughs Klein. "I've had several generations of students in class who were children of parents who had come through. My view of retirement will be when someone says 'my grandfather or grandmother took embryology lectures from you.' "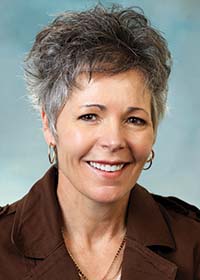 Cindy Lane, Kansas City, KS School District
For Cindy Lane, being an educator was never about education alone. "One of the life lessons taught by both my parents and grandparents was the importance of education, and the critical importance of service," says the soon-to-retire superintendent of the Kansas City, Kan., school district. She had a taste of what service truly meant while still in high school in her native Parsons, Kan. "I volunteered at the Parsons State Hospital and Training Center," she recalls, "where I was drawn to working with individuals with disabilities. The experiences learned through this volunteer service led to my life-long passion for service through education." That came with only a slight diversion, when she started down the path of clinical psychology, where amphibian trumped ambition. "An experience in biology—pithing a frog—led me to change my focus to elementary education," she confesses. "I always credit the frog with leading me to my life's work. In reality, I believe that my passion to help others reach their dreams and potential is why I became an educator." At Pittsburg State, she earned her bachelor's in elementary and master's in behavior disorders, then her doctorate in education from KU, with a focus on special-education administration. That focus has been particularly useful for her work in the challenging environs of an urban school district, where Lane has fought the good fight for nearly 30 years, the last eight as superintendent, and has a huge collection of civic, community and professional awards and recognitions attesting to her capabilities. "I have the unique opportunity to be a part of the lives of my students and families who, year-after-year, affirm that education is the key to the American Dream," she says. "I have the privilege of witnessing the transformation of obstacles into opportunities as our students, families, educators and staff work to ensure each student is prepared.
It is the small moments, witnessing a child learning to read, or a high school student discovering their passion, that make the difficulties and struggles that come along with the position of superintendent all worthwhile." She says she asked much of her team in the district over the years, especially by calling on them to "invest everything we have to inspire our students to reach their dreams." Of them, she says: "It is the passion, drive and determination of those I work with every day, the passion to do whatever it takes to help our students succeed, that keeps me moving forward."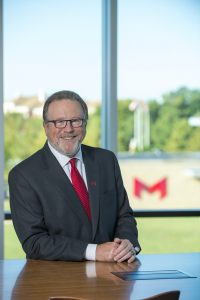 Mark Lombardi, Maryville University
"Doorways open up and all you have to do is be curious enough to step through them and explore the things that you don't know." Words of wisdom from Maryville University President Mark Lombardi. Many doorways opened for him as he was coming up in the teaching world. His chosen field of political science and studying U.S. foreign policy in the Third World took him to Africa and across Latin America, which is why he lives by the idea of education through access and opportunity. Lombardi has been in administration for two decades and came to Maryville in 2007, where he found himself sandwiched between schools like St. Louis University and Washington University. He wasn't deterred because, as Lombardi believes, "Every community needs at least one more great university." He set out to make a local school like Maryville into a national powerhouse, but his timing was less than ideal. In the 2008 financial crisis, many schools were hit with hard decisions to scale back. Lombardi's curiosity sent him through Door No. 2. Instead of pulling back, Lombardi pushed Maryville forward by "bringing the school's message to students across the country, developing cutting-edge academic programs in fields of business, cyber security and also sports management." When others were tightening the purse strings, Lombardi opened his wallet and it ended up paying off big time. On his watch, Maryville has doubled enrollment to nearly 8,000. Those students come from all 50 states and 60 countries, and Lombardi is confident that the 10,000 milestone isn't far off. So how did he do it? "We run the university like a business," says Lombardi. "Everything inside the classroom is about educating the students, but everything outside the classroom is high service, high touch and run fiscally responsibly." Perhaps Lombardi's greatest investment happened a few years ago with a push in technology. Maryville is one of the top 10 percent most-connected campuses in the U.S., meaning the minute Millenials are on campus, they find they can readily get anything they need through a campus-wide WiFi connection. Through partnerships with companies like Apple and Sales Force, Maryville takes information from students' applications and gets a learning profile of every student before they get on campus. That lets the university tailor the education experience for each student. Result: Maryville was named the third-fastest growing private university in the nation in the 2017 U.S. News and World Report.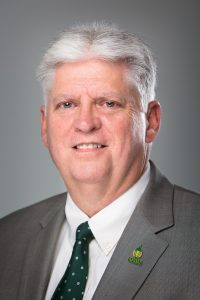 Alan Marble, Missouri Southern State University
Alan Marble had plans. Big plans. None of them involved education; that part was purely accidental. "I intended to go to law school, frankly. I took the LSAT and was ready to go to Arkansas but it was expensive," he says. "So I thought I'd take a year off and got a job at Crowder so I could save money for tuition; 27 years later, I was still there." But that wasn't his first derailment. After graduating from Missouri Southern, Marble went to work with the Missouri Division of Youth Services. From there, a buddy of his asked if he wanted to go into business working with insurance companies to help injured claimants. The work was good, but Marble didn't like the distances he was traveling and didn't feel fulfilled. So he sold off his portion of the business and went back to school, eventually earning his master's from Pittsburg State in 1986. That's when he had the law school bug but decided to take over as Crowder College's director of adult continuing education. He was hooked early on, but it was the end of the first year that truly made him an educator for life. "The first commencement ceremony, I saw people walk across the stage and I realized their lives had changed forever and their families' and future generations' lives." Being a first-generation student himself, Marble was moved by the moment. Twenty years later, he was named the president of Crowder College and seven years after that, he took over at his alma mater, Missouri Southern State. "I've been at this 32 years and it's just as rewarding today as the first year," he says. He can tell many stories of how being an educator has change his life, but one sticks out above the rest. She was in her mid 20s, living out of her car with her kids, and she came back to school at Crowder to finish her education. She had been abused. Marble and others helped her outside of school and she ended up graduating from Missouri Southern. Marble says he lost track of her for a while but 10 years after she graduated Marble found out that young woman had earned her master's and was teaching in Missouri. "Those kind of things, they happen often, and when they do it fills your lamp," he says. "Her own kids will be different and now that she's a teacher, those kids are going to get something special." Marble is reminded that
every time he steps outside his office. "When I walk across campus here, I think about being a student here, the students that I meet and the challenges in their lives that we don't know about unless we engage. Our goal is to be empathetic and also engage with students so they can be successful," says Marble. "People ask me about career plans; truthfully, all the career plans I've ever made haven't worked out. You have to be flexible and go where your heart leads you."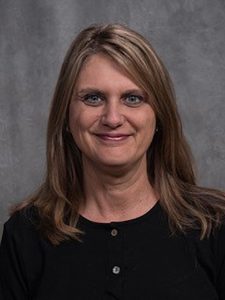 Debbie Mercer, Kansas State University
Perhaps the passion that Debbie Mercer brings to the task of educating others stems from the commitment she made to educating herself—she holds four degrees from her employer, K-State. Yes, four: A Ph.D. and master's degrees in curriculum and instruction, and undergraduate degrees in elementary education and family and child development. She has wielded them on education fronts from kindergarten classes in rural Kansas to college classrooms, and most recently to Manhattan, as dean of education there, the largest teacher-education program in Kansas. And, It's not a stretch to say she sees education as a front in the battle against social inequity. "Teaching allows you to impact lives in powerful and positive ways, because education serves as a social-justice equalizer," Mercer says. "All children deserve a high-quality education. It is this core belief that led me into a professional career in the field of education." Quality public education systems are vital cogs in the wheels of commerce, she said, because they impact all professions; thus, "everyone has a key stake in educating children who will be productive members of our democratic society." That's the big-picture Debbie Mercer talking. On a more personal level, she says, "teaching is in my soul. I remember distinctively and consciously realizing that in my mind I never 'left' the classroom, and this was true well after the last bell had rung for the day. Rather, I continually thought about how to improve, how to present a lesson, what resources to create, how to draw parents in as partners—my reflection was constant and continual. If teaching is truly your calling, it is a way of life. That realization was so profound!" Her journey through the state's education systems has taken her from rural public schools to Fort Hays State, where she rose to rank of dean before returning to her alma mater in 2010. By working in K-12 and college settings, and through collaborations with peers statewide and across the country, she says, "I have gained a broad view of how societal issues influence the type of educator and leader we are responsible for preparing. In the wake of the current political challenges we face as preparers of future educators, we must advocate, collaborate, transform, and take action. I hold high standards for myself and for those who work with me. The realization of that responsibility, strengthened the belief that education is always worth it." As she is fond of saying: "Teaching is not for the intellectually weak, nor the emotionally weak."
Ron Slepitza, Avila University
Like many of his generation, Ron Slepitza was the first in his family to go to college. To get there, like many of every generation, he needed money. "I got accepted for this crazy scholarship program," said Slepitza. "They said we'll provide your full education costs, that's room and board and books and clothes etc., and all we expect in return is you become the best version of yourself and we'll judge that at the end. For four years, they said, we are going to push you beyond what you think is possible." Pretty heady stuff for an 18- year-old to face but Slepitza took the opportunity and is still running with that idea to this day. "We tend to sell ourselves short and you don't realize what you're capable of until you've been pushed. Most of the limitations we impose on ourselves and we think they're coming from someplace else." Slepitza studied psychology at St. Vincent's College, where he got his bachelor's, and went to grad school at the University of Maryland with the idea of development in mind. In his first year, he managed to get himself waived out of five courses. How? He didn't know he wasn't supposed to do that. "I went and talked directly to the department director," recalled Slepitza. "I didn't know that's not what you did. As an undergrad, I learned to challenge some of those assumptions, get out of the box, and that led me to be bolder. Had I known what I was asking, I probably wouldn't have asked it." That boldness created a man of action who always has one thought on his mind: What MORE? "You've gotta get comfortable being uncomfortable," he preaches. One way to get a university uncomfortable, quickly, is by slashing tuition more than 30 percent. But Slepitza, ever the out-of -the-box thinker, did just that as part of his Avila Promise. For students entering fall of 2018, Avila cut tuition by 33 percent and it includes all books and campus fees. It added in tuition protection, guarantees graduation in four years, gives you a guaranteed internship or research experience and gives you a travel award of up to $1,000. Slepitza applied it to transfers starting in January of this year and already transfer rates are up by a whopping 42 percent. "We did a model and we needed 16 students to make it break even. We figured we could do that, and more." He has another idea to entice undergrads— and he's also working on ideas to expand upon the Avila Promise. Because if there's anything constant about Slepitza, it's that he is always pushing people to change their view. "With college students, I help them see what they may not see in themselves. It doesn't happen alone. It happens because you get a lot of energy around something important, people invest in it, they have a stake in it, and as a result they make something happen that wasn't thought possible."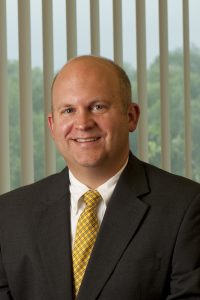 John Tomblin, Wichita State University
When John Tomblin was a kid, the Space Race was going full speed. He was enamored with the Apollo missions men walking on the moon and especially the rockets that took them there. Just as the Space Race changed the world in the 1960s, Tomblin is helping change the education world in 2018. When he graduated with his master's degree in 1994, he headed from the mountains of West Virginia to the plains of Kansas and Wichita State. He expected to teach aerospace engineering and do his research in the Air Capital of the World but didn't quite imagine where they'd go next. In 2001, Tomblin took over as the executive director of the National Institute for Aviation Research on WSU's campus. A decade later, he was helping spearhead the Innovation Campus that has helped make Wichita State the No. 1 university in the nation for industry-funded aeronautical engineering research and development, according to the National Science Foundation. "When I came to WSU, I was doing around $5 million worth of research a year," says Tomblin. That number is now closer to $31 million. And it's not just in aerospace where Wichita State is excelling. "What makes Wichita State unique is the partnerships with industry," explains Tomblin. "We use students while they're in undergrad in a learning type of environment. It's a cheap labor force for companies and experience for the students. We wanted to decrease the time between graduation and becoming a productive member of a work force." Essentially, it's an internship students can do while they're on campus to gain hands-on real-world experience without interrupting undergrad course schedules. Tomblin is helping facilitate a work force that's already trained so they can get a job out of school and companies save money and time on training. Most companies expect to take an average of two years to make their new-hires fully productive. By training at the Innovation Campus, Wichita State boasts it can cut that time down to just six months.  Airbus was the first big company housed at the Innovation Campus, now with the opening of the 3-D Experience Center, companies like French-based Dassault have joined in. "In the 3-D Experience Center, you can go from simulated world to the real world and back to simulated to fix any issues," Tomblin says. "It's the future of advanced manufacturing. A project that usually takes three years—we want to make it 90 days." It has only been 10 months since the center opened and already, about 200 companies have expressed interest in a partnership. Groups like NetApp, The Boston Consulting Group and Hexagon Manufacturing are all current partners. And Tomblin says they aren't stopping there. "We are applying the same concept for business students, law enforcement and graphic design. We are definitely making what industry wants out of the work force."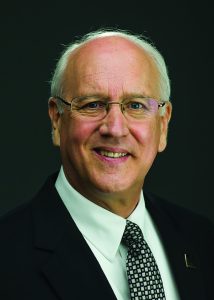 Kenneth A. Weaver, Emporia State University
Some people are born to be teachers. Not Ken Weaver. For three years, he believed he was going to be a dentist. That was until the final year of his undergrad when he had the first of many 'A-ha!' moments that put him on his current course. Without a Plan B and without any money to spend on more education, he strapped on his volunteer hat and headed to the Philippines with the Peace Corps in 1973. He went in as a volunteer in public health education, a good fit for a biology major. Problem was, he didn't speak the language very well and had to figure out how to prove to kids that the "clear" water he was holding actually contained thousands of parasites. "I had never been engaged in that type of problem; that was completely engrossing for me to figure out how to communicate this," says Weaver. He made sure to note he said en-grossing, not gross, although both were involved. Once his two years were up, he headed back home to South Carolina, got an emergency teaching certificate and taught five years of middle school biology. If you get the chance to talk to Weaver, even over the phone, you can feel his energy jumping through the receiver. That same energy was building up inside him during the middle school teaching. "That's when I realized that I had such a passion and the only way I could address that passion for that content was to stop teaching and go back to graduate school." Back to school he went and in 1986 he graduated again, this time with a Doctorate of Educational Psychology. Two months after that, Weaver accepted a position with Emporia State in a cognitive-learning specialty and he hasn't looked back. So even though he wasn't born to be a teacher, Weaver did fall in love with it, made it his career and he's hoping more people have that same realization he had. "There's not a better time to be a teacher because what we know about the mind and how the mind works and how that information can be translated into teaching strategies has never been better," gushes Weaver. But if you get into the game now, Weaver feels there's one very important thing that has to happen: "We have to harness technology." That doesn't mean he wants to hold back, not one bit. Weaver wants to make sure that everyone sees how much it opens up our world and how much technology can turn one simple task into a much broader application. "The software can engage the learner in problems that wouldn't be practical to do in a classroom," says Weaver. As he explained a physics experiment he watched high schoolers do with a basketball and an iPad, his fervor grew with each step he explained. He may not have known it from the start, but Ken Weaver really has been a teacher all along.