When you cover education in the bi-state region, the learning never stops.
And one thing we at Ingram's have learned well since the debut of Icons of Education in 2009 is that this region is richly blessed with people who make selfless contributions to education, from pre-kindergarten through graduate school.

Yes, they have powerful tools at their disposal: At the K-12 level, educators generally have had the go-ahead from taxpayers to build and operate new schools as the region has grown. That has led to the impressive array of award-winning public school districts that abound in throughout the region. Business leadership also has played a key role, with legions of native sons and daughters of the two-state region staying here to build their careers. Often, they remain closely bound—both through direct financial support and with board service—to the schools that educated them. And the administrators at our top public and private universities have delivered on their charge as stewards for the resources available to them, pushing their institutions well up in the national rankings for the best values in higher education.
This year's Icons of Education, as with the four classes that preceded them, have made deep, lasting contributions to the lives of the students they've touched. As important as that role has been, each has also had a profound impact on his or her institution—and on the communities they call home.
Join us in saluting Ingram's 2013 Icons of Education and recognizing their contributions and achievements, which have set a standard for educational excellence.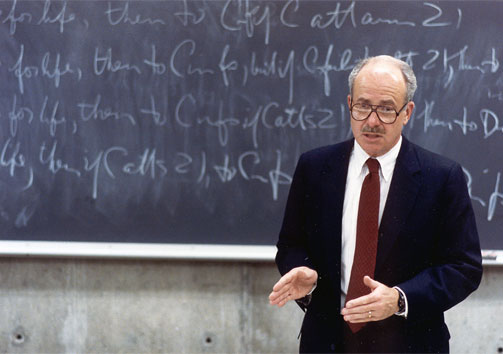 David Becker | Washington University School of Law
Barely a year out of law school, David Becker dismissed an overture from the University of Michigan, inviting him to apply for a non-tenure-track teaching position at the law school in Ann Arbor. His wife, Sandi, fished that letter out of the trash, Becker recalls, then "read it, confronted me, and challenged and cajoled me into taking a chance."
She saw in her husband something that Becker himself wasn't yet willing to recognize: "Without long-time experience and expertise, I strongly believed that I was not ready to make that move or even contemplate a career in teaching," he said. "My professors at the University of Chicago were brilliant, experienced, in total control of the classroom, and larger than life. I was certain that I was not ready, if ever, to emulate their success with students."
Inspired by his wife's challenge, Becker took that chance back in 1961. More than 50 years and hundreds of law school students later, Becker is winding down his career as a fixture in the Washington University School of Law in St. Louis. His former students include lawyers from firms large and small, judges, congressmen, teachers, corporate CEOs. "But mostly," Becker says, my favorites are those that have had to overcome adversity of every kind."
Half a century of teaching yields plenty of opportunities for scholarly writings, and Becker has found a rich vein to mine in the rule against perpetuities. Very broadly speaking, the rule limits any individual's ability to control assets long after he has died, as if attempting to direct affairs of one's estate from the grave.
The rule, Becker says, "always fascinated me because it was something most students had difficulty with and most lawyers—and often judges—misunderstood and even tried to ignore or avoid." His experience showed that most students, and many teachers, could solve perpetuities problems through intuition, but not by sound legal processes. "For me, this was not good enough," he says. He set out to examine a wide range of related issues and devised a formula for solving perpetuities problems that every lawyer could readily apply. "This took six articles and a book," he notes. But books—even well-researched and ground-breaking ones—can only go so far. The true impact of a teacher on students, Becker says, "is unlimited and, in a sense, is forever. My goal as a teacher is to empower my students to be self-educators and to be problem-solvers with respect to the law and even things beyond it."
Students have been the most rewarding part of his career, "and in reality they have given to me much more than I have given to them," Becker says. "They have challenged me with their intellect, their tenacity, and their imagination. They have enriched my life with their diversity, their character, their vitality, their resourcefulness, and their resilience. And finally, they have rewarded me with enduring friendship, their success, and the good lives they have led."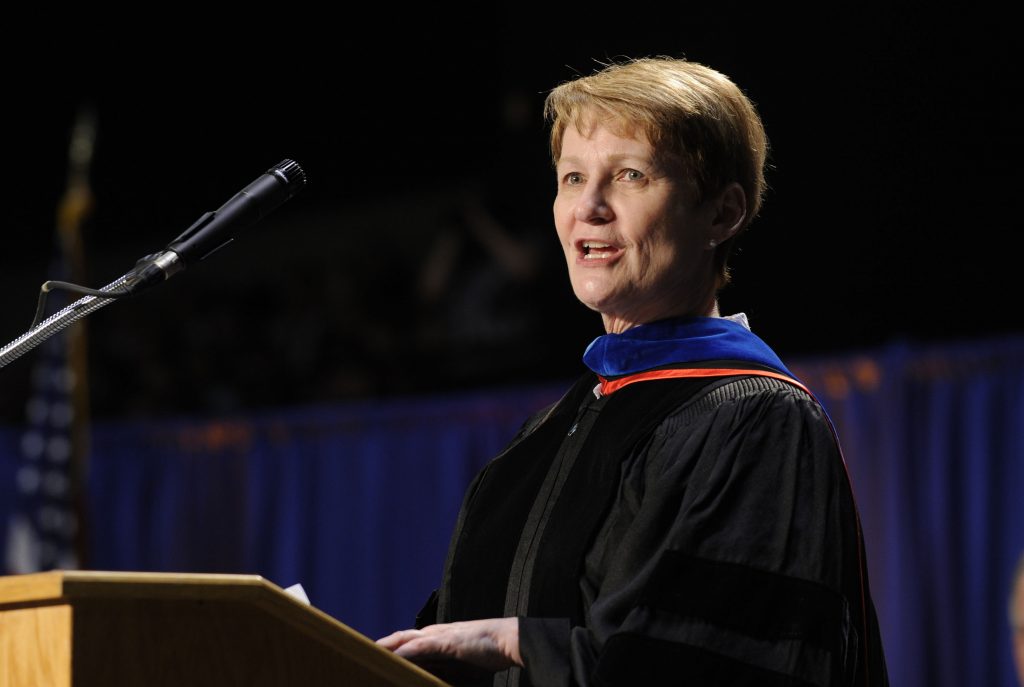 Marilyn Rhinehart | Johnson County Community College
"Almost everyone," says Marilyn Rhinehart, "can remember a favorite teacher.  I don't think too many students can recall their favorite administrator!" And yet this former history teacher who loved the interaction with students made the leap into full-time administration when she left her native Texas for Johnson County Community College in 1995. You can't say she hasn't looked back, but she's lived the life of a teacher more vicariously, through the administrative successes she's achieved on behalf of other instructors at JCCC.
"I have never been ambitious to be an administrator, but even as a full-time faculty member, I enjoyed putting class schedules together—all the logistical things that allow faculty to teach and students to learn," she said. She was a faculty coordinator for the history department at North Harris College in Texas, then head of the Social and Behavioral Sciences Division. A chance meeting with JCCC administrators at a seminar kindled relationships that paid off with an invitation to apply for an administrative position at the fast-growing community college in Overland Park.
Rhinehart's path through the system—as teacher and administrator, but also as a student—wasn't a cakewalk. She earned both her bachelor's and master's degree within a single six-year period, but when she returned to school for her Ph.D., she was working full-time and had a family with two children. "I met that challenge, but anyone who does this faces numerous barriers—time being a major one," she said.
During her tenure, Johnson County's population has exploded, and the long-running recession and weak recovery have compelled more people to go back to school. Regardless of the reason, such growth  strains resources, and that's where top-notch administrative talent makes a difference. "I like to be in the thick of things; enrollment growth presents the opportunity to do some problem-solving and be resourceful," Rhinehart said. "I do feel a sense of accomplishment in terms of the latter, in particular."
Just days into her retirement, Rhinehart is able to look back at a record of collaboration and relationship-building that has produced a new level of mutual respect between faculty members and the school's administration. Part of that stems from her own experience in addressing potentially shaky relationships.
"As a female in male-dominated degree programs and work environments early in my career, I felt that I constantly had to prove myself and not allow myself to be overlooked or ignored," she said. And when she ran into rude and uncivil behavior—"I don't tolerate it well," she notes—she refused to respond in kind. "It can be challenging to find ways to respond to such incidents in such a way that someone has one of those 'teachable moments' without being cut to shreds," she says.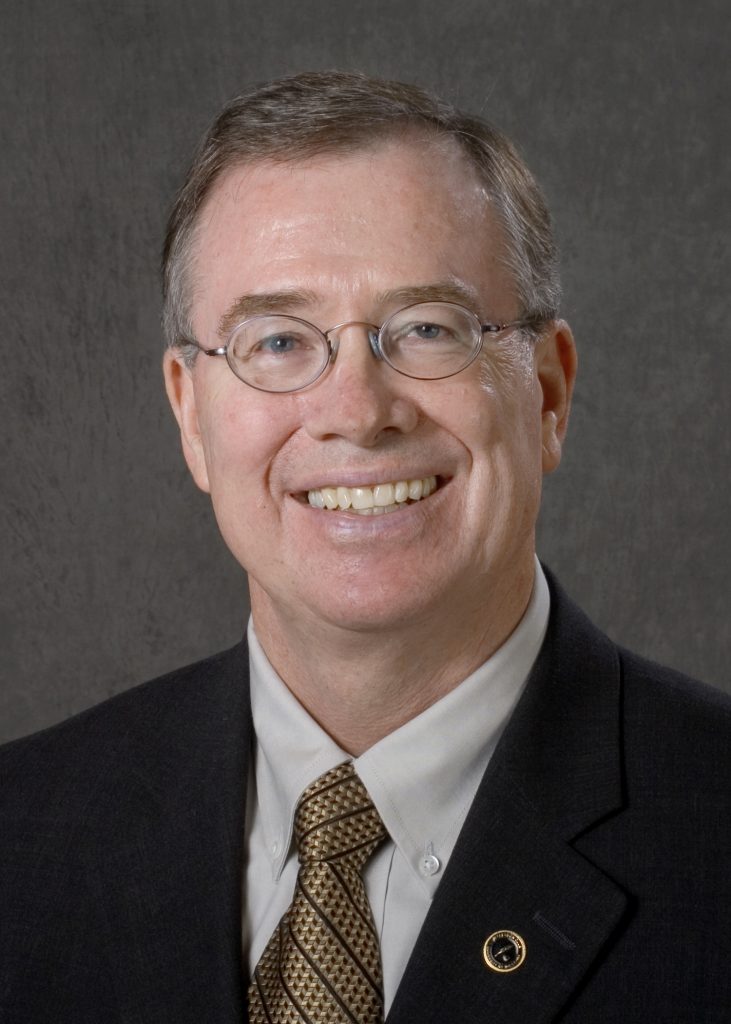 Brady Deaton | University of Missouri 
John F. Kennedy issued the call for Peace Corps volunteers, and young Brady Deaton answered. The next two years of service would give the native of Kentucky a new direction in life, and one that ultimately would make an impact not just on the University of Missouri, where he's been chancellor since 2004, but on an international stage, with global food production issues and policy.
"I was selected to go to Thailand," he recalls. "I went in with the full expectation to complete my two years, finish my degree and go to graduate school." And he did, but with a new focus, shifting from animal genetics to economics. He also came home with a new view of the world. "I was able to experience another culture, even another religion for a while, going to Bhuddist temples, and had another perspective on international issues—it was very much a world-view changer for me."
He went on to earn his bachelor's at the University of Kentucky, and demonstrating his belief in the power of education, followed up with master's degrees in diplomacy and international commerce at UK and ag economics at the University of Wisconsin, where he also earned his doctorate. He was on the faculty at Virginia Tech for 12 years before the right opening emerged at MU in 1989.
"I told my wife many years before that MU was one of a handful of universities in the nation I'd be interested in going to," Deaton says. "It was well known for its interests in rural an international economic development, and was one of the great public universities in the nation." He applied education and experience alike over the years with service on more than a dozen national agriculture and education committees, and nearly as many regional ones.
After four years on the ag economics faculty in Columbia, Deaton made the leap to administration as chief of staff to the chancellor. Next came
deputy chancellor, then provost, before he assumed the top leadership role. He took no small amount of heat from Mizzou grads opposed to seeing the university pull its athletic teams from the Big 12 Conference for the Southeastern Conference, but notes that with the furor from last fall's announcement subsiding, MU is now on track to leverage the academic benefits of being in the SEC.
Two decades in university administration have not diminished Deaton's passion for global food-production research and policy. "Food issues are something so many of us feel committed to improving," he says. "There's still too much poverty. But I feel honored to be in position to continue working on those issues, drawing on all the strengths at MU and working with the private business sector as well as volunteer organizations to target areas where the world's hungry are."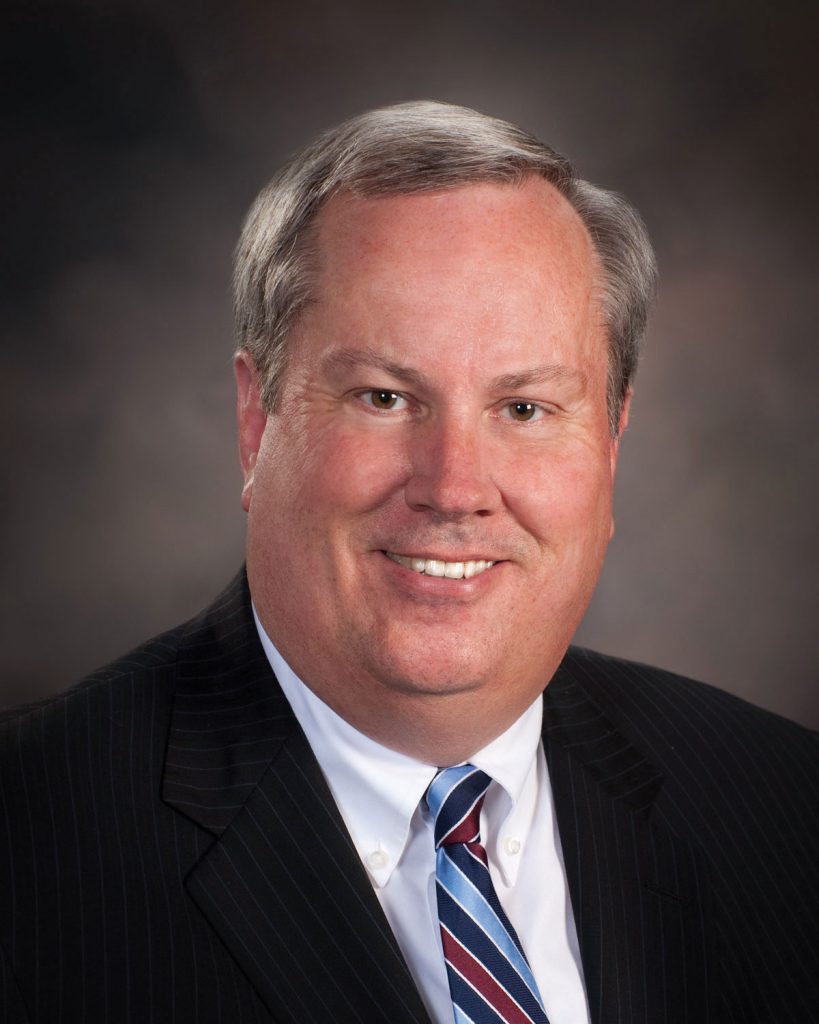 Marlin Berry | Olathe School District
The superintendent for the Olathe School District doesn't think of himself as an icon. "I'm an educator," Marlin Berry says, simply, "trying to do the best for kids." And that he's done. Most of Berry's career has been spent in administrative roles, including the past five years in Olathe, where he became superintendent in 2010. Before that, he held similar roles in north-central Kansas for the Smoky Valley and Abilene districts. He also served as principal in both the Lindsborg and Gardner-Edgerton districts after moving into administration from teaching roles. His achievements along the way made him his peer association's pick as Kansas Superintendent of the Year for 2012.
"I've been blessed to work with so many good administrators in my career that I always tried to learn and grow from their examples," he said. "To be honest, I've also learned from administrators whom I did not want to be like." One of the good examples was set by his own father, who was teaching when he was just 17 years old. But Berry also attributes much of his success to the support of his wife, and to legions of school administrators and the countless after-school hours and nights devoted to the cause.  "I loved my time with students in the classroom,"
he says, but "the opportunity to work with all students as a building principal, and then at the central office, can be just as rewarding."
The breadth of his experience provides a rare perspective on K-12 education in a big state that has long struggled with school finance and disparities between wealthy and poor districts. "I like to be an optimistic person, partly because I believe in the good in everyone and also because it's just more fun," Berry says. "The state has a responsibility to equitably educate all students, no matter their ZIP code." Predictably, he sees the challenge facing lawmakers as a teachable moment: "Our students can learn from a great example of compromise if the state can produce a plan that will equitably and positively impact the learning environments in our Kansas schools.  It can be done."
In fast-growing Olathe, Berry's influence touches nearly 29,000 students—almost twice the enrollment of the Kansas City School District—and that growth recently eclipsed the longtime leader in Johnson County, the Shawnee Mission district. Berry, though, knows that a school executive is only as good as the team he's assembled and the community that supports all of them.
"We have such wonderful building principals and administrators in Olathe, it is very satisfying to work with them on a daily basis as they guide schools
full of kids. I enjoy working with our Board in Olathe to impact our district positively.  Making connections with our community groups and organizations to support our school district efforts is also very important work."
Ken Dobbins | Southeast Missouri State University
Ask Ken Dobbins to describe a single event that defines his tenure at Southeast Missouri State University, and he'll cite not one, but 50. That's the number of commencement exercises he's participated in as executive vice president or, since 1999, as president of the university based in Cape Girardeau. "I probably shook the hands of more than 35,000 students" getting their degrees, he says. Among them, teachers, doctors, engineers, artists and actors.
At Southeast, perhaps above all other state-system universities, graduation is a very big deal, indeed. "Southeast Missouri State is in one of the poorest congressional districts in the nation," Dobbins says. "The one thing I believe in as a first-generation college graduate—I had 27 cousins, and only one other followed me—is that education can make the difference." Graduation, then, is truly a celebration there. "We've been able to change their lives and their families' lives, and the lives of many of the people they come into contact with," Dobbins says. "We recognize that twice a year, but then too often it's over, people move on and forget about what they were able to do to graduate and why it was so important."
If anyone leading a state-funded university in Missouri is qualified to get deep in the weeds of higher-education finance, it's Ken Dobbins. He brings to his duties not just 10 years' worth of management consulting from his days in the Air Force, but an accountant's perspective reinforced with the organizational skills of an MBA holder. "In some ways, that's a little different perspective," he acknowledges. "I think I might understand financial issues faster than some because of my background in business, but at Kent State, where I was an adjutant assistant professor, I served on some dissertation committees, so there's a little of both with management and academic work."
That background also has given him a finely tuned malarkey detector, which can be useful on occasion. "When someone tells you that something's being done one way because they've always done it that way, then I know from my experiences that you'd better look at it and look at it closely," Dobbins says.
It's somewhat ironic that as Southeast has experienced tremendous growth in total enrollment, surging from roughly 7,900 as recently as 1995 to nearly 11,000 this year, state funding per student has declined sharply. Helping
students navigate that challenge to complete their degrees requires a leadership team that completely buys into the vision, Dobbins says.
But something else sets Southeast apart on his watch—belief in the power of collaboration for strategic planning—even the students. "Everyone plays
a part, some more than others," he says. "We believe that we need to have inclusion in the process, because that will help people buy in, with everyone understanding where we are and where we're going to go," Dobbins says.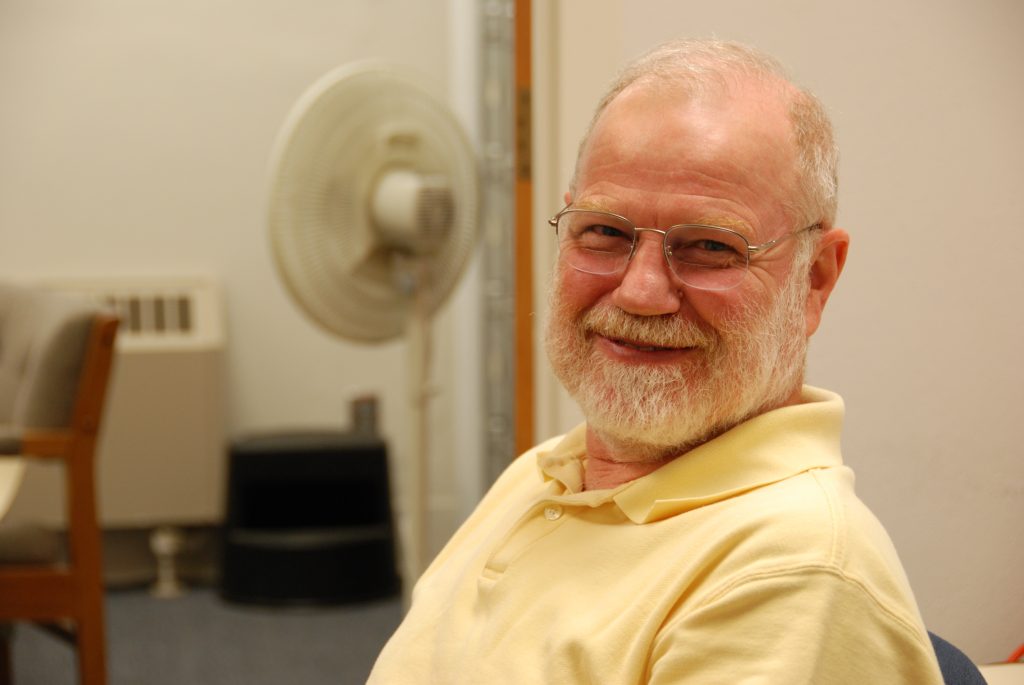 James Shortridge | University of Kansas
The subject matter itself may be geography, but for James Shortridge, what plays out with the people living on the land is as important as geography itself—and not just today, but well into the past. "I call myself a cultural and historical geographer," he says. "I've written
a book on the mindset of the Midwest, several on Kansas, and last month, my book on Kansas City came out. It's fascinating trying to understand the middle part of the country, what makes it tick and the role it plays."
The Midwest as a sense of place has held that fascination since he left his native Cass County for Dartmouth College in New Hampshire. That, he said, is when "I became aware that the Midwest was a separate work, different from New England, a place people have a hard time defining not just where it is, but what it is."
Exploring that fuzziness led him back to the Midwest and the University of Kansas, where he went on to earn his master's and doctorate—and where this son of Pleasant Hill was thrust into a cultural clash more than a century old. Shortridge was raised in a part of Missouri that was often in flames during the run-up to the Civil War, and some of his relatives had a hard time wrapping their minds around the notion that one of their own was attending classes not just in Kansas, but in Lawrence. "For a while, I had a few aunts who didn't think too highly of me," he chortles.
That clash of cultural values is exactly what intrigues him. "People spend time talking about race, gender and social class and why it's important," he says. "Those are big issues, but what I argue is that the region you're from is probably just as important. I'm convinced that if I had grown up in Alabama, California or New Jersey, I'd be quite a different person. The Midwest sinks into you somehow, it influences the person you become. It's interesting to ponder."
One ponderable of interest to many in this region is the dynamic of the state line running through Kansas City. "Kansas City is, I think, pretty much unique," he says. "In a lot of other cities divided by state lines, there's overlap, but in almost every case, all of the power is on one side," as in Chicago, with exurbs that spill into Indiana, or St. Louis. "But here, the really unusual thing is the development of Johnson County to be a power, and having that sharing of power. It underlies the issues you see every day."
During his tenure in Lawrence, Shortridge has advised roughly 40 students on their doctoral theses, and a like number of master's degree students on their research. He has a special appreciation for those who have gone on to study geography in graduate school, because he knows and understands what
they're giving up—and why. "Cultural geography," he says, "is not something you're going to get rich in—people come to it for the love of this stuff."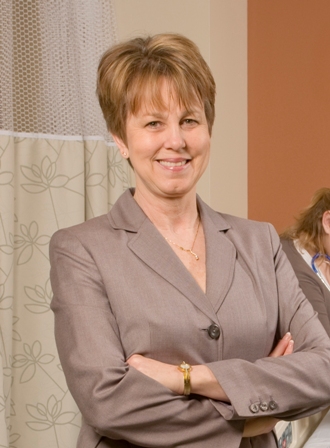 Lora Lacey-Haun | University of Missouri-Kansas City
Throughout her nearly 40 years of nursing education, most of it in Kansas City, Lora Lacey-Haun has been ahead of the curve: She became a nurse practitioner before it became a hot specialty, she's long pushed for greater student-body diversity at the University of Missouri-Kansas City, and she's fostered innovative approaches to student retention. Not a bad track record for this native Alabamian, who came to the Midwest in 1981. She'll retire this year from UMKC, where she's been a professor, assistant dean and, since 2004, dean of the School of Nursing.
What led her down that path? Kids: "When I was going through school taking clinical courses, I thought about obstetrics or orthopedics. But when I took that pediatrics course, I knew where I wanted to be." She went on to graduate school, again at the University of Alabama-Birmingham, and was one of three students in a pilot program to teach pediatric nurse-practitioner courses. The dean of that nursing school ended up taking a similar role at UMKC and invited her to apply for a faculty position here. "I didn't intend to stay," she says, "but I had two children, developed friendships, the relationship and the job grew, and 32 years later, I'm still here. And I'd promised my parents I'd be back in a couple of years!"
Much would change at UMKC after that. The School of Nursing wasn't seen as part of Truman Medical Center the way it is today, but decades of efforts to develop new partnerships for faculty or students have paid off. Now, "people tell me how strong our students are, how our students are hiring priorities for a lot of hospitals," Lacey-Haun says. Lacey-Haun has helped create or promote to increase access for prospective students—and help them stay on track—as well as to recruit students from the urban core who understood the challenges of life and health care in that part of the metropolitan area. "Being a School of Nursing in an urban-serving university means you recruit students from the urban core," she said. "It means you help them be successful and develop their own careers—that's really exciting, and you become personally attached to those students."
Attachments that, on occasion, compel you to help some get past the finish line when a bad break can mean the difference between graduating and dropping out. One answer to that was the Student Success Program Lacey-Haun helped develop. "We would have students come to us that hadn't eaten all weekend; now, we keep a storage of canned goods for those who need that kind of support," she said. "We have emergency aid money, and used that for one student who was ready to drop out just because she had a flat tire, and no way to get to campus." Absent a program like that, she said, any other student might have been lost. "That student graduated and has gone on and now she's a registered nurse, but otherwise, she'd still be at a job making minimum wage, if that."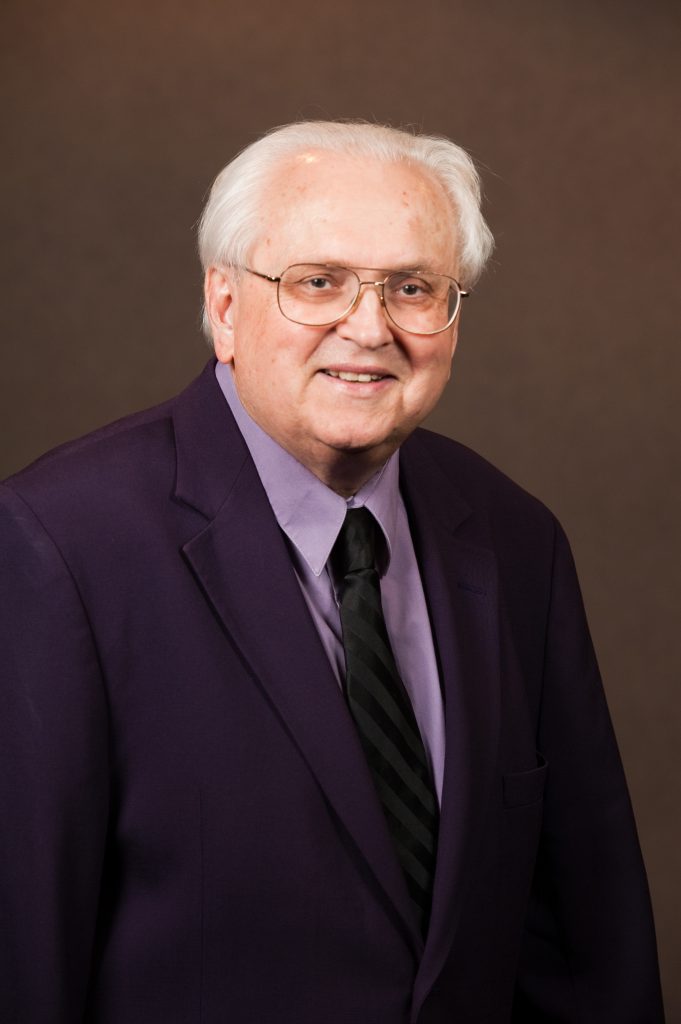 Barry Flinchbaugh | Kansas State University
For more than 40 years, Barry Flinchbaugh has been agricultural policy personified in the state of Kansas. He's advised state legislators as well as U.S. senators and representatives in Washington, and he's counseled state and federal ag department officials. The true measure of his legacy, though, might well be the 3,500 students he's helped educate with his straight-talking approach to agricultural economics. "They're in every state and many foreign countries, and they're doing great things," Flinchbaugh says. "I took them from the theoretical to the practical, taught them the policy-making process. If you go to Washington, you'll see Flinchbaugh students all over the place."
At 70, he's trimmed down the course load in Manhattan, teaching one section of ag econ each semester. Seats in that section are prized commodities, and routinely fill up almost as soon as they're available. But his legacy lives in the congressional aides, lobbyists, and members of the executive branch who administer current farm policy. He's still a major player on
the national scene, even though turnover in Washington has taken its toll. At one time, Pat Roberts
was chairman of the House Agriculture Committee, former Congressman Dan Glickman was Agriculture Secretary and Bob Dole was the Senate majority leader—"and I had the ear of all three," Flinchbaugh says, reflecting on the zenith of his policy influence. "That was invaluable and that would rub off. When Kansas State went for something, political leaders had a good taste in their mouths because we had helped them out on a hot issue."
A native of Pennsylvania, Flinchbaugh earned his bachelor's degree at Penn State and his master's in ag economics at Purdue. When confronted with three career possibilities at the dawn of the 1970s, he passed up chances to work at Ohio State and Michigan State in favor of Kansas. "If you're going to do ag policy work, where better to do it than in Kansas?" he asks. "It's wheat country, the farmers are very much at the forefront. It appeared to me to be an ideal situation."
He liked the situation, the town and the state—he found some comfort with the values and attitudes of farmers descended from German immigrants. The hook was set. "I've had opportunities; I've interviewed periodically all over the country and in Washington, but frankly, I've never found anything I thought was better than being at K-State or a place where I would be treated more respectfully than I was in Kansas." And the university reaped rewards, as well.
But the real clincher for him has been the ability to be himself.  "I haven't had to kowtow to the powerful; I can speak the way it is, or the way I think it is, and have a certain amount of independence," he says. "I used to put it this way: I never wanted to work any place where I couldn't tell the boss to go to hell and survive. I've told that to a dean or two and a president or two—and here I am."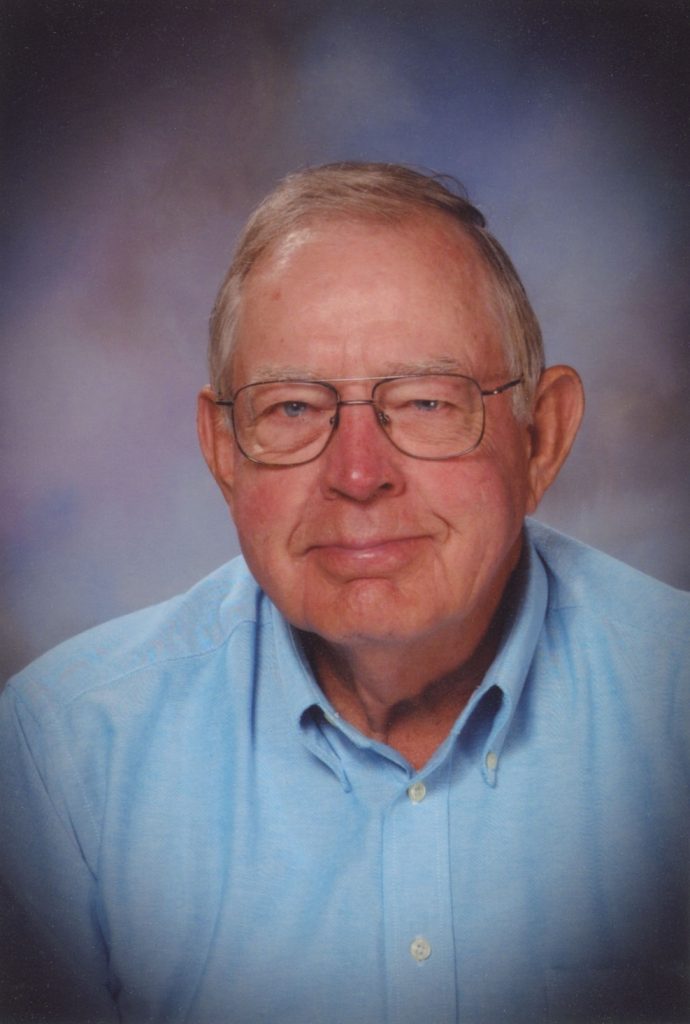 Ken Bingman | Blue Valley West High School
A career teaching biology was almost pre-ordained: Ken Bingman grew up on a farm in southwest Missouri, and the family's livelihood, he says, "was totally dependent on how well our animals grew and reproduced." And how well the corn, wheat, soybeans and barley turned out.
"I remember the first time we used commercial fertilizer and saw a dramatic increase in the bushels per acre," Bingman says. "I wanted to know how this dry powder could make such a huge difference in plant growth." Variations in size and rate of growth in cows, hogs, chickens and other livestock also intrigued him: "I wanted to know what caused some animals to be much more desirable than others."
Biology, then, was the answer, and he found the meaningful explanations to his questions both rewarding and invigorating, sensations he's tried to inspire in his students at Blue Valley West High School. His 51st year of teaching wraps up a path that took him from Wyandotte High School for four years and Shawnee Mission West for 35 more before he started at Blue Valley in 2001. Bingman's early interest in biology was magnified by two of his three older brothers who were also on science and biology tracks. "Both of them were excited about understanding biology and sharing those understandings with students," Bingman remembers. "They would come home with so much enthusiasm about what they were learning and how it applied to our lives. I was fascinated with their explanations of how the natural world worked."
Even as a teenager, Bingman knew what he would spend his life doing. "I had a compelling mission and clear focus early in my high school and college experience," he says. "That mission and focus continues to this day." A stellar example of that mission in action occurred with a group of students studying cell reproduction. Searching for an explanation of that process, the students came up with various answers before the light bulb finally came on as they probed the role played by hydrogen bonding. "The momentum was building for a big a-ha! moment," Bingman says, and the students relished the excitement and the experience of  learning about the central dogma of biology.
All of what he'll take away from teaching upon his retirement—the sense of accomplishment, the pride, the fulfillment as a professional—he owes to his students. ""The greatest and neatest things I have learned about teaching, I have learned from students. I absolutely love their enthusiasm for learning and life." History, he says, tells us that Ponce de Leon was looking for the Fountain of Youth, and he didn't find it because he looked in the wrong place: "The Fountain of Youth is in the youth," he says. "Working with them will keep one eternally young through their love of life, laughter, and learning. If I had it all to do again, I would become a high school biology teacher. I wish I had another 50 years, with our advances in understandings. Wow: How exciting and challenging that would be!"