Home on the range? More like a playground on the prairie. Come see.
If you look at a color-coded map of counties in Kansas, you'd be forgiven if the thought occurred that it looks like . . . a game board. Covering 82,000 square miles and generally running seven counties north to south and 13 or 14 east to west, you'll find lots of landing spaces.
And darn near everyone is a winner if you're looking for experiences that are unique, authentic, affordable, and accessible. (In fact, we preview some of the most interesting ones with our Things one Must Do in Kansas feature).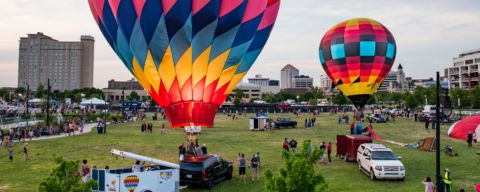 Sure, we're the butt of jokes about being a fly-over country, and the critics of that KC-to-Denver drive are relentless. Those folks are in too big of a hurry to see what's below the 30,000-foot level or beyond the next I-70 interchange. Projects related to tourism generated $613 million in capital investment in the final year before the pandemic, and the industry employs 66,000 people in the state—making it the ninth-largest sector. The combined direct and economic impact of that activity? An estimated $11.8 billion, ranking it right up there with agriculture/ranching and manufacturing exports.
So what's waiting for you out there? How about . . . 
Geographic marvels: From the Flint Hills and its Konza Prairie to the Red Hills of the southwest and back up to the Smoky Hills in the north-central, Kansas boasts some spectacular vistas. If photography is your thing, the possibilities for sunsets and sunrise images alone are endless. Same with the Chalk Pyramids in Gove County—one can only marvel at
how those formations sprung from the surrounding plains.
Historical attractions: Check out the Museum of Natural History at the University of Kansas—and if there's a young one in your clan who's fascinated by fossils, the lower-flow display of Cretaceous-era mosasaurs will be both impressive and unforgettable. The Sternberg Museum of Natural History at Fort Hays State University likewise offers deep dives into paleontology and paleobotany, geology, and zoology of the state through the millennia.  
Musical happenings: It's not all banjos and harmonicas, though you'll certainly hear both—and a lot more—wielded with great skill at the annual Walnut Valley Festival each September in Winfield. On a higher musical plane, perhaps, are symphonies in Topeka and Wichita. The latter of those two makes a special annual appearance with its signature rendition of Tchaikovsky's 1812 Overture each spring at . . . 
Major events: The Wichita River Festival. Say no more, capped by that symphonic performance—with a cannonade by troops from Fort Riley providing the thundering conclusion—the festival draws an estimated 400,000 people to the banks of the Arkansas River for the first two weekends in June. This year's installment is a special one: The 50th, back in its usual late-spring slot after a COVID-induced setback into the fall for 2021 Looking to get in touch with farm-life roots? Check out the Kansas State Fair in mid-September, where you'll see the best of livestock-rearing, baking, canning, and rodeoing, along with the carnival-ride Midway. 
Shopping: Defying the odds in today's world of enclosed shopping malls, Wichita's Towne East Square continues to thrive, with 113 tenants in storefront and kiosk formats. Back up in Wyandotte County, Village West in western Kansas City continues to be the state's top tourist destination with its outlet-mall format.
Cozy get-aways: Old-time hotel accommodations, with modern accents, beckon from the prairie. You can find budget rooms most anywhere and some high-level digs at near-budget prices at places like the Grand Central Hotel in Cottonwood Falls, the Cottage House not far away in Council Grove, or the historic Wolf Hotel in Ellinwood. 
The Great Outdoors: Kansas has few natural lakes of any size, but thanks to the Army Corps of Engineers, you're not far from a major boating/camping/fishing attraction with federally operated or state-run lakes. From primitive camping sites for the truly adventurous to RV locations with full water, electrical, and Wi-Fi hookups, any style of camping life has an outlet in Kansas.