For the second time in less than a month, the West Bottoms is in the news….because of progress.
Tomorrow, the Golden Ox will officially reopen its doors inside the Historic Livestock Exchange building.  Just last month it was announced that Kemper Arena would now be Hyvee Arena with a host of local businesses and restaurants inside a totally renovated building.  A couple of months before that, city officials helped break ground on a brand new apartment building, The Yards, directly next to the Livestock Exchange.  That's in addition to another apartment building, Stockyards Place, just a few steps away.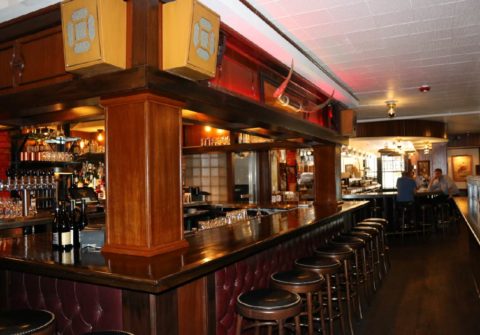 The head chef for the revamped Golden Ox is none other than Wes Gartner, the chef who runs Voltaire, an avant garde venture directly across from his soon-to-open steakhouse.  Eclectic would be an understatement to describe this area of the West Bottoms.  From the flair of Voltaire, to the biker feel of Rockstar Burgers, to the laid-back vibe at the West Bottoms Kitchen, this neighborhood is becoming a microcosm of Kansas City.  Don't forget that the Golden Ox will share a wall with fellow tenant Stockyards Brewing Company, which also kept as much of the original interior as they could when they opened up.
In addition to the Golden Ox reopening (it closed in 2014), business partners Gartner and Jill Myers, have redone the original luncheonette in the lobby of the Exchange and are calling it The Ox Cafe & Bakery.  It will feature a full-service coffee and wine bar, scratch-made bakery items and old world breads and pastries.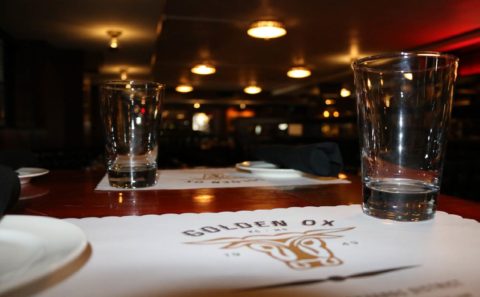 Kansas City was built on the backs of the cattle, pigs, sheep and horses that were bought and sold at auction at the Exchange during the first half of the 20th century.  Devastating floods and burgeoning feedlot companies eventually turned the once bustling area into a ghost town (there are literally haunted houses in this area for those unacquainted).  The man who owns the Livestock Exchange building today, Bill Haw, bought it in 1993 and renovated it to the tune of $13 million.  Now instead of laying eyes on a prize heifer, you can stop in on the 5th floor to take in some modern art galleries.  Architecture firms found their place on the first floor, law firms took the floors a few flights up.  Amigoni winery used to be in the Exchange til they moved across the street to the old Telegram building.  The area is going through so much change that Haw doesn't even want it called the West Bottoms anymore.  He'd prefer you call it, the Stockyards District.