Blurred Lines
Just before COVID-19 hit in early 2020, a research report from Colliers International identified Kansas City as having the the lowest office vacancy rate among its top 20 peer cities nationwide, at 6.8 percent.
Stop right there and do two things. First, read that figure again: 6.8 percent. Now, look around you. If you're seeing the walls of a room in your house, rather than your company office, you know just how dated that statistic is.
The office market has forever been transformed. But the virus that may still have you working from home is only part of what's driving that change.
One might have expected that, with economic indicators moving back into positive territory following the crash of Q2 2020, offices would be filling up again. The unemployment rates of Missouri and Kansas are back below 4 percent—pushing the lower-end levels of the pre-pandemic era. The biggest drags on the economy right now are broken supply chains, energy prices and core inflation, not virus-inspired business closings. 
But while the economic impact of the pandemic may be receding, the effects of that downturn will travel far with us down Recovery Road, leaving behind a completely rewritten history of office real-estate space in Kansas City. A new narrative is being crafted, one built around conversions of office buildings into apartment buildings, new and updated office spaces that feature amenities designed to lure people back out of their remote locations and collaborate, and even a redefinition of what constitutes buildings on the Classes A, B, and C spectrum.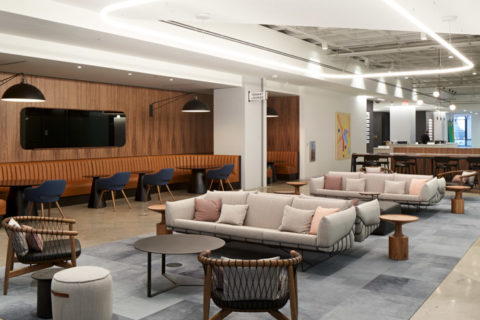 Over the past decade, hundreds of thousands of square feet of office space have come off the market as outdated office towers—more than two dozen of them—have been turned into apartment buildings. Among the most visible of those successes have been the $139 million repurposing of the former Commerce Tower building, which created a vertical neighborhood of nearly 350 units in the heart of the Central Business District. The iconic KCP&L tower, near the southern loop of Interstate 70, lost its last tenant in 2014, and after a $70 million makeover, reopened as a 210-unit residential tower, with about 80 more units included in an expansion wing.
By taking those less-attractive floorplates out of circulation, developers have created room in the market for newer Class A properties, including the $148 million office tower originally planned as a new home for Waddell & Reed—up until the company's sale last year. But it will come on line in 2022 as new Class A space with amenities designed to attract employers who, conveniently, are expected to have workers eyeing Downtown residency in new and rehabbed properties.
That trend was well-established before the pandemic. Given the types of pressures that will be on building owners and tenants to make office spaces more attractive and encourage more workers to return from remote settings, there's even greater impetus to repurpose Class B and C properties.
The shifts to date, says Mark Long, managing director of Newmark Zimmer, "has been historic, but I would say the net of all the debits and credits has been very positive."
The biggest change since the onset of the pandemic, he said, has been the spike in short-term leases for office. "There's uncertainty as to what the right solution and mix is," he said. "Certain industries are learning their approaches to office flexibility are more appropriate than other industries. Everybody has been watching that, and combined with a tight labor market, it has been a real challenge for the employers."
Uncertainty, real estate executives say, has left many business owners and managers in a tough spot, because they still don't have conditions that allow them to define their usage plans for that space. Changing employee expectations of what an attractive workplace looks like are only complicating their deliberations.
"I think we are going to see a lot of activity making the office fit," Long said. "It's going to have to be a fun and productive place to be, located in places where employees want to be. Then getting the most—this is no different than before—production out of your work force and figuring out how to win the game of retention/recruiting, whether the workplace is totally flexible, virtual, or partially or totally in the office."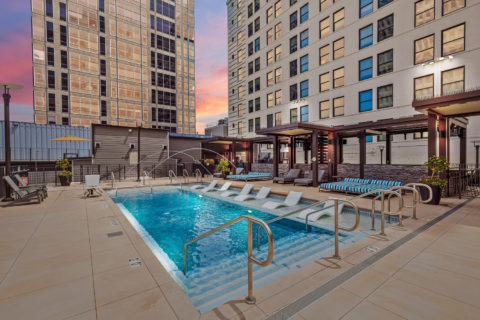 The reality is, brokers say, that buildings are not likely to lease up if the location isn't attractive, if it lacks walkable amenities and good parking—Kansas Citians are reluctant to give up on either transit model—or fails to provide amenities like fitness centers, cafes and comfortable gathering spaces.
Max Wasserstrom, who joined Block Real Estate Services in 2011, has been around long enough to see the tail end of the Great Recession and the 2020 downturn. "I feel like things are more similar now to where we were pre-pandemic in those 2018-19 years than where we were in 2011," he said. 
"The trend now is upgrading space—I would want to be an owner of a Class A building where people are giving employees a reason to come in." The shift to more meeting rooms, taking advantage of when people are actually in the office, promoting collaborative work areas, all of it is aimed at getting employees something they can't get at home—face time with their colleagues. 
With building redesign and new construction, he said, "I think we're going to see more open areas, a reduced footprint, probably fewer private offices, and hoteling those. We didn't see a lot of this immediately, but now we're starting to see it come to fruition, especially in the health-care and IT sectors and wealth management. We're seeing expansion of the office footprint and getting more people to work."
Leah Fitzgerald, managing director of CBRE, views the trends through her years of experience in construction as well as architecture and design. What's happening with office space now, she says, is about
much more than keeping employees happy—it directly influences employee engagement and productivity.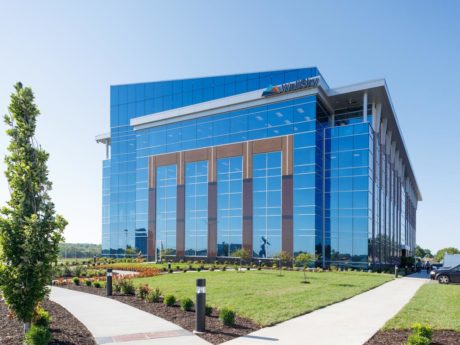 In anticipating back-to-work changes, she said, business executives are seeking "thoughtful layouts and desirable amenities that capture the culture and environment of their teams," resulting in more engaged employees who want to spend more time in the office. "It might be simple things like access to fresh fruit in the breakroom, or access to better Wi-Fi and technology, or more elaborate elements such as a rooftop lounge that resembles a five-star resort," she said. "The bottom line is creating space that is welcoming and comfortable that facilitates the work that needs to get done."
During the pandemic, she said, many people compelled to work remotely made improvements to their home offices, and in doing so, set the bar high for employers. She expects current conditions in the office market to linger through 2022. 
But at that point … "I think we will see the vacancy and sub-lease space start to normalize and get absorbed, but some of the Class C product will need to be repurposed," she said. "Quality over quantity of space is the central message we are repeatedly hearing," and even smaller companies are stepping up to accept higher rents in order to provide that for employees.