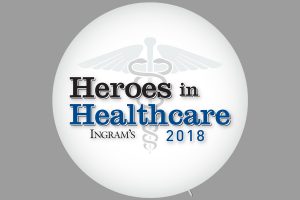 Somewhere along the way, through the advent of mass-marketed newspapers and magazines to weekly news-reel highlights to the digital age, the word "hero," began to shed some of its meaning, broadly understood. Yes, as the folks at Merriam-Webster point out, the term aptly fits legendary figures who emerge from natural disasters or combat situations to risk their own lives in service of others.
But the dictionary also tells us that a hero is someone who is "admired for achievements and noble qualities." And really, what could be more noble than dedicating one's life to help others improve their own?
From that realm, Ingram's draws its Heroes in Healthcare, not because they have risked life and limb to save the day like the stars of some network TV dramas (although that occasionally happens) but because they show up day after day, year after year, with the same burning passion to heal. We've heard countless times from patients about how this doctor, that nurse, this therapist or that volunteer had done something to improve a health outcome, often through a simple act of compassion, and not infrequently, at great personal cost to the care-giver.
Stories like those provided the initial inspiration for Heroes in Healthcare, and in this 15th installment of this powerful recognition, they remain as relevant today as they did in 2004. From the fields of medical administration, professional and auxiliary services, nursing, volunteer service and lifetime service, Ingram's is pleased to bring you the stories of a score of individuals whose career commitment to healing blesses the Kansas City area every day.
To one and all, we say: Thank you.
---
Administration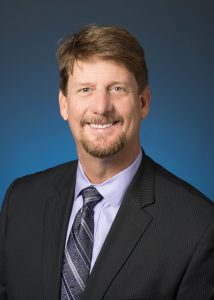 Bill Marting, CFO, University of Kansas Health System
It might be time for Bill Marting to take a breather. The senior vice president and chief financial officer for the University of Kansas Health System, Marting had a very busy 2017. It started from Jan. 1, when the health system formally acquired the Hays Medical Center, a deal that required the sale of $40 million in bonds to retire the debt of that western Kansas hospital. Throughout the year, the system worked to forge a partnership deal with for-profit Ardent Health System to acquire St. Francis Health Center, Topeka's second-largest provider, which entailed a $90 million bond sale. Had he followed his earlier instincts, he might still have been involved in those deals, but from the deal-maker's seat. "From early on, I had my job pegged as a hospital administrator," Marting says. "I never thought I would get into finance. That came after taking a couple of bookkeeping classes in high school." After earning his accounting degree from Southwest Missouri State—he later picked up an MBA from UMKC—Marting started at a health-maintenance organization called Prime Health. "This was a staff model HMO, before anyone really knew what HMOs were," he recalls. "I was a green college kid and stepped into managing a nice but challenging group of accounts-receivable clerks." Since joining the health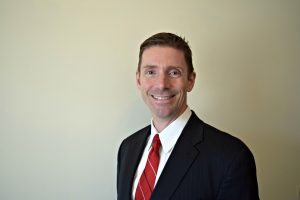 Brian O'Neal, Children's Mercy
Call it the Children's Mercy Value Proposition—and know that it has nothing to do with the costs of care, and everything to do with career fulfillment. Just ask Brian O'Neal. "It's hard to tell people where I work without hearing a story of how Children's Mercy saved the life of a family member or that of someone they know," says the hospital's senior director of pharmacy and biomedical engineering. "Like it or not, so many families in the region seek care from Children's Mercy one time or another, and the opportunity to come to Children's Mercy to improve and expand pharmacy services was too good to pass up." He's been in that role since 2014, when he made the move from the University of Kansas Hospital, where he came to understand what innovation could mean. There, he was part of a team that developed a new system for preparing intravenous medications in a hospital pharmacy, using high-resolution cameras and barcode technology. "Our system increased the odds that an injectable drug product has been prepared with the correct quantity of the correct drug," O'Neal says, and that telepharmacy concept has since been adopted by hundreds of hospitals worldwide. "Knowing that my team had a role in improving medication safety on a global scale is a great feeling," he says. A KU School of Pharmacy grad who has a master's from Ohio State's medical center, he finds motivation each day in improving the quality and safety of health care provided to children. "My Dad always encouraged having a 'positive mental attitude' and a mentor once gave me a card that said, 'Keep up your enthusiasm; it works for you.' My attitude and my enthusiasm are two things that I control, and that I can bring to the table every day in trying to improve the lives of our kids and their families."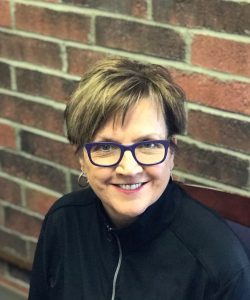 Janet Williams, Minds Matter
Perhaps it's a stretch to suggest that the FBI's current public-relations issues are somehow connected to its hiring-interview processes nearly 40 years ago, but there's little doubt that federal law enforcement lost out on a good one because of some very jaded senses of humor. "I always wanted to be an advocate for people who needed help," says Janet Williams, who co-founded the brain-injury advocacy and treatment group Minds Matter. "I even applied to be in the FBI to help find missing children, back in the days of faces on milk cartons." But after a slew of tests, "the three FBI agents who were interviewing me just cracked up laughing when I sincerely declared my intent," she says. So she turned her yen for advocacy toward studies in social work, secured some successful internships at hospitals and found her niche. Her first job was at a nursing home on Boston, where beds for seniors were being transitioned into space for young adults with traumatic brain injuries. "It was the early 1980s and people were being saved after more critical injuries," Williams recalls. "It was a long-term rehabilitation program and many days, the young adults were lined up outside my door asking to go home. Very few options were available for discharge and families did not have the support to bring people home." The plight of head-injury patients inspired the creation of Minds Matter, which helps people move from hospitals, rehabilitation settings and nursing homes and back home with the right services. "Every time I meet with someone who wants to live in their own home and give them all of the resources and possibilities, I see how excited they are to know there are options," Williams says. "The move-home day is always a time of reward and excitement, because every single person had doubts about whether it would happen and who would help. It's always worth it to give people hope and walk by their side to help make it happen." The avenues for career vindication run in many directions. "The people I interact with every day are the reason I come back to work," Williams says. "From the people we assist, to an amazing group of colleagues at work who share my passion, to the numerous people I get to interact with at other agencies and in the community, they make it all worth it," she says. "I also love the feeling of proving people wrong. We break down barriers for people who are told over and over that they can't live at home, there is no money for it and it just won't work. We've been making it work for 25 years and that's the best feeling of all. Every single time."
---
Professional Staff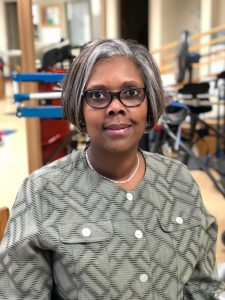 Schylon Atkins, AbilityKC
"My problems," says Schylon Atkins, "pale in comparison to some of the individuals that I have the pleasure to serve on a daily basis." She does that as a speech-therapy pathologist for AbilityKC, created by the merger of the Rehabilitation Institute of Kansas City and the Children's Therapeutic Learning Center. Many of those patients have suffered acute trauma, including brain injuries, and face long roads back to a new normalcy in their lives. "The spirit of resilience in the face of some of the most devastating loses in their lives makes the clients I work with the real heroes," Atkins says. "The joy of seeing someone return to school, work, community activities, and their families makes it all worthwhile." It's a joy she was able to discern, in part, while still in high school, volunteering as a hospital candy-striper. Small acts of kindness, she observed, had profound impact on patients. "I was drawn to the care and concern for others that was exhibited by the nursing staff to those who were in need of care," she says.   "These images still resonate within me." She learned about speech therapy watching a member of her family being treated, and "I became more aware of the role that communication plays in navigating through life," she says. "I wanted to be a part of making someone's life better." That she's done, as with a young patient who recovered, graduated from college, and has a career and family today. "There's no better reward than having someone achieve their goals and dreams after life-altering circumstances," she says, adding with only a trace of irony, "to be included in this journey leaves me speechless to this day." Success like that breeds a special kind of motivation to keep at it. "The smiles, hugs, handshakes, and words of thanks, are truly a blessing to me," Atkins says. "Knowing that I can play a small part in making someone's life a little better, and seeing them reap the rewards of their effort, is what keeps me going back to work every day."  
Gina Lawson, St. Luke's
Work? Not for Gina Lawson. "I don't really think of it as work; it's my vocation, my calling, my joy," says the hospitalist for Saint Luke's Health System. "I can't imagine doing anything else." In nearly 30 years with Saint Luke's, she has worked in a practice setting, in hospital setting, and in policy settings, serving on the board of Saint Luke's North Hospital and the Saint Luke's Foundation. Underpinning all of that is the faith she has in her own abilities to heal, and those of a higher power. "I also appreciate working in a faith-based health system," she says. "I am allowed—even encouraged—to pray with my patients, their family and the staff. This has helped me to meet the needs of my patients. How can we care for a patients physical and emotional needs and ignore their spiritual needs?" That concept of service took root early in her life. "My Mom and Dad showed me the importance of caring for the elderly in our family and in our neighborhood," Lawson says. "Their selfless acts of caring for their own parents had a huge impact on my career choice," and memories of her grandmother's congestive heart failure still run deep. "As I watched my parents help her, I was shocked by her physical limitations," Lawson says, but "I learned then that we are here to serve others.  My parents also made sure that my sisters and I helped when we could and spent much of our free time with my grandparents.  I really enjoyed that time and grew to love the elderly." Her first job off the farm in Kansas was at a nursing home in Fort Scott, which she called "the point of no return.  I was absolutely hooked!  I loved those residents! Caring for them gave me great joy." She chose internal medicine because of her interest in geriatrics and chronic disease, and was particularly interested in helping make their final days as comfortable and peaceful as possible, she says.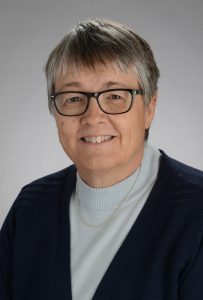 Moya Peterson
For most of her early life Moya Peterson wanted to be just like Sue Barton. Barton was a student nurse, then a senior nurse, a rural nurse and a neighborhood nurse and eventually a superintendent of nurses.  But Barton wasn't a real person—she was a character in Helen Dore Boylston's novel series and Peterson ate up those books.  She also noticed a page in the very back where you could send off for nursing literature.  "It's my mother's favorite story.  I was in seventh grade and she thought it was so funny that I was getting nursing magazines in the mail!" chuckles Peterson.  Nursing as a career was a given for Peterson, but it wasn't until she was finishing up her master's thesis at Iowa that she figured out her real purpose.  Larry was her funny, witty, kind and loving friend who also happened to have Down syndrome.  Peterson knew that's who she wanted to work with.  She joined up with the University of Kansas Hospital as the first nurse practitioner in the family medicine department, and at the same time joined the KU School of Medicine to help them develop their nurse practitioner program.  In 2002, she went back to get her PhD and in 2005 the doors opened at the Adults with Down Syndrome Specialty Clinic.  It's a place where she says she is rewarded every single day.  "Sometimes when I sit beside the kids and put my stethoscope on their chest they'll lean over and put their head on mine.  They give me hugs when they leave, they like coming to see me, those are great moments."  It wasn't long ago that the life expectancy of a person with Trisomy 21 was just that, 21 years.  So for a long time no one specialized in the needs for adults with Down's.  Now people with Down Syndrome are living into their 60s and Peterson's clinic is helping change the way society treats adults with a couple extra chromosomes.  "The adults I see now who are in their 50's are survivors. Their parents were fighters. Fighting for the same health care and education for their kids.  Society hasn't quite adjusted to that, so I think this clinic is part of trying to adjust."
---
Nursing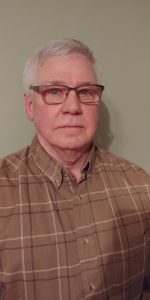 Rusty Hinde, Research Medical Center
Any surgical patient who has benefitted from the personal nursing care provided by Rusty Hinde owes a debt of gratitude to the motivational power of . . . grain dust. After two years of working at a grain elevator in Salina, Kan., young Hinde had an epiphany: "It became apparent that was not going to be a long-term career for me," he dryly notes. Prompted by a cousin to consider nursing school, he left the elevator, started taking college courses and landed a job at the local hospital, working as an orderly, central processing tech and store-room clerk before enrolling in Asbury Hospital School of Nursing. It was the right move. "During my surgical rotation, I realized surgery was where I wanted to work," he recalls. "I was fortunate to have some senior nurses who took me under their wings and helped me learn and understand the intricacies of surgery. I enjoy working with what I call the mechanical side of nursing." His hope is that, in some small way, he makes a difference in the lives of patients. "I truly like the people I have the privilege of working with," he says. "I enjoy showing and teaching new employees, new grads as well as the students that rotate through the department how things work." Nursing, he says, "has allowed me the opportunity to go places and see things that I may not have had if I not chosen it. I have had the privilege of going on medical mission trips and seeing how our team helps those struck in poverty and unable to get routine medical care."  Nursing, Hinde says, is not an easy career, no matter what field you choose to work in.  "It is not all wine and roses," he says, "but in the end I believe there is more of the wine and roses than the vinegar and thorns."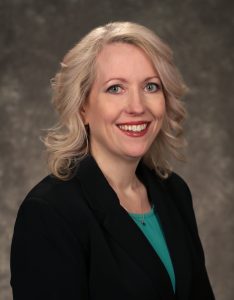 Sara Keim, North Kansas City
Marriage and family were two key parts of the life puzzle Sara Keim was putting together a little more than a decade ago, but one other piece was missing. "I realized then that I needed to figure out what I wanted to do with the rest of my life," Keim says. So she went back to school to study nursing, picked up an associate's degree at Penn Valley in 2008, then her bachelor's in 2015, and went straight into her master's studies, earning that degree in 2016. That's impressive enough for a married woman with one young child, but here's the true measure of Keim's hunger to achieve: She did all that as the mother of four girls. That's testament to her drive, but as she notes, also to the support she had at home from her husband, Chadd, a graphic designer. "My husband did a lot to facilitate that," she says. So did some of the inspiration she took from her youth, listening to stories about work from her mother, a radiology technologist who worked at various hospitals in the area, including Children's Mercy. "What I learned from her was about how a nurse can impact patient care and how much people can do to help other people," Keim says. She was drawn to nursing because of the range of career options it offered—bedside nurse, home-health care, informatics—"the list is endless now," she says. She started in labor and delivery work because "I knew I wanted to do that first child I had—I remember thinking, these women are amazing and I think this is what I could do." Now at North Kansas City hospital, her focus has shifted to informatics and working with documentation, much more behind the scenes, but still with maternity department clients. "I do miss the hands-on care at times; it's very physically and emotionally demanding, but I sometimes miss the connection with patients," she says. "But now, in this role, I can live vicariously through many more of them."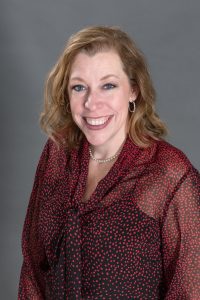 Jill Kouts, RN
When asked how her career in health care started, Jill Kouts answered, "the day my house burned down." Let that one sink in. At the time, Kouts was a corporate banker but didn't feel "internally aligned' with what she was doing. She knew when her house was lost, life would change; she decided to change with it. Kouts went back to school to become a nurse and now works in the Center for Concussion Management at the University of Kansas Hospital. Although she's worked in most every specialty, Kouts says it was her own experience with a brain injury led her to this point.  "I think this field chose me," Kouts says, "While working on a service project with my organization, I suffered a concussion.  It was a difficult time for me. I wasn't at 100 percent. I kept pushing through and finally realized I needed help."  That experience gave Kouts an inside look at exactly what her patients were going through. An experience she calls an 'invisible illness' that can be terrifying if you don't know what's happening.  "Hearing mothers call scared, and by the end of the call, they are laughing and have a better understanding that it's going to be OK, is a great feeling. Turning someone's fear into knowledge so they can educate others is a great feeling."  She saw that first-hand when her own daughter, who had also suffered a concussion, was able to recognize a problem in someone else.  "After she healed, she was in class one day and noticed her teacher was struggling with word finding and confusion.  She discovered he had fallen ice-skating.  She told him she thought he was having a concussion and should seek care.  The teacher called and was treated."  And that, to Kouts, is the whole point.  "When I chose to be a nurse, and work with ethical people, this was type of work I wanted to do. I wanted to be able to support my community and give back."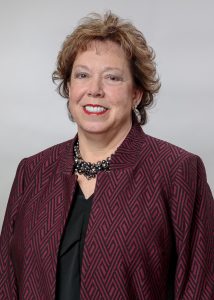 Teresa Lienhop, Truman Medical Center
There's no getting around it: Hospitals generate tears of joy in the delivery rooms, and, often, tears of another sort in critical care. In that less-forgiving environment, Teresa Lienhop is able to find solace. "I have been with patients in their dying moments and helped to comfort and console family members," she says. "Through tears, a simple touch, or words, I know that I have been there for both patient and family and made a difference in the care and comfort I provided. In a room with the chaplain and family as a patient transitions into death, there is a quiet and spiritual moment that lets the patient know that he or she is not alone. This makes it all worth it, to stand by someone until the end." That's a strength you don't find in every provider, but Lienhop is no ordinary care-giver. The daughter of an oral surgeon and a nurse, she was hooked on health care while still a child, accompanying her father on his rounds at hospitals in Louisiana. And she knew.  "I saw first-hand, the impact of quality health care on patient outcomes," she remembers. Her passion for sciences and math dovetailed with the deep impression her mother made as a highly versatile nurse working both bedside, as charge nurse, or any point on the surgical floor. "I loved the opportunities that nursing afforded, whether it was at bedside, in administration or education," Lienhop says. "One gets to be with and comfort a patient on a good day or a bad day. The impact that nursing makes on patients makes everything worthwhile." Despite the emotional toll the work can take, she says, "the high intensity and energy of trauma and critical-care nursing is what fuels my enthusiasm for my work. … I see people on perhaps their worst day and then watch as they improve and walk out of the hospital."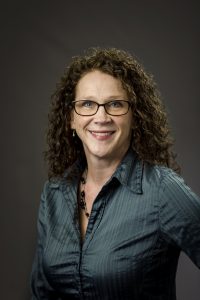 Faith North, Shawnee Mission Health
Her name is Faith, and every day, Faith is rewarded with miracles. Faith North, to be precise, a clinical nurse educator at SMMC's Birth Center. "I have always been intrigued and amazed with the miracle of birth," she says. "Even though I have been a part of thousands of births over the years, it really is a miracle every single time. It never gets old." And yet, the divine spark that created each life came with no certainty of easy delivery. "The process of labor and delivery is probably one of the highest anxiety-producing events a woman will ever experience in her lifetime," North says. "It is an experience, whether good or bad, that she will never forget, no matter how old she is." So her aim—her passion, really—is to make that event the best it can be for that new mother and her family. She heard the call of health care as a child, and initially considered medical school. But in college, "I realized my personal passion was more nursing focused, rather than physician focused," she says. She made the move, never regretting it, and started her career in 1992. In the 26 years since, "my work family is my home away from home—my co-workers are more like my sisters, and my cousins and my aunts, and now, since I am older, many of them are like my daughters," she says. But she's back in school again, working on her masters at her alma mater. MidAmerica Nazarene University. North's workplace is a venue steeped in emotional swings. "They vary from experiences that involve mom or baby life-saving moments, to pure joy moments of seeing that mom hold her baby for the first time, to the most heart wrenching moments of just being present with that mom that just found out she is going to have a stillborn baby," North says. "Every time I can make a mom feel supported and empowered, whatever that looks like, makes me say 'this is all worth it!' "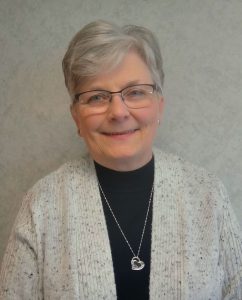 Helen Peterson, Olathe Health
You know how little girls like to play nurse? As the oldest of five children, Helen Peterson could pretend she was caring for a whole ward. "Since I was a little girl, I always thought I'd like to be a nurse," she says, recalling how she was always "the helper and caregiver, the nurturer for younger kids." So at 13, she joined a future nurses' club, which led to opportunities to volunteer at the local hospital after school. "I loved being with the patients and helping them," she says. "I did that for 4 years, then went to nursing school." Nursing offers many career paths, and she wasn't sure which to follow, initially. From an early sting in general medical and surgical nursing, she gravitated toward her interest in the human heart. "I started working in critical care, from there went into non-invasive cardiology, then it was the beginnings of cardiac and pulmonary rehab, help people with their risk factor management and chronic disease." Half a century of nursing—and nearly half of that with Olathe—has allowed her to "see the patients on the in-patient side at their worst," treat them, and then "see them progress and make changes in their life and their lifestyle to be healthy and to see that change and how much improvement they can make both physically and psychologically," she says. Success comes in part from education, trying to help teach people about a healthy lifestyle, taking their medications, and getting physical again. At the base of it all, she says, "there has to be a trust that's built up between the patient and the nurse." And sometimes, more than trust. Tears welled up as she recalled a visit from a former patient and his wife who wanted to make sure her new job was suiting her. "We had gotten close, him and his wife and I, shared a lot of things," she remembers. "They had driven 40 miles to come see me just to make sure I was well taken care of and to thank me for taking care of them." That kind of connection has a power all its own. "It's so amazing to see the changes over the last 50 years and how much progress we've made," Peterson says. "Just to see people and hopefully help them a little bit with their struggles." 
---
Auxiliary Staff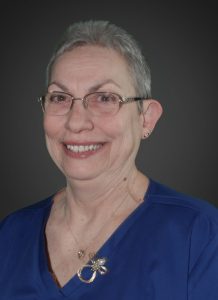 Dianna Ethington, St. Mary's Medical Center
Dianna Ethington says she always loved being around people, and the challenge of cleaning was something that appealed to her. And for years, that provided a measure of reward in roles as a housekeeper at the Lake City industrial park, a custodian for the Fort Osage school district, and working in nursing homes. Not until she arrived at St. Mary's, in the environmental services unit, did her work take on a deeper meaning. "When I came here, it finally dawned on me that this was all worth it," Ethington says. "I have really met a lot of nice people since I've been here. Some of my patients are like family now. I keep getting the same patients back—they love me!" Her work entails much more than providing a visually pleasing setting, says Raymond Klein, the hospital's executive housekeeper, and Ethington's work reflects a health-care imperative. "Dianna is a total rock star in the environmental-service industry," Klein says. "She receives guest comment cards weekly not only for her pleasant disposition, but the exemplary service she provides. Her rooms are impeccably clean from top to bottom." And cleanliness is a critical component of high-quality acute care. "Dianna is a prime reason why St. Mary's Medical Center has maintained an HCAHPS score in the area of guest environment cleanliness of 83 percent for over a year," Klein says. "Her attention to detail was instrumental in our recent completion of a re-accreditation inspection by The Joint Commission, with no discrepancies found. Dianna makes it a daily personal goal to improve the lives of each patient she interacts with. She is a model employee for the housekeeping team to emulate." So for Ethington, the work is both rewarding on multiple levels. "The people I have met are like my friends," she says. "And more than that, they are like family."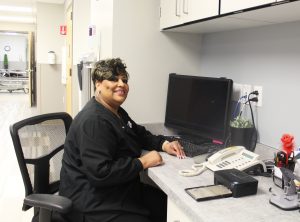 Nicky Wright, Providence Medical Center
Nichelle Wright was barely out of high school when she landed a job at Saint Luke's Hospital, and she came to it for the reasons one might expect from someone not yet 20 years old. What she found, though, was more than a job—it was a calling. "In the beginning, it was because they were hiring and I heard they paid well, along with offering great benefits," says Wright, who would work at Saint Luke's for 29 years in various administrative and HR support roles. But her views of that work quickly changed, she said, "because it was so rewarding to see patients' recovery processes and their ability to go home feeling better, which continues to be the reason I remain in a health-care position." Today's she's a secretary at Providence Medical Center's wound-care unit, where each day reminds her of how her labors touch the lives of patients. That's something she discovered years ago as a human-resources representative. "I extended my first job offer to a new hire, knowing that the job would be a blessing to the individual, but ultimately, a blessing to the patients," Wright recalls. And in that way, even if she's not the one providing the hands-on care, she's making a difference. She sticks with the work "first and foremost," she says, for "the patients and their families! And along with that is the team I get to work along with daily." That kind of attitude is precisely why she was nominated for—and won—the hospital's most recent Sunshine Award. Gregg Morris, the Wound Care Center's director, called Wright "the embodiment of sunshine to the clinic and our patients. … We often hear that our clinic has the feel of a small-town practice where everyone is personally known. This is in large part due to Nicky, definitely a ray of sunshine."
Jimmy Wesley, Research Medical Center
He's worked in health-care settings for a long time, but when health care became a personal family concern, Jimmy Wesley found a whole new meaning to his life's work. "When my wife was diagnosed with colon cancer, everyone from the surgeons to the RN's tried their best to make her feel comfortable," says Wesley, an operating-room supply-chain technician and anesthesia tech at Research. And that experience, in turn, added a new perspective to his duties. "When I take calls for anesthesia on the weekends, I have a closer relationship with the patients before they have their surgery," he says. "I try my best to comfort them the best way that I know how." He never really chose this field, he confesses, because back in 1974, "being young, I just wanted to work, and it kind of stuck with me." He worked for several years at the old St. Mary's Hospital overlooking Downtown, ordering dietary goods, then in shipping and receiving while taking night classes at Penn Valley Community College. After the hospital closed in the late '80s, he did a short stint at Trinity-Lutheran—itself destined to close soon—then worked for a welding company before landing at Research close to three decades ago. "We all have a part in taking care of our patients," Wesley says. "My job is to be sure that the surgeons have what they need to perform the surgery they need to do. Anesthesia needs certain things from me to perform their job for the patients. That's why I come to work every day. If you would have asked me this question 30 years ago, I would have said it's all about the money, and the money is still important, but there's so much more to it now."
---
Lifetime Service
Frank Devocelle, Olathe Health
When he joined what was then Olathe Community Hospital in 1971, he started near the top of the organization: The No. 2 role, as assistant administrator. But Frank Devocelle wasn't that far from the bottom either, given that it was just a 100-bed hospital. Just four years after he signed on, he moved into the chief executive's office, and in that role has overseen a dramatic expansion that has made what is now Olathe Health an anchor health-care provider for Johnson County and beyond. The hospital today has 300 licensed beds, logs more than 44,000 patient-care days a year, posts revenues of roughly $750 million, and has nearly 1,900 employees. The capstone on that expansion is the new $100 million expansion that continues to transform its sprawling, 250-acre campus. It's been quite a journey for this administrator who came to Kansas after earning a degree in management from Quincy College and an MBA from Western Illinois University. "I chose the industry after talking with individuals who felt that health care would be a field with opportunities for long-term success and ways to help a community," Devocelle says. That proved to be the case, and he knew he made the right choice early on "when we completed the first phase of the Olathe Medical Center," he says. "It was based on a shared vision from board leaders and community visionaries." The world of health-care delivery has turned many times since his first shift at a small community hospital—and more rapidly over the past year, as the nation has struggled to address the costs of that care, but Devocelle, who recently announced that he would be retiring later this year, has found solace in his appointed tasks. "I truly enjoy my work and the people I associate with on a day-to-day basis," he says. "It has been a true blessing to collaborate with physicians, staff and community partners to make a difference in the lives of people of all ages in our service area!"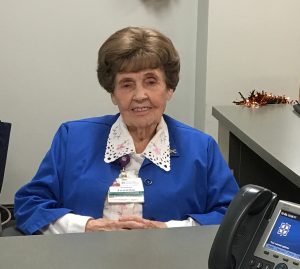 Juanita Gnip, Saint Luke's Cushing Hospital
Caregiving—and supporting caregivers—has been a part of Juanita Gnip's life longer than most people have been alive. And even though she turns 100 next month, it continues today with her volunteer service three times a week at Saint Luke's Cushing Hospital in Leavenworth. "My journey in healthcare started with me taking care of my parents and grandparents; my Father lived with me and my husband for 10 years, and my Mother-in-Law for 20," she remembers. She started working in the beauty shop at Cushing Memorial Hospital back in 1964, visiting patients throughout the hospital and trying to make them feel as comfortable as possible. A decade later, she started volunteering as the surgery family-room coordinator, the office where she still volunteers today. "I get to meet a variety of people who are usually anxious or concerned about their upcoming surgery," she says. "This position allows me to interact with patients, families, doctors and hospital staff. I get to spend time with the patients; talking with them, helping to calm their fears, helping them to relax and to be as comfortable as possible." She also greets visitors at the information desk in the front lobby, drawing on decades of experience to answer questions and give directions. "There was always someone in my family who needed care," she says. "Even now, there are still people who call me, and ask me to go with them through the pre-surgery process with them. I treat people like family, and since I have been at the hospital so long, and know so many people, they feel comfortable calling on me." And sometimes, more than just comfortable, as with the man who, years ago, came into the surgical waiting room, unkempt, scared and alone. "I started talking with him, and stayed with him until his procedure began," Gnip recalls. "He had to come back another day for more surgery, and even though I was not in the waiting room, he asked for me to come and be with him, which I did."' Not long afterward, a package came for her at the hospital—a hand-made cross, and note from the man's wife. "She wanted to let me know he had died unexpectedly, but he wanted me to have the cross," Gnip says, proudly. "It is displayed on my front door today."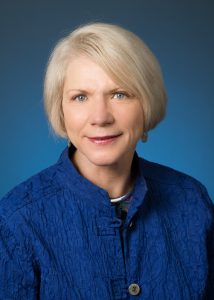 Marilyn Rymer, KUMC
The building blocks of Marilyn Rymer's career as a neurologist included what she calls "my excitement for scientific discovery." But a double major in biology and art history? "I know, that sounds weird," she admits, "but it was a wonderfully balanced education." And medicine offered her an outlet for another affection, learning about people, both as individuals and as complex creatures. "Once in medical school, I was fascinated by the ways the same condition manifested itself in different personalities," she recalls. "I wanted to choose a field where there would be major discoveries made during my career, and what could be more interesting than studying the brain and nervous system?  It has totally met all my expectations.  I love being a neurologist and meeting people who may need my help to discover what is wrong and what we can do about it." Now the vice president for neuroscience at the University of Kansas Health System and a professor of neurology at the medical school, she established her bona fides in the field as founder and director of the stroke center at Saint Luke's Hospital, a program that has earned international recognition. "I loved practicing general neurology, but became interested in acute stroke in the mid-1990s," she says. "Before 1993, it had been so discouraging that we didn't have any way to reverse a stroke and retrieve a life." She says she had the privilege of being part of a team that treated a person—totally paralyzed on the right side and unable to speak—with a clot buster drug that reversed the disability. "I saw the patient walk out of the hospital, a well person. That changed my career direction," Rymer says. "I dedicated all my energies to organizing stroke care so that more people could be treated and avoid death or disability.  This trajectory worked really well.  I had the honor of working with so many dedicated nurses and physicians who have brought the very best stroke care to Kansas City." Her work helped make her one of the first recipients of Ingram's Top Doctors award in 1997. No longer on the front lines of stroke intervention, she now says, "I get the greatest pleasure from mentoring young physicians, nurses and technicians so that they can reach their potential to make an impact on every patient they care for."
---
Volunteers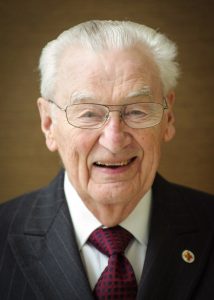 Bill Austin, Shawnee Mission Health
The world view of a truly dedicated volunteer invariably is grounded in a sense that we're all in this together. Just ask Bill Austin. "There are," he says, "no little people or unimportant lives."
That's the frame of mind this former Peace Corps volunteer, teacher and railroad employee brings to his duties on Wednesday evenings and Sunday afternoons at Shawnee Mission Health. He mans a post at the main entrance, providing information to visitors and guidance to get them to their destinations with friends or relatives. "My main job is to be a cheerleader," Austin says. "I love to see the nurses and employees smile. I will say, 'Thank you for your hard work … because of you, we are a wonderful hospital!' Sometimes I say, 'Shawnee Mission Health is the best hospital east of the Rockies and west of the Mississippi, and you make it that way! Keep up the great work!' Hopefully, this raises their morale and boosts their egos. After a 12-hour day, a nurse needs to have her spirits lifted, and I'm a volunteer who appreciates their work."
That kind of enthusiasm has been bubbling over at SMMC for two decades. Urged on by his wife, Lois, who ties hats for newborns in the hospital's birth center, Austin pulled his first volunteer shift in 1998—nearly 20 years and 7,835 hours ago. He gets by, he says, with a little help from his friends. "My colleagues, Gordon Brown and junior volunteer Kayla Kasaei, encourage me and give me something to look forward to," he says. "They come to my rescue if I need help with the computer!" In addition to directions and room information, Austin is on point when patients are discharged. "Transporting patients by wheelchair," he says, "is a labor of love."
But it's all worth the effort, he says, when he hears nurses pass along compliments: "You always brighten my day when I get the opportunity to see you while I work," one told him not long ago. "Staff members like her," Austin says, "will keep me coming back to volunteer for the rest of my life."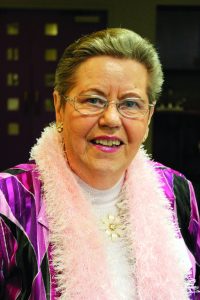 Flora Guarino, John Knox Village
Flora Guarino was raised with an understanding that we all have something to give, and volunteer work was ingrained in her early. It took on a more personal veneer, though, when she became a mother and volunteered to help raise money for her son's school band. That was close to 40 years ago, and if you look at the organizations she's supported since then, it's clear to see the depth of her commitment to serve. She spent five years volunteering as the gift shop attendant at Menorah Medical Center, and logged additional time, and miles to volunteered in the gift shop and outside among the vegetables at Powell Gardens. At John Knox Village, she has held a variety of volunteer roles: in the Auxiliary gift shops, at Fireside Dining (the restaurant adjacent to the assisted-living facility, at the Village Care Center Skilled Nursing Center and through the John Knox Village Foundation. All told, just since 2014, she has contributed 6,574.5 volunteer hours through various volunteer opportunities at John Knox Village. "I really enjoy doing volunteer work," Guarino said with a flair for understatement. ""I fell in the love with the people I was helping. It makes me feel good. The fact that I can do it at all makes me feel grateful, especially when so many people can't." These days, she assists residents of the village's skilled-nursing center, the Village Care Center, as an escort, helping residents get from their rooms to activities, special events, appointments and other happenings at the center. "I'm so grateful that the good Lord—the Maker—keeps me well enough to do it," she says, "and I like to pay it forward."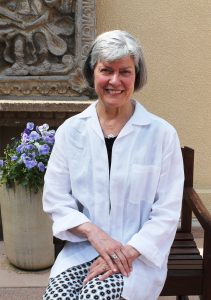 Sister Mary Kay Liston, CSJ, Truman Medical Center
Asked once why she had joined the Sisters of St. Joseph of Carondelet, Mary Kay Liston succinctly replied: "I was haunted by God; I knew in the first four months that I was where God wanted me to be." That was Calling No. 1. Calling No. 2 came in 1984, when she was appointed to the board of St. Joseph Hospital and Medical Center, then owned by the religious order. So it's fair to say she didn't choose to be in health care. "Initially, the field chose me through the appointment to board work," she says. "My formal education includes a doctorate in ministry, so the area of mission development and implementation flowed naturally from that preparation." She served in this area for 11 years before moving on to Catholic health-care systems in Oklahoma and St. Louis as director of mission effectiveness, then came back in 2008 and retired from the ministry in 2010. "It was very rewarding for me to see employees and physicians motivated to give their very best to patients and their families through the unique mission in each system," she said. But after retirement, health care was still calling to her. "I was fortunate to find Truman Medical Centers in need of an archivist/historian to create a formal archive for the organization," says Liston, who's deep into that task at TMC today, preserving—and sometimes re-creating—the history of a facility that traces its roots to the advent of professional health care in the region. "Along with its predecessor, Kansas City General Hospital and Medical Center, TMC has served the Kansas City community since 1870," she says. "Making connections with present and retired nurses, physicians and employees to listen to their stories and receive archival material for preservation energizes me daily." For her work, the hospital recognized her with its Neddine Parker Award of Excellence for her commitment to the organization's mission.
For information about this year's breakfast, visit our calendar or email Robert Tonchuk, RTonchuck@ingrams.com.