Framed by two major markets, Kansans enjoy advanced health options.
From Kansas City in the northeast to Topeka and southwest to Wichita, Kansas is served by an axis of top-tier health care delivery systems that put the vast majority of the state's 2.9 million residents less than an hour from a major medical center. 
Because of its position as a regional center for medical services and the presence of a large research university, the Kansas City region is a major health care center for the area. In suburban Johnson County, major growth is visible at almost every medical facility. 
Among the major players in the state's most-populated county are AdventHealth Shawnee Mission, with a sprawling campus in Merriam; a pair of HCA Health Midwest facilities, Menorah and Overland Park Regional medical centers; Olathe Health in the county seat, and Saint Luke's South, part of the Missouri-based health system.
Combined, those facilities provide more than 1,530 licensed beds and account for nearly one-third of the hospital capacity in the entire Kansas City metropolitan area. 
That's before you even start to factor in the specialty hospitals and focused surgical centers dealing with orthopedics, for example.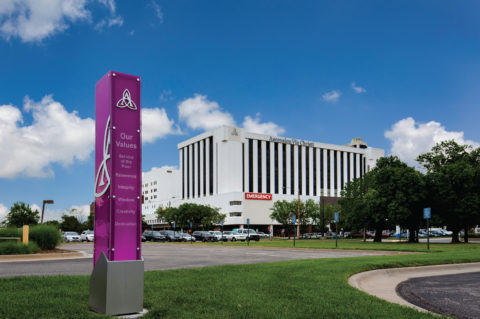 In south-central Kansas, Wichita dominates in the delivery of health care services, drawing patients from throughout the central and western portions of the state, nearby northern Oklahoma, and beyond. The market there revolves around two major players: Ascension Via Christi and Wesley Medical Center. Via Christi, anchored by its main 613-bed St. Francis Regional Medical Center, merged into the nation's largest non-profit health care provider, Ascension Health, in 2014. The Ascension footprint now extends across the eastern half of the state into Pittsburg and Manhattan.
Wesley Medical Center, owned by Nashville-based health care giant HCA Inc., boasts 760 beds and 102 bassinets—more than 5,800 children take their first breath in Wesley's neonatal ward each year. The sprawling Robert J. Dole VA Regional Medical Center, also in Wichita, treats veterans from a large region between the markets of Kansas City and Oklahoma City. 
All told, roughly 1,000 physicians practice in Wichita and the surrounding area, providing core care in the areas of family practice, internal medicine, obstetrics, pediatrics, and psychiatry. In addition, the larger Sedgwick County has a strong medical society, with an estimated 90 percent membership rate with the resident physician population. 
Southern Kansas, as well, benefits from the presence of a branch campus of the University of Kansas Medical School in Wichita. Topeka is a major medical center for northeast Kansas, with two general and five specialized hospitals employing more than 6,500 people. There, Stormont-Vail HealthCare comprises a 586-bed major regional medical center and a 150-member primary and specialty physician clinic in the Cotton O'Neil Division. The system serves the region through its network of more than 20 care facilities and the Cotton-O'Neil Cancer Center.
A major change in the capital city's health care scene came in 2016, when the Sisters of Charity of Leavenworth Health System sold their troubled St. Francis Health Center, a 378-bed hospital in Topeka, to a joint venture between the University of Kansas Health System and the for-profit Ardent Health, providing a needed financial stabilizer.
Throughout the state, virtually each of the 102 other counties is served by a local hospital, with urgent-care clinics and rural physicians to help meet the less-than-acute-care needs of residents there.