Grand Avenue Bridge Emergency Repairs Set
---
---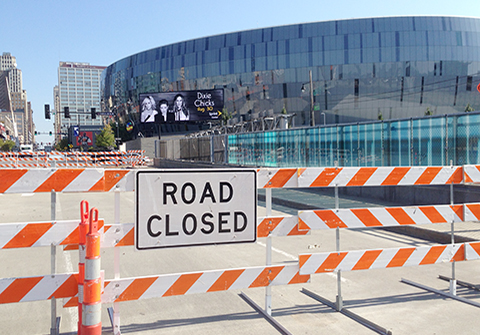 ---
A nearly $3.5 million emergency contract has been awarded to Clarkson Construction Co. to replace the Grand Avenue Bridge in downtown Kansas City after stress fractures prompted the Missouri Department of Transportation to immediately close the bridge on May 6.
Timeline is as follows:
Demolition of the existing structure will begin at 8 p.m. Friday, Aug. 26, through 5 a.m. Monday, Aug. 29.
All lanes of east and westbound I-670 on the south side of the downtown loop must close during demolition.
A project to resurface I-670 was also recently awarded, and will be coordinated with the demolition work to allow both projects to be completed at the same time to minimize impacts to traffic.
Construction for the new bridge will begin once the demo is complete and expected to reopen to traffic by Dec. 1.
Motorists can bypass the I-670 closure using I-70.
Pedestrians are detoured west of the Grand Avenue Bridge to Walnut Street.
Motorists using Grand Avenue are detoured east of the bridge to Oak Street.
MoDOT analyzed the severity of the stress fractures, and, after careful examination, determined that the bridge needed to be completely replaced. MoDOT worked closely with the City of Kansas City to accelerate design plans to replace the existing structure.
The new bridge will be built in the same location, and include enhanced bike paths and wider sidewalks to safely travel across both sides of the bridge.
Motorists are reminded to slow down and pay attention as they drive past work zones. 
For more information about MoDOT news, projects or events, visit its website at www.modot.mo.gov/kansascity. For instant updates, follow MoDOT_KC on Twitter, or share posts and comments on its Facebook page at www.facebook.com/MoDOT.KansasCity.