The Grain Belt Express is starting to acquire land along its route spanning across nearly the width of both states.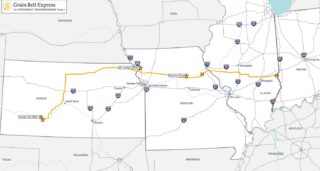 Map courtesy of grainbeltexpress.com
---
Despite the start, landowners, local officials and some Missouri lawmakers continue to push back, arguing the project will be destructive to rural communities.
The proposed Grain Belt Express, being developed by Chicago-based Invenergy, would run from near Dodge City, Kan., to the Indiana border, moving 4,000 megawatts of power per year.
In Missouri, 39 municipal utility providers have signed up and expect to save $12.8 million per year. Grain Belt promises thousands of jobs — both to construct and operate the line.
The company could revise its plans to drop off more power in Kansas and Missouri, saving up to $7 billion a year over 20 years for up to $2.4 million residents. 
A vote from the Missouri House saw overwhelming favor for legislation designed to put a pause on the project.
The legislation would require projects – like the Grain Belt Express that use eminent domain to acquire land – to show support from the county commission in any county where the project is expected to build. 
Grain Belt already has approval from the Missouri Public Service Commission, granting it status as a public utility, but the legislation would make that retroactively dependent on its ability to persuade county commissioners in the eight counties the transmission line will cross, many of whom are vocally opposed to to the project.
The largest obstacle remains over property rights. Currently the project has the right of eminent domain in both Kansas and Missouri. This allows developers to acquire easements on private land, even in cases where the landowners don't want to negotiate. 
So far, the company says it has acquired rights to about 40 percent of the necessary land in Kansas and Missouri.