Future work remains remote for many
---
---
Remote work environments are now the status quo following closures across the U.S. due to COVID-19.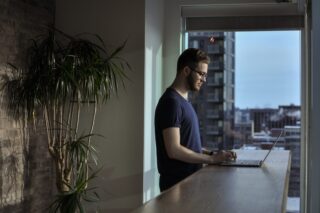 A survey conducted by S&P Market Intelligence finds that most companies will not be returning to standard offices as they reopen
Whether permanently or for the long term, the survey recorded that 67% of respondents expect work-from-home policies will remain in place even after the effects of COVID-19 phase out.
Many businesses are looking at the economic reopening, and due to the extra measures involved in working safely at the office, are increasingly deciding that a return to the pre-2020 office environment is not feasible.
While COVID-19 spurred a massive transition to remote work, a new rise in cases across the nation after months of business closures show that working from home is here to stay.
Recent trends highlighted by the new survey include:
25% of companies plan on waiting a month or more before reopening and 24% don't have a plan for reopening yet.
Nearly half (47%) of businesses responding to the survey said they will probably decrease the use of office space.
The need to adhere to safety measures is driving companies to remain in remote work environments.
Numerous companies including Twitter have already told their employees that they can work from home permanently, according to Business Insider.
Employees that do plan to return to the office workplace may still not see a return to normal anytime soon.
The S&P Market Intelligence survey found that 20% of respondents said their organizations would continue through at least 2021 with altered working conditions including remote work, protective gear, and social distancing.