Funding agreement finalized for KC streetcar extension
---
---
A recent agreement signing by the Federal Transit Administration (FTA) and the City of Kansas City, Mo. has locked in the remaining federal funding asked for by the city to complete an extension to the Kansas City streetcar line.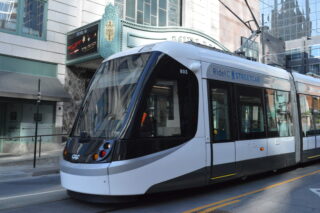 This past Friday, the FTA closed on a $174.1 million Full Funding Grant Agreement through its Capital Investment Grants Program with the city. The signing marks it the largest transit grant in the region's history.
Funding will help stretch the streetcar 3.5 miles south along Main Street, from Union Station to the University of Missouri-Kansas City.
The project is estimated to cost $351.7 million and includes nine stations, transit signal priority and improvements to intersections and sidewalks.
A $50.8 million federal allocation in support of final design and construction previously was announced in August. The remaining funds will come from a Transportation Development District voters approved in 2018.
This first extension to the line also leans to the likelihood of more extensions to the streetcar route in the future, as North Kansas City council members on Tuesday approved a resolution directing staff to engage with the Streetcar Authority to determine feasibility and develop a proposal for extending the streetcar into the city.
The streetcar's Main Street extension is set to begin construction in late 2021 or early 2022, and open by 2025.