Alumnus of the Year: Kevin Barth, Commerce Bank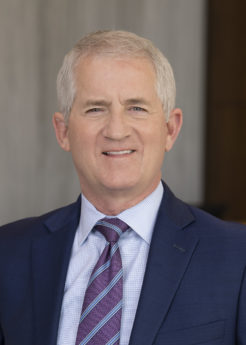 A former boss once called Kevin Barth "the role model for aspiring executives." So the funny thing about Barth's path to the top of Commerce Bank Kansas City is that he never really aspired to the title. His sights were turned elsewhere: On the task at hand.
"I always wanted to be successful and figured if I worked hard, took good care of our clients, and helped grow the bank, I would have some level of success," says the chairman and CEO of the bank's western division. "Fortunately, I had some very good mentors at Commerce who helped me develop my banking skills, and I was 'hungry' and competitive enough that we had considerable success growing in Kansas City and surrounding states."
Considerable? Something of an understatement there. Barth would be the last person at the bank to take credit for its performance—he always defers to the entire work-force for that—but in the 20 years since he entered the senior leadership rank, the metrics say a lot. For that success, for his impact on regional business, and for his role in civic, philanthropic and corporate board leadership, Kevin Barth is Ingram's 40 Under Forty Alumnus of the Year for 2021. 
So how, exactly, did the kid from Lamoni, Iowa, end up where he is?
"I always had jobs as a teenager that helped me meet lots of people from many different backgrounds and industries," Barth says. "I loved learning about different kinds of businesses and how they operated." At 16, when he was trying to determine a collegiate field of study, a retired banker from Chicago offered some lasting guidance: "He said, 'Kevin, you are curious about businesses and eager to learn. You should go into commercial banking.'"
That banker saw in Barth the ability to increase his value to a bank throughout his career because his mind could work through different situations involving different business models. "I thought about it for a few months, did some research, and it made sense to me," says Barth, who earned his degree from hometown Graceland College, and later his MBA from Rockhurst University.
Ingram's selected Barth in its very first class of 40 Under Forty back in 1998, when he was still regional manager for commercial lending. Three years later, he became president, and you can see added value in the bank's metrics since then.
On his watch, through Dec. 31 of last year: Assets have gone from $10.98 billion to $32.81 billion; deposits have soared from $8.52 billion to $27.12 billion, and the percentage of non-current loans to loans has been cut by more than half, from 0.67 percent to 0.30 percent. The bank's loan portfolio has grown from $6.5 billion in volume to $16.15 billion, and in a sector where a 1 percent return on assets is considered a sign of solid fiscal health, Commerce most recently stood nearly a full quarter-point over that threshold, at 1.23 percent.
And, going head-to-head against the national bank with the biggest footprint here, Commerce moved from No. 3 to No. 2 in deposit market share. From 0.8 percent behind Bank of America in 2001, it has opened up a 4.5 percentage-point lead.
So Barth has no shortage of points of pride he can cite, but perhaps the most meaningful to him is that he's been able to carry forward the bank's legacy. "We have helped our borrowing customers through every major economic downturn since the Great Depression," he says. "Not only have we helped them survive, but we have also helped many of them find opportunity and thrive. We've done this while also protecting our depositors' money and growing Commerce to be one of the—if not THE most—active commercial banks in the region."
Just over the past year, for example, the bank helped over 10,000 businesses, most of them small, access the Paycheck Protection Program, saving thousands of jobs and helping owners through one of the most difficult operating environments in history, he says. "We continue to help Kansas City and the surrounding region by offering  financing to our customers, providing over 4,000 jobs to Commerce teammates and being a major supporter of many different philanthropic organizations serving those most in need," he says.
When he speaks about the bank, it's almost a given that the word "culture" will be part of the discussion. The very intentional efforts to strengthen an organizational commitment to customer service paid off during the pandemic of 2020-21.
"If you asked me three years ago if we could successfully operate our bank with an 85 percent distributed work force, I would've said I doubt it," Barth says. Our strong culture has been a differentiator through the years and to sustain it is equally important. The environment in which we operate demands a strong culture—one that can work together, to communicate, to learn, and to be nimble. 
His impact outside the office has been significant, as well, with a robust history of engagement on civic, non-profit and corporate boards of directors, including the Kansas City Area Development Council, the Civic Council of Greater Kansas City, Children's Mercy and Starlight Theatre, and various for-profit company boards. 
"My thoughts on that are straight-forward and maybe even a little old-fashioned," he says. "If we add quality people to our team, give them the support they need and set the expectation that 'if we don't take care of our customers, somebody will,' we will develop strong, loyal customer relationships that will help support both their success and ours. A bank's success is directly tied to the strength of the community it serves, and I believe in taking a long-term approach. By looking out for Kansas City's success, we are also planting the seeds for our own."