Former UM System president Gary Forsee and Sherry Forsee have committed $2 million to support research that will provide data analytics to power the NextGen Precision Health initiative and other precision health research across the University of Missouri System's four universities.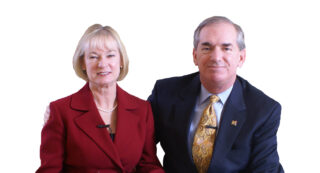 The gift will support the NextGen Data Science and Analytics Innovation Center, or dSAIC, which is based at the University of Missouri-Kansas City and operates in partnership with the University of Missouri-Columbia. UMKC will receive $1.2 million and MU will receive $800,000.
One role of the center will be to harness immense datasets to extract insights, patterns and knowledge, illuminating the work done at the NextGen Precision Health building, across the system's institutions and health enterprises. The Precision Health building, currently under construction on the MU campus, aims to usher in a new era of personalized health care by developing medical breakthroughs to treat diseases based on individual variability in genes, environment and lifestyle rather than a one-size-fits-all approach.
The Forsees considered the project a great fit for their philanthropic interests, specifically in support of higher education in Missouri. Gary Forsee, a Kansas City resident and former UM System president, is a 1972 graduate of Missouri University of Science and Technology. He serves as a member of the UMKC Board of Trustees and an emeritus director of the UMKC Foundation as well as a member of the NextGen Advisory Board.
"Through the development of NextGen Precision Health initiative and the UMKC NextGen Data Science and Analytics Innovation Center, we are helping to lay the groundwork for revolutionary changes in health care," Forsee said. "The ability to analyze vast amounts of data and apply that knowledge to some of today's most critical health problems will have untold short-term and long-term impacts."
"Looking back five years from now, we'll judge the success of the center based on the outcomes," Forsee said. "What systems have been put in place and what are the real project benefits of this center? I want to ensure that with the benefit of artificial intelligence, cloud computing, big data and data analytics that we've made significant progress in the NextGen Precision Health initiative."
At MU, a portion of the gift will be used to build necessary computing infrastructure that supports pilot projects and collaborations between life science and health care experts, and engineering faculty.  Focus areas include security for medical health care records; DNA sequencing and analysis for individual patients; and automated diagnosis of medical imagery for precision health.
"As president of the UM System, Gary helped refine the vision of our NextGen initiative," said Mun Choi, president of University of Missouri System and chancellor of University of Missouri-Columbia. "Now, with his continued work on our advisory board and his support in both Kansas City and Columbia, we are turning that dream into a reality."