Former AT&T headquarters could see $60M update
---
---
Property at 500 E. Eighth Street in downtown Kansas City once home to AT&T could receive a major make-over investment.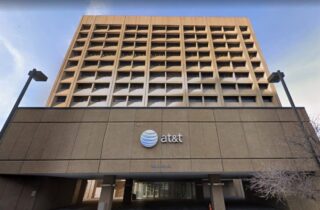 Image courtesy of Google Maps
---
Maxus Properties Inc. bought the building in April 2019, paying $6.85 million for 377,800 square feet. Now, the company is looking to upgrade the property with a $60 million project that would turn it into multifamily living as well as co-working space.
Located next to the Heart of America Bridge, the 13-story building previously occupied over 1,000 AT&T employees before layoffs started and the building was vacated. Currently, the building remains vacant.
When purchased back in 2019, initial renovation plans from Maxus Properties called for $63 million in reconstruction to turn the building into office space. Today, plans call for $60 million and Maxus has express it could apply for Planned Industrial Expansion Authority (PIEA) incentives and historic tax credits.
If tax incentives are pursued by Maxus, new ordinances from the City of Kansas City could potentially impact plans as a new affordable housing measure takes effect next month of April 8.
The ordinance set to take effect in April will require multifamily developments receiving incentives to set aside 20 percent of built-out units for low-income residents.
Maxus has not yet set a count for how many units it intends to build but has said it aims to create healthy living quarters for workers in the urban core that also allows efficient work-from-home space. If approved by city council, renovations could begin in March 2022.