Ferrellgas Partners LP, a holding company of Ferrellgas LP, has filed prepackaged Chapter 11 bankruptcy cases in the U.S. Bankruptcy Court for the District of Delaware.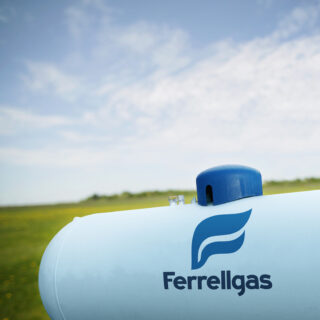 Image courtesy of Ferrellgas
---
Headquartered on the Kansas side of the metro, the prepackaged bankruptcy plan will help diminish the company's debt and allow the refinance of more than $1.5 billion of debt. Included is a plan to raise an additional $1 billion in new capital.
It's subsidiary Ferrellgas LP is not included in the Chapter 11 filing. Holding enough liquidity to continue operating without disruption, employees, customers, vendors and others with Ferrellgas LP will not be impacted by the filing.
"Today's announcement is an important step forward in significantly strengthening our balance sheets and positioning our company for long-term success," Ferrellgas Chairman and CEO James Ferrell said in a Monday news release. "We are pleased this process will enable Ferrellgas to remain an independent, employee-owned company as we continue growing our strong and profitable core business."
Ferrellgas Partners' restructuring plans involve issuing Class B stock to the holders of the $357 million in notes. Plans will also allow refinancing of $500 million in senior unsecured notes maturing in 2021, $475 million in 2022, $500 million in 2023 and $700 million in 2025.
"We look forward to emerging a financially stronger company, and we are excited to build on our near 100-year-old history of innovation as one of the nation's largest propane dealers for many years to come," Ferrell said in the release.
For now, the deal remains open as it waits on bankruptcy court approval.