We're all in this together. That message came across loud and clear Dec. 13 at Ingram's 2019 Philanthropy Industry Outlook assembly held at the Hilton President Kansas City Hotel. The forum drew a diverse array of nearly two dozen non-profit executives, funders and volunteers, including some of the 2019 Corporate Champions and Local Heroes, offering varied perspectives of the current state of affairs in regional philanthropy. With Brent Stewart, president and CEO of the United Way of Greater Kansas City, and Joe Sweeney of Ingram's serving as co-chairs, the participants briskly filled a two-hour window with insightful assessments on a range of key developments in the non-profit sector. Not the least among them, even in a time of comparative prosperity and wealth creation, were massive changes being wrought by technology and shifting demographics, disruptions caused by high levels of turnover within the ranks of non-profits, changing patterns in strategic giving with funders, the effects of federal tax changes on levels of individual giving, and the potential impact of a looming presidential election year. But a shared concern of all is where this region will find the next generation of philanthropists who will drive forward the famed Kansas City spirit of giving.
Philanthropy's Two Worlds
United Way's Brent Stewart, in his best rendition of Charles Dickens, opened Ingram's Philanthropy Industry Outlook roundtable with an observation that "these are great times and these are challenging times" when it comes to giving.
A strong economy has been driving prosperity that spills into non-profit causes, yet there are considerable factors keeping people in that world awake at night, said Stewart, United Way of Greater Kansas City's president and CEO and the panel's co-chair.
Nicole Stuke, a philanthropic adviser with the Greater Kansas City Community Foundation, said its fourth-quarter activity with donors was especially robust this year. "A lot of people putting plans in place philanthropically," she said, and actively supporting charities through their donor-advised funds.
At UMB Bank, Philanthropy Director Alicia Beck noted that with the federal income-tax reforms of late 2017, a considerable number of taxpayers were no longer itemizing deductions. "There are certainly a lot of donors experiencing an impact on their budget," she said. That has compelled non-profits to get creative with fund-raising, she added, but she also noted that corporations and foundations had stepped up to offset a decline in individual contributions.
Bryan Meyer, CEO and co-founder of the Veterans Community Project, said his organization and its mission of building tiny homes for veterans have seen things leveling off in terms of financial support, but as a three-year-old entity, it's still getting its fund-raising legs under it. "We're figuring things out as we go," he said.
Lisa Mizell, executive director of the Child Protection Center, said she has not seen a substantial drop in donations. One of her volunteers, Catherine Kelly, linked the region's well-established sense of philanthropy as a probable cause to why donations are remaining high. Organizations, as well, are making more impactful grants, she said.
Sarah Hale of the Nelson-Atkins Museum of Art, raised a pair of points that others at the table shared, significant staff turnover and who will move in as the museum's top donor's. "Our biggest challenge now is although we have really generous donors at the top of our donor pyramid, we're looking at what's next? Who's going to be there in the next 30 years," she said.
Speaking from the prospective of a volunteer, Michelle Horst, who has logged more than 5,000 hours of volunteer time at the Rose Brooks Center, talked about how her experience has motivated her to develop a Web site that will help those who want to give find organization's that need the donations. "My goal is to have a site where if somebody has furniture, clothing, whatever they can go to this site (givkc.org), do a search and it will pull organizations that need those specific items," said Horst, who has volunteered for more than 9 years at the Rose Brooks Center.
Janet Baker, recently engaged as executive director for Shepherd's Center Central, addressed how philanthropy in Kansas City differs from other parts of the country. Seven years in Oregon, before returning to Kansas City, showed her some stark differences in the way communities support non-profits and finds the greater Kansas City area to be particularly giving. She too, though, cited staff turnover, particularly in development and grant-writing, as major challenges.
Michael Van Derhoef is the executive director of the Saint Luke's Foundation, the fund-raising arm of the health system. Saint Luke's manages about $200 million in funds. It is also involved with Westport Today, a real-estate wing redeveloping homes around the Midtown medical complex. "Right now is a good moment; the market is up, people are feeling more flush than they did in the previous half-dozen years," he said. "The confidence has come back and that's good for philanthropy. It feels like it is one of those moments we ought to be making hay," especially with a presidential election year looming.
Chris Harris, who has spent more than 25 years creating an urban park and recreation complex at 40th and Wayne where he grew up, said his journey has helped him learn how to make things work when funding is down. But "when funding is good, I can get a lot more help," he said.
Mike Kanaley, managing director of operations at marketing firm Global Prairie, brought the perspective from a B-Corp., or benefit corporation, which has a unique structure built around supporting the communities where the firm has employees. That mission is a nice complement to a region known for philanthropy, he said. "I do think we need to be creating people, building on the great legacy of Shirley and Barnett Helzberg and that pipeline," he said of Ingram's Philanthropists of Year.
Joanna Sebelien, chief resource officer for Harvesters-The Community Food Net-work, said the organization was seeing "a slight drop-off from smaller donors, from the traditional methodologies like direct mail." Adding that one of Harvesters challenges is keeping up with technology and using it to solicit donations effectively from the younger generations. Despite that, Harvesters is still on track to meet its high goals. "People are still hungry," she said.
Also adding to the conversation was Harvesters' Director of Fund Development Kim Gasper. She also addressed turnover as a challenge, especially in fund development, where consistent staff is a force multiplier. "Direct mail was one really good channel, but now you need 10," she said of the emergence of new communications platforms.
The new CEO of City Union Mission, Terry Megli, also echoed the need for his non-profit to keep up with technology. The big challenge now, he said, "is developing a comprehensive digital strategy." Direct mail today only accounts for about 4 percent of fund-raising, he added. Halfway through a major fund-raising campaign, City Union Mission is on track to make its goal. The Mission serves 300 men, women and children providing emergency shelter, services and a youth camp in Warsaw, Mo.
At Starlight Theater, Development Director Lindsey Rood-Clifford addressed significant growth that came in part from tenured staff. "We've yet to see a donor saying why they're giving less," she said, but she has heard more from donors interested in capacity-building and long-term focus.
Union Station's chief executive, George Guastello, noted that its $20 million budget was program-driven; the remainder came from sponsorship and donor dollars. An infusion from the Kauffman Foundation was allowing Union Station to expand its efforts to increase membership and build the capital needed to run a massive facility all day, every day, he added.
Panel co-chair Brent Stewart also noted that the venerable United Way was also being pulled toward a new operating model. Corporate philanthropy, traditionally driven by employee campaigns, long underpinned United Way, but this model is changing as the work force does. Funding has declined for at least five years. "A lot of it has to do with our legacy companies that have been very supportive—they don't have the capacity they once had to support United Way," Stewart said.
A secondary concern for Stewart is the retiring Baby Boomer population. Many have contributed throughout their careers, and they retire with a mind-set that they have done their part. "Folks who are coming in are obviously not at their peak earning years, so they cannot offset the losses we're seeing from those who are retiring," Stewart said.
While the community is healthy, said Shirley Helzberg, "my concern is the next generation of philanthropists. I think all of us who care about the community and care about our organizations and making sure they're healthy, we have a responsibility with these successful younger companies and people to really work with them." She has identified several entrepreneurs who fit that model "and we have to expose them to areas they're interested in," Shirley Helzberg said. "Whether it's education, the arts and how they can make a difference by making significant gifts."
Turning the discussion to technology, Brent Stewart asked about specific applications that are changing the way non-profits operate.
Terry Megli said City Union Mission had benefitted from in-kind contributions of roughly $40,000 from a supportive company in that space, but was looking to a deeper assessment of Web-site functionality, data-gathering and analysis to determine the organization's next steps. "We want to know how much is coming from Facebook, LinkedIn and our site," he said.
Kim Gasper said Harvesters, too, was testing new means of gathering information. But Harvesters' Joanna Sebelien noted that technology—though extraordinarily important—was extraordinarily expensive. At a logistics-driven organization like Harvesters, "we run on technology. If the computers are down, if the infrastructure goes down, we might as well send people home."
Michael Van Derhoef said Saint Luke's is using new tech tools to better understand the nature of relationships with everyone who touches the system, either as in-patient, out-patient, clinic visitor, donor, volunteer or another role. "Just in the near term, we've seen a better uptick in that first conversation" with potential donors, he said.
"The emerging trend of immediate gratification that Millennials find in being able to make impulse donations," said Catherine Kelly, "was becoming more prevalent."
For Janet Baker the challenge is limited resources. Being understaffed, she said, has fragmented efforts to reach donors through digital channels. "How do I leverage the staff I have, with the technology I have," she said. "We're building the bicycle as we ride it—and it's on fire."
That same conversation, regarding capacity-building, is prevalent throughout the foundation world, said Brent Stewart. "You need capacity to really grow your non-profit."
George Guastello noted that technology was the primary means of communication with Union Station's customer base. Days of direct marketing have given way to real-time interactions with a hugely segmented customer base, compelling the organization to deliver diverse messages to different contacts at the times they are most receptive to seeing or hearing that message.
"I think of technology as an enabling strategy, it's not in a separate silo. It has to be integrated across all aspects of the organization: marketing, communications, fund-raising and development," said Janet Baker.
Tech has been, Brent Stewart said, "a major disruptor to the United Way model." Digitally based companies have been able to take away some funding lines but are not providing a "strategic mapping of the community" a picture of "where the needs are, and the best resources to meet those needs," he said. The organization is partnering with new vendors for the evolution of its own engagement practices and data analytics.
Asked about the insights that technology is delivering, Michael Van Derhoef said Saint Luke's has learned that, based on behaviors, the tone of messaging must change based on whether someone is a pure donor philanthropist, a solve-world-hunger humanitarian, or some other stripe of giver. "What drives the person's interest," he said, "helps us better understand how we might open the door to conversations more effectively." That requires staff members who can speak the language of those disparate interests.
Effective donor communications are also grounded in having data built to serve that function. Sarah Hale pointed out how a database conversion at the Nelson-Atkins had unified separate silos of people who had contact with the museum. "Previously, if you were a member, you were in one database, if you bought a ticket you were in another, if you purchased garage parking, you were in another," she said. Having all 17,000-plus members and other contacts merged into a single data structure has allowed the museum to identify those within its largest group, the $70 donor members, "so we can see the people who at $70 have a higher capacity and engage them and move them higher up so it becomes less of a pancake and more of a donor pyramid."
The ability to use tech and connect with donors and others in new ways—as with geofencing, the ability to trigger a message to someone's device when they enter a specific geographic zone—allows you "to engage with them in a way that's not just about " 'give me some money,' " said George Guastello. He adds that it also opens pathways to better understand the outcome of Union Station's engagement efforts.
"We base it upon the return on investment and the ad-to-sales ratio," Guastello said. "In today's world, direct mail, if I see one more piece in my mailbox at home… I already know, no matter if there is a sick puppy image on it or not, I know they're going to ask me for money. That's not compelling, and I won't open it up."
Donor-Advised Funds
The explosion in donor-advised funds has fundamentally transformed the nature of giving, leading to a discussion of the challenges in educating people about how they can be used—and can't.
"My concern is that, unlike foundations that have to give a set percentage away each year, there are not those same kinds of criteria for donor-advised funds," said Joanna Sebelien.  "There is some education that has to be done with donors, and even with professional development folk as to how to work with that."
Educational efforts, though, go deeper than that. Nicole Stuke said that at the Community Foundation they see a lot of people coming to charitable giving knowing what they want to do, but they also see a lot looking for guidance. "It's individualizing, educating, making sure the conversation is not just happening with the donor, but also with the non-profits, because we would not exist without the non-profits," Stuke said. Within that construct, donors operating through the Community Foundation are giving out between 14 and 18 percent of their fund balances a year, multiples of the 5-percent threshold required of private foundations, she said.
Working in philanthropy from a seat in the for-profit world, Alicia Beck said many of UMB's high-net-worth clients come to us and want to have charitable giving as part of their legacy. "We will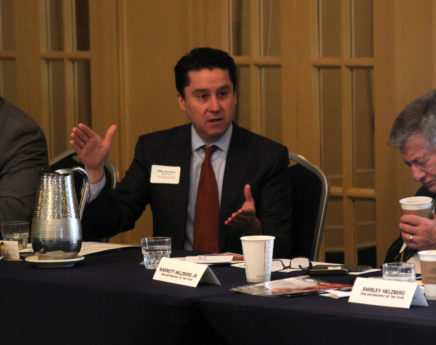 walk through that analysis with them, giving a direct gift," she said. "But a lot of times, it's establishing a donor-advised fund and a lot of times it's with a private foundation. With each of those there are pros and cons." Hence the need for continuing educational efforts.
The evolution of tech in the hands of donors has also effected change. George Guastello noted that Millennials and members of Generation Z often seem to give on impulse when they see an opportunity. This characteristic is tied to the broader issue of where philanthropy will find its next generation of givers. "Everything has to be on the phone; they want to press the button and that's all they want to do," he said.
But using the phone to make a donation, said Michael Van Derhoef, "is just another mechanism." Saint Luke's still relies on the relationship with the donor, the conversation and finding what the individual wants to have an impact on, he said. "It has less to do with how they think about us as a charitable organization, and it's really just another way they can manage their money. Whether they write a check out of their checkbook or I get a check out of their donor-advised fund, they're still making a commitment to my organization to make an impact in a certain way."
When Shirley Helzberg asked whether the use of donor-advised funds was changing the nature of planned giving itself, Nicole Stuke said that "the number one reason somebody has a donor-advised fund with the foundation is legacy. We've researched that, we know that. That's the mechanism to do your planned giving."
Raising Philanthropists
The donor-advised mechanism has also created new opportunities to foster giving with younger generations. Michael Kanaley said that since the inception of Global Prairie, "we provided team members, whether they are fresh out of school, 22 years old, or 55, we set up a donor-advised fund for them at the Community Foundation, and what I think is key is the education around it. We want to create people who want to give. We want to create philanthropists."
Shirley Helzberg said that she and Barnett had created funds through the Jewish Community Foundation on behalf of their grandchildren, now ages 8-17, and use that to enable discussions with them about how they would like to see the money used. "A lot of it was for pets and for shoes—they have a lot of interest in shoes, providing shoes for young people. This is a way that everybody can benefit," she said. "I think it's really important to influence them about the joy of giving and how to do it."
To encourage giving in her own family, Lindsey Rood-Clifford said, "we gave our kids giving cards in their stockings last year from the Community Foundation, and we say, yes, it's Christmas, but here's something you need to think about." She sees the same thing around town in how discussions of giving are becoming less a dynamic between couples and more of a whole-family activity.
Nicole Stuke said her Community Foundation colleagues include experts in multi-generational giving, especially focused on those at ages 21 and 64. These are two key stages of life for individual donors: those who are establishing a lifelong framework for giving, and those who are wrapping up their earning years and looking to make an impact. But with people living longer, "we now have four generations of givers in a family," she said. Thus, a new importance on aligning those generations behind a giving mission.
Catherine Kelly, with the Child Protection Center and OneKC for Women Alliance, has seen the downside of generational shifts when a donor's children grow up and move out of the community. "If their families don't live here any more, that truly is a concern," she said. "If their kids aren't engaged and their kids aren't engaged, it's tough."
It's important from the non-profit side, said Lindsey Rood-Clifford, to understand "the personal goals of your donors, not assuming the kids are going to care about the same things their parents cared about or live in the same spot their whole lives. It's going through that hard work of acquisition, which takes time and attention to create that connection, and earlier, because so much information is available for people."
Chris Harris brought the session to a close with his comments about the power of youngsters to help effect change on behalf of favored causes. "Everything I do as far as marketing is through kids ages 12-15," he said. "If you tell these kids you need something done on social media, they know exactly how to do it. What I have learned is, I listen to the kids. They will tell me exactly what the trend is, then I bring it to you all. But when the kids get involved, the newspaper picks it up, and the TV news all pick this up and donors start calling me, but all the messages came from the kids. I just go outside and cut grass and pick up trash, but I just did a big marketing campaign."