Centrality – If not for the Wright brothers, would the term "flyover country" have ever come about? For a hundred years, KC has battled that label, but lookie-lookie: Kansas City is one of the hottest locales in the country for that very factor:
It's proximity to everything. When you put KC in a national context, if KC were any closer to LA or Seattle, it would just be that much further from New York or Miami. National and international logistics companies have taken note, and the explosion in the growth of KC's logistics, transportation and warehousing assets here rivals that of any other market in the United States.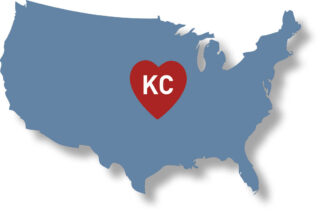 Affordability – Interesting stat that popped up recently: Someone saving for a home needs to bank more than nine years' worth of their income to match the sales price of a home in coastal California, metro New York or the Boston area. In Kansas City? Just 2.4 years, and as you get outside the metro core, substantially less. Topeka, just an hour to the west, clocked in at 1.4 years' income, according to CityLab.com. Housing is a big driver of KC's low cost of living, but so are groceries, another big-ticket item in everyone's budget. And costs in KC are below national averages for health care, utilities, transportation and most other goods and services.
Productivity – Did you ever stop and think about this: The federal government's record-tracking—from census to banking to land use to smokestack emissions—is able to drill down and discern causes and effects involving race, age, income, employment, hair color, etc., etc. But here's a glaring hole in what we know about ourselves: Workplace productivity. Despite oceans of data on everything else, Uncle Sam can't—or won't—produce a city-by-city measure of worker productivity. We can think of some cities that absolutely would not want to be ranked by such a measure, so their congressional representation naturally wouldn't be pushing for the same. But we'll put Kansas City's work force out there as a champion of industrial and commercial output. With most people here just a generation or two removed from the work ethic of an American farm, we get things done. Have any doubts? Ask Ford, General Motors, Honeywell, Orbital ATK or other national mega-companies with a big footprint in KC.
Creativity – In 2016, the National Center for Arts Research—yes, it's a thing—added three cities to its list of the 20 most vibrant arts communities in the nation. It would surprise no one that Portland, Ore., and Austin, Texas, were two of those three. The other? Right here in River City, folks. Kansas City's addition to that designation was a reflection of what's happened across the region, not just in the red-hot Crossroads Arts District of Downtown KC. But that locale has driven huge change in arts appreciation here. And that has grown up on a foundation that includes spectacular arts venues like the Nelson-Atkins Museum of Art and its companion Bloch Building, the Kemper Museum of Contemporary Art, the Nerman Museum of Art and smaller venues that dot the landscape.
Quality – But there's a lot more to the quality of life in Kansas City than a thriving arts community. Complementing the explosion in visual arts are assets like the world-class Kauffman Center for the Performing Arts, high-level sporting activities like pro baseball, football and soccer, as well as college sports, outdoor options (including easy access to fine nearby camping, boating and recreational lakes), increasing numbers of bike and hiking trails throughout the region, great schools in most of the metro area, fine dining and night-out entertainment options, great health-care facilities: The quality of life in the KC aresa is, not to overstate things, simply outstanding. The aforementioned affordability factor looms large here, as people with more disposable income after the bills are paid are able to enjoy many of life's finer offerings.
Mobility – Consider this: There are more than 2 million souls in the greater Kansas City region, but only 11 percent of the area's residents live in parts that reflect pre–World War II population densities and travel patterns. What accounts for that? Land—and lots of it. Some urbanists may sneer at KC's suburban sprawl, but it gives this region a diversity of lifestyles they can only dream of in the Bronx. Lee's Summit is not Overland Park is not Parkville, and all that. And those 'burbs are linked to one another by more interstate lane miles than any other metropolitan area in America, allowing free (and fast) movement from one locale to another. No, you don't have to change houses when you change jobs.
Seasonality – It is possible to have too much diversity in your weather patterns—after all, zero degrees and 110 degrees do indeed average out to 55, which could lull you into thinking KC must be just like Seattle. But we do indeed enjoy the blessings of distinct summer, fall, winter and spring seasons—and the varied outdoor activities that go with them. Lake life is big in the KC region for summer getaways, and you can't be beat for spring baseball or autumn football weekends in the KC region. Winter? Well, it can get cold here, and stay that way for a couple months, but snow is, thankfully, rare.
Affability – We love the quality photos in Nat-ional Geographic, but we'll take
exception to the exclusion of Kansas City—or Missouri and Kansas altogether—in its assessment of the 25 happiest cities in America a few years back. Oakland? You're going to go with that NatG? Those editors haven't been to many Chiefs-Raiders games over the years, we guess. But there's a level of Midwest Nice that runs from south of the region up past the Twin Cities (truncating somewhere west of Chicago, we're pretty sure), and it makes for more neighborly interactions and better business relationships. We think KC is grounded in a neighbor-helping-neighbor ethos that extends back to the farm, since most of us here are just a generation or two removed from country life. Or maybe we're just in a better collective mood because our rush hour rarely lasts the full hour. (Which gets you back to No. 3 on this list.)
There you have it
A few key quality-of-life and quality-of business factors that make Kansas City shine and to be a remarkably logical market to invest in and call home. And not just in the eyes of the natives. Ask almost any CEO who has been transplanted to the Kansas City area from points distant. The phrase "I had no idea that Kansas City had (insert your quality metric here) …" will spring from their lips, guaranteed. And we couldn't agree more.