Ingram's 2013 Rainmakers, all hailing from the vehicle-sales sector, stand out for impressive production, yes, but also for their character and integrity.
Call it the Great Consumer Disconnect: Health care in the United States is a public-policy mess in 2013, but six medical-provider professions—nurses, doctors, dentists and the like—were among the 10 most-respected professions cited in a Gallup poll released earlier this year. Meanwhile, car and truck salesmen—a line of work vital to nearly everyone in automotive-dependent America—ranked atop the professions least respected. 
Here's what's wrong with that picture: Ingram's 2013 Rainmakers, top producers who this year were drawn strictly from the vehicle sales field. You're about to meet nine of them, and every one of them owes his success to the inordinate levels of respect he has cultivated from client bases over decades of working the front lot, the back lot or the phone and computer on his desk.
In each case, integrity is a key element of success. To stand out in vehicle sales, whether you're pushing used economy cars, new high-end models or gigantic trucks, you must have a solid base of repeat customers—people who clearly trust and respect you. 
And so it is with this year's Rainmakers, who hail from varying corners of car and truck sales, from retail sales specialists to pros at sales of trucks by the fleet. Their combined 2012 production easily tops a quarter-billion dollars, with thousands of vehicles delivered to clients throughout Kansas City or across the nation. And all are on track to top that output for 2013.
You want respect? Look at their numbers, and they tell you: These guys have earned it.
DWIGHT POTTS, Midway Ford Truck Center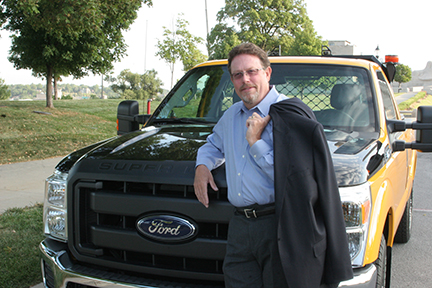 What's the foundation for spectacular success in vehicle sales? "Ultimately," says Dwight Potts, it's about the relationships."
He should know. As the biggest producer on a high-producing sales staff at Midway Ford Truck Center, he sold 3,534 vehicles last year, generating $114.7 million in volume. On a staff of 15, he accounted for more than a third of the company's total revenues. 
The key to building those relationships, Potts says, is integrity. "Be honest and take care of customers; that's what's guided the whole thing." Here's one example—an extreme one—of what that means. Some years back, after completing a complex multi-vehicle transaction, Potts learned that the customer's order had been delayed by a train that derailed into a Florida swamp.
"His trucks were fine, but they needed to take them off by crane, and they put them on the side of the marsh to use as a rigid bed for the crane," Potts said. "They had all been decaled, had their radios and racks, and we had to recapture all that stuff.  We'd already invoiced them, and they were in the licensing and titling stage, so we had to unwind all that." Superior service then, after the sale and the worst delivery outcome possible, salvaged the relationship for future sales.
Potts started out as a partner in a BMW dealership in the early 1980s, then sold his stake there before ending up at Midway.
One reason he's been able to log nearly 20 years there has been the marked difference between the two settings. Retail sales can involve erratic work schedules and long days; Midway was a Monday-through-Friday, 8-to-5 job. And, as it turned out, a lot of his former clients at the BMW site were business owners who needed trucks, as well. Again, the value of a relationship well-nurtured came into play.
Most important, he says, his own success would not have been possible without the dedicated support network he has at Midway Ford. Because it is employee-owned, it provides a decided advantage, Potts says, since every one of the nearly 250 employees has a stake in his sales success, and acts like it.
KERRY OSTERGARD, Roberts Chevrolet
Success was always part of the plan. But not with car sales—Kerry Ostergard had his sights set on a management role in the hotel/hospitality sector. Then one night 18 years ago, he came home from work in Indianapolis to a message from his wife, telling him he'd be raising their 3-month-old son on his own. 
"I had no relatives there, so I came back here because I couldn't take care of him on my own and stay employed," Ostergard re-calls. After a short fling in insurance sales, his father introduced him to a friend—Keith Roberts. "He said come talk to me about a job, but I said I wanted nothing to do with the car business," Ostergard says.
Must have been a good closing pitch, because Ostergard is still selling for the group founded by Ed Roberts back in 1951. His son, Keith, "gave me the best advice in the world: Treat people like you'd want them to treat you if you were on the other side of the table—you'll do fine and this business will be good for you," says Ostergard.
Officials with the dealership say Ostergard deftly manages both passenger car and fleet sales—something of a rarity in that field. Last year, he sold a combinedtotal of nearly 350 vehicles, and the retail side of that alone was worth $4.5 million.
The business, Ostergard says, "is not a rosy picture. There are long hours, it can be overwhelming, it's not for everybody. It does take a certain personality. Anybody can do it and sell enough to make an admirable living, but to get to the upper end, it takes a couple of special traits."
Foremost among them, he says, is "the ability to listen to someone and hear out what they're saying, even if you've heard the question before." And while nailing down the details and staying organized are also vital, long-term success with one dealer is more attainable under enlightened owners like Roberts, Ostergard says.
Oh, yes—that son of his? "He's now at Central Methodist in Fayette, majoring in criminal justice, minoring in computer science and playing baseball for them at the same time," says a beaming father.
JOHN MILLER, Midway Ford Truck Center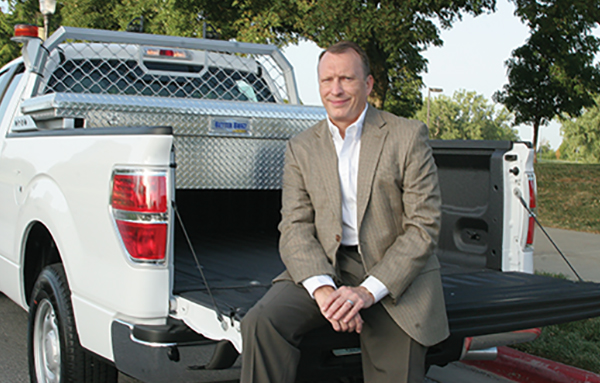 John Miller learned a lot about the science of commerce back in business school at the University of Kansas. But perhaps his most defining educational moment came in the first days of his freshman year: "It was all overwhelming and new, and I said to an upperclassman, 'I bet you have a good time every weekend; I can't wait for Friday.' And he said, 'If you've got your (stuff) together, you use the weekend to get ready for the next week.'"
Lesson learned. For 19 years now, Miller has been applying that guidance at Midway Ford Truck Center. Miller bagged $66 million in volume on 2,171 units last year, and is on pace to beat those numbers this year. The reasons for that, he said, are not complicated: Be organized. Be persistent. Never over-promise, always shoot straight. And follow through. Do that, and each new sale is just the beginning of a long-term relationship that leads to repeat business and sustainable growth in sales volumes. It helps, he notes, to be consistent and pay attention to detail: "It's always the little things you build on
that turn into big successes."
From his parents, he learned the values of honesty and solid relationships, and says there's no way to overstate the contributions of either in any sales setting. "It's OK to say 'I don't know,' but that needs to be followed up on," Miller says. "In our world, we're talking about expensive trucks, $80,000 to $100,000, and by the time you put the deal together, the equipment on the chassis can be worth substantially more than the chassis. You have to understand the application, where the customer is going to operate it, who will operate it, and their timing, then bring a package that meets those needs."
One other success factor: Being allowed to succeed. When he started out at Midway, he was given a desk and a phone and told, "if you need something, let us know."
"They just turned me loose," Miller says. "In a lot of respects, it's like running your own company, with 100 percent backstop." As employee owners, "all of our guys work under that same umbrella" of entrepreneurship, Miller says.
RITCHIE SEXTON, Mercedes Benz of Kansas City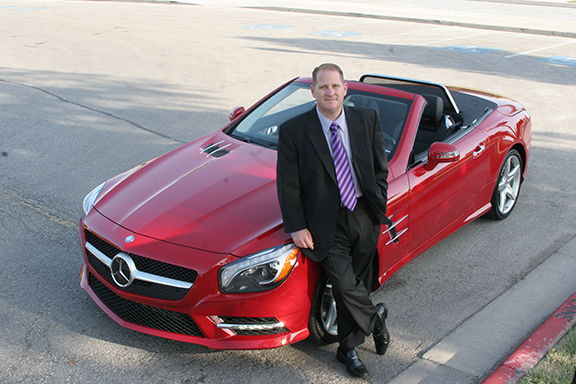 All eight cylinders of a candy-apple red Mercedes SL550—convertible, of course—impressively roar to life as Ritchie Sexton heads for the highway before throttling back in deference the posted speed limit. "Hey," says Sexton, "if you're going to drive it, drive it."
That's the bravado and self-confidence of a successful salesman in a small subset of car sales—high-end vehicles. Two years after arriving in Kansas City and trading up from sales of domestic and mass-produced imports, Sexton is flat out getting it done for Mercedes Benz of Kansas City. "I'd never sold high-line before, so there was a bit of a transition learning the product—and a bit of learning your customer," he says. After all, says the native of Amarillo, Texas, "nobody has to buy a Mercedes. High-end is a lifestyle." 
But that mindset also raises some challenges, he notes, because nobody needs a Mercedes. "You either want the star or you don't, and if you don't, why are we talking to each other?" 
He took an unusual path to his trade. He was living in New Mexico, working in xeriscaping and soliciting sponsors for his participation in, of all things, the state yo-yo championships. "I walked up to these guys in a restaurant and asked them to sponsor me, and one said, 'Forget the yo-yo, you need to come sell cars. What do you do for a living?' And I said, 'I shovel gravel.'
Not for long. After taking the sales job, and later moving to Grandview to be closer to his wife's parents, sales manager John Howden told him he had a job at the Mercedes dealership in south Kansas City. The setting, combined with a gregariousness inherited from his mother, was a perfect match.
Closing a deal is rewarding, Sexton says, but there's more to it than that. "So many times, people come and hem and haw—most would rather have a root canal than shop for cars." The thing that makes him happiest, he says, "is that they came to do something and accomplished what they set out to. And we're helping them."
DARRYL WOODARD, Bob Allen Ford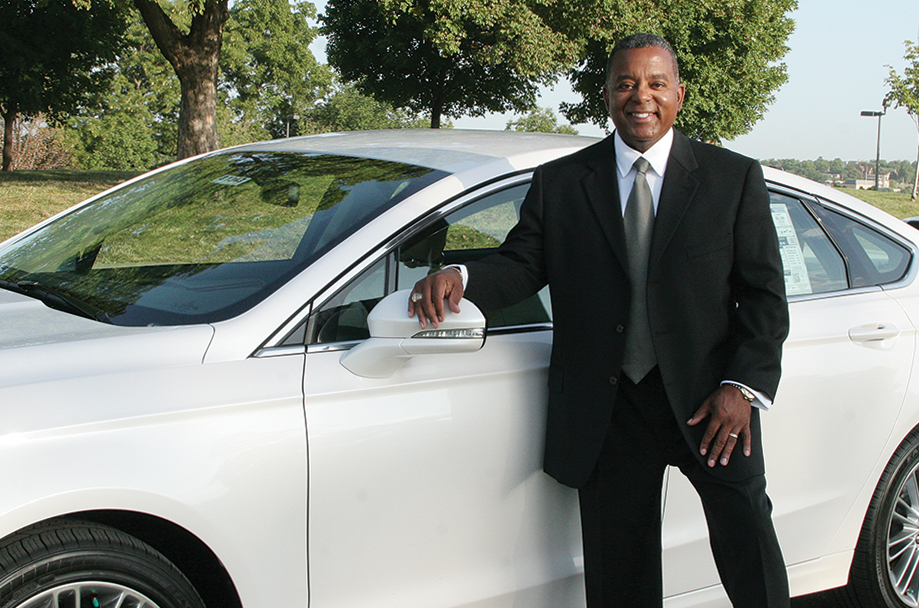 Almost everyone in sales has someone in his background who has served as a mentor or offered powerful inspiration. Few of them sleep with the source of that inspiration. "It's my wife, Carol," Darryl Woodard declares. "I've been married to her for about 18 years. She worked for the police department, worked hard all day, went to school at night in her 40s, graduated at the top of her class with a masters in science and management. That's impressive to me."
He taps into that same kind of want-to every day at Bob Allen Ford, where he's sold more than 7,000 new and used vehicles in a 24-year career. Surprisingly enough, he isn't paying attention to the numbers. If you do, Woodard says, you take your eye off what really matters.
"It's that relationship that's important to me," he says, "I tend to do better when I focus less on what kind of profit I'll make and focus more on that person. When I do that, the closing percentage goes up. People like to buy from people they like and trust."
Woodard cites another powerful success-driver, one he picked up in his youth. "My Dad, he's like the ultimate representation of integrity. He is so honest," Woodard says.
Woody, as he's known on the sales floor, embraces that in his own role, along with diligence and structure. From 9 a.m. to noon, he's in his office working on a sales program that reminds him which past customers are having birthdays, and making that personal call to offer best wishes. 
Then, with new customers, success starts with a good first impression—a crease in your pants, shined shoes, looking good, smelling good. "First impression is everything, and how you greet the customer starts the process," he says. Also crucial are fine-tuned interviewing skills geared not toward a single sale, but developing a long-term relationship. "You feel good" at the close of a sale, he says, "but what I'm looking at is the future. I want to sell their kids cars. Once a car is sold, that's not the end of it to me—or it shouldn't be."
DAVID WHITTAKER, Bob Sight Ford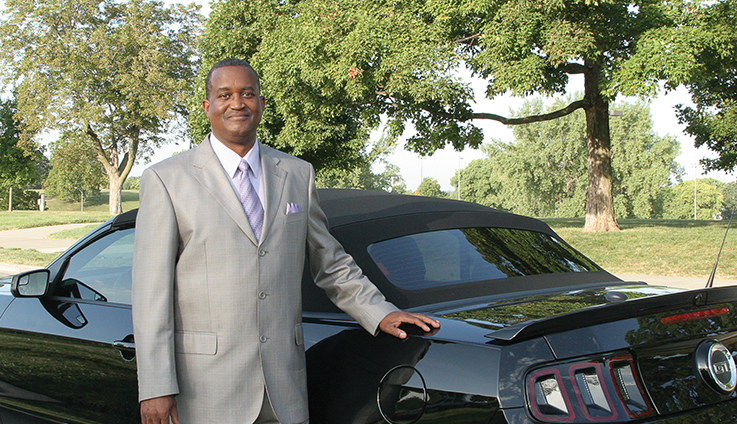 The numbers demonstrate David Whittaker's sales acumen: 385 new and used cars sold for Bob Sight Ford in 2012 and already 220 this year. But what exactly, makes Whit-taker so successful? His boss, Zach Sight, fields that one: "Two things. No. 1, he shows up for work. We're in the retail business, and a lot of times, that's 12 hours a day. He does everything every day to be as efficient as possible. The other thing is, one of his best abilities, in fact, is communicating with the customer, being on the same page. Most people don't want a pushy car salesman."
For 21 years, Whittaker has been getting the right answers from people developing a solid book of customers who come back again and again—in some cases, a dozen times. The Louisiana native got into the car business from the inside out, working on the assembly line at the former General Motors Leeds plant before they laid him off. Gee: No incentive for the Ford guy to get it done after an experience like that, huh? 
Insurance sales didn't pan out, and an auto sales training course proved less than inspirational. Whittaker landed his first car sales gig with Boots Williams, he of late-night TV ad fame in the 1980s, and found—much to his surprise—that he was good at it. "That first year, it felt like I had found my niche in life," he says. "I was very successful from Day One, selling 12 cars a month, and each month that increased over the first couple of years."
But they tended to be one-shot deals. After moving on to Bob Sight, he found an environment that valued long-term sales to multiple generations of customers. Owner Tom Sight, he says, "teaches the importance of taking care of customers before and after the sale."
To achieve the satisfaction he derives from closing a sale, listening is key. "A lot of the time, you just have to shut up," Whittaker says. "Take the cotton out of your ears and put in it your mouth. If you listen closely, you'll get a sense of whether they're ready to buy right there or just looking."
RYAN BREHM, Thoroughbred Ford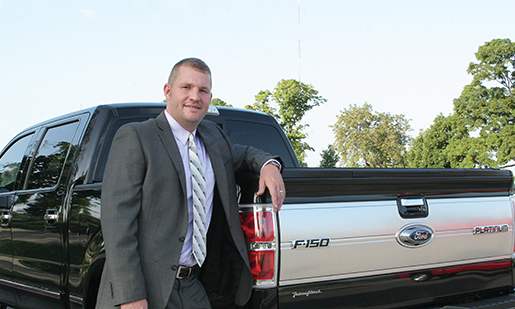 Talk about closing a deal: On Nov. 29, 2007, Ryan Brehm sold a new 2008 Ford Fusion to a fetching young woman. "This obviously made a big impression," he wisecracks, for not long afterward, they concluded another deal, and "we now have two beautiful daughters."
So when vehicle sales pros talk about creating life-long relationships, you know Ryan Brehm is all in. He got into car sales after four years at a credit-card call center, where he learned to love selling, but yearned for face-to-face contact. In 2004, still just 24, he took the leap to vehicle sales. Last year, he topped $10 million in volume, and is easily on track to beat that in 2012. The reasons are as simple as they are detailed when he gets rolling about what it takes to succeed:
"Know your product," he declares. "I have purchased nine Ford vehicles in the past nine years. You have to believe in your product, and when asked what you drive—which happens quite frequently—proudly answer!" You have to sell yourself, be honest, and understand that you don't need to talk someone into buying a car—they are already shopping, Brehm says, so the real challenge is "talking them into buying it from you vs. the other guy."
It also helps to respect someone's decision to buy elsewhere—good sportsmanship can lead to a sale to that same person later on, Brehm said. Then follow up on commitments, always be networking, find solu-tions to customer complaints—even if it's not your department—and if your customer owns a business, buy from him, as well.
A sense of time is also helpful. Too many sales pros, he says, "are all about now, now, now. They are always worried if the customer doesn't buy now, then they won't come back." So respect the time needed to make a decision—and at the back end, too.
As soon as the customer says yes, Brehm says, the goal becomes moving the process as efficiently as possible. "The customer's time is valuable; treat it that way," he says.
After the paperwork is finished, he says, "I try to learn more about their family, their business, and make the interaction as personable as possible. I want them to look at me as a person, not their car salesman." 
TERRY MYKINS, Overland Park Jeep Dodge Ram Chrysler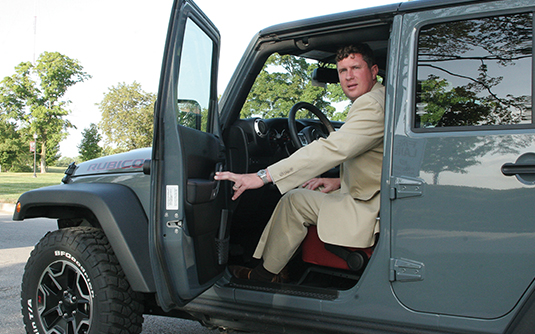 Career sales professionals place a premium on long-term customer relationships, but what does that really look like? Ask Terry Mykins of Overland Park Jeep Dodge Ram Chrysler. "I have one long-term customer who has moved out of state, but even since then I've sold quite a few cars to him," Mykins says. "Part of that has to do with a dealer down there who wasn't taking care of him. But he's coming back from Louisiana to buy here, and he has a son who comes up from Texas to buy here."
Such is the value that some customers place on service after the sale. To keeping them coming back, Mykins says, "follow-up is the biggest thing, staying in contact with previous customers. I send them cards around the holidays, hand-addressed. Little things like that take a lot of time but pay off dividends in the end."
Never underestimate the power of the familiarity factor and shared interests: "I guess they're comfortable with me," Mykins said. "A lot of good customers are also friends outside the dealership." Some of that comes from his living the Jeep lifestyle he sells. "I've been around Jeeps since I was kid; I always liked the unique capability of the Jeep," he says. And Jeep drivers, he says, "are very loyal, and if you know your product, for example, I do a lot of off-roading myself, people that see someone in certain industry practicing what they do, it means a lot to them."
Some of that passion for Jeeps was imparted by his father, who was also a sales professional, working in insurance and investments. The younger Mykins entered car sales at a Nissan dealership while he was still a media production major at Avila University, but by the time he graduated, the degree was largely superfluous—he would stick with sales.
Thirteen years with the Overland Park dealership have validated that decision, and he attributes his longevity there to both a good customer base, support from his wife of six years, Amanda, and the enlightened management of the dealership. 
Among that cohort, he credits new car manager Mike Sullivan, himself a 30-year veteran of the trade, with helping him learn how to talk with customers and lay the foundation for those relationships.
BRIAN DAHMS, Shawnee Mission Kia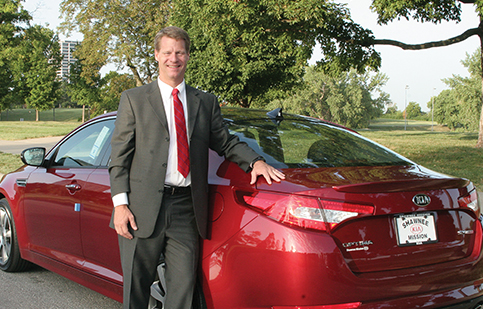 It takes time to build a loyal base of repeat customers in the car business. But before you get there, you have to succeed with first-time customers. And to get that done, Brian Dahms draws inspiration from a most unlikely source. "You will laugh, but it is Moses," he says. "Sales is about negotiating to a close. Like many in sales, he had some ghosts in his closet—namely, that he was a murderer. But he got a magic staff out of the Big Guy, got the Pharaoh to release his people and PAY for it, and overcame a mutiny with words and actions. Talk about a closer!"
Dahms hit the ground running in car sales after making the move to that field just last year when he took the job at the Kia dealership in Overland Park. As the story of his biblical role model implies, laughter is a big part of what makes his approach work. "Suc-cessful communication nearly always employs humor. People want to have fun," Dahms says. "Car shoppers want to buy but they are terrified of being taken, so make it fun."
Once they are at ease, Dahms draws on another vital trait: Tenacity. "Never, ever give up on an outcome you are committed to, be it a sale or some other persuasion," he says. "It is a cliché, but 'no' is always a request for more information. Give the information until it is a yes. "
That exchange is the heart-and-soul of car sales. "The absolute fun of this gig is 'The Ask.' " Dahms says. "The build-up is really fun, but the eventual 'yes' is a bit anti-climactic. I usually know the outcome before the ask. So I am always thinking about the next sale. That is to say, how can this sale become two, three, or four.  I always immediately ask if they need a second car, ask for a referral, and ask them to Facebook the event."
The most important thing, he said, is in the wisdom of the adage, "You do not have because you do not ask." "I know exactly how many cars I will sell," Dahms says, "to the people I never ask to buy."