Never underestimate the ability of a city that comes to realize its true potential.
There was a day when Kansas City's Central Business District was a magnet for business people, shoppers and fun seekers. With the rise of suburban life over time, however, people wanted to live their personal and professional lives closer to home. Eventually, that led to a vacated and neglected downtown.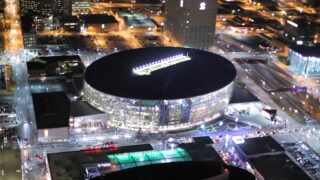 But all that has been changing, in a big way. 
Ask 10 people and you may get 10 different answers as to when and how the resurgence started, but start it did. The luster has been returning to Downtown Kansas City because of people with big ideas, bold vision and the willingness to see that vision through to reality.
The vision has been around for a while, going back as far as the 1970s when Stan Durwood, CEO of AMC Theatres, started trying to get the city to rally around an idea to reverse the downtrend and bring new life to Downtown.
Durwood didn't live to see it, but not long after his death in 1999, Mayor Kay Barnes took up the challenge and started her own call for action on Downtown rejuvenation. A series of studies was begun by the Greater Kansas City Sports Commission, exploring the possibility of a new Downtown sports arena. The former Greater Downtown Development Authority stood ready to move on the results of those studies. Sparks were finally beginning to fly as ideas were generated and, along with them, a public and private sector will to put the "City" back in "Kansas City."
In 2003, a major player in the Kansas City corporate scene made an announcement that spoke volumes. The tax preparation giant, H&R Block, committed to a $138 million investment that would move its world headquarters into the heart of the Central Business District. It was an unprecedented instance of "suburban flight" and faith in Kansas City that inspired civic leaders to join in with the promise of a surrounding Downtown worthy of H&R Block's grand gesture.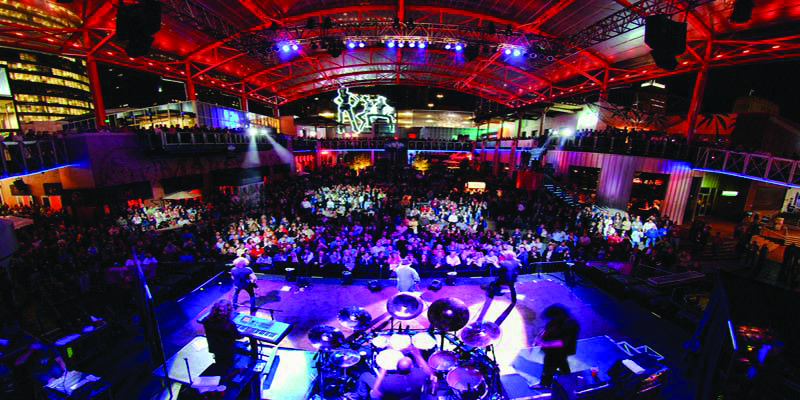 Block's announcement was soon followed by one from the City Council: Cordish Companies of Baltimore had been given the job of bringing a retail center to the 14th & Main intersection at which H&R Block's new headquarters would stand.
Dominoes were beginning to line up and fall with exciting precision. It wouldn't be long before that first retail effort would spur the chain of events that created the $850 million Kansas City Power & Light District. Today, the district offers nine city blocks of fabulous restaurants, bars, shops and entertainment venues.
Every inch of it is designed to keep people Downtown after-hours and to give suburbanites a good reason to leave their nests for a night on the town.
Within four years of the Block headquarters announcement, the signs of a Downtown turnaround were all around. H&R Block had settled into its new home in 2006, as had the Internal Revenue Service with its $370 million complex in the impressive shadow of the Liberty Memorial. In 2007, the Power & Light District opened for business along with the $250 million Sprint Center—a 19,000-seat multi-use arena that has since become one of the country's busiest. One year later, Federal Reserve Bank of Kansas City took up residence in its new headquarters in the Liberty Memorial neighborhood.
While all of that was going on, ground had been broken on yet another incredible addition to the cityscape—the $414 million Kauffman Center for the Performing Arts. Where all the development leading up to the Kauffman Center had the nation talking about Kansas City, K-PAC (as insiders would come to call it) got the attention of the world. It's superb design, two-venue layout, phenomenal acoustics and visitor-friendly environment have made Kansas City a model of innovation in the world of culture.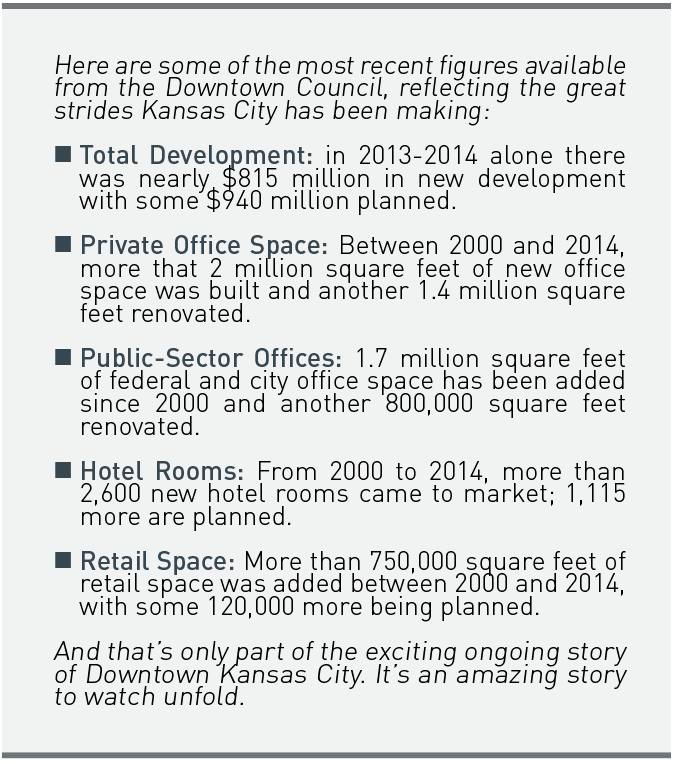 With all of this magnetic building going on, a major hope of those who invested in Downtown Kansas City began to be realized: a demand for residential housing. Condo conversion had been happening in the area for a while, but the 2008 financial crisis brought it to a screeching halt. Rental demand, however, began to go strong. During that growth decade, the population of Downtown nearly doubled to 20,000 residents, half of the eventual 40,000 estimated by economic-development authorities as the number needed to make Downtown a sustainable and thriving neighborhood. KC's Downtown Council estimates that the city will meet 75 percent of that goal by 2020.
Rising residential demand resulted in the 2014 launch of a project called One Light—the first high-rise residential building project Downtown had seen in decades. Clocking in at $105 million, this Cordish Companies endeavor was part of a planned housing expansion for the Power & Light District. The plan called for four towers, with the construction of each new tower being triggered by a rental-commitments goal in the previous tower.
One Light's 315 units went on the rental market in the fall of 2015, and were so well-received that construction of Two Light began in April of 2016; that 24-story tower will bring 300 more units to the Downtown rental market in 2018. Towers three and four are waiting in the wings; if the developer's vision proves true, the "Lights" will bring more than 1,200 units' worth of residents with an affluence level that could mean excellent financial stability for Downtown Kansas City.  
And the residential boom isn't all about new construction. The $75 million renovation of the iconic Kansas City Power & Light Building, spearheaded by a team assembled by NorthPoint Development, opened up in 2016. It brought new life to a treasured landmark and hundreds more luxury rental units to the Downtown marketplace.