Multiple factors—all of which augur in the state's favor—come together to make the case for living in Missouri.
Although Missourians sometimes share a Midwestern penchant for looking enviously at the east and west coasts as leaders, the state offers several benefits that the better-known regions lack.
Low cost of living, relatively low crime, clean air, abundant recreation and arts—all are features that are offered here, in a rare combination of strengths.
Although it may sound like a stand-up comedy routine, a good place to start is Missouri's weather, which can, indeed, change within 15 minutes at times. Although the area can see the extremes that occur in most Midwestern and Plains states, Missouri averages are quite temperate. In the middle of the state, Columbia's daytime highs average nearly 40 degrees in January and only 89 degrees in July. Spring and fall can be beautiful, with near-perfect 70-degree days and seasonal changes that draw thousands of tourists for fall color and spring blooms.
But we don't control weather. In areas that we do control, such as education and health care, Missouri is also strong. The biggest variables are regional or even community differences, and new businesses or residents should examine local factors to fit their priorities, just as they should in any locale. But overall, the area's offerings are diverse and high quality, with nationally ranked education and health-care programs.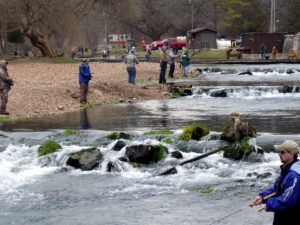 Trout-fishing near the Roaring River hatchery.
Several factors favor Missouri as a family-friendly area. Local schools generally receive high marks, and crime is low in most neighborhoods and small towns. Missouri's balance and Midwestern values are difficult to match, offering a prime environment to live and raise children.
That doesn't mean the area lacks for excitement or nightlife. St. Louis and Kansas City, especially, have numerous cultural attractions, such as the $850 million Downtown entertainment district Kansas City unveiled in 2007. The 12-block Power & Light District contains restaurants, clubs and other destinations, and sits between the recently expanded convention center and the new Sprint Center arena. The area joins Kansas City's existing hotspots, the Country Club Plaza, Westport and nearby Crossroads Arts District.
In St. Louis, five minutes south of the Gateway Arch, the Soulard neighborhood features blues clubs that rock historic red brick buildings. The district features an outstanding array of clubs and restaurants offering entertainment for a variety of tastes, and each year the area hosts large Mardi Gras and Bastille Day celebrations.
All areas of Missouri benefit from a range of recreational offerings, many within minutes of the state's major metropolitan areas. The Missouri Ozarks, a rolling and sometimes rugged range of low mountains, is home to a number of large man-made lakes that have become outdoor resort havens. Lake of the Ozarks, near the middle of the state, is one of the oldest and largest, with an extensive range of lodging from quaint resorts to lakeside convention centers. Virtually every corner of Missouri is less than an hour from one of these large reservoirs.
Yet it may be the daily lifestyle of Missouri that sets it apart the most. Good highways and a lack of congestion make for easy commuting and travel around the state, and residents can find a community that suits them no matter what part of Missouri they work in. Even in the two large metro areas, drivers can reach work with an easy 30-minute commute that begins in the country and ends up in the middle of town. Or workers can choose to live in the heart of a thriving city with entertainment and cultural options at their doorstep. The result is a quality of life that is lacking in much of the nation.