Council shoots down proposed $55M development
---
---
The Overland Park City Council downvoted a $55 million active-adult community in a 9-2 decision on Monday.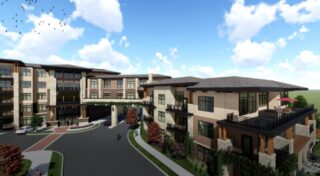 Rendering courtesy of Klover Architects
---
Located just south of Ranch Mart shopping center, developers were denied rezoning for the 11.5-acre project.
EPC Real Estate Group LLC plans involved the removal of 20 more housing units, reducing the total count to 190. Also included was removing the building's top floor and condensing floor-to-floor heights, lowering the original six-story building by one-and-a-half to two stories.
The vote was made almost three months after the Overland Park City Council remanded EPC's proposal to the City Planning Commission for another look.
The Shawnee Mission Post reports that the developer's representatives said they could not cut more out of the plan and still have a financially viable project.
Separately, EPC seeks to build 365 self-storage units in the basement of the existing Ranch Mart building. The City Council approved a special-use permit for that purpose.