Of all the factors that make Kansas City a great place to do business, the low cost of living presents the most apparent difference.
When you're the 30th-largest metropolitan population in the country, you can look to the other 29 markets ahead of you and wonder what they have that, perhaps, you might wish you had, as well. In some locales, it's a mountain backdrop; in others, an ocean view, a deepwater port or a foreign border nearby. We cannot, obviously, just wish those assets into reality here in America's heartland.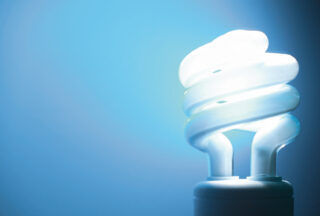 A Shining Value | Sharply lower costs for utilities in the Kansas City region contribute to a cost of living considerably below what you'll find in most major metropolitan areas.
---
But there's one thing that virtually each of those 29 other markets has that Kansas City does just fine without, thank you: Higher costs for what really matters. When you look at the factors that make up cost of living indices and add them all up, Kansas City comes out with an affordability that other major markets only wish they had.
That impacts life here in a great many ways, on both personal, family and commercial levels. When you really dive into the numbers for cost of living—for example, with housing—you see just how much better off residents are here, compared to other areas. And the good news is, as housing and other prices climb in bigger cities, Kansas City's competitive position looks even better.
So let's take a look at those housing prices. They account for the single biggest factor in this region's cost-of-living advantage: It would cost you nearly $1.25, on average, in this country for what a single dollar buys you in the Kansas City housing market. according to figures compiled by C2ER, the economic research firm.
Compared with its peers among those Top 30 metro areas, Kansas City ranks 23rd in mean hourly wage. But if you account for the higher cost of living, it ranks fifth among those MSAs in terms of buying power: The mean annual salary here of $46,800 is the equivalent of $50,269, compared to national averages. 
Flip that around: The mean wage of $65,890 in Washington would have the purchasing power of $44,643 a year in Kansas City. And the mean wage of $64,990 in San Francisco is the COLA-adjusted equivalent of just $36,905 in Kansas City compared to national averages.
Apply that to a mortgage payment, and one begins to see the immediate impact this can have on employment: You can hire people here for less, yet they still can enjoy a higher standard of living than in bigger and coastal markets. 
That dynamic even has a name: We call it the Kansas City Value Proposition. And large law firms, accounting firms, architecture and design firms and other professional services here have discovered that they can expand into new markets and to compete for business around the globe with top-tier competitors—and still win on price.
What accounts for this condition? Well, Census figures show that a U.S. household spends roughly 27.8 percent of its after-tax income on housing—by far the biggest single component, even though the catch-all category of miscellaneous goods and services totals more than 31 percent. Then there's 14 percent on food, 12.1 percent on transportation, 10.2 percent for utilities, and 4.4 percent on health care. It's easy, then, to calculate the impact of a sharply lower indexed figure for housing costs on the overall cost of living here. 

In Kansas City's case, the region came in with a most recent overall index reading of just 94.1, compared to a national average of 100.
We also enjoy lower-than-average ratings for utilities (83.7) and transportation (90.4), which allows us, at an overall index of 94.1, to fare better than peer communities such as Dallas (103.2), Houston (99.4) and Denver (112.6).
Each component of the index is pegged to a national average of 100 in that category. Because those figures are unmoored from actual dollar values, when the underlying costs increase for all communities, a lower rate of increase in any one category can improve a region's overall score—especially if it's a category that accounts for a bigger share of household spending.
On a somewhat broader scale, Missouri ranked 11th nationally, just ahead of Kansas, with respective scores over 91.5 and 91.9 on the state-by-state index.
A final point about housing accommodations here: There are two ways to look at where Kansas City ranks with respect to the rest of the nation when you take a harder look at housing costs. One is the price consideration we just explored. The other, and perhaps more significant one, is that our housing stock here is simply a better value—you can get not just more home for your dollar, but a higher quality of home.
Other factors holding down Kansas City's comparative cost of living are the proximity to much of the nation's agricultural output and production, particularly with beef, pork, poultry and grains—the value chains that form the building blocks of America's diet. 
We weren't under the national average by much on our grocery bill, at 99.9, but while we do pay more for arugula here, the discounts on rib-eyes can't be beat. That's a trade-off that many a Kansas Citian readily makes. 
And our health-care costs are also pleasantly lower than average with a reading of 97.0, in part because of a highly competitive Kansas City market that, by most any measure of hospital economics, simply has more bed space than needed for a population of nearly 2.4 million.