The Unintended Consequences of Making a Difference in KC
When companies do good things, the results speak for themselves.
And it's a remarkable thing to witness: Ask any number of executives from highly philanthropic companies why they do what they do—whether we're talking about strategies for giving, selections of beneficiaries, tactical approaches for allocation of staffing and dollars—and you get nearly the same response in the end.
Why do they do it? Because it strengthens the fiber that makes up the weave of this community. That's important, because the dividends from their investments come back in multiple forms, from greater satisfaction of employees, to increased collaboration among the same, from a higher sense of esteem in the eyes of customers and the general public, to a shared sense that we're all in this together.
And the funny thing is, while no one talks about it specfically, those good deeds have a bottom-line return. Not one you can discern from any one line-item on the company financials, but it's there.
Neither is it crass to point this out. The dynamic is not a bug, it's a feature of American capitalism, and in particular, the Kansas City variant of it. Say what you want about the disparities inherent in any thriving capitalist economy, when capitalism fires on all cylinders, wealth is indeed spread around. Doubt that? Then read on. And join us in a salute to this year's Corporate Champions.
---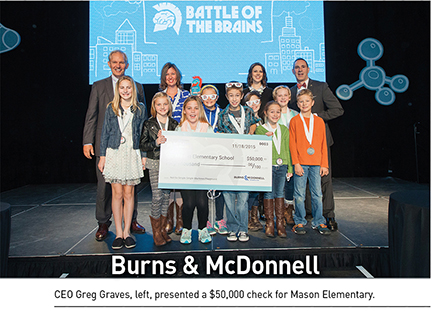 "When success comes to us, duty follows." Thus does CEO Greg Graves precisely capture the spirit of corporate philanthropy flowing through Burns & McDonnell. When Graves assumed the duties of chief executive officer at the engineering firm in 2004, it had fewer than 1,000 employees. The headcount has grown fivefold since then, and the firm's philanthropic reach has expanded to reflect that. It's a broad-based strategy encompassing charities, civic causes, education and the arts, yet nonetheless includes sharp points of focus.
Exhibit A: Support for academic programs that support STEM instruction, such as the Battle of the Brains. Mason Elementary School in Lee's Summit secured this year's $50,000 grand prize, the biggest chunk of the firm's $155,000 commitment to early instruction in science, technology, engineering and math. Launched in 2011, the Battle has produced three interactive exhibits—valued at more than $2 million—for Science City, another favored cause.
"Ten years ago, Burns & Mac had an overall philosophy in terms of being civic-minded, where we could look at other examples and say, 'How could we be more like them, like a Hallmark or a JE Dunn?" Graves said. "We've reached the point where we can be that example in town. When a firm is as successful as we have been, and the blessings flow as they have, we have the obligation to set the standard for what corporate governance and our civic duty should look like, and we hope others will follow that example."
That also applies on a personal level; Graves and his wife, Deanna, have made it a mission to chair one charity gala every year. "Our main strategy is to raise the bar forever," he said. "If an event used to be a mid-level charity event, we try to raise it to high-end, so instead of raising half a million it hits $750,000, and we help find ways to keep them there going forward."
A company need not have the multi-billion top line to be impactful, Graves said. "I would encourage any company, big, medium or small, to begin with charitable time-giving. If you do, it will the change corporate culture forever."
---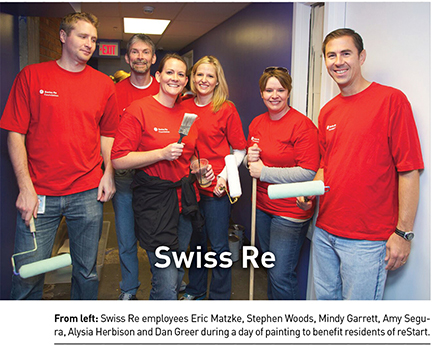 It's a classic case of thinking globally, and acting locally. Of course, the global connection is built into your corporate philanthropy when you're part of Swiss Re, the wholesale provider of reinsurance, insurance and other forms of risk management. Most Swiss Re offices in the U.S. select a Charity of the Year, by employee vote. "The chosen charity receives a grant from the Swiss Re Foundation for a specific project, and employees are invited to volunteer their time to it on a Community Day," said Randy Nordquist, managing director in the regional office in Overland Park. "They focus efforts entirely on that organization."
One beneficiary of that has been reStart, the long-time provider of shelter and assistance to the homeless. Swiss Re employees have taken to reStart the way American voters took to Franklin D. Roosevelt—the shelter has won that employee vote for three years running. Shelter officials say that commitment has translated into $292,000 in employee giving through payroll deduction and company fundraisers.
On top of that, the Swiss Re Foundation awarded reStart $155,000 in grant and grant match funds, all of which allowed the shelter to make comprehensive renovations to its youth facility and give it a home-like feel. "Swiss Re did not stop there," said Melissa Taylor, director of development for reStart: "Employees provided hundreds of hours of volunteer services, painting, cleaning and serving meals," made thousands of dollars worth of in-kind donations, conducted drives to collect essential everyday items, collected backpacks, school supplies and school uniforms and helped out at reStart's Back to School Fair. They also bought food and delivered Thanksgiving dinner baskets to families at the shelter, complete with turkeys, sides and dessert, and hosted a Women's Spa Day for shelter patrons.
"The people of Swiss Re have always felt a need to give back," Nordquist said. "Our team is proud to call Kansas City home and we want to support those in our community who need help."
---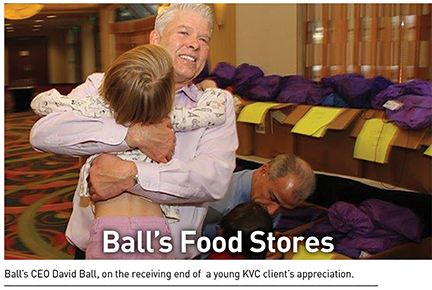 A corporate culture of giving, like anything organic, starts with a seed. At Ball's Food Stores, the seed was planted in 1923, when Sidney and Mollie Ball started a small neighborhood grocery store in Kansas City, Kan. The upside of that decision was that the Roaring Twenties were just starting to roar.
"They had one little store that took care of about 20 different families," says David Ball, the third-generation president and CEO. It truly was a different era in American commerce, he says, because there was a grocery on almost every corner. That implied a level of customer knowledge that simply doesn't exist in most operations today. "They always treated those customers as part of their family," Ball says, "and we try to carry that tradition on."
It does so in many ways. Perhaps most visibly, the family—including David and his two sisters, Diane Wilkerson and Debbie Simpson—is deeply engaged with KVC Health Systems, co-founded by their mother, and now one of the region's biggest non-profits.
"She always was very passionate about providing opportunities for at-risk kids," Ball says, who continues The First Family of KVC tradition, serving as board chair. KVC officials say the family has contributed millons of dollars worth of support.
There are also daily donations to Harvesters-The Community Food Network. "We're one of the largest, if not the largest, that replenishes Harvesters on a daily basis," Ball said, "and it then services many food pantries in Kansas City." Beyond edible goods, the company supports the Kansas City Kansas Chamber of Commerce Foundation, the YMCA in Wyandotte County,
(the Providence YMCA/Ball Family Center was named to honor the family's contributions), and it helped build the hospitality and culinary center at Johnson County Community College.
It doesn't stop there. There is also support for the arts, a holiday adopt-a-family program at each store (with company matching of donations), participation with the Boys & Girls Clubs and Metropolitan Crime Commission, the KC Healthy Kids initiative, the American Royal Scholars program, Catholic Charities, the University of Kansas—it's a long, long list. And it includes the 3,500 members of the company's work force.
---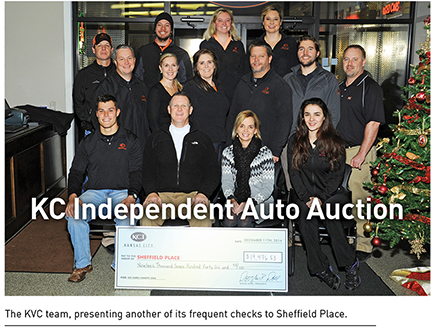 Doing good and doing well: It's corporate philanthropy' contribution to the chicken-and-egg riddle. But at Kansas City Independent Auto Auction, it's clear what came first. "Three years ago, we were doing quite well as a company, and we decided to start a charitable arm—we call it KCI Cares," says Doug Doll, managing partner for the independent auto auction company based in the Northland. "We wanted it to go to local charities—they had to be local, and they had to benefit children and women."
For that, the staffs and patrons of Sheffield Place, Jackson County CASA and Camp Quality are immensely grateful: In just three years, the auction company's comparatively small staff of 100 has labored to generate more than $300,000 in donations divided among those beneficiaries. It got there with a blended strategy of employee donations in the form of paycheck withholding, an annual auction specifically dedicated to benefits for each charity, outreach to car buyers for donations, and auctions of miscellaneous items. The first year alone was a six-figure
contribution, and Doll says this year's goal was $150,000.
That's an impressive philanthropic splash made in this community since the company moved from Elwood, Kan., in 2008. Despite the state of the national economy, the company soon had things humming. "We had grown the business quite a bit," says Doll," and we wanted to help local charities, so our employees and mangers came up with the idea."
The entrepreneurial spirit you find in smaller businesses was vital. "By being a small company," Doll said, we're used to getting everybody pitching in. We formed a committee with managers and took volunteers from the staff. Maybe 20 people meet once a month, set goals and plans, and work through things."
The company holds roughly a quarter of its profits in reserve for other good deeds; this year, they're adopting close to a score of families in the Platte County school district for Christmas contributions. "We've been blessed," Doll says, "so we try to bless other people if we can. All the employees have taken that and run with it—it's because of them that it works."
---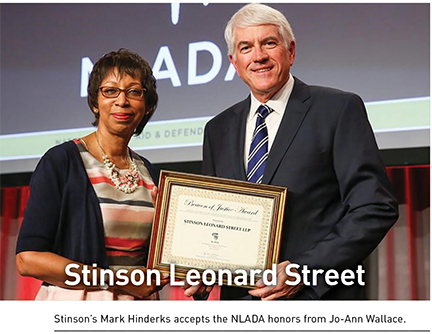 The firm has evolved over the decades since Frank Rozelle opened his KC law office in 1878, taking on various nameplates before becoming Stinson Mag & Fizzell, then Stinson Morrison Hecker and for the past two years, Stinson Leonard Street. What hasn't changed in that time has been a strong strand of philanthropic DNA with the firm.
"If you think about firm's history—and we don't have a monopoly on this by any means—but from the beginning, our lawyers were involved in charity and civic activities," says Mark Hinderks, the KC managing partner for the firm now co-located here and in Minneapolis. There's a reason why the court and fountain at the Nelson-Atkins Museum of Art bear Rozelle's name. "And Arthur Mag, who may have been the firm's most prominent lawyer over time, was a founding member of a number of civic institutions, from the predecessor of UMKC to what's now MRIGlobal," Hinderks said.
That spirit exists today in the firm's impressive commitment to pro bono work: It's the only area law firm to be recognized in each of the past two years as a Beacon of Justice Award winner by the Washington-based National Legal Aid and Defenders Association. Each year, the firm's associates are allowed to provide up to 100 hours of legal work—and in some cases, more—on a pro bono basis, and count them toward their annual goal for billable hours. Partners, too, are expected to devote time in the form of pro bono work, board service with charities, or volunteer hours with civic organizations.
The value of the pro bono work alone is impressive, totaling more than $12 million annually. "That's a lot of hours," Hinderks says, "and we do it in different ways, in different places." In Kansas City, much of the work is done in conjunction with Legal Aid of Western Missouri, but lawyers here donate their time a wide range of causes.
It's the ultimate 3-way win, he noted. "It's good for the community or the affected people, it provides valuable experience and associates learn from getting out of their comfort area and into legal areas different from what they learned so far, and it's good for the reputation and standing of the firm," he said. "Those all work nicely, hand in hand."
---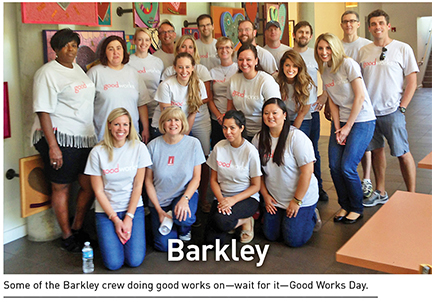 Maybe it's time to turn Barkley's practice into a new national holiday: Good Works Day. That's when the Kansas City-based advertising and marketing agency, the nation's largest employee-owned firm in that sector, turns loose its 300 employees to do, as the name demands, good works.
"That one day together is really special and important for us because of what it means for our culture and our people interacting with one another," said CEO Jeff King. "It's something people say is one of  their favorite days of the year." It entails working on a volunteer project with people they might not even know from the office. "They get to know one another better, see a different side of people they work with," King said. "There's a lot of strategic gain for our people, and their ability to collaborate with one another in a productive way enhances their thought processes."
It's but one segment in a comprehensive philanthropic strategy. In addition, each employee is allowed two paid days every year to use on behalf of a chosen cause, and a committee reviews new opportunities throughout the year. Accordingly, employees seem to be tied in with innumerable non-profit causes.
This fall alone, they've supported the Rose Brooks Center, the Walk to Defeat ALS, the Salvation Army, reStart, HappyBottoms and Hope Lodge, they've prepped back-to-school supplies for needy kids, and they've baked holiday treats for young patients and their families lodged at Ronald McDonald House Charities.
The common thread in all is an organizational tie to child welfare and the arts. Request for assistance, King said, run through a several filters: "One, if it aligns with one of those two areas; two, we obviously have to evaluate our capacity to take on such work; and three, does it mean doing great creative work?"
It's a contribution without calculation—King says he is not aware of any attempts to place a dollar value on Barkley's good deeds. No need to. "People like to work where they feel they can make a difference," he said. "For us, it's about our people, the attraction of talent, the retention of talent. They want an environment where they can make a difference in the work they do. When the community is strong, they tend to want to stay, so the stronger the community, the more our company benefits."
---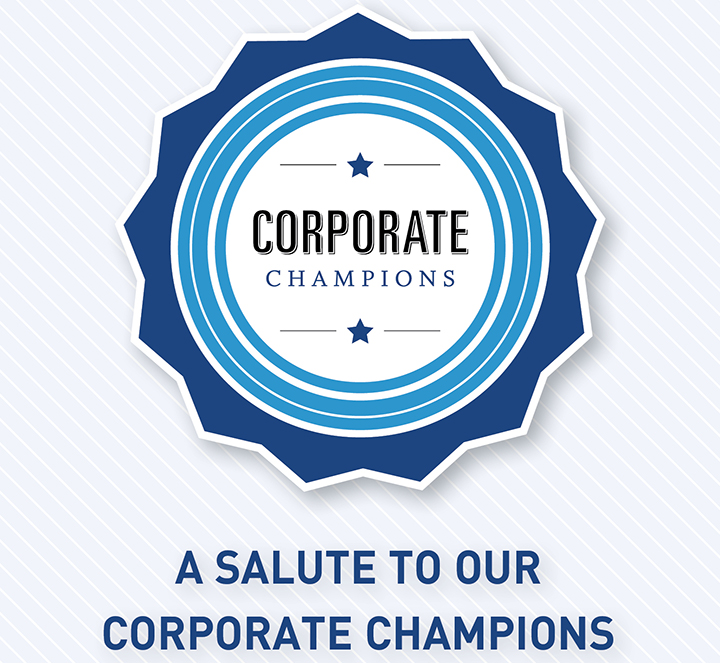 Each year since 2008, Ingram's has devoted a segment of its annual Philanthropy Edition to spotlighting the philanthropic contributions of a highly select handful of companies in the Kansas City region with our Corporate Champions recognition.
Rarely has a company made it onto this list more than once, but each is an outstanding example of what it means to be a good corporate citizen—one that promotes giving of time and talents not just from the administrative ranks, but throughout their companies.
Please join us in thanking them for their contributions to making Kansas City not simply a better place to live, but a great place to live.
— 2008 —
Blue Cross Blue Shield of Kansas City
Burns & McDonnell
Kansas City University of Medicine and Biosciences
KPMG
Meara Welch Browne
— 2009 —
Government Employees Health Association
Hallmark Cards
Harley Davidson
Holmes Murphy & Associates
Nigro Brothers Auction Co.
— 2010 —
Creative Planning
Gail's Harley Davidson
Hermes Landscaping
Media Services/Shredtime
Shook, Hardy & Bacon
University of Kansas Hospital
— 2011 —
Kansas City Chiefs
Layne Christensen
Lockton Companies
St. Jo Frontier Casino
Shook, Hardy & Bacon
— 2012 —
BKD
Liberty Fruit Co.
Meers Advertising
Miller Group
— 2013 —
Black & Veatch
NIC, Inc.
Sprint Digital Team
VML
— 2014 —
BATS Global Markets
CommunityAmerica Credit Union
Hunt Midwest
Ferrellgas Partners
Walz-Tetrick Advertising
---