Coping with COVID: U.S. active cases in show first downturn trend since start of COVID-19
---
---
As the global COVID-19 virus nears a full year since it first began wreaking havoc in the U.S., active cases are beginning to show a decline.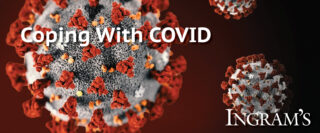 The virus' spread made its impact in waves, the international COVID-19 tracking website, Worldometers, showing that it was not mid-January that active cases of COVID-19 started a downturn.
Active cases continue to decline as of Monday, Feb. 22, data beginning to display a strong arch.
The count of those currently infected with COVID-19 in the U.S. peaked on Jan. 31 at 9,932,708. As of today, Monday, Feb. 22, that number has declined to 9,281,124.
This is the first real decline in the number of active cases since data tracking of the virus first began in the U.S. on Feb. 15, 2020.
Posted 02/22/2021