Coping with COVID: TMC/ University Health among first in metro to use FDA-approved COVID-19 drug
---
---
Truman Medical Center/University Health has confirmed that's it among the first health care providers in the Kansas City area to administer bamlanivimab.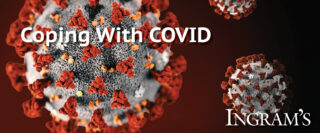 Authorization for the drug was approved for those with a mild to moderate case of COVID-19 and aims to temper down worsening cases to prevent hospitalization.
Eli Lilly, the pharmaceutical company that manufactures bamlanivimab, received emergency use authorization Nov. 9 from the Food and Drug Administration.
The treatment is a one-time, hour-long intravenous drip filled with a dose of the antibody, Truman Medical Center Executive Chief Clinical Officer Dr. Mark Steele said, and prevents the virus from attaching and entering cells, theoretically reducing the replication of the virus.
"The early studies were at least suggestive enough of improving outcomes for patients," Steele said. "There are ongoing studies with this, but the early studies suggest that this can reduce the level of symptoms that one has and also reduce hospitalization and emergency department visits."
With only 300,000 doses of bamlanivimab available nationwide, many are hoping for higher production of the drug in the near future.