The two largest metropolitan areas in Missouri are now part of a wave of COVID-19 cases that have surged nationwide over the past week, with Kansas City and St. Louis seeing new diagnoses at rates not recorded since the previous peak of the pandemic in March.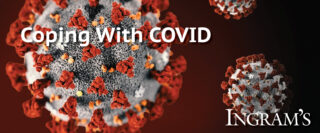 On Wednesday, the Kansas City area recorded 194 new cases, the most to date since the outbreak started in the U.S. in February. St. Louis, which has been hit far harder, saw a record 434 cases confirmed on Tuesday, marking the sixth day out of seven with increasing cases. That number fell back to 291 on Wednesday.
As a region, St. Louis has accounted for 705 of the roughly 1,004 deaths attributed to the virus in Missouri; Kansas City numbers tracked by the Mid-America Regional Council show 254 deaths as of today, for counties in both Missouri and Kansas.
Increasing caseloads are part of a larger national trend that saw 34,700 cases reported Tuesday, the third straight day of higher totals, and the third to surpass 30,000 nationwide. Before this past week, the U.S. hadn't recorded a day above 30,000 new cases since May 1.
But there are indications that efforts to promote social distancing and protect the most vulnerable populations are paying off, as new daily deaths nationwide remained below 1,000 on Wednesday, continuing a two-week trend. And among those who have been diagnosed to date, figures from Johnson County show that the most vulnerable age groups—those over 80 and those between the ages of 70 and 79—have fewer reported confirmed cases than four other age cohorts for those between the ages of 20 and 59.
That's significant because 75 of the 81 deaths recorded in the county—more than 92 percent—involved patients 70 or older. Of the six victims younger than that, four were in their 60s and two in their 40s.
But increasing case counts are also producing increased hospitalizations. At the University of Kansas Medical Center, the daily patient census as of Wednesday had reached 24, more than twice the level it had fallen to in the first week of June.
There is not much room for additional caseloads before hospitals in the region will have to tap into a supply of 1,605 surge beds designated to handle an upswing in cases. As of today, 93 percent of the available hospital beds in the metro area are filled, as are 84 percent of the ICU beds. ICU beds would accommodate the most seriously ill patients, including those who need ventilators to assist their breathing. Currently, only 90 of the region's 558 ICU beds are available.