Only five states are considered to have reached dangerous levels of COVID-19 hospitalizations per 1 million.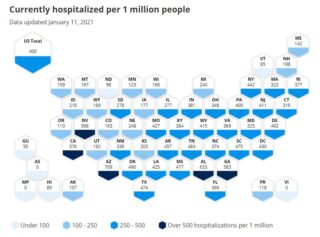 The COVID Tracking Project updated by The Atlantic shows four levels that indicated where each state lies in terms of COVID-19 hospitalizations ranging from 0 to 500.
The lowest level shows that any state recording under 100 hospitalization cases per 1 million remains in the safest zone, while any state reporting above 500 is considered at a dangerous level.
According to the interactive map, outside of five states that are currently sitting above 500, the majority of the U.S. sits at the level below in COVID-19 hospitalizations, in the 250-500 range.
While no state in the Midwest reflects a dangerous level, several rest in the 250-500 range, including Missouri which shows 427 COVID-19 hospitalizations per 1 million people.
This number is above the U.S. average, which totals 400. Meanwhile, Kansas rests well below the national average at 203 hospitalizations per 1 million.
In the Kansas City region, a COVID-19 Data Hub from the Mid-America Regional Council notes that hospitalizations for COVID-19 peaked on Dec. 12, 2020 at 935 in the metro area.
As of yesterday, hospitalizations in the metro stood at 729 yesterday, a month-over-month decline of 22.03 percent.
Put in context, industry figures suggest that if 10 percent of patient population is COVID-19 positive, you have reason to be concerned as a hospital. At 20 percent, you are under extreme stress, and at 30 percent, at crisis levels. The metro area average yesterday stood at 13.46 percent.