Coping with COVID: Missouri and Kansas regional COVID-19 report
---
---
While a macro-look at statewide COVID-19 numbers in both Missouri and Kansas may seem overwhelming to some, a micro-look into the Kansas City region provides a hopeful view.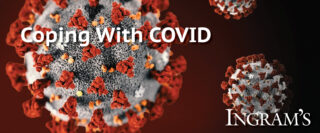 On Thursday, the Missouri Department of Health and Senior Services reported 97,591 confirmed cases and 1,691 deaths since the start of COVID-19.
On Wednesday, the Kansas Department of Health and Environment reported 47,410 confirmed cases and 495 deaths since the onset of the virus.
In the Kansas City region, although the rounded average daily new deaths bumped up to 3 from last week's average of 2 (total weekly new deaths showing an average of 18 deaths from last week's 13), the average daily new cases and total weekly cases showed improvement.
Average daily new cases in the region dropped to 247 from last week's 343. Total weekly new cases for this week showed 1727, an improvement from 2403 last week.
As of Friday, Kansas City regional totals covering nine counties now show 36,500 total cases, 390,778 total tests and 509 deaths since the beginning of COVID-19.