Coping with COVID: Kansas officials seek additional federal aid amid recent rise in COVID-19 cases
---
---
Without pinpointing a specific reason why, Kansas officials on Monday implied funding has run dry for small businesses that have applied for grants, and that many will continue without aid unless the state receives more federal funding.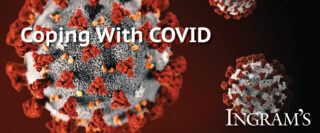 A continued rise in COVID-19 cases that has hit the region has left Kansas officials concerned for the some-4,000 businesses that have applied for, but remain without, funding.
Kansas Gov. Laura Kelly and state Commerce Secretary David Toland said during a Monday Zoom meeting that around 2,000 out of 6,000 applicable small businesses have received grants from $37.5 million in previous federal funds.
Toland said Kansas hopes to dole out an additional $20 million to 1,000 more business that applied by the end of 2020.
Current monetary distribution plans would still leave half – around 3,000 – of businesses without funding to help with operations, which Kansas officials hope will arrive with another round of federal funding, if approved.