Coping with COVID: Kansas executive order extending statewide mask policy struck down by state council
---
---
A series of executive orders signed Thursday by Kansas Gov. Laura Kelly aim to encourage Kansas counties to keep COVID-19 mask mandates.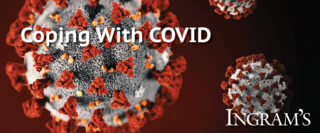 Among them was an order to extend the mask mandate, although it was revoked by the Republican-controlled Legislative Coordinating Council.
Eight top legislators have the power to revoke an order issued by the governor because of a pandemic. Those lawmakers met Thursday afternoon, and the vote went 5-2 on party lines to revoke the mask policy.
Kansas Senate President Ty Masterson said the decision to revoke executive order No. 21-14 removed the "burdensome, unnecessary statewide mask mandate imposed by the governor, providing Kansans certainty heading into Easter weekend."
Kelly's order required people to wear masks in indoor businesses and public spaces and outdoors when they can't socially distance. Counties have the final say, but her order meant that county commissions must take a specific vote to opt-out.