Coping with COVID: Kansas directed to mask up with new statewide order as COVID-19 cases surge
---
---
In a Wednesday press conference, Kansas Gov. Laura Kelly issued a new mask mandate.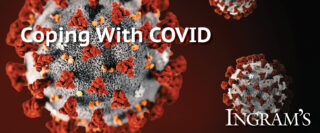 Announcement of the mandate arrives after the state reported another record seven-day increase in new cases.
State law still allows all Kansas counties to opt out of the governor's order, which most did when Kelly issued a similar order in July.
Now, the state's rolling seven-day average for new coronavirus cases is now more than nine times higher than it was than when her first order took effect.
Kelly's order takes effect Nov. 25, the day before Thanksgiving, and only in counties that don't yet have their own mask mandates, though that's still a majority of them. Kelly said she was giving counties without mandates a week to draft their own alternatives. Her order requires people to wear a "face covering" in indoor public spaces and in public spaces outdoors where social distancing is not possible.
The governor's Statehouse news conference Wednesday afternoon came only hours after state health department data showed that Kansas averaged 2,767 new confirmed and probable coronavirus cases a day for the seven days ending Wednesday. That's slightly above the previous record of 2,741 for the seven days ending Monday. When Kelly first mask order took effect July 2, it was 289.