Coping with COVID: AstraZeneca vaccine trials resume
---
---
Last week a large, international AstraZeneca COVID-19 vaccine trial was halted due to reports of a strong adverse effect in a participant, thought to be due to the vaccine.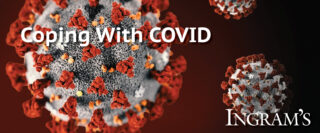 This week, the vaccine trial has resumed in the U.K., though other parts of the globe participating have yet to announce when they will resume.
Prior to the pause, trails were being conducted in the U.S., Brazil and South Africa (aside from the U.K).
In the Kansas City area, the same vaccine was being used in a dual KU and Children's Mercy trial, now put on pause. The two hospitals have been the lead locally in testing AstraZeneca's vaccine.
Trials are now being reviewed by independent boards overseeing trials of a number of other COVID-19 vaccines, reports STAT news.
Including the KU and Children's Mercy trial, there are at least 35 vaccines in clinical trials around the world, according to STAT.