Coping with COVID: Active COVID-19 cases sink back down to single digits at KU Health System
---
---
The number of COVID-19 patients at The University of Kansas Health System has dropped a notable amount since Friday.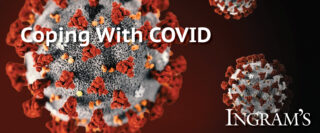 Nine people with the active virus are being treated, down from 15 on Friday. Of those patients, four are in the ICU, down from 11 Friday.
Just one of those patients is on a ventilator, a big drop from eight Friday. Ten other patients are still hospitalized because of COVID-19 but are out of the acute infection phase, down from 11 Friday.
Totals at KU Health for COVID-19 show 19 patients as of Monday, down from 26 on Friday. HaysMed has two active patients and one recovering patient, up from one active and one recovering on Friday.