(Front row seated, left to right) Gordon Lansford | JE Dunn Construction (host, sponsor and co-chair); Bill Fagan | Design Mechanical, Inc. (sponsor and co-chair); Tom Buchanan | McDowell, Rice, Smith & Buchanan (sponsor and co-chair); Paul Rodriguez | Rodriguez Mechanical Contractors; (Second row seated, left to right) Brett Gordon | McCownGordon Construction; Don Greenwell | Builders' Association; Mark lammarino | Turner Construction; Scott Kelly | Kelly Construction Group; Bill Prelogar | NSPJ Architects; Justin Apprill | U.S. Engineering; Michelle Sweeney | Ingram's Magazine; Steve Dunn | JE Dunn Construction (host, sponsor); (back row standing, left to right) Rory O'Connor | Grand Construction; Phil Thomas | A.L. Huber General Contractor; Tom Whittaker | JE Dunn Construction; Greg Spies | McDowell, Rice, Smith & Buchanan; Robert Treece | Thornton Tomasetti Group; Ann Konecny | Foley Equipment Co.; Greg Carlson | Burns & McDonnell; Rich Smith | Henderson Engineers; Dirk Schafer | JE Dunn Construction; Mike Campo | Lockton Companies; Jay Tomlinson | Helix Architecture + Design; Richard Wetzel | Centric Projects; David Dickey | Foley Equipment Co.; Joe Sweeney | Ingram's Magazine; Cale Wilson | Terracon; Mitch Hoefer | Hoefer Wysocki Architects; Mark Heit | McCarthy Building Companies; Jack Bitzenburg | Manual Career & Technical Center
---
Amid the Boom, Labor, Wage and Profitability Concerns
Good times abound across Kansas City's construction and design sectors, with many companies reporting full backlogs of work, record volumes for 2016 and strong prospects for 2017 and beyond. Yet, as more than 30 executives from key companies in the construction sectors gathered recently at JE Dunn Construction Co. for Ingram's 2017 Construction Industry Outlook assembly, it was clear that this is no time for complacency. In a two-hour assembly chaired by Gordon Lansford of JE Dunn, Tom Buchanan of McDowell, Rice, Smith & Buchanan, and Bill Fagan of Design Mechanical, Inc.—whose respective companies sponsored the assembly—they explored a bruising shortage of labor, particularly in the skilled trades, the prospect of changes to Missouri's prevailing-wage law, and other key trends shaping an industry that touches virtually every aspect of the regional economy.
The State of Things
Getting 30 key executives from any one business sector to agree on any one topic is usually a challenge, but for this group, there was a quick and general consensus at the start of the assembly: Things are pretty good.
Previous assemblies in 2010, 2011 and 2012 were laced with hope for improvement from a grueling downturn during and after the Great Recession—hopes that were largely unrealized as those years unfolded. But by 2013, things were on the upswing, and in some construction niches, have been quite solid since then.
1. Chaired by Bill Fagan of Design Mechanical (left), Tom Buchanan of McDowell Rice Smith & Buchanan, and Gordon Lansford of JE Dunn Construction, the assembly moved swiftly through a series of discussions on key issues. | 2. Effects of the labor shortage, said Mark Heit of McCarthy, are even more pronounced among subcontractors. | 3. Steve Dunn warned that attempts to eliminate prevailing wage in Missouri could pose a difficult challenge for recruiting.
The upsides are many: Multifamily housing as more Millennials continue to shun home purchases, senior housing as the graying of America proceeds unabated, smaller healthcare facilities as hospitals change their operational models to clinic and satellite facilities—all seem to be generating work, participants said. Even stately historic buildings on college campuses, said Jay Tomlinson of Helix/Architecture+Design, present the potential for more work as those buildings are repurposed for more modern uses.
And the federal government, after backing off a bit in recent years because of deficit concerns, is showing signs of moving ahead on some key projects, particularly with courthouse work, said Dirk Schafer.
While speculation of a multifamily downturn has been bubbling for at least two years, few industry metrics declare that it's imminent. "As fast as we finish, we fill those with tenants and move on to the next project," said Bill Prelogar of NSPJ Architects, which has taken a promient role in the construction of luxury apartment units, particularly in Downtown Kansas City. "And 2017 looks like an even stronger year."
And Richard Wetzel of Centric Projects noted that for the Kansas City region, where building activity has been somewhat muted compared to other regions of the nation, "the interesting thing is that geographic submarkets are becoming hot." Case in point, he said, were moves by various companies from pricey locations in Johnson County, and into the Crossroads district Downtown, where more Millennials have been moving in—at least until they reach the point where marriage and family might draw them back to single-family residences in the suburbs.
If there are negatives in the marketplace today, the biggest of them might be the lack of activity with new office space, as well as the drop-off in big-box retailing.
"I'm surprised at the lack of new office space, at least in the core," said Jay Tomlinson, attributing that to the region's tepid job growth.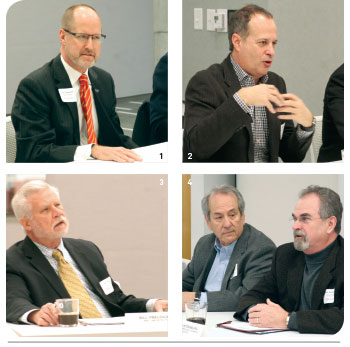 1. Don Greenwell addressed some of the demographic changes facing the sector, as older workers making up a large part the work force face retirement . | 2. The Great Recession, Jay Tomlinson said, yielded an unexpected development: New competition from startups founded by displaced workers . | 3. Based on unsatisfactory past experience, Bill Prelogar took a contrarian view on the impact that prefabrication might have on the industry. | 4. Jack Bitzenburg, right, and Paul Rodriguez spoke in detail about the need for scholastic-level training in the trades.
Bill Prelogar sees something else at work. In order to produce the kinds of buildings that employers are demanding with new work spaces, owners would have to be asking for prices of $30-$35 a square foot, he said. That's considerably higher than even the Class A office space Downtown, he said. "They can't find the takers," he said, and as a result, those projects "are not going anywhere."
One benefit of the big-box decline, said Don Greenwell of the Builders' Association, was the increase in industrial construction for mega-warehouses larger than the region has ever seen. Amazon.com's impending move into two of those facilities, in Johnson and Wyandotte Counties, is a prime example—a development that will make the on-line retailer one of the region's biggest employers within the next year or so.
Yet another characteristic marking the Kansas City construction market is competition, and the effects that so much of it is having on operations, staffing and margins.
"I don't think we've ever had a greater level of competition than we currently have," said JE Dunn's Dirk Schafer, president of the company's Midwest division. "And there's not a single contractor in the room we haven't competed with or won't compete with in the future."
Start-up companies and national firms moving into the market have forced contractors to fine-tune their processes, embrace new technologies and root out inefficiencies. Still, Schafer said, "we're seeing margins below what we think the industry overhead is. Margins are a real head-scratcher for us."
The Labor Shortage
Jay Tomlinson was quick to address a concern that would dominate much of the two-hour discussion. Many in the room would echo his comment that "the challenge for us is talent, attracting and retaining it." If companies can't add the staff they need, he said, opportunities for work can go unmet.
Scott Kelly identified a problem that has its roots firmly reaching back to the Great Recession. As construction jobs were obliterated nationwide—roughly 40 percent of them, by many industry counts—companies held off on hiring for several years. That created a talent gap making its presence felt today, where employees with perhaps five years' experience, who normally would be making their first move into management and oversight roles, are in brutally short supply.
Two great demographic shifts, participants said, will continue to gnaw on contractor work forces for years to come. The first, and most obvious, is that roughly one-third of currently employed construction workers in the U.S. are within a decade of retirement.
Perhaps more ominously, noted Don Greenwell, the generation that will follow the trailing edge of Millennials into the work force in another decade is only half the size of its predecessor cohort.
"We have to replace the people turning wrenches," said Paul Rodriguez of Rodriguez Mechanical Contractors.
Richard Wetzel sees the sector's challenge of not just body counts, but finding the appropriate match for that talent. "Some people who are capable of managing a $2 million job aren't right for a $20 million project," he said. "The challenge is finding the right people for the right job."
What the lack of bodies is doing, said Dirk Schafer, is compounding the challenge of managing a staff already running at red-line RPMs. "My concern now is about fatigue," Schafer said. Crews that have been pushed hard to keep up with work orders "need a break."
Mark Heit, of McCarthy Building Companies pointed out how the labor shortage was rolling up on general contractors through its impact on sub-contractors. "The quality of sub depth is an issue," he said, "because about 75 percent of our work is subbed."
All of this, said Mike Campo of Lockton Companies, which provides surety brokerage services for the sector, has led to a surge in calls with inquiries about the consequences of hiring temporary staffing. That's an issue for many trying to balance work flow with deadlines, because of the investment that must be made in training on the basics, workplace safety being among the biggest instructional needs—and potential risks.
State Policy Changes
Rory O'Connor of Grand Construction diverged a bit from concerns about the demographcis of the work force to note another current event with significant long-term implications—the fate of the prevailing wage in Missouri.
Even as the assembly was unfolding, discussions in Jefferson City were focused on an issue of vital importance to contractors—the General Assembly's deliberations on repealing the state's prevailing wage. Without that mechanism to create a floor for construction labor, wages could be depressed at the very time those companies are trying to build career interest in young Millennials. Lower wages won't help make that a convincing argument, they said.
1. A growing concern, said Phil Thomas, is the increasing cost of construction materials. 2. For all the impact that a labor shortage is having, said Rory O'Connor, the potential elimination of the prevailing wage in Missouri could prove more harmful to companies in the construction sector. | 3. Competition, said Dirk Schafer, has never been more fierce among contractors in the Kansas City region. | 4. Mike Campo said insurers were fielding more calls about contractor use of temporary labor.
In a concurring assessment, Paul Rodriguez called repeal of prevailing wage "an automatic race to the bottom" on wage competition. "As you market to students to get into the industry, now is not the time to get rid of prevailing wage," he said. Doing so lowers wages overall, and the quality of life in the state with it, they generally agreed. It's a tool that can help keep mentors in urban neighborhoods, exposing inner-city students to prospective careers in construction.
Steve Dunn, who will retire later this year as chairman of JE Dunn, said that if the sector is worried about labor shortages now, it hasn't seen anything yet. "In the next two or three years, without prevailing wage, it's going to get a lot tougher" to fill key positions, he said, but he was optimistic that it might be left in place, albeit modified, rather than scrapped altogether.
The other significant policy change, which appears to be much more of a given, may not be as harmful to the sector. The new governor, Eric Greitens, had campaigned in part on making Missouri a right-to-work state, and the General Assembly is moving quickly to pass legislation that would accomplish that, without threat of the veto that former Gov. Jay Nixon had presented. Critics say that move, too, can erode wage gains made under union representation.
But as Tom Whittaker of JE Dunn pointed out, that issue won't touch today's construction sector as much as it once might have. According to figures from the Bureau of Labor Statistics, the biggest share of workers represented by unions today involves public-sector workers in federal, state and local government roles. Construction, by contrast, accounts for less than 7 percent of workers nationwide, and unionized construction workers are just one-sixth of that.
Possible Solutions
A number of executives spoke of efforts to tackle the labor problem head-on, and more than one referenced the talent grab that's taking place. "There is quite a bit of poaching going in," obser-ved Brett Gordon, of McCownGordon Construction.
Rather than raid competitors' staffs, Foley Equipment Company is taking a different approach, said Ann Konecny. At any one time, two to three dozen staff members may be taking courses at vo-tech schools to "get their associate's degrees and grow our own" qualified managers, she said, since fewer are readily available in the work force.
At Hoefer Wyscoki Architects, for example, principal Mitch Hoefer said annual growth of 10-15 percent in the Kansas City office, and a doubling of activity in its Dallas office, had compelled the firm to hire its first full-time recruiter.
Rich Smith of Henderson Engineering said his company had three people dedicated to sourcing talent full-time. "How long will this ride last?" he asked, noting that at any one time, the company has 50 open positions across its 12 offices nationwide.
Burns & McDonnell's Greg Carlson said the firm was addressing the lack of qualified supervisors by looking for more college degrees among candidates and engineers.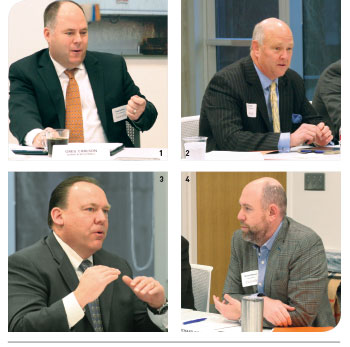 1. Greg Carlson said the talent shortage had Burns & McDonnell taking a harder look at degreed candidates. | 2. For the first time, said Mitch Hoefer, his firm has been compelled to hire a full-time recruiter. | 3. Scott Kelly talked about the gap in talent created by a prolonged period of low hiring. | 4. As technology continues to expand into the sector with younger workers, its use has become democratized, said Richard Wetzel.
Rory O'Connor noted that if the long-speculated decline in multifamily construction ever does emerge, a ripe supply of experienced workers might be subsumed into other work lines. The skill sets might not be a perfect fit, he said, but the fundamentals of construction practice would be there.
Jack Bitzenburg, director of construction trades programming for the Kansas City School District, made an impassioned appeal for executives around the table to align with the district's efforts to produce more qualified workers seeking career paths, not just jobs.
"A basic principle of Total Quality Management is that my output is your input," he said. "That's why we're industry directed: You have to tell us what you need." His programs are attempting to meet a small part of that need with introductory programs serving 120 students, and three dozen more at the capstone program who are preparing to enter the work force soon as interns or entry-level workers.
"My ask today is, join us—join us," he said. If more contractors are part of the effort to entice students into those career paths—where some trades yield annual incomes of $70,000 or more, without a dime of college debt—a large portion of the staffing challenges will be resolved, executives agreed.
But first, a societal mindset must be addressed. High schools increasingly focus their energies on raising the percentages of graduates bound for four-year colleges, and the construction trades simply aren't emphasized—as witnessed by reductions in shop classes, auto mechanics and other non-degree lines of study. Public policy, as well, contributes when school funding is directed at those institutions and districts that produce more college-track graduates.
A final point, Bitzenburg noted, was the impact that current training programs could have on another sector challenge: diversity, or lack thereof. "Ninety-plus percent of the students currently enrolled are minority, and 5 percent are female," he said. "What we're trying to do is create a work force that will be successful at entry-level employment, and how to get them on site and get along and survive and thrive in that industry."
Diversification, said Gordon Lans-ford, will remain a challenge for a considerable period. "How do we recruit more diversity into our organizations so we look like the population of the communities where we work?" he said.
Technology
The impact of technological change continues to ripple through the industry in ways both profound and subtle. Which may on occasion be disruptive, but overall is a good thing, said Mark Iammarino of Turner Construction: "We're 20 years behind other sectors in adopting new technologies."
One interesting spin on its use involved Building Information Modeling, the digital process of creating three-dimensional drawings to reduce construction conflicts on job sites, trim the waste in materials and manpower, and give owners a product that, in the long term, is cheaper to own and operate, despite some of the up-front investment.
But now, Iammarino said, that technology has evolved to a point where it's also a communications tool to help maintain safety standards. As such, Turner Construction has a full-time virtual-reality staffer to work in that space.
Greg Carlson said that the digital evolution was keeping supervisors more engaged in the field. "We had this five or eight years ago, but it was up in the trailer," he said, and the increased mobility helped move those managers closer to the work.
Richard Wetzel addressed the tech-savvy status of younger workers, who were more likely to be plugged into digital networks that lead them to new applications that can be downloaded. In years past, technology introduced by an employer was largely a top-down dynamic, but with today's accessibility, he said, dialing into new tech tools has been democratized. Given that, cloud-based applications and mobility may have changed the industry as profoundly as BIM and 3-D design, he suggested.
While those factors may produce a better product in the end, the challenge for contractors, said Brett Gordon, is to demonstrate that cost savings for owners. "From a quality and scheduling standpoint for us, the benefit is there," he said. "But how do clients see that?"
One of the biggest changes coming down the pike, said Mark Iammarino, is 3-D printing. It has evolved from faddish production of composite-material toys to medical applications, using live cells to produce a human organ, for example. But what might the impact be for on-site generation of unique specialty connections or fittings, or even larger-scale products with precise dimensions? "That is a big disruptor coming," he cautioned.
And just one of many, as Ann Konecny observed: "There is no one on the planet who is not going to be affected by the technological revolution," she said. "All of our jobs are going to be remarkably different 10 years from now than they are today."
Margins
Of particular concern to many at the table was the shrinking profit margin on their work. Those margins are under attack on multiple fronts—higher material costs, labor costs edging up in response to the worker shortage, low barriers to entry that are allowing new players with low-bid strategies into the market being key concerns.
1. Construction decisions based on lowest bid reflected ignorant thinking, said Justin Apprill. 2. The challenge with competing against low bidders, said Robert Treece, is retaining a high level of client service. | 3. In a discussion about the impact of changing technology, Mark Iammarino cited the prospect of change wrought by 3-D printing. | 4. Becuase of technological change, Ann Konecny said, few in the room would have the same job 10 years from now that they have today.
Justin Apprill of U.S. Engineering allowed as to how decisions influenced by low bids "were based on ignorance," and that his firm has opted out of scenarios where it might be seeking work based on cost alone.
Jay Tomlinson said companies shedding workers during the Great Recession had seeded the clouds of future competition, as displaced workers in many cases opted to create their own construction or design firms. "Now we're competing against the six-person firm as well as the 100-person firm," he said.
When price is a concern for owners, though, it can alter the operational calculus for contractors.
"The challenge is offering client services at the same level and still competing with some of these firms on price," said Robert Treece of Thornton Tomasetti, the engineering group.
Phil Thomas of A.L. Huber General Contractors sees material procurement as making life difficult for almost anyone in construction.
And Mark Iammarino pointed to the impacts of changes in methodology as more modular, preconstruction and prefabricated components are brought into the process.
One of the most hopeful notes of the assembly came when JE Dunn's Tom Whittaker noted that the new presidential administration had come to power vowing to cut compliance over-reach. He's hopeful that the 30,000 pages added to the federal registry last year alone might be scaled back—something that could ease pressure on the bottom line for contractors.
No one in the room, it turned out, offered a lament at the prospect of that development.
---
More Than Shop Talk
It Started With a Simple Goal: If We All Sit Down and Chat for a Spell, It Might Be Good for Business
IndustryOutlook Retrospective…Read More