A new year promises plenty of activity in regional construction and development, with some even bigger plans envisioned in the years to come.
The Kansas City area suffers no shortage of developmental visionaries, and if their plans were to become reality, the opportunities for this region's construction companies would truly be impressive.
Think about the kinds of ideas being thrown around today: A new single-terminal approach or rebuild of Kansas City International Airport, with a price tag that could top $1 billion. Despite voter opposition in 2014, backers of a proposal to extend the starter streetcar line south to UMKC, then east, still hope to make that $512 million vision a reality. And plans for a $300 million Downtown convention hotel, even in the face of some opposition, are still on the boards.
Longer term, mega-development plans ring the metro area, with growth in the Twin Creeks region of the Northland in years to come projected to add 70,000 residents in a 22-square-mile area. BluHawk is a proposed 300-acre site in Overland Park calling for 1.4 million square feet of retail, office and restaurants and hundreds of residences and luxury apartments. And the New Town at Harmony planning to transform 3,000 acres in Independence's Little Blue River valley into 16,000 homes and more than 4 million square feet of retail uses.
That's a lot of vision, even if there's not much dirt-moving at this point.
But that doesn't mean the region's contractors will lack for activity in 2016. In fact, this could shape up as a record year for many, executives from area firms say. Two key billion-dollar-plus projects in the region are in motion now, and filling in around those are significant new construction projects in health care, education, hospitality, office, mixed-use and multi-family niches.
It's more welcome news for a sector that was wracked with contraction following the Great Recession.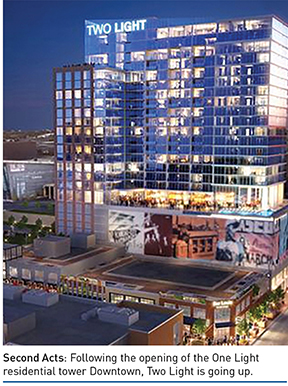 "That was a painful period of time, and Weitz felt the pain," said Radd Way, executive vice president at the Weitz Co. "Like most businesses in this industry, we became about two-thirds of what we were in the 2007-09 years."
But things have improved dramatically. "We have what I consider pretty solid backlog," Way said, ticking off a list of work from the regional airport reconstruction in Manhattan, Lenexa's hotel and convention center project, the UMKC-area's mixed-use revival and others.
JE Dunn, the region's biggest general contractor, has hooked the biggest catch in KC with its role in the Cerner Three Trails Campus project. The site of the former Bannister Mall is at the fore of a $4.46 billion transformation as Cerner prepares to add more than 10,000 workers by 2025.
But there's plenty of other fish to fry as that work continues, said Randy Bredar, senior vice president. The company is at work on the $278 million Cambridge North Tower expansion at the University of Kansas Hospital. And it's been selected to head up the $100 million expansion of Olathe Medical Center, and a $35 million upgrade of Shawnee Mission Medical Center.  
 "It's a pretty nice time right now," Bredar says, with no small measure of understatement. "Coming out of the recession, across the board, the industry was down close to 40 percent nationally at its lowest. There was a lot of money on the sidelines during the recession with the work we didn't do for five or six years." And now? "Our backlog now is as good as it's been in more than seven years," he said.
For a national company like JE Dunn, the hometown work is always a point of pride, but it's only about 20 percent of the company's volume. As good as things are here, Bredar said, what's happening in Texas and the Southeastern states is even better, and Dunn is fully engaged in those regions.
Scott Vath, president at TitanBuilt, said much of what would occupy the company in 2016 is a continuation of large-scale projects that started last year. "Probably the biggest is the first phase of the City Place project at College and U.S. 69," Vath said. "The first phase is under construction right now, a 386-unit multifamily project."
The company also has a big chunk of the reconstruction at 115th and Metcalf in Overland Park, and those two projects, Vath said, would probably continue through the third and fourth quarters this year. There's also the new office building at Nall Corporate Center II, a 150,000 square-foot project that will count Mariner Holdings as its lead tenant, as well a pair of Main Event entertainment complexes in Independence and Olathe.
At McCownGordon Construction, things aren't just good—they've been record-setting good, both in 2015 and likely for 2016, which co-owner Brett Gordon said was shaping up as "a phenomenal year" for some product lines.
Right now, he noted, McCownGordon is deep into the construction of the $90 million Church of the Resurrection sanctuary in Leawood, with additional work there likely, and the build-out continues on Olathe West High School, an $85 million project. Documents from City Hall in Olathe show that McCownGordon has been designated for the Garmin International headquarters site expansion, which will eventually accommodate 2,700 new workers.
And one of the biggest projects coming down the pike is the first public-private partnership at the University of Kansas, which Gordon estimates will yield $330-$350 million in hard construction costs for a pair of science buildings and parking garage. "We've been pretty fortunate on the higher Ed and the corporate sides," he said.
Mark Heit of McCarthy Building Companies' Leawood office, said 2015 was the second consecutive year of record revenue for the St. Louis-based company. "And that's creating a very strong pipeline for revenue for '16 and '17," he said.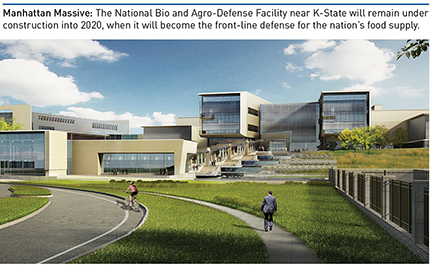 The biggest item on the menu remains its work on the National Bio and Agro-Defense Facility in Manhattan, a $1.2 billion project that will be under construction through 2020, and McCarthy is one of two project partners overseeing the $835 million final laboratory phase now going up. When completed, it will be the nation's front line for research into chemical and biological threats to the US food supply.
But there's plenty going on across the region to complement that work, Heit said.
 "Some of that regionally is the renovation and new museum at the Gateway Arch and the Washington University east campus, a $150 million project," he said. And nationally, "we're seeing the return of some big health care projects that we haven't necessarily won yet, but regionally, we're seeing some large health-care projects surface again."
At Centric Projects, which launched in 2010—when the whole sector had nowhere to go but up—co-founder Richard Wetzel says 2016 came in with "the best pipeline we've had and backlog going into a new year."
Remarkably, the run in multifamily housing continues across the metro region, and Centric is deep into that, and more. "We're seeing a lot of redevelopment projects and multifamily projects," he said. "The Millennials, they really want to live and work and play in the urban core, so there are a ton of opportunities to build new housing, from the ground up or through renovation." That's especially true for the urban core, from the River Market and West Bottoms to Midtown, he said. "There are a lot of people who question whether multifamily is overbuilt," Wetzel said. "I can't speak to the suburban market, but it's not nearly overbuilt in the urban market."
As one of the region's fastest-growing companies, Centric has had to modify its own business model as a result of that very success, Wetzel said. "What we're finding is that we're beginning to outgrow some of the smaller jobs we worked on. We hate that; we developed a division that specifically does those, because we don't want to lose sight of where we started."
So what's the outlook as you get farther into that pipeline, into 2017 and beyond?
"That's a great question," said Radd Way. "We look at cost trends, projecton trends in the market, how busy are the architecture and engineering firms—when they're busy in early planning, construction is potentially going to follow." But heading into 2016, he said, it appeared that construction may have reached a plateau—a sustainable one. "It's stable, but we don't see hot growth like we saw in the mid-2000s. We have offices all over the country, so we get a really good feel for national trends and what's going on nationally."
On the cost side, he said, spikes and valleys remain, depending on the materials, but prices in the Midwest have been stable, as well. The key to sustainability, he said, is in the type of project. "Some are significant projects in areas that always help drive the economy in the construction world, and tends to drive other ancillary construction around that site. A Downtown hotel, those kinds of large facilities tend to drive other economic development."
Bredar said the pipeline at Dunn is usually two years, enough to account for the planning, zoning and preliminary work that goes into a project, which can go 30 months or more on larger ones. "We need to look over the horizon, now at 2017 and '18, trying to increase our backlog," he said. "In the back half of 2014 and back half of 2015, there was a rush back into market, at least locally, so now Kansas City and Missouri feels like they've hit a bit of a plateau. I don't see that continued rush into the market here."
Gordon said his company had "a decent backlog going into 2017," and continued to assess additional work over the coming two years. "The crystal ball gets pretty fuzzy in '18 and '19," he said. One change taking place in the sector, he said, was that ramp-up times seem to be longer, as clients are more challenged to put together project funding.
The new Catholic high school in Lee's Summit was a good example of that on the non-profit side, he said. "We're about to break ground on that, but we won that over a year ago, so just trying to go through the process, get the funding in place, everything is queued up; projects have a lot longer fuse." 
While a full pipeline is welcome news, the resurgence in the construction sector comes with a tempered approach to packing more into the lineup than a company can comfortably accommodate. 
"That's something we pay a lot of attention to," said Bredar. "Measured growth is really important to us. We have to be able to deliver the quality of service that we demand and our customers expect, so we have to be careful about measured, strategic growth, and not just growth for the sake of growth."
Almost any firm, he said, has opportunities abounding now; the challenge for the long-term is to deliver at the highest level, something that will pay dividends when the inevitable down-stroke falls in a highly cyclical sector. 
"When the market heats up, there's a temptation to grab everything you can get your hands on, but you can grow beyond your ability to deliver," Bredar said. "For us, "it's about having the right work that we can deliver the way we expect it to be done." 
---