Rockhurst University is injecting $23 million to renovate Saint Luke's College of Health Sciences, in particular Sedgwick Hall.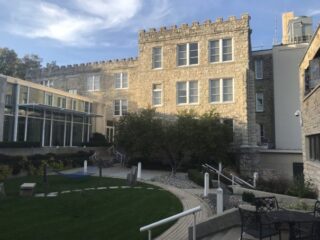 Image courtesy of Helix Architecture + Design
---
JE Dunn has been hired to conduct interior demolition work on Sedgwick's structure, which it began in December. The building is over 100 years old, erected in 1914.
Last year, Rockhurst acquired the college, previously known as Saint Luke's Hospital of Kansas City's College of Health Sciences. The deal was projected to add more than 700 students in an array of associate's, bachelor's, master's and certificate programs.
Rockhurst officials announced last week that Saint Luke's College of Health Sciences will merge with the university's College of Health and Human Services and be renamed The Saint Luke's College of Nursing and Health Sciences.
Instead of tearing down Sedgwick Hall, the project team landed on a design that retains the majority of the existing structure.
Once reopened, Sedgwick Hall will house a state-of-the-art simulation lab, an observation room overlooking that space, health assessment and home health labs, faculty offices and two large-format classroom spaces in the footprint of the building's previous auditorium.
Renovations are projected to complete by spring or early summer of 2022, before Rockhurst's fall 2022 semester.