A new Blue River Biosolids Improvements Facility under construction for KC Water will deliver new cost-effective and environmentally friendly processes for removing solid waste, all at the cost of $150 million.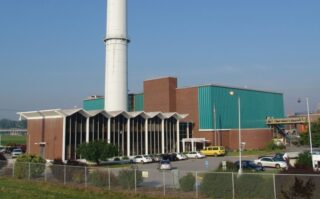 Image courtesy of KC Water
---
Despite the multi-million bill, KC Water said it will not increase rates on its customers.
Currently named the Blue River Wastewater Treatment Plant, the transformation will rename the facility at 7300 Hawthorne near I-435 and Front Street to Blue River Biosolids Facility.
The current plant opened as a primary treatment facility in the early 1960s, undergoing one upgrade in 1987.
According to news release from KC Water, it will be the first plant of its kind in the Midwest to employ a Thermal Hydrolysis Process (THP) to recycle human and domestic waste into useful energy sources.
"KC Water is continuously seeking new methods to reduce both the cost and environmental impact of our operations," KC Water Deputy Director Matt Bond said in the release. "This new approach eliminates an antiquated waste processing technique and not only produces a reusable product, but also improves air quality throughout the region."
With an anticipated completion date some time in 2024, the new facility will be one of only nine total treatment plants like it in the U.S.
"It breaks down the solids so you have less storage needed, which saves the City money and it produces a biosolids that can be applied on land. This will be a big improvement," Suzie Carpenter with Black and Veatch said. Black and Veatch is the primary design firm on the project.
KC Water said on an average day, the facility treats close to 75 million gallons of wastewater. Approximately 98 percent of the solid material in Kansas City's wastewater is processed and cleaned at the Blue River Plant.
Posted 03/05/2021