Neither Mick nor Marlys Haverty were acquainted with affluence when they grew up. Understanding what true need looks like has made them giants of philanthropy in the Kansas City region and beyond.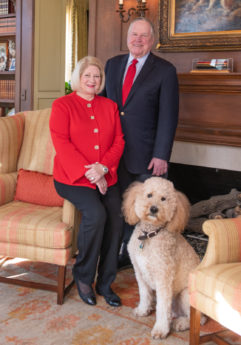 Some philanthropists prefer a rifle approach to their giving, with targeted donations. Some employ a shotgun strategy, dispensing charitable dollars across broader interests.
For Mick and Marlys Haverty, the armament of choice is more like a cannon.
Even a brawny search engine like Google is incapable of identifying the true measure of the Havertys' philanthropic reach, which covers education, health, children's welfare, the arts, women's safety and welfare, public facilities improvements—if you can think of a cause, there's probably a cashed check somewhere with a Haverty signature on it.
It's the kind of muscular beneficence Kansas City has come to expect from its icons of business, a status Mick attained as president and CEO of Kansas City Southern Railway Co., the final career stop for a fourth-generation railroader from Atchison. Marlys, his wife of 54 years, is a native of Emmetsburg, Iowa, whose own sense of giving was shaped by the twin influences of family and faith.
For the leadership they have demonstrated in giving back, the impact they have had on innumerable lives, and the depth of their generosity, Mick and Marlys Haverty share Ingram's 2021 Philanthropist of the Year honors. They join an all-star cast of past honorees for this recognition, including Bill Dunn Sr., the late Henry Bloch, Charlie and Kent Sunderland, Shirley and Barnett Helzberg, and John Sherman.
Mick Haverty will tell you straightaway that he and Marlys aren't nearly in a league with those titans of giving. Don't buy it.
From donations large and small, supporting educational organizations, individual students, arts programs, health-care providers and community institutions, in small contributions and in seven-figure increments, the Havertys have cast a giant shadow of generosity across this town and beyond.
Here are but a few of those efforts:
• $3 million Benedictine College to build a new baseball stadium (named in honor of Marlys' father, a junior college athletics coach).
• $1 million to fund the Union Station festival space.
• Scholarships to fund four students in each class—16 total—at Maur Hill-Mount Academy, where Mick went to high school.
• Other assistance in annual gifts to small schools like the Holy Family School of Faith and larger organizations supporting faith-based instruction, such as the Catholic Education Foundation.
• Contributions from their family foundation to finance the Kansas City Southern Holiday Express, a hugely popular draw that has generated $2.3 million for the Salvation Army.
• A lead gift to help Saint Luke's Health System establish the Michael & Marlys Haverty Cardiometabolic Center of Excellence, the first facility of its kind in the U.S.
• Contributions to civic and arts groups and initiatives, including the Boy Scouts of America, the Kansas City Ballet, Symphony in the Flint Hills, MOCSA, the National Museum of Toys & Miniatures, the Police Foundation of Kansas City, Happy Bottoms, the public-broadcasting affiliate here, the Truman Library Institute, the Kauffman Center for the Performing Arts—just a few from a very long list. 
• And, among the recent ventures, a commitment to Kansas City's status as a pro sports town by joining Sherman, the Dunn family and a few others in buying a strong share of the Kansas City Royals to keep the team cemented here. And anyone who suffered along with the owners as the team finished 19 games out of first place in the American League Central this summer would have to consider that ownership stake a charitable act.
Mick readily concedes that their status as pro baseball owners, and the ability to fund so many other worthy
causes, was something he could not have even dreamed of attaining when he started as a railroad brakeman/switchman close to 60 years ago.
Humble Roots
To really understand the framework for the way the Havertys assess need, it helps to go back. A long way back: Young Michael Haverty was the product of three generations of railroad men going back a century, to the arrival of his great-grandfather from County Galway in Ireland.
That's a lot of blue-collar history to pack into a family legacy before any six-and seven-figure checks can be written. It encompasses an era that saw families in Atchison hang white sheets outside their houses to use as shrouds when one of their own was killed in a switching accident. Or when switchmen of yore would be compensated the princely sum of $25 for losing a finger on the job. And a lot of those $25 payments were issued before the railroads unionized and safety became a priority.
It's a history that would shape Haverty on his journey from college dropout back to the railroads (as switchman and laborer crewman), then into the management training program for Missouri Pacific, executive roles at the Atchison, Topeka and Santa Fe Railway, where he eventually became president. And later, as the chief executive officer of Kansas City Southern Railway, a position he accepted in 1995, and one that brought him back to this city.
With the family, he brought that working man's appreciation for civic and charitable engagement.
"I truly believe it: You never forget where you come from," he says, "I've seen a lot of successful people, they don't want anybody to know about their backgrounds. But I'll tell you what: I'm pretty proud of my background. My family—they were all blue-collar workers. I was the first one to get a college education."
And it was a path he almost didn't take. He had promised his father that he'd earn a college degree, but when the elder Haverty died, Mick decided he was free of that obligation. He'd just as soon become a fourth-generation railroader and start making some money, instead of spending it on tuition.
That's when an executive at Missouri Pacific changed the trajectory of his life. Mick's employment prospects would be limited to summer stints, so that he could earn that degree, then get into the company's management-training program. That guidance created a debt Haverty could never repay.
Sport and Support
Marlys Olson, growing up in northern Iowa, saw a different type of philanthropy practiced in her childhood home. Her parents weren't rich by any means; her father supplemented his income as a history professor at the junior college by coaching football, basketball and baseball. Then, as now, a high percentage of athletes were in school because of their abilities on the field or court. They, too, knew little of what it meant to be financially independent. 
"He helped students get through college," she remembers. "They played ball for him, but we'd have two or three college students living with us for nothing, free room and board, and he'd get them part-time jobs and they'd play ball for him, and they'd get through college that way. They could never have afforded it if they had not had the help from him."
That benevolence wouldn't square with athletic eligibility guidelines in this day and age, but it was how people helped each other in that era. 
"He helped a lot of students get through college," Marlys says. "I saw that, and growing up, we lived with that. I still think it's important to help people, not just because you think you have a responsibility to do it, but to have compassion for people."
In the years since Mick retired from KC Southern in 2015, they have acted in concert to identify various causes to fund. Mick does most of the heavy lifting through the family foundation, and they work together to set priorities for individual giving.
It can be a tall task.
"As you might expect, we'll get a couple of pounds of mail every day, somebody asking for something," Mick says. "It's gotten around that we've made donations, so we get stuff from Florida, New York, California, all over the U.S., requesting money for something. But we try to focus on the community, and help out in Atchison."
Unlike donors who insist on success metrics to justify annual renewals, the Havertys give without an expectation that recipients will report back on how the money has made a difference. That has created long-term relationships and a special affinity for many of the groups they support.
"We usually give pretty much to the same organizations every year, because they have that in their budget and really rely on certain funds every year," Marlys says. "But we feel we haven't done as much as other people yet."
Just the Beginning
Come Jan. 29, the Havertys will celebrate 55 years of marriage, having raised three children who, in turn, have rewarded them with nine grandchildren. That philanthropic history forged over the past generation is a baton that the next generation is already running with.
"We tried to teach our kids also to be philanthropic," Mick says, and that example has led to other financial commitments, board service and volunteer work at various organizations in the region for the next generation of Havertys—Shannon, Mike Jr. and Ryan. "Our daughter is very much engaged in HALO and Happy Bottoms, and our daughter-in-law was involved, too, and supported them for years and years."
With the sale of Kansas City Southern expected to close—perhaps yet this month—the Havertys will be in an enhanced position. The SEC has long listed Mick as the railroad's largest individual stockholder.
Realizing those gains, he says, will create new opportunities for them to build on their philanthropic legacy.
"When the sale happens, we'll make a significant number of new contributions," Mick says. "Most of them are with the same organizations, but we'll make more significant gifts to them. Our grandson, for example, had open-heart surgery at Children's Mercy when he was one year and four days old, so we've been wanting to make a one-time significant gift to Children's Mercy, so we're going to do that."
Their legacy was shaped in part by a community-wide spirit of giving, and in particular by one architect of that spirit—Henry Bloch, their next-door neighbor in Mission Hills for 25 years. The magnitude of losing a philanthropic anchor like Bloch does not escape Mick Haverty. He knows he and Marlys have new roles to play in the next chapter of that story.
"Kansas City philanthropy and business engagement—I tell you what: We couldn't believe how generous the people in Kansas City were when we got here. On a per-capita basis, I think Kansas City is the second-most philanthropic city in the U.S. And Henry Bloch, that guy was the most philanthropic individual we've ever seen. The thing I always remember about him is, he was always saying that the more money you donate, the more money God gives you."
"I truly believe that."