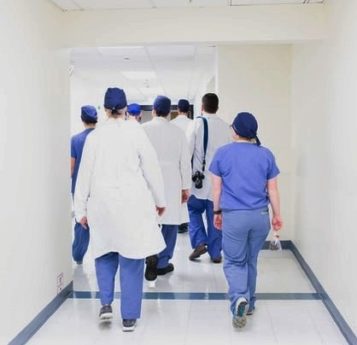 Hospitalizations are up in the metro as cases climbed to a new peak, prompting Kansas City area medical officers to call for emergency measures in the face of what they consider to be crisis levels. Lethality of the new wave remains low, though the burden of more cases and fewer resources remains top issue.
In a joint virtual news conference hosted by The University of Kansas Health System on Jan. 5, chief medical officers and other leaders from area hospitals and health systems in Kansas discussed rising hospitalizations in the continued presence of the Omicron variant.
Eighteen regional healthcare leaders tuned in to comment (see list below) as well as members of the media and public.
Officials noted the newest variant being less mild, though data shows its lethality has proven to be less of a threat than with preceding strains.
The prominent issue regional hospitals are facing it seems, is that there are so many more cases overall (combined with fewer resources for care) that the health systems are approaching threatening levels.
Jan. 4 (just a day prior) set a record for hospitalizations in the region, according to the MARC dashboard (Mid America Regional Council), at 959 (with 26 of 27 hospitals reporting). Until Sunday of this week, the previous high had been 919 on Dec. 12, 2020.
Compared to the late 2020 peaks, below are key metrics for the Kansas City region, according to data from The New York Times Covid Tracking Project:
Missouri:

Cases, 53 percent higher than previous peak
Hospitalizations, four percent higher (again, with fewer staff because of illness/resignations)
Deaths have fallen, and are at 51 percent of peak

Kansas:

Cases, 43 percent higher than peak
Hospitalizations, 76 percent of peak (but rising quickly)
Deaths, 40 percent of peak
Participants of Wednesday's conference included the following 18 individuals:
Lisa Hays, Chief Medical Officer, Advent Health Shawnee Mission
Jennifer Watts, Chief Emergency Management Medical Officer, Children's Mercy
Kim Megow, Chief Medical Officer, HCA Midwest Health
Raghu Adiga, Chief Medical Officer, Liberty Hospital
James Stewart, Chief Medical Officer, North Kansas City Hospital
Michael Davoren, Medical Staff President, Olathe Health
Mark Steele, Executive Chief Clinical Officer, University Health-Truman
Ahmad Batrash, Chief of Staff, Kansas City VA Hospital
Jennifer Schrimsher, infectious diseases physician at LMH Health and deputy public health officer for Douglas County
Jackie Hyland, Chief Medical Officer, The University of Kansas Health System – St. Francis Campus
Kevin Dishman, Chief Medical Officer, Stormont Vail Health
Samer "Sam" Antonios, Chief Clinical Officer, Ascension Via Christi Health
Robert Freelove, Chief Medical Officer, Salina Regional Health Center. 
Heather Harris, Medical Director, HaysMed
James Alexander, Chief Medical Officer, Centura – St. Catherine
Richard Watson, co-founder, Motient
Steve Stites, chief medical officer, The University of Kansas Health System
Dana Hawkinson, medical director of Infection Prevention and Control, The University of Kansas Health System.