More business-friendly than most, the two-state region around kansas city has a number of positive factors going for it.
As 2017 dawned, the Kansas City region had much to celebrate: Unemployment in both Missouri and Kansas had reached levels not seen since before the onset of the Great Recession in 2007, construction companies were firing on all cylinders to meet demand from both large public and private-sector projects, housing sales had rebounded substantially, multi-family housing—particularly for luxury units—continued to defy predictions of a coming end to a prolonged boom.
Clearly, times were good across many sectors, but some apprehension remained. For one, the Federal Reserve had just moved in December to raise interest rates that had been sitting at zero for seven years, triggering concerns over how high they might go. Sprint Corp., one the region's largest employers, was formulating another round of layoffs. Those watching broader measure of unemployment—the U6 rate—recognized that far too many people who wanted to work full-time weren't being included in traditional counts of the unemployed.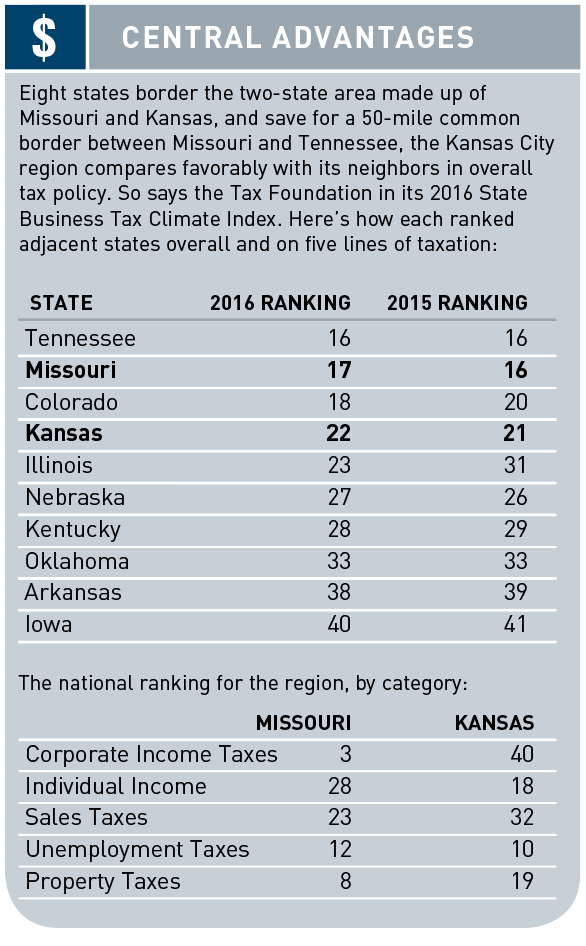 Those are but a few of the broad brush strokes framing the economic picture in a region of 2.8 million people, strewn across nearly 13,000 square miles and three adjoining Metropolitan Statistical Areas in two states, 14 counties and dozens of cities and towns—plus adjacent MSAs of Topeka and St. Joseph. 
A huge range of factors determine any single location's attributes as a site for business operations—sales tax rates, state income tax rates (and in the case of Kansas City, Mo., the additional, much-debated 1 percent earnings tax), local and state incentives, access to rail, highways and airports—so finding the right location can take more than a little homework.
But you can discern some good starting points from information on most government-related Web sites. 
Start with sales tax rates. In Missouri, the base rate for the state itself is 4.225 percent. That underlies a rate is 9.35 percent in Kansas City, proper—and if you're among the chosen few in the Downtown Streetcar Transportation Development District, 10.35 percent. Around the region, rates range from 5.225 percent in about a dozen smaller communities up to 10.725 in a pair of TDDs in Belton.
In Kansas, the base state rate of 6.5 percent accounts for much of what will be a rate ranging from a low of 7.5 percent in unincorporated areas of Douglas and Leavenworth counties, up to 11.225 percent in the community improvement district set up to finance the Olathe Conference Center Hotel.
Sales taxes are higher in Kansas, but it has a distinctly different income-tax environment, one that especially benefits small-business owners. For those in the lowest income brackets, the rate is 2.7 percent, and individuals with incomes above $15,000 a year pay 4.9 percent. Companies, however, are not taxed on pass-through business income. Otherwise, the corporate tax rate is 4 percent below $50,000, and 7 percent above that figure.
In Missouri, individuals are subject to a 6 percent income tax on income above $9,000, while the corporate tax rate is 6.25 percent 
Per-capita personal property tax collections, from state and local governments combined, stand at $1,364 in Kansas, compared with $957 in Missouri.
Overall, according to the Tax Foundation, Missouri ranked 17th and Kansas 22nd among the 50 states for the business-friendly attributes of their tax policies.
Other positive indicators for this region include unemployment rates that started in 2015 below the 5 percent mark—4.7 percent in Missouri as the year drew to a close. In Kansas, things  were even rosier: 4.0 percent. The Kansas City MSA stood at 4.2 percent, slightly higher than St. Joseph's 4.1. Topeka, meanwhile, was at 3.7 percent.
Another predictor of economic vitality: Home sales. Prices of single-family homes rose roughly 5.4 percent in 2015 from prior-year levels, and days on the market fell 7.4 percent, from 81 to 74 as the year drew nearer to a close, according to the Kansas City Area Association of Realtors. Pending sales were up 14.6 percent, year-over-year inventory was down 25.9 percent, and overall, it was
a solid seller's market, with a 3.1-month supply of homes on hand, down sharply from 4.6 percent a year earlier.