Burns & McDonnell project opening
---
---
In a celebration of critical infrastructure success and development of south Kansas City, Burns & McDonnell took the wraps off its 142,000-square-foot Phase II addition to the Ward Parkway campus this morning.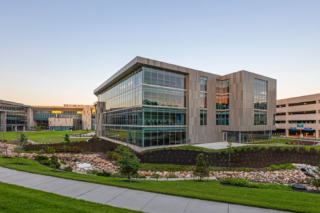 Celebrating completion of the $42 million project were CEO/Chairman Ray Kowalik and the project designer, Brittney Swartz, joined by public-sector dignitaries including Gov. Mike Parson, County Executive Frank White and Mayor Quinton Lucas, along with Nilson Goes of Infinite Energy Construction, which had a lead role in the project execution.
Kowalik, addressing a gathering of executives from some of more than 50 companies that had roles in the project, touted its safety record—134,000 man-hours without an injury—design features to accommodate 776 more workers, and the on-site changes during the COVID-19 crisis that allowed 70 workers to safely operate through construction.
The project also included a 550-space parking garage and complements the Phase I work that has allowed the region's biggest design/build firm to expand its work force. Since the project was first envisioned in 2013, employment at Burns & McDonnell has gone from 4,200 to 7,300 overall, Kowalik said. The Kansas City campus will accommodate roughly 4,000 total.
Lucas offered praise for what the firm's expansion meant for raising the profile of south Kansas City, and Parson said the expansion would be a key to getting Missouri's economy back on track after the pandemic's economic slowdown. "Where we were in January" before the health crisis set in, he said, "there's no reason we can't be back there next January."