BEST AUTO DEALERS (DOMESTIC)
Fords seem to be the vehicles of choice for Kansas Citians, as both the gold and silver medalists in the Best Auto Dealers (Domestic) represent the automaker. OLATHE FORD LINCOLN, which was founded in 1973 and sells about 25,000 units per year, took Gold. That dealership boasts several departments, including RV, Fleet, Commercial, and more. It was followed by Silver-medalist Rob Sight Ford, a fourth-generation dealership. Taking the Bronze was Hendrick Chevrolet Shawnee Mission, one of the country's largest Stingray dealers.
BEST AUTO DEALERS (FOREIGN)
Gold medalist in the Best Auto Dealers (Foreign) Aristocrat Motors (also known as Soave Automotive Group) sells Mercedes, Jaguar, Porsche and other high-end vehicles, in Merriam. The company added Alfa Romeo in 2017 with the purchase of a competitor. It, and the other winners, are long-time fixtures in the local car-selling marketplace. Baron BMW, taking the Silver, sells its namesake vehicles, as well as pre-owned makes of others, also in Merriam. The Bronze winner, Jay Wolfe Acura, in South Kansas City, is one of several dealerships, along Honda and Toyota, owned by the Jay Wolfe Automotive Group.
BEST CORPORATE GIFTS
Those looking to impress clients with corporate gifts prefer Halls Kansas City, in Crown Center, as their first choice. The Gold medalist has been a local retail institution since 1916, when it was first opened downtown by Joyce C. Hall, the founder of Hallmark Cards. Today's location has an in-store café/bar
and is by the greet-card giant's headquarters. Taking Silver is Mano's Wine, which makes etched, customized bottles for any occasion and also has licensing rights to several sports teams. The Crossroads-area company blends, ages and finishes wine from around the world on site before it is bottled.
BEST FLORIST
Gold medalist in the Best Florist category is The Fiddly Fig, in Brookside, which has been in business for about 50 years. The flower retailer and gift shop can handle everything from large weddings to in-person delivery. Taking Silver, Westport's Trapp and Company, has been around the same amount of time and has its own line of candles along with its floral offerings. The Bronze-taker is Toblers Flowers, east of the Crossroads District, which helps corporate customers enhance their brands with gifts and floral arrangements.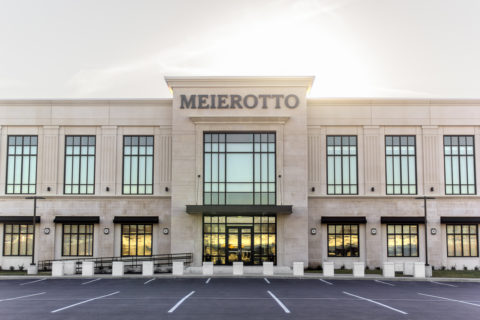 BEST JEWELERS
Meierotto Jewelers, now in a distinct North Kansas City headquarters building, started in 1979 in a small storefront. The Gold medalist in the Best Jewelers category features Rolex, David Yurman and a large selection of jewelry in its showroom. Tivol, the Silver winner, has locations in the Country Club Plaza and Overland Park, and has been in business since 1910, selling jewelry crafted by several major designers as well as its own lines. Bronze medalist Mazzarese Jewelry, in Leawood, is a fourth-generation jeweler with roots in Italy that came to the area in 1981 and boasts having pieces unique to the Midwest.
BEST LIQUOR STORE/WINE SELLER
Kansas City is serious about its booze, as shown by the three winners in the Best Liquor Store/Wine Seller category. Gomer's Fine Wine and Spirits, with five locations around the metro area, took the Gold medal in this category. The original store, which opened in 1969, is still at 99th Street and Holmes Road. The Silver medalist is Lukas Wine & SpIrits Superstore, with locations in South Kansas City, Overland Park and the Northland. The South K.C. store also has Harry's Tavern, a tap house and restaurant. Not to be out done, Bronze-winner Mike's Wine & Spirits has outlets in Brookside, Waldo and Westport, with taps for growlers of beer.
BEST OFFICE INTERIOR FURNISHINGS
The office-scape is changing nationally and Gold-medal winner in the Best Office Interior Furnishings Firm category Scott Rice is here to innovate business spaces with furnishings from the leading suppliers. Headquartered in Lenexa, the company undertakes interior design, commercial installation and construction, artwork and accessory placement and more, with smaller spaces in Kansas City, Manhattan and Springfield. Silver-medalist Spaces, Inc., also in Lenexa, services everything from healthcare to government to small businesses. Bronze winner Contract Furnishings, in Westport, has been outfitting area offices since 1989, offering new and used furniture, as well as space planning and design.
BEST WOMEN'S APPAREL
It's not hard to "shop 'til you drop" in this town, and shoppers won't have trouble finding their favorites in the Best Women's Apparel category. The Dillard's depart-ment-store chain, with three locations in the Kansas City area, at Oak Park Mall, Independence Center and Zona Rosa Town Center, took the Gold medal. Silver winner Nordstrom also has an Oak Park Mall presence and a nearby off-price Nordstrom Rack store—the retailer is opening a Country Club Plaza full-line location in 2021. Evereve, Bronze medalist, is also in Oak Park Mall and the Plaza, as well as Town Center Plaza & Crossing, in Leawood.
BEST MEN'S APPAREL
Halls Kansas City took the Gold medal for Best Corporate Gifts and has the same distinction in the Best Men's Apparel category. Its Store For Men and Bridge For Men departments in Crown Center offer an array of brands. Nordstrom, the Silver medalist, is a draw for menswear in Oak Park Mall, boasting the best in men's fashion, and will undoubtedly have the same honor when it opens in 2021 in the Country Club Plaza. Bronze-winner Macy's, with six locations across the metro area, is a favorite for its significant variety of high-end and everyday garments.