When you stop to think about it, an awful lot of companies and organizations have been recognized as the best at what they do since Ingram's first began asking readers for their thoughts—and votes—to determine this city's best of everything, way back in 1986.
Closer inspection reveals that the winners in any one year are likely to repeat in that category the next year, but only to a point. Then come the new challengers, setting their own standards and earning their own places in the minds of the region's most affluent consumers.
The thing that stands out about this year's Honor Roll update is that the field of gold medalists hasn't changed a heck of a lot. In fact, No. 1 on the list, The Capital Grille, saw its all-time lead trimmed just a hair, even though it secured another Gold. No. 2 on this impressive list, Fiorella's Jack Stack Barbecue, inched closer to the lead spot by bagging a pair of Golds this year. Interestingly enough, of the 71 Golds awarded in 2017, no organization secured more than two, and only five of them were able to pull off that feat.
That suggests a couple of things: One, our readers' tastes are diversifying in various ways, and this year's vote reflects those changing allegiances. It also tells us that the competition is, perhaps, more fierce than ever for these prized ballots. For everyone on the list, and for everyone who aspires to be on it, that means just one thing: Time to up your game—the competition is here. And they're hungry.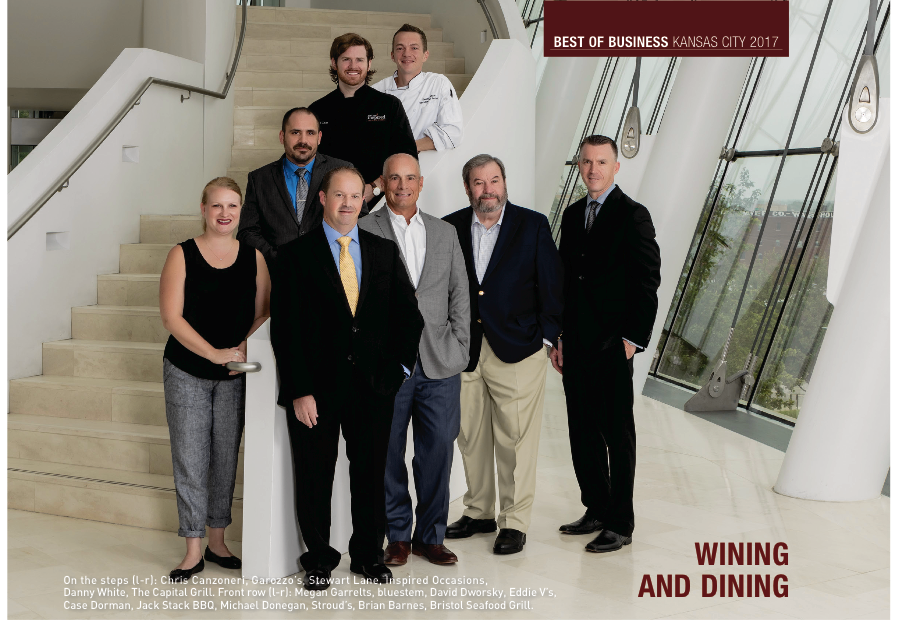 BEST BARBECUE
Clearly, Kansas City is home to the best of the best when it comes to barbecue—we know how to do sauce, rubs, wood varieties and smoking techniques for any kind of meat you want.  And for yet another year, readers say the Gold standard for all things 'cue is FIORELLA'S JACK STACK BARBECUE, with its full menu of offerings including beef, pork, poultry, lighter fare including salads and salmon, and a rich selection of sides topped by perhaps Kansas City's best spin on onion rings. Q39 is another classic favorite here, and for a lot more than its inspired spin on sandwichcraft with the burnt-end burger, taking the Silver. And just to show you how tough this category is, Bronze went to JOE'S KANSAS CITY BAR-B-QUE, which recently was named America's Best Barbecue by the New York Post.
BEST BURGER
One of the best American foods ever created: the burger. FIVE GUYS BURGERS AND FRIES does America, and its people, right by providing beautifully crafted, knockout burgers, certainly proving worthy of the Gold. With 12 locations in the area, there's always one nearby. Earning Silver this year and appearing for the first time since the category has been introduced, is Waldo-based WALSH'S CORNER COCKTAILS, family owned and operated since 1978. Flexing its muscle as a national chain, and offering a huge number of burger treatments, is Bronze-winning RED ROBIN GOURMET BURGERS AND BREWS.
BEST BUSINESS BREAKFAST
Arguably the most important meal, breakfast can make or break not just your morning, but your day. Business Breakfasts have evolved over the years, but even today, sharing a meal can be the foundation of any good relationship. According to Ingram's readers, the best place to impress over a nice omelet is FIRST WATCH, which again takes home the Gold in 2017. They pride themselves on fresh food and a friendly atmosphere, and their community table offers a unique opportunity to connect with other members of the area. Taking home the Silver is ROOM 39, their farm-to-table philosophy continuing to impress and bring delicious food to any meeting, while Bronze goes to THE CLASSIC CUP, as the name suggests, serving delectable classic dishes in a comfortable spot on The Country Club Plaza where you can enjoy your morning meal.
BEST BUSINESS LUNCH
Always a unique culinary experience, the Gold winner ROOM 39 serves fresh farm-to-table dishes, sure to impress even the pickiest of people, and all in a great setting, no doubt giving everyone something to look forward to in the middle of their workday. Coming in second with a well-earned Silver is J. ALEXANDER'S, living up to a core philosophy of providing a high-quality dining experience, while Bronze honors go to PIERPOINT'S with great dining in an elegant, classy setting.
BEST BUSINESS DINNER
Business dinners are meant to impress and THE CAPITAL GRILLE certainly does the job. Their high-end selections of meat and seafood, as well as their great service and wine selection, help bring home another Gold this year for the longtime leader in Best of Business Gold awards. They are known for an upscale atmosphere and professional dining experience. Coming in for the Silver is J. GILBERT'S, specialists in steak and seafood, and a favorite among many Kansas Citians. HEREFORD HOUSE and J. ALEXANDER'S will need an extra plate, as they're splitting the Bronze for this year's award. Both offer an enticing array of dishes that are always a success, sure to satisfy any appetite.
BEST CATERER
Caterers are a vital part of any occasion, and we couldn't be prouder of those who ranked this year. LON LANE'S INSPIRED OCCASIONS proves once again worthy of the Gold with having earned the honor for over a decade, consistently delivering food masterpieces with an innovative and creative style, pouring heart and soul into every event they touch. BRANCATO'S CATERING takes Silver, never disappointing and reliably providing high-quality catering services. PB&J CATERING earns the honor of Bronze, providing a tasty variety of catering ideas and options.
BEST COFFEE HOUSE
Coffee shops have always been a community meeting place. Whether it's for a quick cup of joe before work or for a casual meet-up with your eHarmony match, they serve as a calm atmosphere with much to offer. Earning Gold, THE ROASTERIE is popular among residents for its great coffee, produced locally. If there's anything we love, it's a true Kansas City company with a new location just opened in Woodside Village, The Roasterie is only getting more popular with time. SECOND-BEST COFFEE, located in Waldo, brings home the Silver with a lineup of ever-changing blends from around the country. This coffee house is unique and able to satisfy any palette. The classic STARBUCKS earns the Bronze. This nationwide chain is a great addition to almost anyone's morning, and has proven it's worth the wait.
BEST DELI
Delicious and healthy? Yes, please! Serving only the best with fresh, made-to-order items using wholesome ingredients, it's no surprise JASON'S DELI delivers the Gold, earning local and nationwide recognition for great food and customer service. CUPINI'S takes Silver as an Italian-inspired restaurant staying true to the promise of all-natural and fresh, while MCGONIGLE'S MARKET, a Kansas City tradition since 1951, takes home the Bronze with mouth-watering deli options.
BEST FAMILY RESTAURANT
Kansas City is known for its lifestyle, and that includes family. Whether it's a great big family meal or a small one, Kansas City is a great place to be, and for this STROUD'S takes home the Gold. With three locations in the Kansas City area, it offers a fun, relaxing atmosphere and great food, with something for every family member. Taking home the Silver this year is Q39. No local family will be disappointed by this classic Kansas City barbecue. Finally, CARMEN'S CAFE takes home the Bronze award with its delicious Italian dishes and tapas.
BEST GROCERY STORE/CHAIN
Why HY-VEE for the 1st place ranking of Gold? Because there's a helpful smile in every aisle! But seriously—this chain, founded in the small town of Beaconsfield, Iowa, has spread throughout most of the Midwest, all while keeping the same comfortable, friendly, and of course, helpful, qualities established during its founding in 1930. WHOLE FOODS MARKET makes the cut this year, earning Silver and proving the power of natural, while both PRICE CHOPPER and HEN HOUSE MARKET tie for the honor of Bronze, proudly representing as local chains. These family-owned store brands take pride in their service, products, and presence in the community.
BEST HAPPY HOUR
Any happy hour is bound to make you smile, but THE TAVERN AT MISSION FARMS is our readers' favorite, taking home the Gold. Every day from 4-6 p.m., and after 8:30 p.m., there is a multitude of specials on drinks and food. There's something to make everyone happy here, and the wide range of hours gives you a chance to get in on the mood, even if you logged some extra time at the office today. THE WELL takes the Silver this year with their half-off specials that include, wine, beer, cocktails, and appetizers, and a convenient Waldo location. Last, but certainly not least, HARRY'S BAR AND TABLES takes home the Bronze. Located in Westport and open until 3 a.m. every night, it's appeal extends well beyond happy hour.
HEALTHIEST RESTAURANT MENU
SEASONS 52 brings the best of each season straight to the table, with consistently outstanding flavorful and healthy dishes sure to please any palate. With exceptional menu items suitable for all guests, Seasons 52 scores Gold once again. With its vast array of healthy and unique flavors, THE MIXX takes Silver, scoring big with its one-of-a-kind culinary creations and customizable items that will please anyone. PROTEIN HOUSE adds to the ever-expanding health-and-fitness-conscious community by providing healthy quick-serve food worthy of the Bronze.
BEST OUTDOOR DINING
Everyone enjoys a breath of fresh air, and they enjoy it even more when it comes with a great dining experience. That is why GRAM & DUN takes the Gold in this category. The revived patio there serves for an excellent place to share a meal with anyone, and their exceptional food makes it even more enjoyable. TREZO MARE receives the Silver award with its beautiful terrace seating and wonderful fire pit; this patio is great day or night. Taking the Bronze award is THE CLASSIC CUP, earning its second award of the year. Their sidewalk patio is great, while the back patio separates you from the hectic Plaza atmosphere and allows you to enjoy a great meal.
BEST PIZZA
Nothing says, "Yum!"  like pizza, and with so many options in Kansas City, the competition is as hot as their ovens. MINSKY'S PIZZA remains on top once again, earning Gold with generously decorated and delicious gourmet pizzas, each bite reminding us why they've been voted Kansas City's best pizza time and time again. WALDO PIZZA bumps up to the Silver honors this year, a long-time Kansas City hot-spot for pizza lovers of all kinds, while Bronze goes to SPIN! NEAPOLITAN PIZZA, a homey hangout where the pizzas are hand-spun and made with love.
BEST PLACE TO TAKE OUT-OF-TOWN GUESTS
Everyone is looking to impress out-of-town guests with Kansas City's smorgasbord of dining experiences. FIORELLA'S JACK STACK BARBECUE is almost a no-brainer, showing off what sets us apart. Its impeccable barbecue and five locations in the Kansas City area bring home the Gold here. JOE'S KANSAS CITY has been featured in many national news venues and lists, and it gets the Silver for places to impress your guests seeking greatness. GAROZZO'S RISTORANTE, a long-time KC tradition, takes home the Bronze with its classic Italian cuisine. With four locations in the metro area, it's a go-to for hosting guests!
MOST ROMANTIC RESTAURANT
Life is lost without a little romance, and the perfect place for it right here in Kansas City is at PIROPOS, where you can enjoy dining in a relaxed atmosphere romantically overlooking the Kansas City skyline from the hill at Briarcliff Village. The unique view, warm atmosphere, and fresh foods prepared in the Argentinean style are a Gold recipe for a romantic evening for you and your significant other. STORY proves to be a crowd-pleaser, this time earning Silver with its elegant dining and atmosphere perfect for a romantic outing, while LE FOU FROG makes the ranking this year, earning Bronze with its charming French feel.
BEST SEAFOOD
Despite being located a long way from the coast, there's no denying KC houses some restaurants that excel in bringing the coast here to the Midwest, serving some of the freshest premium seafood around. Located in the heart of Kansas City's Power & Light District and in Leawood, Gold winner BRISTOL SEAFOOD GRILL creates dishes that are excellent from the start while impressively providing seamless service in a classic, upscale atmosphere. JAX FISH HOUSE & OYSTER BAR takes Silver, soulfully preparing each dish to a premium standard to ensure that diners have a singularly perfect experience.
BEST SPORTS BAR/GRILL
While Kansas City may not have a consistant powerhouse like the Patriots, there is no denying that our teams are central to the city. Whether it's going to the game, or watching it on TV, Kansas Citians love their sports. JOHNNY'S TAVERN was voted the Gold winner this year; it has  specials for the big game and offers a happy hour that makes game-watching even more enjoyable. COACH'S BAR AND GRILL takes home the Silver this year. With two locations, patrons can choose whether they want to be on the roof in Overland Park or in South KC in their original location. Finally, TWIN PEAKS comes in at the Bronze position, offering a variety of food and drinks that make it a great place to watch any game.
BEST STEAK
In Kansas City, we know steak. Sirloin. Ribeye. Tenderloin. Everyone has a favorite cut, and the readers have a new favorite, bestowing the first Gold in this category on J. GILBERT'S, The wood-fired steaks come from Midwestern raised and prime-aged Black Angus beef, and they take mouth-watering to whole new levels, so bring a hankie. THE CAPITAL GRILLE takes Silver with its dry-aged steaks. With locations across the nation, it can plate your favorite cut in almost any major city. HEREFORD HOUSE comes in with the Bronze award. They have four locations across the Kansas City area, and continue to make Kansas City their home.
BEST SUNDAY BRUNCH
Looking for that perfect Sunday brunch to enjoy with family and friends before the hectic work week begins? Try BRISTOL SEAFOOD GRILL, this year's Gold winner, serving only the best with crowd-pleaser menu options in an upscale yet contemporary setting. SUMMIT GRILL AND BAR serves up classic all-American fare with savory picks, tying Silver with PIG & FINCH, where diners enter and experience a friendly, pub-style restaurant where chefs deliver American dishes with a European twist is NICK AND JAKE'S takes home the Bronze.
BEST NEW RESTAURANT
As Kansas City becomes more popular, more restaurants are joining the scene. EDDIE V'S PRIME SEAFOOD prides itself on its atmosphere, with live jazz in their lounge, world-class wines, and great seafood and steaks—you can't go wrong here. In all things, Eddie V's takes great pride in their dedication to excellence earning Gold. STOCK HILL has taken home the Silver, this glorious steak house embodies Midwestern hospitality while providing exceptional service and delectable food. IGNITE WOOD FIRE GRILL in Lenexa comes in with the Bronze award.
BEST SERVICE
Half of what makes a great dining experience is the service, and those that emerge to the top know that. BLUESTEM is one such restaurant, dedicated to providing not only a great meal, but a truly memorable experience. How? With a welcoming and helpful staff that enhance your visit by allowing you to simply settle in and enjoy your time, a dining experience worthy of the Gold. STORY snags Silver, maintaining solid dedication to customers through display of eloquent etiquette. And JASPER'S RESTAURANT sweeps Bronze, a premiere Kansas City location for gourmet Italian food and service.
BEST ASIAN RESTAURANT
Sometimes all you need to satisfy your taste buds is the tangy flavor of Asian cuisine. With six locations across the Kansas City metro, BO LING'S is a favorite, whether you're looking to dine in or order some takeout. They also have a catering business that is available for any event. For these reasons, Bo Ling's comes out on top with the Gold. BLUE KOI NOODLES & DUMPLINGS takes the Silver honors this year. The hip scene of their restaurants highlight bright colors and stimulate all your senses. Their Midtown location, having opened in 2002, is celebrating its 15th year in business. Lastly, also making the list, is FORTUNE WOK takes the Bronze. Their menu centers around classic Chinese dishes, including sushi, making them different from many other Chinese restaurants.
BEST FRENCH RESTAURANT
If it's a taste of France you're after, then try out these tempting restaurants that are bound to transport you to the streets of Paris—or Provence. AIXOIS garners Gold with distinctively exquisite dishes inspired by owner Emmanuel Langalde's native France, working to bring local flavor to their classic French cuisine. Silver honors go to LE FOU FROG, a neat little restaurant tucked away in the River Market area, serving up tasty French dishes with an American twist. CAFE PROVENCE continues to impress, with an authentic French bistro vibe, earning themselves the Bronze honor.
BEST ITALIAN RESTAURANT
Need some pizza? Maybe some spaghetti? Italian restaurants are probably your go-to. GAROZZO'S RISTORANTE has everything you could ask for inItalian. Its homey atmosphere is welcoming and the food is exquisite, both reasons it has taken the Gold in this category. JASPER'S RESTAURANT, our Silver award winner, made its home in Kansas City in 1954, and this family-owned restaurant uses its own recipes
to pay homage to its Italian roots. LIDIA'S, located in the Crossroads District, earns the Bronze. Their large dishes allow groups to have a taste of everything!
BEST MEXICAN RESTAURANT
Who doesn't love a nice basket of chips, with salsa and queso? OK, there's always THAT guy, but who among us with a real zest for life? There are many places in Kansas City to find a good Taco Tuesday or Margarita Monday, but our reader's favorite Mexican restaurant is JALAPENO'S. Its fun atmosphere is great for a meal shared with anyone, surely worthy of its Gold status. PORT FONDA is another favorite, picking up the Silver and offering what some might think of as a hipper vibe. Major plus: They even offer brunch! MANNY'S has earned the Bronze with their family-run restaurant in the Crossroads; the delicious food is complimented by a great and accessible environment.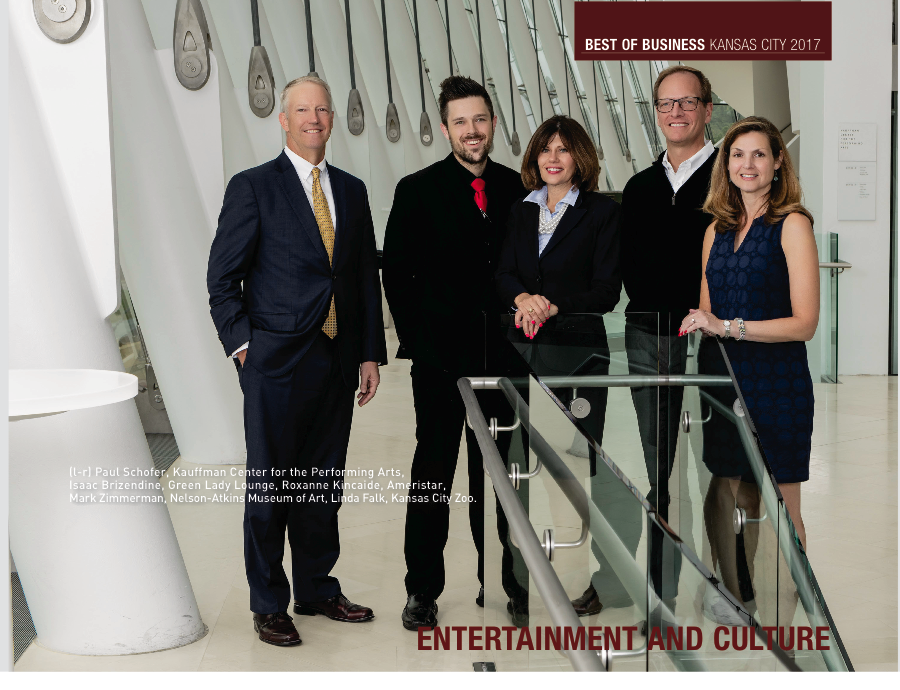 BEST ART GALLERY
There's no shortage of fine art in the Kansas City area, especially at the NELSON-ATKINS MUSEUM OF ART, which frames the Gold. Here, you'll find a multitude of different cultural spins on art. From African to ancient Asian art, and even some pieces from the Renaissance, there is something for everyone. A few blocks away stands the KEMPER MUSEUM OF CONTEMPORARY ART, our Silver award winner, offering patrons a wide range of modern art from sculptures to paintings, and afterward, you can enjoy a meal in their Cafe Sebastian. THE BLUE GALLERY in the Crossroads District casts the Bronze. This gallery is filled with unique pieces and is a great place to discover new artists.
BEST CHARITABLE EVENT
The best way to get people excited about supporting a charity? Throw a party! KC does it big with events like JAZZOO, this year's Gold winner for an impressive seventh year in a row. Jazzoo continues to be the biggest fundraiser of the year (and quite possibly the biggest party) with live music, food, drinks, and all other kinds of fun. Warming hearts each year, BIG SLICK Celebrity Weekend scores Silver, proceeds benefitting Children's Mercy Hospital. With home-grown celebrities coming back and recruiting talent from around the country, it's no surprise that this event is such a success. Coming in with Bronze is WAYSIDE WAIFF'S FUR BALL, raising funds to save thousands of abandoned, abused, and homeless animals.
BEST CASINO
Feeling lucky? Make sure you know where to win very big. AMERISTAR KNSAS CITY was voted among our readers' favorites and holds the Gold. Located on the Missouri side, this casino has over 2,200 slot and video poker machines, 66 table games, and 15 poker tables. HARRAH'S NORTH KANSAS CITY earns the Silver. Here, they have table games, video poker, slots, great entertainment and much more. Finally, ARGOSY CASINO & SPA earned our Bronze award. This venue has something for everyone's interests. From Black Jack to massages, you're sure to be busy.
BEST THEATRE
Whether it is Oscar season, or you're looking for something to do, theaters are on most radars. AMC THEATRES takes the Gold in this category. Their great seating and endless supply of popcorn is a great way to see the newest movies on the big screen. CINETOPIA PRAIRIE FIRE is our Silver winner this year. With many restaurants  nearby, it's easy to make a date night out of dinner and a movie. STARLIGHT Theatre earns the Bronze. The outdoor theatre hosts a multitude of events that are a perfect way to spend a summer night.
BEST FAMILY OUTING/VENUE
As in any big, metropolitan area, there are plenty of things to do here. With the great atmosphere of Kansas City, families are always looking for activities. Taking home the Gold: the KANSAS CITY ROYALS. Families are able to make a whole day out of the game with tailgating before, and watching the game together. And who doesn't enjoy eating an iconic stadium hot dog while at the ball game? Zoos are classic family outings and the KANSAS CITY ZOO is no exception, earning our Silver award. Whether you go to Australia or Africa for the day, you're sure to hear "Woah, Mom, look!" Taking home the Bronze is SPORTING KANSAS CITY. Children's Mercy Park is a great way to show the family Kansas City pride in the Blue Cauldron.
BEST GOLF COURSE
Golf is a great way to enjoy the outdoors, and Kansas City has some great courses. THE NATIONAL GOLF CLUB OF KANSAS CITY is our Gold winner this year. Located in a suburb of Parkville, it is home to a special course designed by Tom Watson himself. If you're looking to get a great round in, this is the place to be. Named the No. 1 Golf Club in Kansas City by Golf Digest, SHADOW GLEN GOLF CLUB earns Silver. The scenic course is a great way to spend a day. NICKLAUS GOLF CLUB AT LIONSGATE takes the Bronze with a beautiful course that makes for a great afternoon of 18 holes.
BEST JAZZ OR BLUES CLUB
No doubt, the history of Kansas City is the history of Jazz, and the industry is still alive and thriving. THE GREEN LADY LOUNGE on Grand Boulevard takes home the Gold with this Kansas City tradition. They feature live Kansas City based musicians seven days a week and never charge a cover. It is a great way to enjoy the art of jazz without breaking the bank. THE PHOENIX is our Silver winner. This converted speakeasy has been a staple of Kansas City jazz, hosting artists week after week and bringing in new talent. It is a great spot to convene for classic Jazz. KNUCKLEHEADS SALOON, where great musicians play, takes the Bronze.
BEST LOCAL ENTERTAINER
Kansas City has produced many great celebrities over the years and continues to do so. This year, local artist TECH N9NE takes the Gold. His rap music is popular around town and he does national tours as well. LONNIE MCFADDEN earns the Silver with his tap-dancing, trumpet, and great voice. You're sure to be thoroughly entertained at one of his shows. TIM WHITMER–—one of the greatest jazz pianists of our day is the Bronze winner.
BEST DAY TRIP
Sometimes, you need to get out of the 'Kansas City Bubble' for a few hours. Day trips are a great way to do that. Less than an hour's drive away lies WESTON, Mo. Here, you can experience a rich history, go antiquing, and explore an 1840s brewery. Weston is brimming with activities and wins the Gold this year. HERMANN, Mo., takes home the Silver. With wineries, vineyards and B&B's galore, this is a great place to go. Just make sure you have a designated driver. LAWRENCE, the home of the University of Kansas, takes the Bronze. There is plenty to do in Lawrence, from watching the Jayhawks play basketball, to enjoying a great pizza at The Wheel and people-watching on Mass.
BEST MUSEUM
The defining work of art, when it comes to works of art in Kansas City, is the NELSON-ATKINS MUSEUM OF ART. Dominating the landscape east of the Country Club Plaza, and twinned with the award-winning Henry W. and Marion H. Bloch Gallery of Art in a more contemporary style, the Nelson packs standing features and traveling exhibits that ensure this region is fully exposed to a wide range of cultural interpretations of art. And again, the readers award Gold to the Nelson. Silver goes to the  NATIONAL WORLD WAR I MUSEUM. In tandem with the Liberty Memorial, it's enjoying a period of special remembrance of the Great War, and looking forward to next year's centennial observation of the war's end.
BEST PERFORMING ARTS VENUE
If you can't find a performance art of high quality in Kansas City, you're not looking very hard. We have it in abundance, and terrific venues for it, as well. Taking home the Gold award for this category is the KAUFFMAN CENTER FOR THE PERFORMING ARTS. A staple of the Kansas City skyline since it opened in 2011, the K-PAC is home to many musicals, concerts, presentations, and the Kansas City Ballet. STARLIGHT THEATRE, a summer touchstone for many residents' summers, takes home the Silver. The outdoor theatre is a great way to spend an evening enjoying live performances and fresh air. The SPRINT CENTER on the east side of the Power & Light District is a major venue for national tours, and garners the Bronze.
BEST SPORTING EVENT TO ENTERTAIN CLIENTS
There's no better place to entertain clients than in one of the best sports cities in the country. Kansas City takes great pride in its professional teams and we love to watch them, along with a slew of nearby collegiate competitions. But if you're looking to really impress a client, the KANSAS CITY ROYALS have taken the Gold in this category. Whether you are enjoying a hot dog in the stands or some catering in the VIP boxes, you're sure to have a great time, and chances are quite good these days that you'll get to see a win. The Silver goes to the KANSAS CITY CHIEFS. One way to impress a client is by taking them to a record-setting venue, and the Loudest Stadium in the World, also known as Arrowhead, has a great atmosphere full of dedicated fans. SPORTING KC earns the Bronze with iths fan-friendly Children's Mercy Park.
BEST WEEKEND GETAWAY
As great as Kansas City is, sometimes a weekend getaway is just the ticket. In the middle of the country, the options are endless. But BRANSON is again this year's Gold winner. With extensive activities ranging from shopping to hiking, and terrific boating at Table Rock Lake or trout-fishing at the adjoining Lake Taneycomo, you'll have a fun weekend here. LAKE OF THE OZARKS wins the Silver as another great getaway, as folks from both Kansas City and St. Louis have long known, and you don't have to own a boat to take advantage. Rental cottages are plentiful, and a great way to relax away from home for a few days. OMAHA takes the Bronze in this category, aided by the special family appeal of the award-winning Henry Doorly Zoo and Aquarium.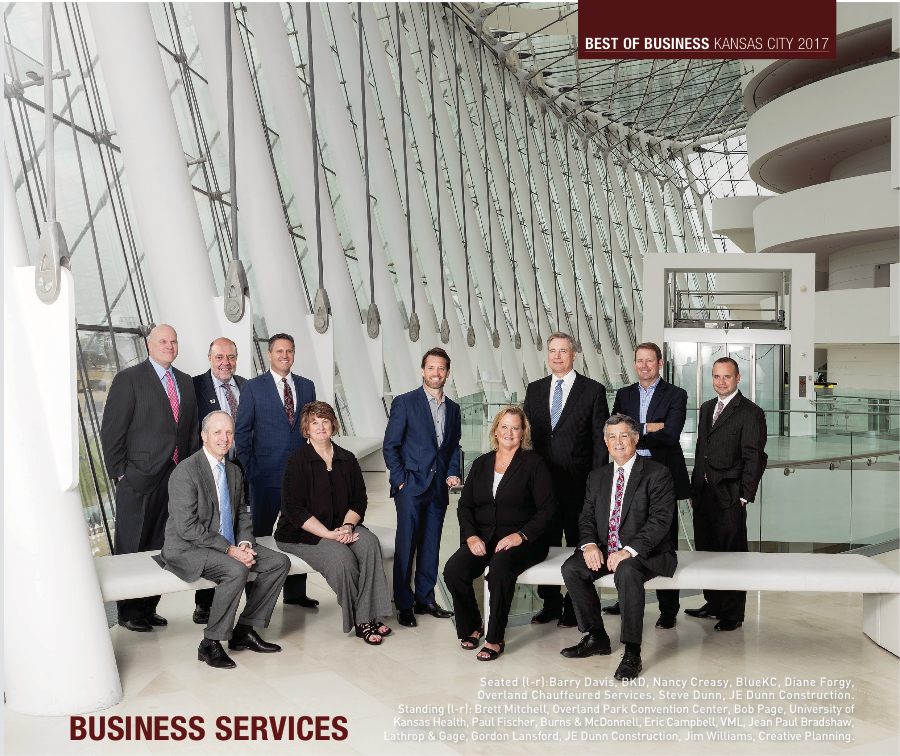 BEST ACCOUNTING FIRM
This year's Gold goes to BKD, LLP. With offices in five Missouri cities (including Springfield, the national headquarters), and one more in Wichita, this firm operates in 16 states stretching to Pennsylvania, Mississippi and Texas. The firm and its subsidiaries offer services in accounting, audit and assurance, tax, risk management, technology, corporate finance, forensic and valuation services and wealth management. Global advisory firm DELOITTE puts this year's Silver medal in the books on the strength of its services in tax work, consulting, audit and assurance, plus guidance in mergers and acquisitions, risk management and other business needs. And splitting the honors for Bronze are KPMG, which has more CPAs crunching numbers in the Kansas City area than any other firm, and MARKSNELSON, the largest accounting and advisory firm to call this metropolitan area home.
BEST ADVERTISING FIRM (LARGE)
VML launched in 1992 with a singular focus: owning the digital marketing space for clients. And 25 years later, they're doing that for some of the world's best-known brands, and on every continent save for Antarctica. Readers deliver the Gold for this digital marketing, branding and data analytics firm. This year's Silver goes to BARKLEY, the employee-owned firm specializing in strategic messaging for companies large and small, local and national, with all the design, creative and analytical tools needed to back it up. Bronze goes to BERNSTEIN-REIN, another hometown success story serving corporate clients in the worlds of retail, insurance, retail, fast food and consumer packaged goods.
BEST ADVERTISING FIRM (SMALL)
TROZZOLO COMMUNICATIONS GROUP, the agency with attitude, takes the Gold, a fast-growing firm fueled by acquisitions, organic growth and repeat business from happy clients of the Gee-Whiz Factory.  Silver goes to GLYNNDEVINS, the specialists in data-driven marketing strategies and campaigns for senior-living organizations. And with its skills in all things data—aggregation, management and analysis—GRAGG ADVERTISING is as much an IT company as it is a marketing agency, and it picks up the Bronze.
BEST ARCHITECTURAL/DESIGN FIRM
HNTB is a Kansas City firm specializing in infrastructure, and the crew there has had its hands on some of the highest-profile signature pieces spanning the Show-Me State and nationwide. Here at home, the 3-Trails Crossing Memorial Highway, which rid commuters of the Grandview Triangle curse, stands out, and in St. Louis, the stunning Stan Musial Veterans Memorial Bridge. Good for Gold, say readers. Engineering firm? Of course: BURNS & MCDONNELL traces its roots to the engineering skills of a pair of late 19th-century visionaries. But this year's Silver winner has some serious architectural chops, too. Bronze goes to SFS ARCHITECTURE, for its design abilities in various venues—educational, civic and public-safety, churches, offices and more.
BEST BANK
Compared to most other markets, Kansas City is a tough, competitive venue with more players jockeying for prominence than cities of similar size. Emerging from the pack with this year's Gold, for the first time, is Arkansas-based ARVEST BANK, which entered the marketplace less than a decade ago and has impressed with the range of services you'd expect from an organization with more than $13 billion in deposits behind it. The battle for Silver recognition produced a tie between COMMERCE BANK, the biggest locally headquartered bank in the region—and oldest—and a bit of a new entity in MOBANK, the brand assumed last year after Bank of Kansas City acquired Missouri Bank & Trust Co. Another home-grown player takes the Bronze: SECURITY BANK OF KANSAS CITY, which shot into the Top 10 of the area's biggest banks after a merger of its seven long-established banks that had been flying the BancAbility flag.
BEST COMMERCIAL CONTRACTOR (LARGE)
Not many companies can claim ownership of every Gold ever awarded in their category since its inception. But JE DUNN CONSTRUCTION is an exception to that rule, and for reasons well-known: The company is widely recognized for its size, its reach, its civic-mindedness, its philanthropy—oh, and, yes, its construction expertise, managing approximately $3.5 billion in projects nationwide. Riding the crest of the multifamily housing boom the past few years, NEIGHBORS CONSTRUCTION racks up the Silver. And another large, civic, philanthropic giant known for its contracting acumen with some of the highest-visibilty projects in the region, McCOWNGORDON CONSTRUCTION, puts up the Bronze.
BEST COMMERCIAL CONTRACTOR (SMALL)
For five generations, from the founding Rau family in the 19th century to the descendant Meyer clan today, family-owned RAU CONSTRUCTION has left its mark on the region, and picks up its first-ever Gold on the strength of a highly diversified range of construction skills—office, retail, industrial, religious, multi-family and more. Another family concern, Silver-winning A.L. HUBER GENERAL CONTRACTOR, is also a centennial company, now going on 115 years in business. And a comparative upstart, seven-year-old CENTRIC PROJECTS, picks up the Bronze.
BEST COMMERCIAL PRINTER
In the highly competitive world of commercial printing, SUMMIT LITHO is beginning to distance itself from the field by picking up Gold honors for an impressive fourth straight year, recognition for its deft touch in digital and offset presswork, binding and other functions that help drive successful print communications. SOLI PRINTING, with its start-to-finish in-house production, is accorded Silver honors. And PRECISION PRINTING, with offset and digital presses supporting direct mail and materials needs for churches and corporate clients, earns the Bronze.
BEST COMMERCIAL REAL-ESTATE FIRM
Zimmer Real Estate's 2014 alliance with Newmark Grubb Frank Knight did more than rebrand this Kansas City company; it put the organizational power of a global commercial realty interest behind its efforts here. Seems to work for readers, who put a Gold seal on that deal for NEWMARK GRUBB ZIMMER. The largest commercial realty firm by sales volume and space managed is Silver winner BLOCK REAL ESTATE SERVICES, a diversified company with operations in development and investment services, as well. Bronze goes to yet another recent
home-grown power player, REECE COMMERCIAL. This organization is rapidly growing and capturing attention.
BEST DRY CLEANING
Doing its best to help your business attire look its best, PRIDE DRY CLEANERS earns the Gold, in part for ease of access to any one of nearly three dozen locations in the metro area, including those it picked up by acquiring longtime reader favorite Tower Cleaners. HANGERS CLEANERS wins the Silver, with storefronts near the Plaza and in Lee's Summit, a plant in Martin City and access to customers via eight area Hy-Vee stores.
BEST ENGINEERING FIRM
The leading companies in our architectural/design category are back, but readers flip their positions by awarding BURNS & MCDONNELL this year's Gold for engineering. Recent years have seen this nearly 120-year-old engineering giant undergo impressive growth in scope of services, range of projects undertaken, employee counts and most any other metric you could imagine. Look for more of that in the coming year if its leadership secures the KCI terminal project. Packing Silver in this category is HNTB, which tackles infrastructure challenges from aviation and bridges to tunneling and water systems. Bronze goes to the Lenexa-based power-sector operations of KIEWIT ENGINEERING, whose Omaha parent is a $10 billion behemoth.
BEST GROUND TRANSPORTATION
The promise made at OVERLAND CHAUFFEURED SERVICES is elegant in its simplicity: Outstanding service on a consistent basis. And for a home-grown transportation-services company that can accommodate your daughter's high-school prom night ride or your tour of Paris, Overland Chauffeured delivers on the promise, readers say, bestowing Gold on it.  AGENDA: USA, an Accredited Destination Management Company (and the only one in this market) picks up the Silver. Bronze goes to a company that you may know as CAREY KANSAS CITY WORLDWIDE CHAUFFEURED SERVICES, operating name for Kansas City Transportation Group.
BEST HEALTH CLUB
OK, so they didn't have us at "hello," on our first visit, but you can bet they had us at the whirlpool. Ahhhh … But we digress. LIFETIME FITNESS, with locations in Overland Park and Lenexa, offers so much more than that soothing after-workout experiences of whirlpool and sauna, and is the choice for Gold honors. ONELIFE  FITNESS KC invites you to come and be awesome with them, and plenty of readers concur, delivering Silver to this Downtown facility. PLANET FITNESS, with 10 locations ringing the metro area and Lawrence, flexes for the Bronze.
BEST HEALTH INSURER
In the no-surprises category, market-leading BlueKC, otherwise known as BLUE CROSS BLUE SHIELD OF KANSAS CITY, is the runaway favorite for Gold honors. This is something you'd expect from a company with 1 million insured individuals on the books. And even though you won't be able to buy in-dividual health plans from them in 2018, HUMANA builds enough good will among readers with its Medicare and employer plans, as well as vision and dental coverage, to earn Silver. This year's Bronze goes to UNITED HEALTHCARE, providing health coverage to more than 542,000 people in the region.
BEST HOSPITAL/MEDICAL CENTER
The glittering new tower adjoining the UNIVERSITY OF KANSAS HOSPITAL tells you right off: This place is investing in patient-care, big-time. But it's also a huge player in medical research, and serves as teaching hospital for KU's School of Medicine. All factors that weigh in the Gold honors accorded here. Silver goes to SAINT LUKE'S HOSPITAL, the crown jewel in a system of medical centers that deliver care at accessible points across the metro area. And CHILDREN'S MERCY KANSAS CITY, a touchstone for families with ailing young ones, a beloved cause for donors and an emerging force in pediatric research, picks up the Bronze.
BEST HOTEL
The view, the neighborhood, the immediate access to the Country Club Plaza, the service and the amenities—they all come together in Golden glow of reader sentiment for the INTERCONTINENTAL HOTEL KANSAS CITY. The FONTAINE, until just recently operating as the HOTEL SORELLA, earns Silver for turning the Plaza-area experiences of its guests into lasting memories. Bronze goes to the biggest of them all in this market, the KANSAS CITY MARRIOTT DOWNTOWN, featuring nearly 1,000 rooms not far removed from major renovations.
BEST JANITORIAL SERVICES
There are janitorial services, and then there is CITY WIDE MAINTENANCE. More than just a cleaning service, Lenexa-based City Wide is a comprehensive site-maintenance solution for commercial clients, offering janitorial services, for sure, but window and window-treatment cleaning, floor care, pest control—even employee-wellness services to help get you and your employees through cold and flu season, and doing it for companies across the nation. That's all good for Gold, readers say. Silver goes to TOWN & COUNTRY BUILDING SERVICES, with nearly a dozen specialty services from carpet and grout-cleaning up to light fixture and lens cleaning, for starters.
BEST LAW FIRM
The oldest law firm in the region is, readers believe, also this year's Gold standard for legal services: LATHROP GAGE. A full-service firm and one of the region's Big Five firms with practice areas that span the range of business and individual-client needs. HUSCH BLACKWELL, a firm organized around six broad but very important business sectors, including agribusiness, healthcare and manufacturing, pockets the Silver honors. And POLSINELLI P.C., one of the nation's fastest-growing firms (and the biggest locally headquartered firm, by numbers of lawyers on staff), earns the Bronze.
BEST MEETING FACILITY
Kansas City has the biggest facility, but readers look southwest to OVER-LAND PARK CONVENTION CENTER for this year's Gold, perhaps for its nearly 120,000 square feet of space, access to 25,000 more at the adjacent Sheraton Hotel, 412 hotel rooms next door and full range of ancillary services. The KANSAS CITY CONVENTION CENTER, with nearly 444,000 square feet of meeting space, half a dozen breakout halls and proximity to the Power & Light District, picks up Silver. Not far away, the KANSAS CITY MARRIOTT DOWNTOWN, with 93,000 square feet of space across 42 meeting rooms, earns Bronze honors.
BEST RESIDENTIAL REAL ESTATE
REECENICHOLS REAL ESTATE, surprising almost no one, is the big winner here, no doubt because it's the market dominator—its affiliates combined to sell more than $5.3 billion in homes last year. Good for Gold? You bet, say the readers. Those sales entailed nearly 21,000 transactions last year. Dominating, indeed. BETTER HOMES AND GARDENS, our Silver medalist in this red-hot business sector, ushered the sales of more than 4,600 homes last year, while the various agencies flying the RE/MAX banner combined to sell well over 6,000, good for Bronze.
BEST RETIREMENT COMMUNITY
We expect to see a lot more votes showing up in this category in the coming years, as senior living becomes more relevant to the masses—the Baby Boomers, in particular. Predictably, the leader in senior-living innovation in this region, JOHN KNOX VILLAGE, earns Gold for its understanding that "seniors" is a concept that requires segmentation of a market for various levels of independent living as well as care-giving, and offers a huge selection of accommodations to meet those needs. Silver goes to VILLAGE SHALOM, with more than a century of service to the region's seniors and more than 200 units spanning independent living through dementia-related illnesses. No Bronze  this year.
BEST SPA
Really, now, is there anything more rewarding than the personalized pampering you get at the spa? Readers had a hard time separating the leaders of the pack, but Gold went to SUNLIGHT DAY SPA, specialists in treatments that purify, cleanse, restore and relax. And yes, there's a menu of
services for men, too. For Silver, look to PAR EXSALONCE SALON & DAY SPA, where  a rejuvenated body includes trendy treatments for healthy hair colors that simply shout vibrancy and vitality. And for Bronze, bijin SALON & SPA delivers with a full line of restoration services.
BEST WEALTH MANAGER
Don't take it from us, don't even take it from Barron's (which has accorded the firm multiple No. 1 national rankings in this category), but do take it from one of the most discriminating cohorts of investors in Kansas City: CREATIVE PLANNING offers a comprehensive wealth-management services that go far beyond what many of us have traditionally thought of as retirement planning—covering life and health insurance, tax strategies, estate planning and much more. A company with a national reputation among investors, WADDELL & REED, earns Silver dividends from readers, particularly those who consistently praise its Ivy Funds operation. Bronze here goes to BKD WEALTH  ADVISORS, a division of the accounting and consulting firm based in Springfield, but with a global investing perspective to help investors capitalize on opportunities around the nation and beyond.
BEST WIRELESS CARRIER
Whether it's for improved customer service, hyper-competitive rates to recruit from competitors, or just the fact that the "Can You Hear Me Now?" Guy switched allegiances (as marketing campaigns go, that one's definitely gonna leave a mark), something's working for SPRINT, the hometown company that vaults back into Gold status with readers here after four years. That edges out VERIZON WIRELESS, which takes the Silver, in part because of the coverage it provides, blanketing roughly 99 percent of the nation. AT&T, offering consumers the ability to avoid those accursed data overages forever, rounds out the medalists by garnering Bronze.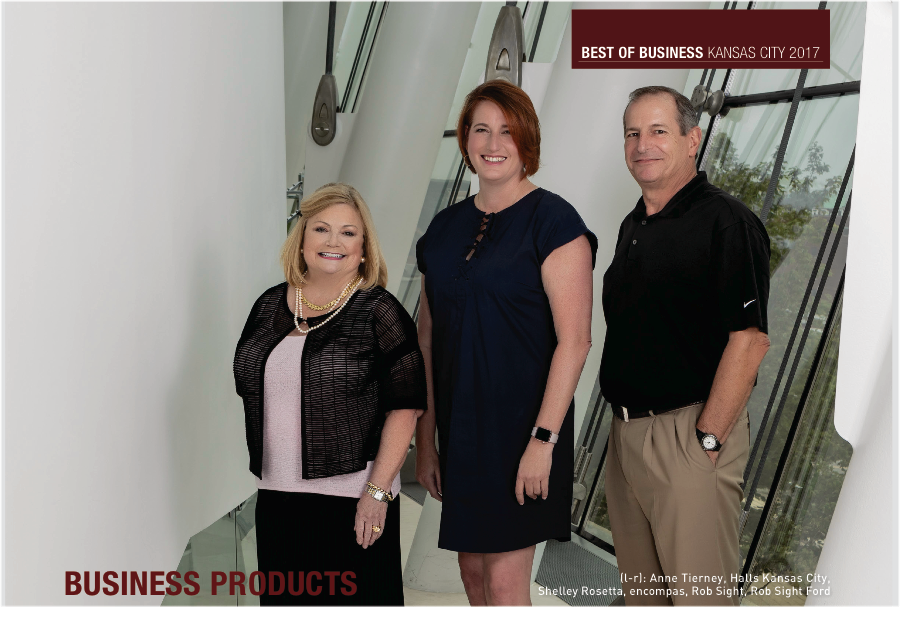 BEST AUTO DEALER (DOMESTIC)
If you live in this metro area, you know that a car is like a part of the family, and we only want the best for them when they get "sick." Well, we don't get to replace sick kids, but we sure can adopt a new vehicle when the time comes, and that's where ROB SIGHT FORD shines. It takes the Gold for its selection of new and used Ford vehicles, service and repair. CABLE DAHMER BUICK GMC CADILLAC has brought home the Silver this year for the dealership's extraordinary service.  Complete with a service department and collision center, this is the place to take your GM car, whether it needs a  routine check-up or major surgery. HENDRICK CHEVROLET in Merriam earns the Bronze.
BEST AUTO DEALER (FOREIGN)
Foreign fascinates, and Gold-winning Aristocrat Motors is just the place to go when you're looking for a glamorous new ride, sure to be found among their multitude of luxurious options. Baron BMW rolls into second with Silver honors, offering a beautiful line-up and a staff with years of invaluable expertise. JAY WOLFE makes a return in the balloting, consistently delivering high-quality rides worthy of the Bronze.
BEST CORPORATE GIFTS
Whether you need a gift for a client or your co-workers, or just to express a simple thank-you, the thought really does count. And for corporate gifts, these stores offer more than just a thought. HALLS KANSAS CITY, at Crown Center, has gifts for men and women alike that are quality as well as stylish. This KC company never fails to impress and once again takes the Gold. Silver goes to TOPSY'S POPCORN AND ICE CREAM. If your recipient is a foodie or has a sweet tooth this place will tingle their taste buds—or yours. Not only do they have great products, but the packaging is distinctive as well. CHRISTOPHER ELBOW CHOCOLATES takes the Bronze with their tasty, artisan treats. 
BEST FLORIST
Flowers can say anything from "I love you" to "I'm sorry" so make sure you get the right ones. Our readers voted the STUDIO DAN MEINERS the best florist in town. From simple orchids, to complex centerpieces, this Gold winner does everything. THE FIDDLY FIG takes the Silver this year with their custom arrangements. Whether you want a standard arrangement, or a customizable gift, they have you covered. THE LITTLE FLOWER SHOP on State Line Road takes the Bronze this year from its quaint home in Westwood Hills.
BEST JEWELER
Diamonds are a girl's best friend, right? If you're in the market for a new best friend, you can find one at our readers' favorite stores. TIVOL takes home the Gold with its rich Kansas City history. Two locations, and multitude of collections, provide options for anything you could want for yourself, or your significant other. Known for their quality and low prices, SHANE COMPANY takes home the Silver. They are more than willing to help with any of your diamond and jewelry needs. And MAZZARESE FINE JEWELRY, earns the Bronze award.
BEST LIQUOR STORE/WINE SELLER
An essential for any gathering is a nice assortment of beverages, from a wide range of options—hand-crafted ales, fine wines and terrific spirits. You can go all over Kansas City to find them, but these are our readers favorite places to get your party on. LUKAS LIQUOR SUPERSTORE earns the Gold, boasting "the Midwest's largest selection of beer, wine, and fine spirits." With two locations in the area, you're likely to find what you need at one of them. RIMANN LIQUORS takes the Silver. They host weekly tastings in-store while you shop—an informal but informative way of getting what you want and learning some fun facts along the way. MIKE'S WINE AND SPIRITS takes the Bronze.
BEST OFFICE INTERIOR/FURNISHINGS
A business is more than just the building it sits in, but that building is a big part of it. You want it to be impressive to clients and partners alike. Readers suggest you turn to ENCOMPAS, skilled in designing all types of offices, and they deliver a  Golden endorsement. From stadiums to government offices, they have experience in it all. The folks at CONTRACT FURNISHING, the Silver winner, pride themselves on fitting any budget. They can make anything work. SCOTT RICE OFFICE WORKS takes the Bronze and also services the Kansas City metro area.
BEST MEN'S APPAREL
As Mark Twain said, "Clothes make the man." These stores are where our men like to make themselves. BALDWIN MEN'S SHOP takes the Gold in this category. Founder Matt Baldwin set out to make inspired denim and apparel that is perfectly made. This shop sells more than just men's clothing, but our readers have recognized their preference in this category. HALLS KANSAS CITY is our Silver winner. While the iconic location on the Country Club Plaza may now be nothing more than a memory for thousands of Kansas City shoppers, Halls is still present at Crown Center and continues to provide excellent products and extraordinary service. NORDSTROM takes home the Bronze in this category for its stylish—and diverse—range of fashion options for men.
BEST WOMEN'S APPAREL
Whether you're a working woman or a stay-at-home mom, how you dress can make or break your day and career. For the former, it can say a lot about your ability to balance fashion and professionalism. The women among our readers love their apparel, and their voices have been heard, with NORDSTROM taking the cake (and the Gold) for its line of women's fashions. They have everything from pajamas, to dress pants, t-shirts, to blouses, and everything in between, and their quality is as superior as their popularity. DILLARD'S takes the Silver, and, as we'd expect from a store with this reputation, has everything you need for office or home. ANN TAYLOR takes the Bronze and has all the above, as well as some more casual clothes.