B&B Theatres Part of Major Northland Mixed-Use Plan
---
---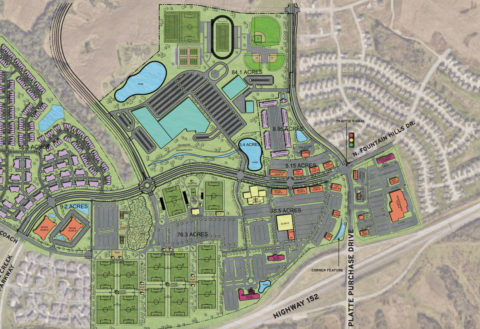 A massive mixed-use development in the northern part of Kansas City, straddling Clay and Platte counties near highways 169 and 152 has a second anchor tenant. B&B Theatres is planning a 74,000-square-foot cinema-entertainment facility at what is being referred to as Twin Creeks Village, which sprawls over 200 acres.
The eight-screen B&B, at the corner of Platte Purchase Drive and 152, is expected to open in the fall of 2020 and include a bowling alley. It joins Costco, which has been on the other side of 152 for three years, as part of the overall commercial presence Twin Creeks, which is being developed by Mission-based MD Management. Meanwhile, Platte County officials recently approved an adjoining 12-field soccer complex that will tie into the overall Twin Creeks project, and a new high school and middle school are also in the planning stages.
"The total interchange is ready to undergo a major undertaking," said Garry Hayes. MD's director of leasing.
The B&B portion of Twin Creeks will be called Twin Creeks B&B Plaza, over 20 acres. MD is now courting more tenants for the site, and plans to have a hotel, additional retail stores and fast-casual restaurants. In the longer term, closer to the soccer field across Platte Purchase, MD's management expects to have additional hotels, shops and restaurants feeding off of traffic from the soccer complex, potential new schools, and a single-family housing development that is also slated as part of Twin Creeks.
An overall timeline for the project has not been completed; Platte County officials have said the $42-million soccer complex could open in 2022.