Regional universities welcome a return to normal college life—or something closer to it in the age of a pandemic.
If you've seen the Saturday-afternoon games televised from Ann Arbor, South Bend, Austin or Columbus, you know the path to recovery from a global pandemic isn't just about the return of college football: College life itself is back.
It won't be entirely the same as it was in the fall of 2019, just before the COVID-19 crisis burst into the world's consciousness. Regional universities are approaching some aspects of a post-shutdown world with slightly different approaches, but on the main, the campus recovery has begun in earnest.
Chancellor Mauli Agrawal outlined UMKC's broad guidelines for campus life as the fall semester began, and said "we are continuing to monitor the pandemic situation and are prepared to make policy adjustments as needed." As the semester opened, UMKC was not requiring vaccination for employees or students, though all faculty and students were encouraged to do so. Neither would disclosure of anyone's vaccination status be required.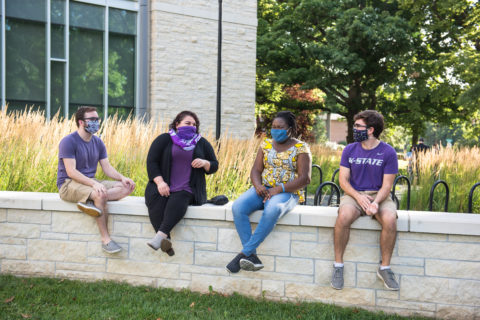 Those not vaccinated were being asked to continue wearing masks and keeping social distance on campus. "We understand that many people remain concerned about the risks of COVID-19 and are free to wear masks if they wish," Agrawal said. "We will continue to offer accommodations for students and employees with unusual risks or situations related to COVID-19."
At Kansas State University, soon-to-retire President Richard Myers said "we hope for a more robust in-person experience on our campuses than last year. We'll continue to have enhanced cleaning protocols and strongly encourage those who are not yet vaccinated to wear face coverings." The university's Lafene Health Center will offer COVID-19 testing opportunities throughout the semester for students, faculty and staff, he said, and "we monitor COVID-19 in our K-State communities through our public dashboard posted online." If the uptick in cases becomes more serious, Myers said, "we are prepared to adjust our plans as needed."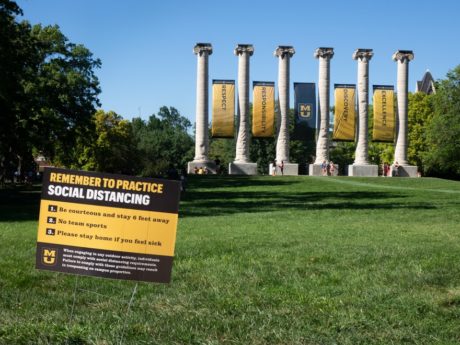 Mizzou's commitment to full in-person return to campus, said MU system President Mun Choi, began in August by asking all students faculty and staff to voluntarily report their vaccination status. "This information, which will be kept confidential, will give our Incident Command team important data when making decisions for our campus community," Choi said. 
Additionally, MU retained many of its indoor face-covering requirements for both vaccinated and unvaccinated individuals in the opening weeks of the fall semester. "Students will be required to wear masks in the classroom, and employees will be required to wear masks indoors when social distancing cannot be maintained," Choi said. "These decisions were made based on data of COVID-19's impact on campus last fall, including a surge of cases we experienced in August 2020." 
Park University interim President Shane Smeed noted the sense of excitement on campus as the semester began with "great anticipation, not only for those who work in higher ed, but a lot with the students ready to get back. People think summer is always a time off, but we actually had been quite busy."
The private college's well-known on-line footprint, established long before the crisis, proved pivotal to helping keep students enrolled and engaged through the crisis, he said. "I like to say we've been online before Google was," Smeed said. "When we had to make changes with a good percent of classes online, Park was in a pretty strong position to do that."
The pandemic has prompted organizational changes that will endure well beyond the cycle of the virus.
"As we shape the university for the future, we continue to look for ways to reduce administrative overhead and leverage multiple delivery methods for coursework," said K-State's Myers. "We learned a lot from the pandemic about how to be more agile and adapt to new technology. We are conducting a campus-wide curriculum program review and continue the emphasis on research, including more opportunities for partners outside the university and multidisciplinary efforts."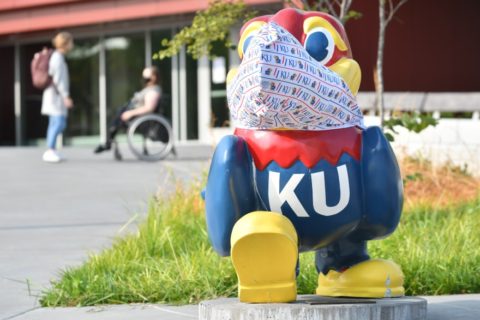 At UMKC, Agrawal said, the net effect was a sharpened sense of urgency. "To meet the needs of Kansas City, the state of Missouri and the world in a post-COVID age requires UMKC to achieve new heights," he said. "That's why we launched UMKC Forward—to reimagine our future in innovative and creative ways that would grow our excellence and financial stability."
MU's Choi said his take-away from the crisis was a renewed appreciation for resiliency. "We have the most resilient students, faculty and staff" at MU, said Choi. "The last 18 months have been challenging for all of us, pivoting to new virtual platforms and safety protocols to keep our campus community safe. But through it all, our students, faculty and staff have adapted with grace. We would not have seen the success we did during the spring of 2020 and 2020-21 academic year without their dedication to keeping our campus and community safe."
At Park, Smeed believes the crisis fire-tested the organization. "There's an old saying that a crisis pulls the team together," he said. "I feel like the increased collaboration and camaraderie and the teamwork that has been occurring between faculty and staff has been unbelievable. I've been serving higher ed for 23 years, and I've never seen the type of culture that we're creating right now as an organization."