Approval of streetcar Riverfront route extension advances
---
---
Full approval is nearly complete for the KC Streetcar Riverfront Extension project.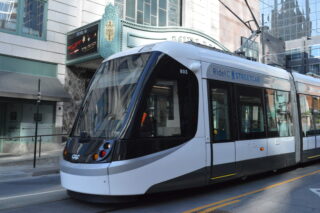 Photo | Madison Parry
---
Estimated to cost $20.2 million, the project will extend the streetcar route three-quarters of a mile to Berkeley Riverfront Park.
The line currently ends Third Street Grand Boulevard. Upon completion, the route will end near the Grand Street Viaduct.
Last week, the project gained approval from Streetcar Authority. Yesterday, on Monday, it received approval from Port KC. Later this week on Wednesday it will go before the KC Area Transportation Authority for final approval.
If given the green light, construction is set to begin in early 2022.
Of the $20.2 million cost, $14 million are in federal dollars and $6 million is divided between the KC Streetcar Authority, Port KC and the KC Area Transportation Authority.