A place for inner-city kids to play golf. Building a state-of-the-art animal shelter. Helping people learn to read. Providing clothing for victims of domestic violence. Giving homeless veterans a place of their own. Meeting the needs of abused children. Helping women put their careers in overdrive.
Those disparate needs in the Kansas City area speak to individuals in different ways, sounding personal calls to action that drive non-profit missions forward and produce real, measurable change for the good. But running through each of them is a shared motivation: An uncommon commitment to the common good.
These are the stories of Ingram's 2019 Local Heroes, individuals whose extraordinary efforts to make a difference have touched lives in ways they themselves will never fully know. Only the truly pedantic will argue that "Hero" status overstates the commitment these people make. But if you go with the standard definition of the word—someone idealized for courage, outstanding achievements, or noble qualities—it's hard to argue that these people are anything less.
On the following pages, you'll read about a man who spent decades, not just years, marshalling support to build a neighborhood park for inner-city youth. You'll read about women who have donated thousands of hours of their time to causes that touch their hearts, like boosting literacy rates, defending abused children or promoting the careers of women in business. You'll read about one veteran's commitment to solving the thorny challenge of helping his homeless brothers in arms find shelter from the elements.
One would need a heart of stone to feel unmoved after reading about how each has answered a call. But know this: With each Local Hero, we're not just idly observing commitment in action. Each of us is being challenged to get off the couch, to better manage our hectic work schedules and open up time to serve, to instruct our children on the value of service.
If those aren't noble qualities, we don't know what would be. Please join us in recognizing the 2019 Local Heroes, and in thanking them for their service to the Kansas City area.
---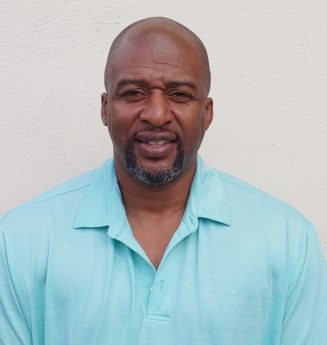 CHRISTOPHER HARRIS
It took building a golf course in an urban park to "show people in the neighborhood that we can clean up the neighborhood," says Christopher Harris. "It's not really that hard to cut grass and pick up trash if that's what we wanted to do."
After 26 years of work, Harris Park, named after the Ivanhoe neighborhood resident who hatch-ed the concept and spearheaded the execution, became a nine-hole reality at 40th Street and Wayne Avenue. The park also includes courts for basketball, pickleball and volleyball. Harris, who bought the land in the 1990s to make it a park and community center, was able to raise about $2 million in 2016 from various sources, including Truman Medical Center, the PGA, and YMCA. Since then, several community groups have volunteered to help renovate the park, many of them with volunteers who don't often wander east of Kansas City's Troost Avenue.
For some time, Harris had identified needs in his neighborhood that were concerning. Much of the area was blighted by dumping and litter. Kids and other members of the community didn't have an attractive common area to gather and be proud of, and there was no nearby place for people living in the urban core to play golf. "I knew that there was no golf in the inner city," he said. "I just wanted to play the game of golf." Others obviously wanted to as well, both adults and youth.
Harris says he knew a lot of young people interested in the game, but in the urban core, their options to learn the sport were limited. "My mindset was instead of trying to take the kids to the golf course, let's take the golf course to the kids." Harris thinks golf is a good youth sport because of its nine core values: honesty, integrity, sportsmanship, respect, confidence, responsibility, perseverance, courtesy and judgment. "The sports side of it is only 5 percent of it," he said. "The other 95 percent is educational."
Some of that education includes community events. Beyond golf, Harris Park has helped the overall stature of the Ivanhoe neighborhood, which was once riddled with crime and trash dumping. Instances of both have decreased over the past few years, while property values have seen improvement. Harris wants to use the Ivanhoe park as a model for other metro areas. He says he is working with car clubs in other states to show members how they can improve their locales. On June 13h, Harris Park will host a community picnic that will include a car show, a national gun-safety presentation and basketball tournament. Meanwhile, improvements at Harris Park are still underway. Under construction is a 900-square-foot building that can be used for educational classes, set for completion in the spring.
---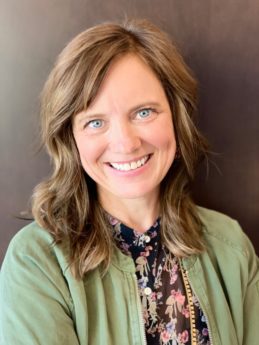 MICHELLE HORST
For the past 40 years, the Rose Brooks Center, a shelter and support organization for victims of domestic violence and abuse, has relied heavily on volunteers to fulfill its mission. And Michelle Horst has been one of the center's most valued and constant volunteers. For eight years, she has been volunteer coordinator of the in-kind donations to the organization's clothing bank, called Rosie's Closet, and the organization estimates that Horst has put in around 5,000 hours of her time. Many of the individuals and families who come into the Rose Brooks shelter have nothing but the clothes on their backs, and Horst coordinates what the non-profit takes in to help clothe others.
"Rosie's Closet may seem like the least important aspect of the overall service package that Rose Brooks provides to their clients, but it is a place the clients can go and escape for a moment and shop for the things they need and the things that make them feel more themselves," Horst explained.
And due to the generosity of donors, the job is much bigger than just putting garments on display. "Often volunteers are in awe of the amount of donations that need to be sorted through and the amount of time it takes to keep Rosie's straightened and stocked," Horst said, stressing how much of a need the clothing bank fills. "The whole operation is volunteer-run and requires a lot of man hours."
Volunteers, she said, often want to return and spend time in Rosie's Closet because they see the value it provides.
Horst also helps the organization indirectly by using her tech skills. She created the Web site givKC.org, which links Kansas Citians with local charities that need in-kind donations. Rose Brooks is one of 14 charities on the site
that list specific donation needs.
"We have a very giving city, with people who truly want to make donations to charities that are meaningful to them," Horst said. It's no stretch to say that donations to Rose Brooks can in some cases save the lives of those going through domestic abuse, but Horst says volunteering is a two-way street—she might give a lot of time, but gets back a lot in return. "I cannot easily describe what I get from my time at Rose Brooks," she said. "I have found a place that I can give of myself, and a place that has allowed me to improve and streamline an area of their organization as a volunteer. I feel ownership of Rosie's Closet and responsibility for its success. I have pride in what I do, and I truly love coming to Rose Brooks and seeing the amazing staff that keeps the organization running. Being a part of the support system for the staff of Rose Brooks is very fulfilling. I am honored to be a tiny part of such an amazing place."
---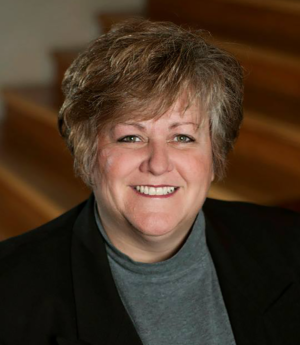 CATHERINE KELLY
Since moving to the area in 2000, Catherine Kelly has been immersed in the Kansas City metro's nonprofit world. A public relations and marketing professional, Kelly is the president and chief executive officer of consulting firm CJK Inc. The list of groups she has worked with is long and impressive. Much of Kelly's local volunteering work is now focused on the Child Protection Center and OneKC for Women Alliance.
"The reason I continue my work with these organizations is they are small organizations with a mighty presence and truly make a difference in the lives of the clients they serve," says Kelly, who has a reputation for being warm and compassionate in her service work. "The leadership is strong, and the staffs are even stronger."
At Child Protection Center, she serves as a board member and board engagement chair for the organization, which has a mission to assist the victims of child abuse. At OneKC for Women, which helps women kickstart and grow their professional careers, she works with its affiliates the Women's Employment Network and the Women's Business Center.
She  has devoted more than 7,000 hours of her time there and has been instrumental in securing nearly $80,000 in funding.
For both organizations, Kelly does strategic and event planning, marketing and PR consulting services. In addition to Child Protection Center and OneKC, Kelly lends services to public charter school Academie Lafayette as a governance committee member; the North American Gay Amateur Athletic Alliance, where she has served as a chair and development director, and to which she was recently named to its hall of fame; and ConnectSports, a national sports tourism agency where she assists with planning, program ideas and training for the travel and tourism industry around LGBT sporting events.
Though Kelly obviously chooses to spend her time in the nonprofit world, her work with OneKC and former five-year-long service with HALO, which assists homeless children, began as a result of working for the Archer Foundation, where she was vice president of community outreach and tasked with partnering with local nonprofits and working within their organizations as a strategic planning, marketing and PR advisor.
Despite the time Kelly devotes to these organizations, she insists she gains more from them than they do from her and suggests others work non-profits into their lives. "Amazingly enough, you truly do get back more than you give. I enjoy working with people who are dedicated to a cause and fight hard for the clients they serve to ensure their success," Kelly said. "Make time in your busy lives to volunteer and work with non-profits. Your life will be changed for the better, I guarantee it."
---
BRYAN MEYER
Tiny houses have drawn plenty of media attention over the past few years, often as DIY projects or lifestyle choices for the off-the-grid crowd.  But Bryan Meyer's organization, Veterans Community Project, has found that they can serve a different purpose—providing shelter for homeless military veterans.
The organization was founded in 2015, and it operates VCP Village, a plot of land at 89th Street and Troost Avenue. There, veterans live in 49 transitional tiny homes for free, utilities included, until they can secure permanent housing. The village also includes four family homes that can each sleep up to seven.
Meyer, co-founder and chief executive officer of VCP, served five years in the Marine Corps, including two tours in Iraq. Upon returning home to Kansas City, he earned his law degree from the University of Missouri–Kansas City, as well as a master's degree in public administration. Shortly after,
he formed a non-profit to give free legal advice to veterans.
He became involved in the founding of VCP after seeing the scale of the homeless issues confronting fellow veterans.
"I believe most people are aware veterans are overrepresented in the homeless population," Meyer said. "However, many view the issue of veteran homelessness as a problem outside of their ability to assist or believe federal government programs are capable of addressing the issues." VCP tackles those problems by providing housing and assisting veterans with other needs at its walk-in wellness center, which serves 4,000 homeless veterans in the Kansas City area.
VCP's services include substance-abuse and legal referrals, food-pantry boxes, hygiene kits, financial counseling, employment support and more. "There are numerous studies and differing opinions regarding why so many veterans deal with homelessness," Meyer says. "However, everyone agrees there are too many veterans facing homelessness. VCP addresses the root cause of homelessness by providing a variety of resources that foster supportive life skills, mental-health wellness, and positive social supports."
VCP has come a long way in a short period of time, but Meyer has an even bigger vision for the future and plans to go nationwide. His short-term goal is to expand to eight additional cities by the end of 2022.
"Our goal is to end veteran homelessness and provide access to services for every person who has taken the oath to serve our country," Meyer said. "That is a task that will only be accomplished by continued hard work with and support of this community. So long as there are veterans there will be veterans at risk of homelessness. Therefore, the work to end veteran homelessness is really just beginning."
---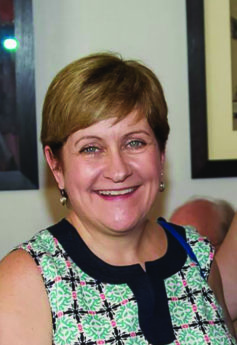 LYNNE O'CONNELL
Lynne O'Connell had known about Literacy KC, which aims to advance the reading skills of Kansas Citians of all ages, for
many years and been a supporter of the non-profit. But in 2012, she stepped up her efforts for the organization when a good friend asked her to consider joining the board.
She is now board president and has spent hundreds of hours volunteering for Literacy KC, chairing events and connecting the non-profit with outside groups like Kappa Kappa Gamma. "It is unfathomable for me to consider my life without reading, so the opportunity to help adults gain the skills necessary to read was something I needed to do," O'Connell said. "Most people don't realize that there are many, many adults in the Kansas City area, and across the U.S., for that matter, who cannot read at a third-grade level."
Literacy KC counts about 225,000 adults in the metro area who are considered low-literate. But once many of them start the Literacy KC program, O'Connell says, they work hard on the path to literacy. "There is an atmosphere of optimism, hope and joy," she said. "The students love learning and being engaged in their education. They love celebrating each others' successes, large or small—getting online for the first time and receiving an email, helping a child with homework, or getting a new job or a promotion because of their improved reading and digital skills."
The blessing and challenge that O'Connell and her fellow volunteers face is that Literacy KC "is one of the best-kept secrets in the non-profit arena in our area," she says.
So, O'Connell and other volunteers are tasked with getting the word out about the outfit. A move last year to the Operation Breakthrough building at the visible 3036 Troost Ave. address has helped boost its profile and functionality.
"Moving into our wonderful home in the new Operation Breakthrough building is what our students deserve," O'Connell said. "Try as our staff might to make do, our old location was literally falling down around us. Both our students and hard-working staff are deserving of the new, bigger space full of color, light and energy." And now, she says, classes there have filled up, and Literacy KC might need even more room, which is what O'Connell calls "a good problem to have!"  Though the students at the non-profit are gaining a necessary skill to succeed in life, O'Connell says volunteering for Literacy KC is just as rewarding.
"Once people hear the stories from our students, they cannot help but be moved by their determination to learn and commitment to each other," she said. "One of my favorite quotes from a student is 'books will now take me places my feet will never go.' I think we often approach volunteering as something we do for others. I cannot think of many situations where I did not feel better after volunteering—the students
do more for me than I ever do for them!"
---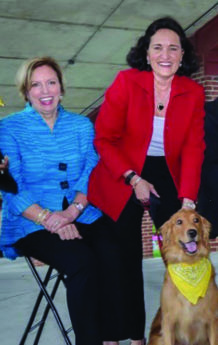 KRISTI WYATT AND ROSHANN PARRIS
Roshann Parris and Kristi Wyatt are co-chairs of the effort to build the new Kansas City Campus for Animal Care in Swope Park. For nine years, the two have worked on bringing the campus to fruition and it's expected to open in January. Parris, founder and CEO of Parris Communications, and Wyatt, the retired public policy executive for the Greater Kansas City Chamber of Commerce, led an effort once championed by the late Adele Hall. The new facility is meant to replace a 50-year-old former storage space that has housed abused, abandoned and neglected animals in Kansas City. Voters approved the measure as part of a bigger $800-million bond package in 2017, and the two raised millions in donations as part of a public-private partnership culminating in a $26-million, 60,000-square-foot facility on 15 acres at Gregory Avenue and Elmwood Boulevard.
Parris and Wyatt secured money and time from companies that included HNTB, Polsinelli, UMB Bank, Commerce Bank, CBIZ and Willoughby Design. "From there, we went to leading foundations and companies, something we continue to do," said Parris, who has three dogs, two of them rescues. "The generosity of the community has been incredibly heartwarming. Just one step into the campus we've created here demonstrates the collective energy of Kansas City for animal welfare. Together, we have built one of the most state-of-the-art animal care campuses in the world. It's extraordinary." As well as housing animals, the natural-light-filled structure will have a veterinary clinic, as well as an education and training center.
Wyatt knew there was a need even before Parris recruited her. "My eyes were opened years ago by my daughter Claire, who volunteered at rescue facilities and would occasionally bring home rescued animals," she says. "There are so many animals in need of a good home and I am convinced one reason they make good family additions is because they are truly appreciative."
Wyatt says the philanthropic climate here played a major role in making the campus a reality. "Kansas City rightly deserves its reputation as a caring community," she says. "We see it demonstrated in support for hundreds of great organizations who help children, seniors, disabled, victims of domestic abuse, economically disadvantaged, and that concern also extends to care for animals. We want to know that our lost, injured, neglected and abandoned animals will be well cared for and that every effort be made to find them a home. It's lifesaving work that Kansas City Pet Project undertakes each day, and beginning January 1, that work will take place in an efficient facility that will serve the city for generations to come. It is a joyful place."