After an unsuccessful attempt to approve development from the City Council last year in 2019, a five-star luxury hotel by the Kauffman Center hopes to win supermajority in efforts to build a $63 million dollar establishment.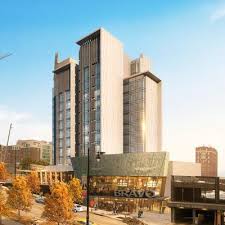 While the hotel would be an excellent spot for tourists to stay while visiting Kansas City and located near the Kauffman Center for the Performing Arts, complications came from multiple sources including the KC Tax Increment Financing Commission prior to this second attempt.
Plans for the five-star hotel received a negative recommendation from the KC Tax Commission, as well as an opposition from Randy Landes, financial officer at Visit KC.
The Tax Commission rejected the project due to the fact that 35 percent of development fees would come from tax incentives, which was too high for the commission to see benefits at rates they were expecting.
Landes explained he rejected the development due to its projections that would be 2 million dollars short of expected profit to cover taxes.
The Council vote wanted to see changes in the developments as well.
Efforts were made by the development manager to provide an additional source of income for taxes to bring in $140,000 annually. This additional solution would be executed by using city-owned parking garages for the hotel.
However, this was not a part of the original plan which turned some council against the project.
CityScene KC says around $26 million would be generated for tax revenues from the hotel if it were approved. However, with competitive and impressive structures surrounding the location, it would require large sums to construct such an impressive project.
Over a year later, developer Eric Holtze and his partner Whiney Kerr Sr. seem to have aspiring plans to win a supermajority for Council.
In order to achieve supermajority, there must be a nine-vote approval by the Council.
New individuals have since been added to the Council. Some members seem to have a positive outlook on the project while others tend to be extra critical regarding the tax incentives due to past development plans.
An article from CityScene KC states a letter was signed by prior mayors in positive spirits towards the plan.
"The developers released a letter signed by four former mayors, Kay Barnes, Richard Berkley, Emanuel Cleaver II and Charles Wheeler, in support of the deal," writer Kevin Collison said.
Holtze and Kerr Sr. are asking for $23 million in incentives.
The previous garage plans made in efforts to improve the building will be included, located at the Performing Arts Center garage.